Iberia SWOT: LatAm a key strength, Nth America leading growth
Analysis
Iberia's capacity growth in 2018 is being led by its long haul network, in particular by its North American operations. The 25-Apr-2018 launch of Madrid-San Francisco brings its North America network its seventh route (excluding routes operated by Level). Nevertheless, this remains very much the second string to Iberia's long haul bow, after Latin America, where it has 17 routes.
Competition from long haul low cost operator Norwegian to North Atlantic destinations from Barcelona prompted IAG to establish Level as the group's own long haul low cost operator. IAG's interest in considering an acquisition of Norwegian is mainly motivated by the North Atlantic, but it could also help it to avoid any future competitive threat to Iberia from Norwegian on the South Atlantic.
Iberia has improved its operating and financial results significantly since its loss-making years of 2008-2013, but it remains focused on further improvement. This report considers Iberia's strengths, weaknesses, opportunities and threats.
Summary
IBERIA STRENGTHS
1. Iberia has a relatively strong brand
Iberia has a relatively strong brand among airlines in Spain, improving its net promoter score by 29ppts from 2013 to 2017 and rated by Skytrax as a four star airline (this is not the highest rating possible, but only one European airline, Lufthansa, has a five star rating).
Iberia has benefited from being part of IAG since forming the group through a merger with British Airways in Jan-2011.
Iberia's long haul network, with strength to Latin America, largely complements that of British Airways, having strengths to North America and parts of Asia. IAG's 2013 acquisition of the Spanish LCC Vueling, in which Iberia already had a minority shareholding, gave it some relief from the intensity of low cost competition in Spain.
In addition, IAG has increased Iberia's focus on its network, brand, costs, productivity and financial performance. The centralisation of a number of group functions, such as procurement and finance, leads to greater cost efficiency.
Iberia is the number two airline by total seats between Europe and Latin America, behind Air France (based on data for summer 2018 from OAG Schedules Analyser). However, Air France's leadership is based on its strength in the Caribbean.
Iberia is the leading airline on Europe to Latin America excluding the Caribbean, and to each of the sub-regions Central America and Lower South America.
Top five airlines by seats from Europe to Latin America excluding the Caribbean: summer 2018
| | |
| --- | --- |
| Airline | Share of seats |
| | 14.5% |
| | 10.9% |
| | 9.0% |
| | 8.4% |
| | 7.6% |
| All others | 49.6% |
4. Iberia's employee productivity has improved sharply since 2013
Iberia has achieved strong improvements in employee productivity since 2013, measured in available seat kilometres per employee.
It can be calculated that this indicator increased by 45% from 2013 to 2017, as Iberia achieved a 25% increase in ASKs but lowered its average number of employees by 14% to 15,738 in 2017 (note that these calculations include Level).
In 2017 Iberia agreed a voluntary redundancy programme with its employees in order to make further productivity improvements.
Iberia: ASK per employee, 2007 to 2017*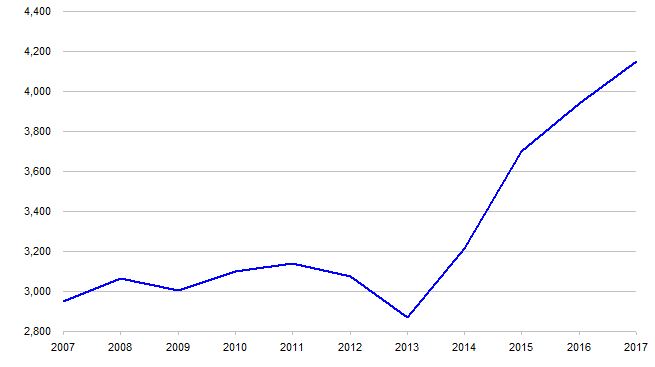 5. Iberia's load factor is the highest of IAG's legacy airlines
With 84.1% load factor in 2017 Iberia had the highest load factor among IAG's three legacy airlines, compared with 81.8% for BA and 81.1% for Aer Lingus. Only IAG's LCC Vueling has a better load factor among the group's airlines, with 84.7%.
Moreover, Iberia's load factor improved by 5.5ppts from 2014 to 2017, in spite of its return to capacity growth.
Iberia available seat kilometres (ASK, million) and passenger load factor (%): 2007 to 2017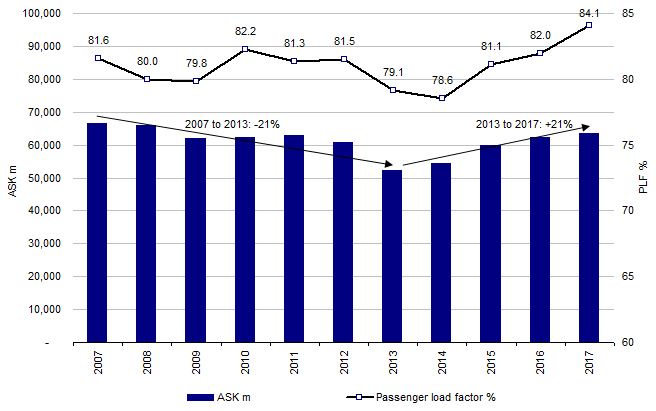 IBERIA WEAKNESSES
1. Iberia has a fairly low seat share in Spain
Iberia is only the third largest airline by seats in Spain, with a seat share of 11.0% for the peak week of 16-July-2018, according to data from OAG.
Among the five largest Western European countries, this is the lowest ranking and seat share for the national airline. In the UK, BA is first with 17.3%; in Germany, Lufthansa is first with 30.8%; in France, Air France is first with 26.6%; and in Italy, Alitalia is second with 14.7%.

Even if the seat capacity of Spain's number two airline, IAG's Vueling, is added to Iberia's, the combined share of 24.5% is still lower than Lufthansa's in Germany and Air France's in France.
2. Iberia's long haul network is weak in Asia and Africa
Iberia's long haul network is small and is dominated by Latin America, which makes up 64.5% of its long haul seats this summer, and North America, which accounts for 31.4% (data from OAG, based on the week of 16-Jul-2018).
The rest of its long haul seats are to Asia (2.7%) and Southern Africa (1.4%). Note that Iberia also has routes to North Africa, Central/Western Africa and the Middle East, but these are essentially medium haul destinations from Spain.
Its 2016 launches of the Shanghai and Tokyo routes brought Iberia its first Asian destinations for many years, and these remain the only two (although it is increasing Tokyo frequencies from three to five times weekly this winter).
The lack of a significant long haul network to the south (Africa) and to the east (Asia Pacific) means that Iberia passengers need to rely on connections via BA's London hub. This requires something of a detour for those whose final destination is in Africa or Asia (with the possible exception of Japan).
3. Iberia's profitability is weaker than other IAG airlines
Iberia has made significant strides in its financial performance since 2013, when it had made its sixth consecutive operating loss. Its operating margin had been as low as -10.6% in 2009 and -7.3% in 2012.
After returning to a (small) positive result in 2014, it has now recorded five years of positive operating results and raised its operating margin to 7.7% in 2017.
Nevertheless, this margin was the lowest in the group in 2017 (Aer Lingus made 14.5%, BA's margin was 14.3% and Vueling's was 8.9%).
Moreover, although Iberia's 12.2% return on invested capital in 2017 was above IAG's 10% estimate of the group's weighted average cost of capital, it was below IAG's target of 15% and the lowest among all the group's airlines.
IAG operating airlines return on invested capital: rolling four quarters, 4Q2015 to 4Q2017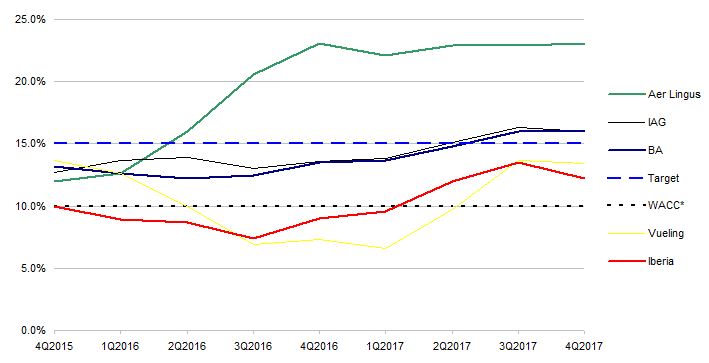 IBERIA OPPORTUNITIES
1. Iberia plans to make further unit cost cuts
Iberia lowered its unit cost excluding fuel by 13% from 2013 to 2016, but it crept up by almost 5% in 2017. The unit cost reduction and return to profit reflected the airline's Plan de Futuro restructuring programme.
However, its unit cost is still slightly above the trend line for European legacy airlines on a scatter plot of unit cost (cost per ASK) against average trip length. Relative to its average trip length, Iberia's CASK is broadly consistent with that of British Airways, but both are higher than that of Aer Lingus, which has the lowest unit cost among IAG's legacy airlines, in spite of its shorter average trip length.
Moreover, Iberia's increase in ex fuel unit cost in 2017 demonstrates that Iberia still has work to do in controlling its costs. Its Plan de Futuro phase II aims for additional annual EBIT benefits of EUR400 million, highlighting the opportunity from further unit cost reduction.
Cost per available seat kilometre (CASK, USc) versus average trip length for Iberia, British Airways and Aer Lingus compared with trend lines for other European airlines*
2. Fleet renewal should help to lower unit costs
According to the CAPA Fleet Database, Iberia's fleet of 80 aircraft has an average age of 9.9 years as at 16-Apr-2018. Although this is young by comparison with the average of 14.0 years for Europe, it is older than the average age of the fleets of its leading competitors in Spain: Ryanair (6.8 years), easyJet (7.1 years) and Air Europa (7.2 years).
During the restructuring years, IAG made it clear that Iberia would only be allowed to invest in new aircraft if its financial performance improved, finally giving the green light for new orders in 2015.
Iberia currently has orders for 20 A320neo family aircraft (16 A320neo and four A321neo) and 16 A350-900s. These are all due for delivery by 2021 and will give Iberia a younger, more fuel efficient fleet that will help to lower its unit cost.
3. Iberia's expansion in North America is driving long haul growth
Based on capacity plans for the week of 16-Jul-2018, Iberia has increased its weekly seat numbers to North America by one third since summer 2015. This expansion has been matched by American Airlines, its partner in oneworld and member of an immunised JV that also includes BA and Finnair.
Between them, Iberia and American control broadly half of all Spain-North America seats this summer.
Iberia's new route from Madrid to San Francisco in Apr-2018 is its seventh to North America, following the addition of San Juan in May-2016. It is also increasing frequencies to Los Angeles.
With capacity growth to Latin America only in the low single digits this summer, Iberia's long haul growth is currently being driven by its US expansion.
4. Iberia's digital transformation offers cost and revenue benefits
Iberia is implementing significant digital transformation plans, leading to benefits for customer engagement, cost efficiency and revenue growth.
These plans include a new customer relationship management system integrated with IATA's NDC (new distribution capability) and a range of other initiatives in areas such as a shopping portal, crew training, cockpit operations, chatbots and a programme to improve the approach to meeting customer needs called 'Experiencia Redonda'.
5. More use could be made of Iberia Express
Iberia Express was founded in 2012 to operate short/medium haul routes mainly feeding Iberia's long haul network. It is a low cost operation based at Madrid, with 46 European destinations (including 11 in Spain) in summer 2018. IAG does not report separate traffic or financial data for Iberia Express.
It has helped Iberia to defend its short/medium haul hub feeder routes against LCC competition. However, although Iberia's total ASK capacity on European routes (including Iberia Express) grew by 42.1% from 2013 to 2016, it fell by 2.0% in 2017, when it was still 21% below its 2008 pre-restructuring peak.
If, as IAG claims, Iberia Express is a genuinely low cost operation, there would seem to be potential to make greater use of the airline on European routes to/from Madrid, particularly given Vueling's focus on Barcelona.
IBERIA THREATS
1. Spain's aviation market suffers from overcapacity
Spain is a strongly seasonal, leisure driven market heavily exposed to inbound tourism. Airlines across Europe switched capacity to Spain from Turkey, the Middle East and North Africa in the period 2014-2017 in response to geopolitical troubles, seeking a more stable and profitable market.
Growth in seats in Spain was particularly strong in 2016, when it reached 11.0%, but it slowed to only 8.0% in 2017 and was 8-9% in 2014 and 2015.
This led to overexpansion and a surplus of capacity in Spain, with a resultant downward pressure on unit revenue. Data from OAG for the first 40 weeks of 2018 indicate seat growth slowing to 4.0% this year. Nevertheless, that growth rate for the full year would lead to annual capacity in 2018 that is 47% higher than in 2013.
Overcapacity and pressure on unit revenue in Spain seem unlikely to dissipate in the short term.
2. LCC competition is higher in Spain than in the rest of Europe
According to data from CAPA and OAG, low cost airlines had 46% of domestic seats and 57% of international seats in Spain in 2017. For Jan-Apr 2018 the domestic share is unchanged, but the international share has fallen to 56% following the demise of Monarch Airlines in Oct-2017.
This indicates a higher level of LCC penetration than in Europe as a whole, where low cost carriers have 41% of seats on routes within the continent for the first four months of 2018.
Iberia benefits from Iberia Express and Vueling – both being low cost operations within IAG – but the very high LCC levels in Spain, where Ryanair is the biggest airline and easyJet is number four, are a competitive threat to Iberia.
On long haul, the threat of LCC competition from Norwegian out of Barcelona prompted IAG to establish Level as its own low cost long haul operator. So far, Norwegian has not yet launched Latin American routes from Spain, but now operates London Gatwick-Buenos Aires and is close to launching domestic routes in Argentina.
IAG pre-empted Norwegian with Level, which operates Barcelona-Buenos Aires. Nevertheless, routes by Norwegian from Spain to Argentina or other Latin American countries would be a further threat to Iberia.
In 2018 Iberia will have grown its seat capacity on Spain to Latin America routes by 21% in the five years since 2013, but this is much less than the 37% growth in the market and the 59% expansion by its closest Spanish rival, Air Europa.
As a result, Iberia's seat share on Spain-Latin America has fallen from 45% in 2013 to 40% in 2018, whereas Air Europa's has grown from 21% to 25%.
Iberia is still the leader in this market, but its dominance is threatened by Air Europa's growth and its own relative lack of growth. In summer 2018 Iberia is adding frequencies to Mexico and Santiago de Chile, but not adding new destinations.
Spain to Latin America: weekly one way seats, by airline, 19-Sep-2011 to 1-Oct-2018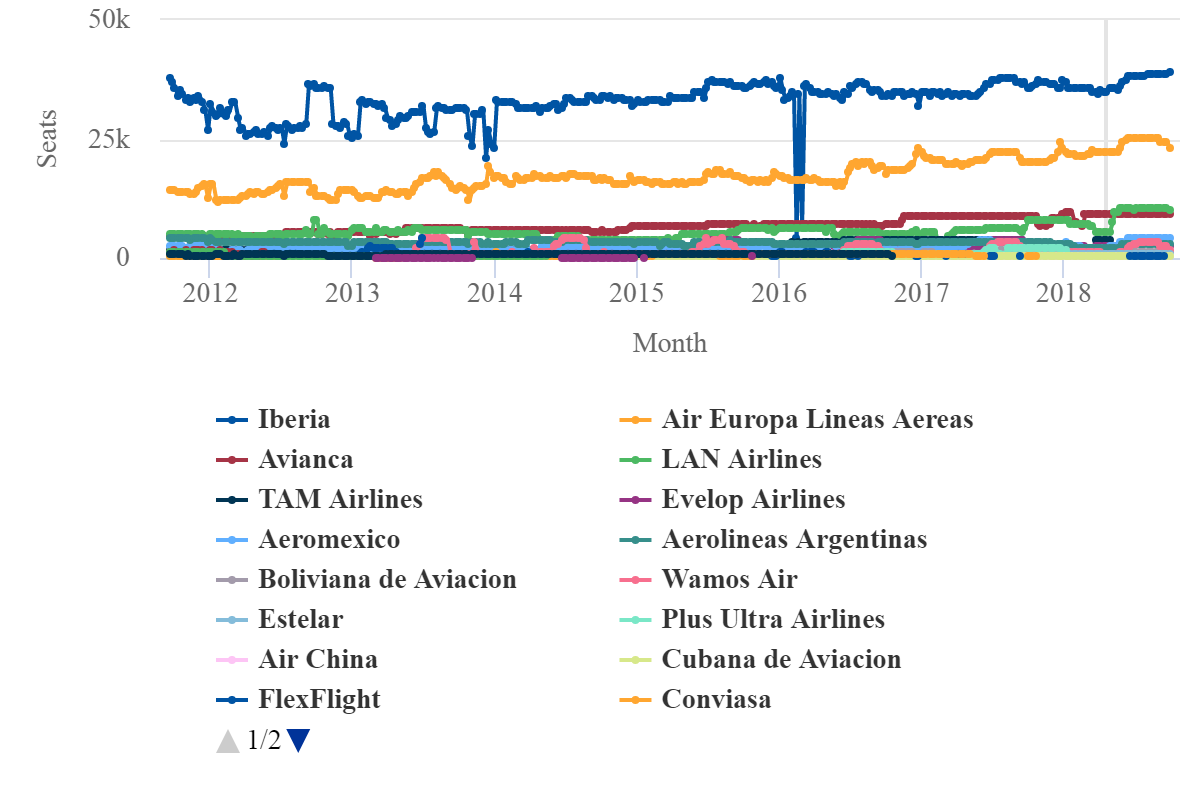 4. Any deterioration in labour relations could threaten cost reduction progress
As noted above, Iberia agreed a voluntary redundancy programme in 2017 and has made good progress with labour productivity since 2013, indicating a constructive labour relations environment. However, its restructuring programme and the launch of Iberia Express were initially met with resistance and strikes.
Positive industrial relations are key to the success of restructuring programmes and Iberia still has plans for headcount reduction and productivity gains. Moreover, as profitability improves, labour unions can be prone to becoming more demanding.
Any return to a climate of labour unrest could threaten progress in cost reduction.
4. External events could threaten Iberia's progress
In an industry that remains sensitive to economic fortunes, all airlines are vulnerable to changes in the macroeconomic environment.
In addition, air travel, regardless of the carrier, is vulnerable to geopolitical events and natural phenomena such as earthquakes and volcanic ash disruption. It is also exposed to the risk of possible accidents, which could adversely affect its reputation and demand for its services.
Conclusion: IAG's confidence in Iberia is growing
Iberia's ASK growth in 2018 is planned to accelerate to 7.5% from 2.2% in 2017 (not including Level), and it will take delivery of its first A320neos and A350-800s this year.
This capacity growth is driven by the San Francisco route launch and aircraft upgauging, but mainly by increased frequencies on existing routes.
In a group where the operating airlines compete for capital, Iberia's growth and new aircraft programme reflect IAG's growing confidence in Iberia as a rewarding vehicle for investment.
However, this also means that further improvement in Iberia's unit cost reduction and return on invested capital will be necessary for it to remain in its owner's good books.