Gol increases domestic competition with Azul as it navigates Brazil's ailing economy
Analysis
Brazilian airline Gol is attempting to respond to deteriorating and fast changing conditions in the country with network adjustments to minimise the effects of a sharp drop off in corporate demand. All airlines operating within the country are doing so against the backdrop of a contracting economy, ballooning inflation and a plummeting currency.
Gol is adjusting its US service to Miami and Orlando via Punta Cana to seasonal as those routes are becoming more challenging due to exchange rate pressure dampening demand. The airline has also faced stiffened competition on US routes from rival Azul. In turn, Gol now plans to challenge Azul on new domestic routes from Campinas as part of its network overhaul.
As economic weakness remains an overhang in Brazil, Gol is also adjusting its aircraft delivery schedule for 2016-2017, and increasing the number of aircraft it plans to sublease year-on-year during the 2016 slow season. Its network and fleet modifications are responses to challenging conditions that show no sign of improving in the short to medium term.
A crumbling Brazilian economy creates tough conditions for the country's airlines
After serving as South America's economic powerhouse in the mid-2000s, Brazil's economy in 2015 has crumbled. GDP is expected to contract 3% in 2016 and some forecasts show inflation rising above 10%. During 3Q2015 the average depreciation of the BRL against the USD was 55%.
Against that backdrop the country's airlines are having to adjust their expectations for the Brazilian market. TAM, part of the LATAM Airlines Group, is cutting its Brazilian domestic capacity by 2% to 4% in 2015 and 6% to 9% in 2016.
Gol has not yet offered capacity guidance for 2016, but is cutting domestic supply by 1% in 2015. The less drastic reduction for Gol stems from its decision to start cutting its capacity growth before TAM engaged in its reductions. Gol estimates that between 2011 and 2014 it cut supply in the Brazilian domestic market by 14%.
Gol opts to pare back US service that features stop-over flights in the Dominican Republic
Gol is attempting to take steps to mitigate the sting of Brazil's economic weakness through various network changes beginning in late 2015 and continuing into 2016. It has made the decision to cut its year-round service from Sao Paulo Guarulhos to Miami and Orlando via Punta Cana to seasonal starting in Feb-2016.
The move is not surprising given that Azul started direct flights from its headquarters at Campinas Viracopos to Orlando and Fort Lauderdale in late 2014. After Azul tabled plans in 2014 to acquire Airbus A330 and A350 narrowbodies and forge a path as the first long haul LCC in the Americas, speculation grew over the relevance of Gol's stop-over flights. Gol had its own brief 767 service to the US in 2007 and 2008, but those flights were highly unprofitable.
See related report: Azul shakes up Brazilian market with A330s and US routes, becoming first long-haul LCC from the Americas
Gol's codeshare partner and equity stakeholder Delta Air Lines is also introducing flights from Orlando to Sao Paulo and Guarulhos in Dec-2015. With an ability to market Delta's US connectivity for beyond flights from Orlando, it seems that the longevity of Gol's seasonal Orlando flights is questionable.
Gol outlines tough conditions on service to the US. Its competitors face similar challenges
Gol CEO Paulo Kakinoff recently stated that ticket prices between the US and Brazil dropped from an average of USD950 in 2014 to approximately USD350 in late 2015. He explained that point of sale in Brazil has been much less attractive than it was before. "Sometimes, and I do believe this assessment is true for our competitors too, we cannot even pay variable costs on those flights," Mr Kakinoff stated.
Previously, Azul has concluded American and Delta had lowered fares on some routes between the US and Brazil, and explained that most of its US flights were point of sale Brazil. Azul has stated publicly that its load factors on flights to the US have been in the 80s; however, its yields on the routes are likely weak given the weighted point of sale in Brazil.
Gol sets its sights on international destinations in South America and also targets Havana
Mr Kakinoff explained that passenger willingness to travel to both North America and Europe has waned given the exchange rate of the BRL. That has triggered a change of network strategy for Gol as corporate demand has plummeted and leisure travel shows more promise.
Gol reached a 6% positive EBIT during 1Q2015, said Mr Kakinoff. But by 2Q2015 it had dropped to a negative 12%. Its EBIT margin was just 0.4% in 3Q2015. "The corporate scenario changed dramatically, and very fast, between the first and second quarter," he concluded. From almost one month to another, corporate demand fell roughly 35%, he explained.
All of those factors are driving a network shift for Gol, which entails evaluating new international routes within South America. The airline aims to launch flights to Havana, and is working to secure proper arrival and departure times at the airport. There is presently no service between Brazil and Cuba, but Cubana has operated flights from Havana to Sao Paulo Guarulhos in the past.
It is not clear how long it will take Gol to establish service to Havana, but economic ties between Brazil and Cuba have been growing during the last few years, and South American airlines have been expanding into the Caribbean during 2015 as economies in those regions are generally stronger than Latin America.
Gol also cited opportunities to add more service to Buenos Aires after introducing service from Fortaleza and Natal to Argentina's capital. Gol is the largest airline operating between Brazil and Argentina based on seat deployment, representing a 30% share for the week of 16-Nov-2015.
Brazil to Argentina (seats per week, one way): 17-Nov-2014 and 16-Nov-2015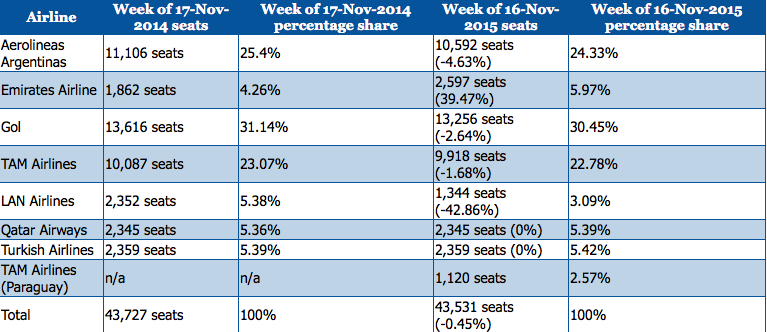 In addition to flights from Fortaleza and Natal to Buenos Aires Ezeiza, Gol also offers service from Brasilia, Rio de Janeiro Galeo, Porto Alegre, Sao Paulo, Curitiba and Salvador. It also serves Buenos Aires Aeroparque from Sao Paulo.

Gol also has a codeshare agreement with Aerolineas Argentinas, Argentina's flag carrier and the second largest airline operating between Brazil and Argentina. Argentina's market is somewhat closed off, so Gol's ability to market beyond connections through its partnership with Aerolineas Argentinas is a powerful tool against rival LATAM. Aerolineas Argentinas also benefits from Gol's vast domestic network.
Gol believes its aircraft are better suited for certain flights from Campinas
Gol also plans to make a push from Azul's Campinas base (where it provides 85% of the seat capacity on offer), breaking Azul's monopoly on routes to Natal, Fortaleza, Salvador, Recife and Maceio. "We are adding capacity in Campinas only on the routes where our equipment has more advantage in comparison to Azul's," Mr Kakinoff declared. He explained Gol's Boeing 737 narrowbodies operate more efficiently on longer routes within Brazil.
Campinas Viracopos Airport capacity by airline (% of seats): 16-Nov-2015 to 22-Nov-2015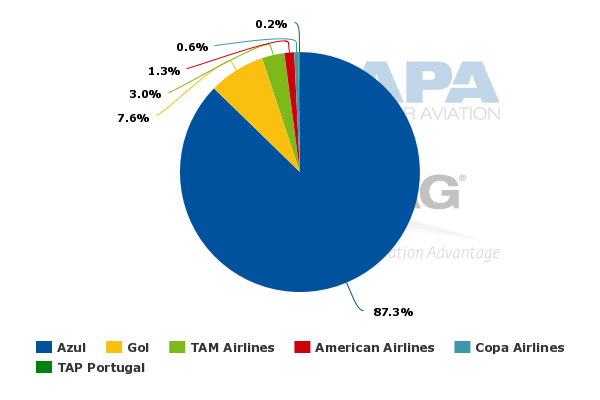 Data from CAPA and OAG for the week of 16-Nov-2015 show that Azul operated Embraer 195s on the routes where Gol is intensifying competition. Three of those routes – Natal, Fortaleza and Recife – have distances greater than 2000km from Campinas. Some of those routes do appear to push the operating envelope of the Embraer 195, whose maximum range is 2,300km.
Azul's one-way seats on offer on Gol's new routes from Campinas for 16-Nov-2015 and distance measured in KM
Route
Azul's seats and
percent change y-o-y
Distance measured
km

Fortaleza
920, down 33%
2,321km
Maceio
920, up 14%
1,921km
Natal
1,055, up 15%
2,288km
Recife
2,530, up9%
2,101km
Salvador
2,990, down 4%
1,454km
Mr Kakinoff stated Gol would be highly competitive on the new routes from Campinas, particularly during high demand leisure periods between Nov and Feb and Jun to Aug. All of the new routes are coastal destinations in Brazil, and schedules in CAPA and OAG show that Gol is launching the new routes in Dec-2015. "We are now already verifying nice sales trends on those routes in Campinas," Mr Kakinoff declared. Gol also operates flights from Campinas to Brasilia, Rio Santos Dumont and Curitiba.
Gol pushes back aircraft deliveries and increases subleases to combat Brazil's weakness
Gol is also taking steps to reduce its aircraft commitments during the next couple of years in light of Brazil's economic weakness. Gol's revised delivery schedule for 2016-2017 now entails four 737s instead of an original 15 deliveries. CAPA's Fleet Database shows that as of 20-Nov-2015 Gol has a total of 76 737 narrowbodies on order.
Gol fleet as of 20-Nov-2015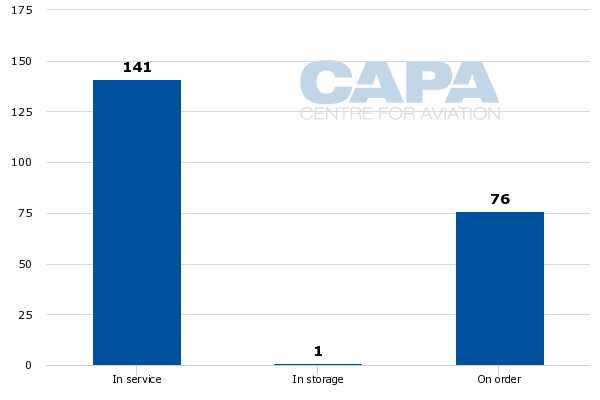 Another step Gol is taking to combat Brazil's weak economy is expanding the number of aircraft it subleases to foreign airlines in the off season. During 2016 the airline is subleasing 12 aircraft versus seven in 2015. Mr Kakinoff explained that, although Gol's practice of subleasing aircraft during the low season goes not generate any profit, it does reduce rental and maintenance expense.
Brazilian airlines attempt to craft a strategy against prolonged economic weakness
The challenge facing Gol and other Brazilian airlines is how to approach network development when Brazil's economy will shrink again in 2016, and the country's jobless rate appears to be rising. Gol is making some interesting moves in challenging Azul, targeting Havana and evaluating bolstering service to Argentina.
Gol believes that capacity discipline will continue in the Brazilian domestic market. But with weak conditions lingering into the foreseeable future, Gol and its Brazilian counterparts may need to consider further reductions as one of the most powerful forces in Latin America just a short time ago continues to struggle.