Global airline alliances: How emerging markets are shaping global design – Part 2
Analysis
In the second part of a series on global airline alliances, we examine the impact of emerging markets' airlines on the shape of alliances.
This is an extract from a report that appears in the latest edition of Airline Leader, CAPA's airline management magazine. Go to www.airlineleader.com to download the full edition.
Accommodating the emerging markets' airlines
The recent history of antitrust immunity (ATI) grants is just that: the story to date. It reflects the more advanced status of the largest markets in the world, the combined North America, north Atlantic and European systems, along with some subsidiary developments in the Pacific, there too following traditional trade links. In many cases, these are links which have decades, and even centuries, of history. For aviation, the account is mostly of European hubs being at the focus of activity and the global airline alliances continue to revolve around this nucleus.
The expansion of global alliances and competition law immunity have been entirely outgoing processes, as the US and EU export their existing strengths and concepts. It has always been this way – and these sources will continue to be highly influential in shaping the global aviation system for many years to come.
But in the past, this has been within a framework where few other significant forces existed. That has changed, rather quickly, and it is unlikely now that a simple extrapolation of previous trends can point the way for the long-term future. There are today other substantial participants that will force their way into the reckoning for industry leadership. This is partly because they are based in rapidly growing parts of the world – Asia overtook North America as the largest aviation market two years ago – and also as their airlines are maturing into substantial entities that will not be satisfied with the subsidiary alliance roles presently on offer.
As the competition regimes now being exported generate privileged positions for a very small number of powerful European and North American airlines, many of the emerging countries and their airlines will commence any future dealings from a position of weakness – not something that is likely to encourage them meekly to join the throng.
The emerging markets of Latin America – where the LATAM combination will establish a new world player, in the process challenging the local fundamentals of the alliance system – Asia, whose carriers are largely committed to alliances, but operate with extensive overlaps and in relatively subsidiary roles in their groupings – and the fast growth eastern European carriers, each come from different starting points. Then there are the large operators in the Gulf, which seem inclined to forswear the big brands as they evolve their different model, meeting severe headwinds from the alliance members as they do so.
India too, a vastly underdeveloped aviation market, is in the position more or less of performing beauty parades to attract major alliances. Also, typically, parallel operations by the new Indian members' own metal at the other end of European spokes are not welcomed, as these can intrude on existing sixth freedom flows.
For smaller new arrivals these may be worthwhile constraints, but as the bigger Asian carriers expand their direct networks, the impact on the core alliance airlines' strategies becomes greater – one reason Emirates is largely incompatible as an alliance member.
China's airlines alone have some 500 aircraft on order. And Asia and the Middle East dominate order books for long-haul aircraft – the ones that compete most directly with the major established network airlines.
China is, however, unlikely in the near term to sign an open skies agreement with the US, thus precluding its carriers from any prospect of sharing antitrust immunity with US partners (although the carrot of metal neutral ATI may be worth the price of the "stick" of open skies, a reward sequence the policy intends). Chinese carriers have, in fact, shown limited enthusiasm for active partnering, even with their global alliance colleagues. Their focus has been on domestic operations, although the emphasis is now shifting steadily.
But when the time comes for them to engage actively in such areas as gaining ATI, there will necessarily be some readjustment of the pecking order in the alliances. Feeding through sixth freedom hubs of other airlines will not be the goal of Air China, China Southern or other China flags as they grow, especially where those hubs are home to extensive metal neutral operations from which the Chinese carriers are excluded.
Today, the "highest level cooperation" European alliance members, Air France, Alitalia, British Airways, KLM and Lufthansa, operate 112 weekly flights into China. A high proportion of this is third and fourth freedom traffic, but each airline is also competing for sixth freedom. All have their respective metal neutral authorisations westwards beyond their gateway, the badge of the haves.
This is in no way to suggest that this is inappropriate. However, the point is that it is not going to be an acceptable status quo for a large outsider, and, as the outsider numbers grow more powerful, so new forces of gravity will quickly apply. Simply stated, there will be change, accelerating proportionately as the emerging markets' airlines grow.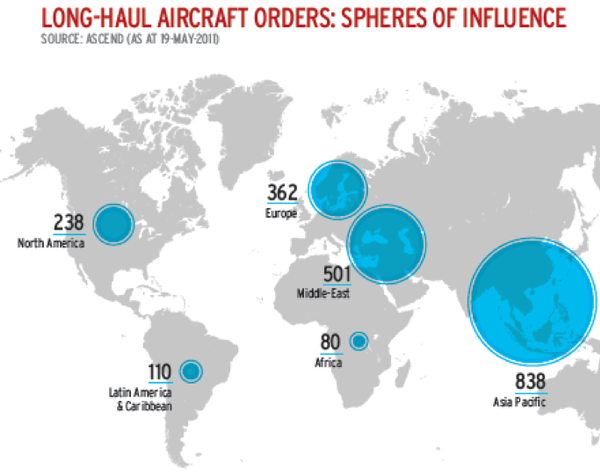 The Latin American dilemma for global alliances
LATIN AMERICA, ONE OF THE WORLD'S FAST GROWTH MARKETS, HAS BECOME A KEY BATTLEGROUND FOR THE GLOBAL ALLIANCES, as Star and SkyTeam try to close the gap and potentially even overtake oneworld, which has traditionally dominated the region. It is a study of the complexity and dynamics of global alliances and of the emergence of Latin America as a major aviation market.
Last year was a banner year for Star in Latin America, as TAM was formally added in May-2010 and Avianca-TACA and Copa were voted in as new members in Nov-2010. With TAM, Star finally filled a big hole in its network created in 2007 when an ailing Varig was ejected.
Avianca-TACA and Copa are now slated to formally join in 2Q2012, giving Star three powerful Latin American members and at least five hubs in the region: Bogota, Lima, Panama City, Sao Paulo and San Salvador. Star will also have local presences in more than 10 Latin American countries, including Brazil, Colombia, Costa Rica, Ecuador, El Salvador, Guatemala, Honduras, Nicaragua, Panama, Paraguay and Peru.
Avianca-TACA and Copa, however, create some challenging overlaps. Both groups have large competing subsidiaries in Colombia. Avianca-TACA also has a subsidiary in Brazil, which – unlike its subsidiaries in Colombia, Ecuador, Peru and Central America – has not yet been formally invited to join the alliance, due to a potential conflict with TAM. Avianca Brazil, the country's fifth largest carrier and tiny compared to TAM, could still be asked to join Star later.
SkyTeam, meanwhile, had been actively looking to fill the void left by Copa, which left the alliance in Oct-2009 at the same time as its biggest bilateral partner, Continental Airlines. After failing to woo Avianca-TACA, SkyTeam had to settle for Aerolineas Argentinas, which was approved as a new SkyTeam member in Nov-2010. The addition of Aerolineas, which should formally join next year, and a more powerful Aeromexico, significantly improves SkyTeam's presence in the region. Aeromexico, which has doubled the size of its Latin American network since Copa's exit, is planning to add three more destinations in the region this year, and is now benefitting from oneworld member Mexicana ceasing operations.
Exemptions to retain codeshares between members of different alliances can only be made in cases where no alternative exists. For example, Avianca is being allowed to keep its codeshare with oneworld's Iberia and Copa is being allowed to keep its tie-up with SkyTeam's KLM because Star has no members operating in the Spain-Colombia or Europe-Panama markets.
While most of the alliance lines have been drawn in Latin America over the past year, one gigantic question remains: where will LAN and TAM be, post-LATAM Airlines Group? In first unveiling their plans to merge in Aug-2010, the two carriers insisted they would remain in separate alliances for at least the first year before even looking at the issue. But the battle has clearly already begun to try to persuade the new merged entity to select a single alliance.
LAN and TAM will not touch the subject until their deal is approved and completed, now pushed back to 1Q2012. But once that happens, a decision to go with one alliance could happen quickly. A speedy choice would make it easier from a process standpoint as LAN and TAM begin the task of bringing together their various systems.
But at the same time, there would be some benefit to remain in two alliances, as it would give passengers the option of redeeming or accruing points and connecting with an unprecedented range of carriers. If anyone could pull off being members of two global alliances simultaneously, it would be LAN-TAM, given their dominance in the region and how much oneworld or Star stand to lose if a single alliance is selected.
oneworld has most to lose as LAN is its only current member in Latin America, having recently lost Mexicana when it ceased operations. LAN by itself is so strong – it has passenger airline subsidiaries in Argentina, Chile, Ecuador, Peru and now Colombia – there has been little need for oneworld to recruit other members in South America outside Brazil. Before TAM came into the picture as part of the LAN-TAM merger, oneworld had approached GOL.
By securing Avianca-TACA and Copa, Star has essentially hedged its bet if TAM were to move to oneworld. But by accepting Avianca-TACA and Copa, Star may reduce its chance to get LATAM - LAN may not like the idea of being in the same alliance as its two largest regional rivals. If LAN ends up in Star, the overlaps which already are starting to emerge with Avianca-TACA and Copa coming into the alliance also get far more serious. For example, in Colombia, all three major carriers – Avianca, Copa Colombia and Aires, which is expected to be rebranded LAN Colombia later this year – will be in one alliance, creating an unprecedented situation.
oneworld also seemingly has an advantage in winning the upcoming battle over LAN-TAM, because LAN is a loyal and early member of the alliance. TAM, on the other hand, has only been in Star one year. LAN has a larger stake than TAM in LATAM, with LAN CEO and oneworld ally Enrique Cueto assuming the post of LATAM's CEO.
However, that does not prevent both carriers from initiating challenging discussions with each of the allliances. Given their dominance of the Latin American market and the lack of new prospective members in the region, they will determine which way the alliance boundaries are mapped in Latin America well into the future. And others outside the region will be watching closely.