Flybe pulls Gatwick to Aberdeen route, adding spark to the London-Scotland connectivity debate
Analysis
The relationship between England and Scotland has always been contentious with centuries-long battles for power between the King/Queen of England and heirs to the Scottish throne. While these kind of brutal disputes have ended, the air connectivity debate between London and Scotland remains high on the agenda. Even the European Commission got involved when it requested that British Airways surrender seven daily slot pairs at London Heathrow for explicit use on services to Aberdeen and/or Edinburgh Airport as part of the remedy package to clear the acquisition of bmi by British Airways (BA) parent International Airlines Group (IAG) in Mar-2012. On these routes, IAG was judged to have too large a hold on the market, either by number or proportionally.
London-Edinburgh is the largest UK domestic route by passengers and London-Aberdeen the fourth largest, and both routes are in danger of falling in a duopoly situation following the recent announcement by Flybe that it is withdrawing its London Gatwick-Aberdeen service as of 28-Oct-2012. This will leave easyJet and BA the only operators on the London-Aberdeen market.
The London-Aberdeen market accounted for almost one million passengers in 2011, according to data from the UK Civil Aviation Authority (CAA). Flybe at present holds a 14% capacity share in terms of weekly seats between London and Aberdeen, while BA/bmi accounts for a 57% share and easyJet for a 30% share, according to Innovata data.
British Airways and easyJet already have a virtual duopoly on the London to Edinburgh market, with BA holding an approximate 65% share of the weekly seat capacity and easyJet a 34% share. The remaining 1% is offered by Air France's Irish wholly-owned subsidiary CityJet, but with 570 weekly seats it is hard if not impossible to effectively compete against two much larger operators that jointly offer roughly 34,000 seats in the same market, based on schedules in Innovata for the week of 10-Sep-2012 to 16-Sep-2012.
Traffic to/from London Heathrow accounts for almost 70% of the total enplanements between London and Aberdeen and about 40% between London and Edinburgh. A second operator in those markets besides BA is essential. Virgin Atlantic has indicated it will bid for all 12 bmi remedy slot pairs, including the seven for dedicated use to Scotland, and has pledged it will effectively commence a Heathrow-Aberdeen and Heathrow-Edinburgh route in 2013.
See related articles:
London to Edinburgh Airport total capacity (seats per week, one way): 19-Sep-2011 to 03-Mar-2013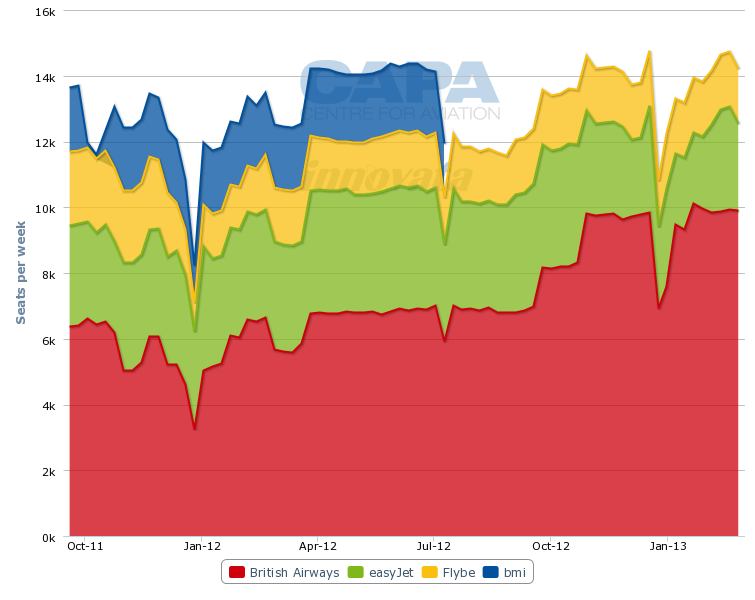 London to Aberdeen Dyce Airport total capacity (seats per week, one way): 19-Sep-2011 to 03-Mar-2013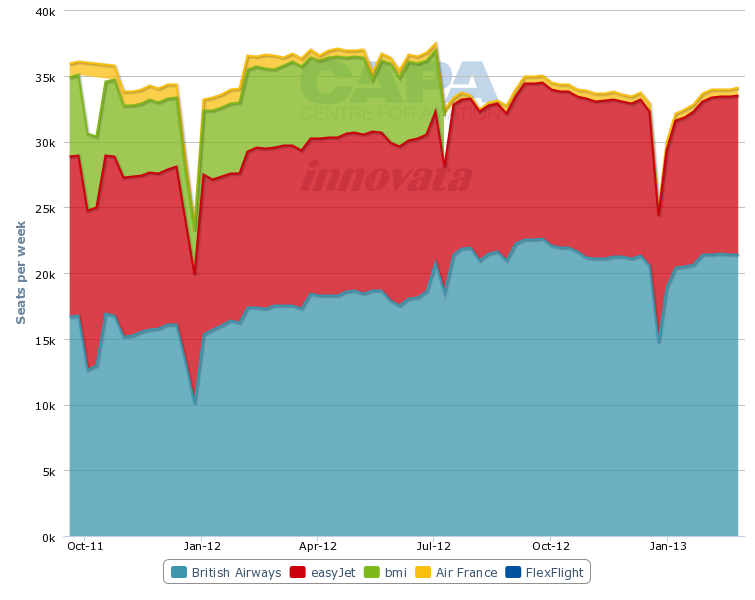 Scheduled passenger numbers London to/from Aberdeen Dyce Airport: 2011
| London airport | Passenger numbers |
| --- | --- |
| | 652,520 |
| | 177,765 |
| | 29 |
| | 44 |
| | 147,688 |
| Total | 978,044 |
Scheduled passenger numbers London to/from Edinburgh Airport: 2011
| London airport | Passenger numbers |
| --- | --- |
| | 1,271,459 |
| | 669,068 |
| | 344,868 |
| | 390,372 |
| | 259,408 |
| Total | 2,935,175 |
Flybe could be interested in the remedy slots at Heathrow
Flybe could also plausibly bid for the bmi Heathrow slots to Scotland. It already operates at both Aberdeen and Edinburgh airports, and it has experience of operating to large hub airports such as Paris Charles de Gaulle and Amsterdam Schiphol Airport. Flybe's entrance at London Heathrow would smother criticism that Heathrow is averse to allowing regional operators and aircraft using its scarce runway capacity and it would help promote the view that the airport is keen on maintaining connectivity with the UK's regions.
European regulators can appreciate Flybe's independent make-up, as a publicly-listed company and as an airline that cooperates with members of all three alliances. The carrier now performs contract flying for Finnair (oneworld) and Brussels Airlines (Star Alliance) and it has a codeshare agreement with Air France and KLM (SkyTeam).
The scenario would surely please British Airways, as it would keep rival Virgin Atlantic Airways at bay. And, not unimportantly, IAG is a 15% shareholder of Flybe Group Plc. The shareholding dates from 2007 and was part of an agreement concluded in Nov-2006 and completed in Mar-2007 under which Flybe took over BA's loss making Manchester-based regional subsidiary BA Connect with the exception of the carrier's services out of London City Airport. These now operate as BA CityFlyer.
See related articles:
Flybe is cancelling its Gatwick to Aberdeen service at the end of the IATA summer season on 28-Oct-2012. The regional, low fare airline took over the route from British Airways when the latter dropped the service in Mar-2008. Flybe at present operates about 1,700 seats on 19 flights per week between the two airports aboard 88-seat Embraer E175 aircraft.
In a statement announcing the withdrawal of the service Flybe said it reviews the viability of all its 180-plus routes on a regular basis looking not only at passenger numbers but also at external cost pressures. "This is done not only to monitor where we can offer increased regularity on a given route but also where passenger numbers make a flight environmentally, as well as economically, harder to justify," the airline said.
Data from the UK CAA show that scheduled traffic between Gatwick and Aberdeen airport rose 37% in 2011 year-over-year to 177,765 passengers after several years of contraction including minus 4% in 2010 and minus 8% in 2009. The route has been performing extremely well in the first six months of 2012, recording an above market 92% increase in passenger numbers year-over-year.
How much Flybe has benefited from this growth is difficult to assess as the airline does not report passenger numbers or yield on a per route basis but apparently it struggled to compete with easyJet in this point-to-point market, unless it is eyeing a different scenario such as switching the capacity to Aberdeen from Gatwick to Heathrow. It could use its 118 seat Embraer E195s if it launches Heathrow-Aberdeen service. BA now operates London Heathrow-Aberdeen with a mix of 50-seat Embraer E145s and 126-seat A319s, according to schedules in Innovata.
Flybe now has a 45% share of seats offered on the Gatwick-Aberdeen route, and easyJet holds a 55% share, according to schedules in Innovata for the week of 10-Sep-2012 to 16-Sep-2012.
London Gatwick Airport to Aberdeen Dyce Airport capacity by carrier (seats per week, one way): 19-Sep-2011 to 03-Mar-2013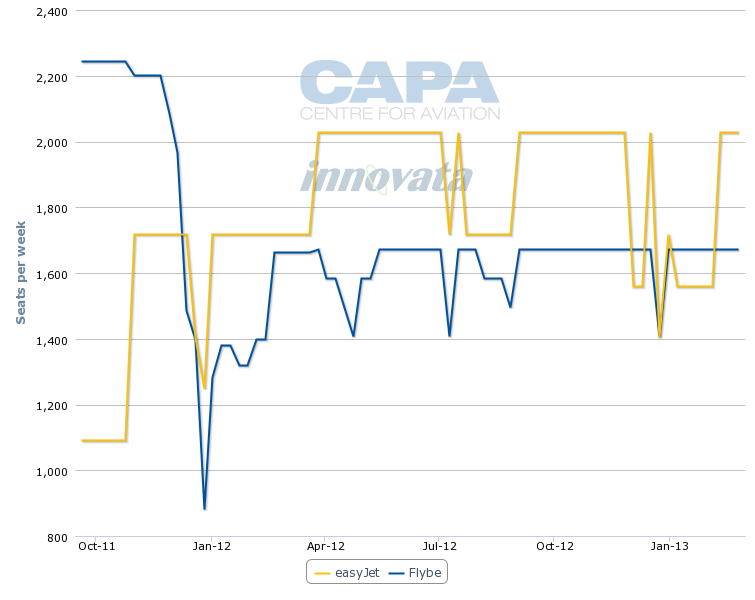 London to Aberdeen contracts from four operators to just two in less than a year
Following Flybe's suspension of its London Gatwick-Aberdeen services, easyJet will become the sole operator on the route.
The withdrawal of Flybe from the route has implications on the wider London to Aberdeen market, which will see the number of operators contract from four (BA, bmi, easyJet and Flybe) to two (BA and easyJet) in less than a year.
easyJet will be the only carrier to Aberdeen from London Gatwick and from London Luton, while British Airways will be only operator from London City Airport and from London Heathrow until the relevant bmi remedy slots are awarded and operated.
Virgin Atlantic Airways has stated numerous times it intends to launch flights between Heathrow and Scotland, in addition to a planned three times a day domestic connection from the airport to Manchester.
The airline confirmed in Aug-2012 it has wet leased A319 equipment to support the service between London Heathrow and Manchester starting 31-Mar-2013. Following the bmi/BA merger, British Airways is the sole operator on the route. It services Manchester from both Gatwick and Heathrow airports. The route accounted for one million passengers in 2011 of which about 770,000 travelled to/from Heathrow, according to data from the UK CAA.
Virgin Atlantic believes competition on London Heathrow-Manchester route has been "neglected in the remedy process" and its new service will offer an alternative to "omnipresent BA". Virgin Atlantic CEO Steve Ridgway said, "Operating a London to Manchester route will provide an invaluable feed to our existing long haul network for both business and leisure passengers. It is the perfect introduction to short haul flights for Virgin Atlantic."
London to Manchester Airport capacity by carrier (seats per week, one way): 19-Sep-2011 to 03-Mar-2013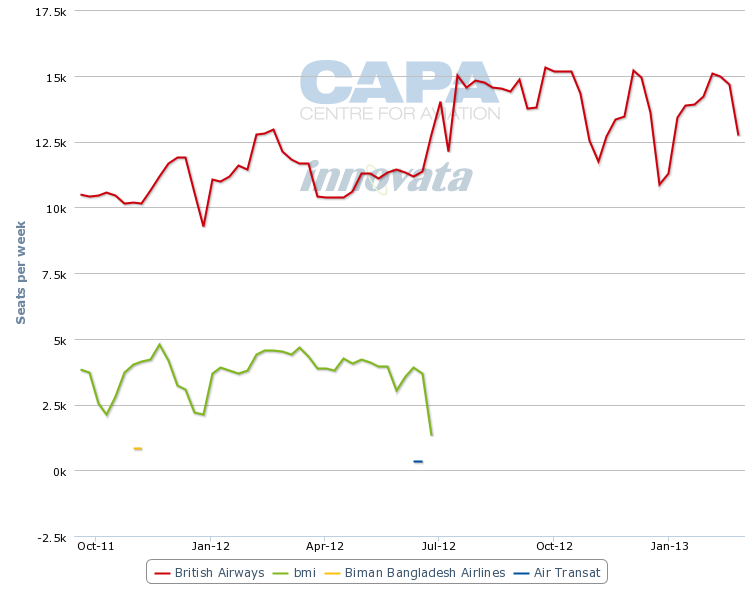 Virgin Atlantic has also pledged it will "re-inject competition" on routes from Heathrow to Scotland and said it plans to launch multiple daily flights between London Heathrow and Edinburgh and Aberdeen as part of its aim to develop a network operation from Mar-2013 onwards. Services will be aboard Airbus narrowbody aircraft, Mr Ridgway said.
London Heathrow to Aberdeen Dyce Airport capacity by carrier (seats per week, one way): 19-Sep-2011 to 03-Mar-2013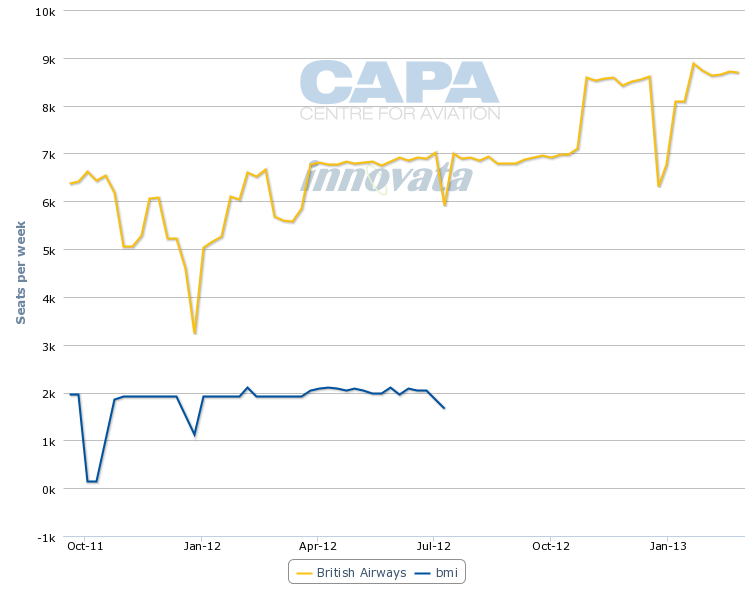 London Heathrow to Edinburgh Airport capacity by carrier (seats per week, one way): 19-Sep-2011 to 03-Mar-2013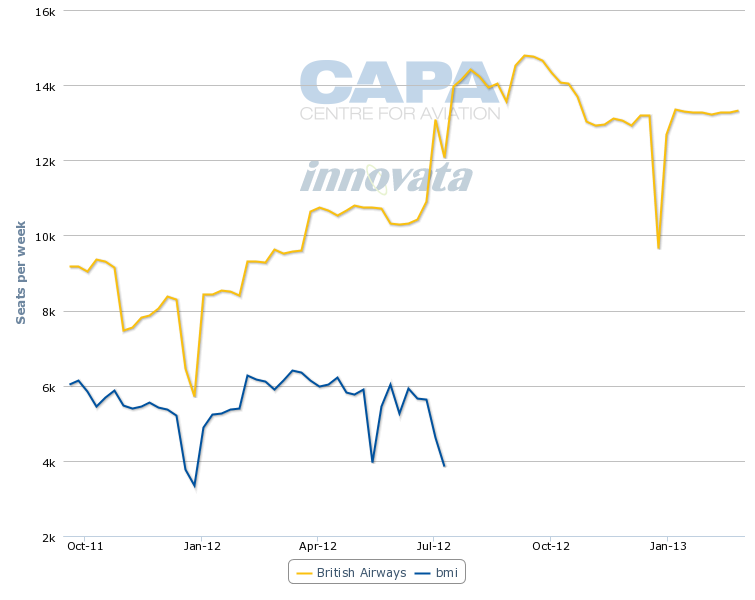 While the carrier has not detailed which Heathrow slots it intends to use for its new Manchester service, it has admitted that its Scottish venture depends on a successful bid being made to take over slots on those routes at Heathrow that are being relinquished by British Airways as a result of its bmi purchase.
Airlines had until 18:00 on 23-Aug-2012 to apply for the slots. Airlines were able to apply for the slots anonymously to Competition RX, the company which is acting as monitoring trustee for the process. A decision on the successful bidders will be announced in Dec-2012 and services will commence in spring 2013.
Virgin Atlantic Airways has said it did apply for all 12 concession slot pairs. Besides the seven daily slot pairs to be used explicitly between Heathrow and Edinburgh and/or Aberdeen, there are five daily slot pairs to be used between Heathrow and Nice, Cairo, Riyadh, Moscow, Edinburgh and/or Aberdeen.
It remains to be seen if Virgin will be awarded all or some of the former bmi slots, but if it does the overwhelming question arises if this exclusively long-haul widebody operator will be able to profitably operate a short-haul network. Most European legacy carriers are failing to do so. The change from a point-to-point operator into a fully fledged network carrier will come with additional complexities and costs, and this could negatively impact the company's bottom line. Virgin Atlantic accrued a pre-tax operating loss of GBP80.2 million in its latest fiscal year ending 28-Feb-2012, reversing a GBP18.5 million profit recorded in the previous 12 months.
The airline's longstanding CEO, Mr Ridgway, will not be there to see how this short-haul venture plays out as he has announced his retirement in spring 2013. But IAG CEO Willie Walsh will be around and as he has stated to The Guardian, "I would expect Virgin to honour the commitments they have made. They have said they would start flights to Scotland. They now have the ideal opportunity." Maybe the Flybe scenario is a welcome one for both BA and Virgin Atlantic.