Flybe makes progress with its turnaround in 3QFY2014, but big challenges remain
Flybe's trading statement for 3QFY2014, while not giving details of costs and profitability, suggests it is making good progress with its restructuring programme. In the UK airline, revenues per seat grew by 2.3% and costs per seat (excluding fuel and restructuring costs) fell by 5.2%. In addition, its confidence appears to be growing that it will achieve the cost reduction targets in its Turnaround Plan.
In a sign that Flybe's new CEO Saad Hammad is not content simply to cut, Flybe has recently announced seven new international routes from Birmingham. It has no competitors on four of these routes, but faces LCC competitors on three. Even after cost reduction, Flybe will still have a significant disadvantage in unit costs against the LCCs.
Its challenges involve attempting to build on its strong market share in the UK regional domestic market to expand in international markets without confronting the LCCs too frequently, while seeking new opportunities across Europe for contract flying on behalf of other airlines and continuing to take costs out of the business.
Total revenue under management was up 5.0%
Flybe's Group revenues were level with 3Q last year, at GPB142.9 million. Total revenue under management, which includes 100% of the revenues of its Flybe Finland joint venture with Finnair (60% owned by Flybe), grew by 5.0% to GBP203.5 million. Flybe said that its performance in the quarter was in line with its expectations.
Flybe revenue under management: 3QFY2014 versus 3QFY2013

Flybe UK capacity cut, but discounting stimulates passenger growth; revenue per seat increases and cost per seat falls
The UK airline, which remains the larger part of the group's two main activities, saw revenues increase by 0.4% to GBP137.6 million on total seat capacity down by 2.3% in 3Q. Scheduled seat capacity was down by 1.8%, but passenger numbers grew by 9.1%, resulting in a 7.1ppt increase in load factor to 70.8%. In the first half, passenger numbers were up 5.6% and load factor increased by 3.6ppts, so 3Q saw an acceleration of traffic growth.
Traffic appears to have been stimulated by discounting in 3Q, as passenger yield, expressed as revenue per passenger, fell by 8.1% (it fell by 4.5% in 1H). Nevertheless, this paid off in terms of scheduled revenue per seat, which grew by 2.3% to GBP48.46, an acceleration of growth against the 0.9% reported in 1H.
Flybe UK Airline traffic and revenue data: 3QFY2014 versus 3QFY2013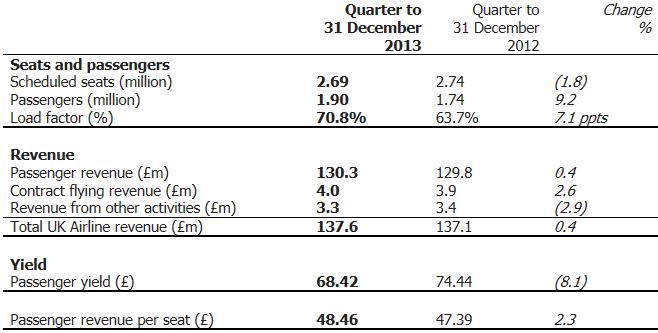 Flybe says that its share of UK regional (i.e. ex London) domestic passengers was 49.6% in the three months to Dec-2013, up from 48.4% for the same period a year earlier, and that its share of total UK domestic passengers was 25.9% (up slightly from 25.8%).
The GBP4 million of revenues earned from contract flying relates to four aircraft operating on behalf of Brussels Airlines. This activity will cease this calendar year, with two aircraft continuing until Apr-2014 and the remaining two until Oct-2014.
In addition, 3Q costs per seat (excluding fuel and restructuring costs) were reduced by 5.2% to GBP41.58, an improvement on the 2.2% reduction achieved in 1H. On a constant currency basis, costs per seat (ex fuel and restructuring) fell by 6.0%, compared with a fall of 3.9% reported for 1H.
Flybe Finland's contract flying revenues grow by 24%
In Finland, Flybe's revenues from so-called 'white label' flying (contract flying) increased by 23.7% to GBP52.2 million. Flybe Finland's own risk commercial passenger revenues were GBP7.1 million, level with 3Q last year. The rate of growth in contract flying revenues in 3Q was lower than the trebling of revenues seen in 1H. The year on year growth rate eased, reflecting the fact that Flybe added 12 aircraft to its contract for Finnair on 28-Oct-2012, the anniversary of which fell during the quarter.
Flybe Finland revenue data: 3QFY2014 versus 3QFY2013

14 Embraer E195 aircraft to be grounded from UK fleet
At the end of Dec-2013, the Flybe Group fleet consisted of 98 aircraft, all regional jets and turboprops, of which 70 in Flybe UK and 28 in Flybe Finland. Flybe took delivery of two new Embraer E175 aircraft during the quarter. A total of 25 aircraft are deployed in contract flying (21 for Finnair and four for Brussels Airlines). According to Flybe, the average age of the fleet is 5.6 years, which compares favourably with the majority of airlines in Europe.
As part of its restructuring programme (see below), Flybe will ground 10 Embraer E195 aircraft by the end of Mar-2014 and the remaining four of this type by the end of northern hemisphere summer 2014. CEO Saad Hammad told analysts on a conference call to discuss the 3Q results that the E195 does not make sense in the context of Flybe's operations. He views the group's turboprops as the core of the fleet, although there continues to be a role for the smaller regional jets.
Flybe is currently looking at ways to minimise the cost to Flybe of the planned aircraft groundings. These include discussions with third party airlines, including European flag carriers, about contract flying; and possible sub-leases or early hand-backs of leased aircraft (10 aircraft come to the natural end of their lease over the next 18 months anyway).
Flybe Group fleet at 31-Dec-2013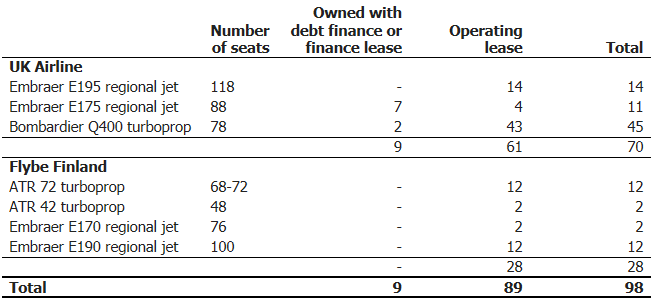 Mr Hammad said that third party discussions on white label flying had been "unlocked" by Flybe's progress in its turnaround, which was leading to increased confidence in Flybe. Previously, the airline had faced some difficulties in engaging with potential customers for its contract flying operations, because they were concerned about Flybe's future viability. Improved operational performance in the Finnair contract flying business was also helping in this respect.
Progress on three areas of "immediate action" to extend restructuring
Shortly after joining Flybe in Aug-2013, Mr Hammad identified three areas of immediate action in the UK operation to increase the benefits already targeted by the company's restructuring programme: 1) to optimise configuration, 2) to reduce costs further and 3) to improve commercialisation. The airline's 3Q statement included an update on these three areas.
See related report: Flybe: back in the black, but cost transformation is still needed
Optimise configuration, including new routes from Birmingham
Flybe has now rationalised its UK network for summer 2014, affecting 55 routes out of a total of 140 last summer, including the termination of 30 routes deemed unprofitable. In addition, Flybe is cutting the number of UK bases from 13 to seven in Mar-2014.
Bases at Inverness, Aberdeen, Isle of Man, Newcastle, Jersey and Guernsey are to close, although Flybe will still operate routes to/from each of these airports. Flybe had already agreed to sell its slots at London Gatwick to easyJet. Its UK network will consist of 114 routes this summer.
See related report: EasyJet works the Gatwick slot machine as Flybe cashes out
Flybe top 10 airports by seats: 3-Feb-2014 to 9-Feb-2014
The restructuring is not only about reduction: Flybe is to undertake a significant expansion programme at Birmingham Airport, adding three more aircraft to make a total of 12 based there. It will add seven new routes in summer 2014 from Birmingham to Florence, Cologne, Toulouse, Alicante, Bordeaux, Palma de Mallorca and Porto, bringing the total number of routes to 32.
Flybe's new routes from Birmingham summer 2014
| Destination | Flybe weekly frequency | Competitors on route |
| --- | --- | --- |
| | 6x | None |
| | 7x | None |
| | 6x | None |
| | 5x | |
| | 4x | |
| | 4x | |
| | 4x | None |
Birmingham, the UK's second largest city, will be Flybe's biggest base and Flybe is already Birmingham's biggest carrier. According to Mr Hammad, Flybe's existing strength at the airport was a key consideration in deciding to grow further.
"Remember the old mantra in the airline business," he told analysts on the 3Q conference call, "if you have presence, you will get customer preference and profitability. It's the three p's: presence, preference, profits."
Birmingham Airport leading carriers by seats: 3-Feb-2014 to 9-Feb-2014
In terms of route selection, the focus is on routes that are defensible and which offer the right economics (specifically in terms of airport charges), says Mr Hammad. Given Flybe's fleet of small regional aircraft, an example of a defensible route (particularly versus the LCCs) is one where the destination airport has a short runway not suitable for A320/Boeing 737 operations, such as Birmingham to Florence. Examples of destinations offering attractive economics are Cologne and Toulouse, according to Mr Hammad.
Four of the seven new routes from Birmingham will have no competitors. Monarch is a competitor on all of the remaining three, with Ryanair additionally present on Alicante and Palma (both Thomas Cook and Thomson Airways are also on the latter route). These are formidable competitors, in particular Ryanair, which has a significant cost advantage. According to Mr Hammad, competitor capacity reduction and Flybe's schedule complementing those of the competition will allow it to compete on these routes.
Reducing costs further
The integrated organisation structure, and the removal of the previous divisional structure, is now complete, as is the streamlining of Flybe's senior management team. In terms of cost reduction, there is no change to Flybe's aim to reach its previously announced targets of GBP30 million in Phase 1, GBP10 million in Phase 2 and the additional savings identified by Mr Hammad of GBP7 million in FY2014 and GBP26 million in FY2015. Nevertheless, Flybe's statement adds to the confidence that it will achieve these targets.
Flybe Turnaround Plan cost saving targets*

Planned job losses, an important element of cost cutting targets, will now amount to around 450, down from the previously estimated figure of 500. Flybe expects around half of the headcount reduction to come from voluntary redundancy and most of the rest to be leavers, with only around 10% from compulsory redundancy. Flybe's workforce was among the least productive in the European airline sector in 2012 and this is a crucial area for improvement.
See related report: European airline labour productivity: CAPA rankings
Improving commercialisation
In the area of improved commercialisation, Flybe has made new management appointments and is continuing to work on enhancing its marketing through the media and its website. In addition, it has developed a structured route profitability and selection methodology, leading to nine new routes for summer 2014, and introduced improvements to pricing, revenue management and route management ("early results are showing encouraging trends", according to the Flybe). It also says that trading partnerships with major suppliers are being strengthened and developed.
In addition to the restructuring in the UK airline, Flybe is implementing a programme to reduce losses in the legacy scheduled 'own risk' part of its Flybe Finland operation. This network, which involves six routes, is loss-making overall. Flybe is to close two of these routes and will review the remaining four with Finnair. The pure white label part of the business, which consists of 22 routes, is profitable.
"A firm foundation for future profitable growth"?
Turning to the outlook, Flybe notes that the aviation sector remains "highly competitive", although the UK economy has returned to growth. It sees its position in the regional UK market as a key strength as it plays an important part in connectivity for "regions, airports, passengers and indeed for other airlines". While recognising that revenues will be affected in the short term by the dropping of unprofitable routes, Flybe argues that its improved cost structure will provide a "firm foundation for future profitable growth".
In Mr Hammad, Flybe has a CEO with experience in working with competitors including easyJet and airberlin and who seems to understand the urgency of the need to transform the cost base. Moreover, the early signs are that he is a CEO with the ability to execute on a plan.
However, there is still a long way to go before Flybe can be assured of sustained profitability. As CAPA has observed before, even after its current restructuring programme, its unit costs will remain high by comparison with benchmark LCCs. The cost cutting must continue.
See related report: Flybe: not yet "Fit to Compete", but the exercise regime has started