EasyJet works the Gatwick slot machine as Flybe cashes out
Analysis
On 23-May-2013, Flybe announced it had conditionally agreed to transfer all of its 25 daily slot pairs at London Gatwick (6% of the total at the airport) to the airport's leading carrier easyJet for GBP20 million. The deal is subject to approval by Flybe shareholders at an EGM (expected in Jul-2013). Flybe intends to continue to use the slots to operate its existing routes from Gatwick until Mar-2014.
Flybe may have been pondering the decision to end its 22 year association with Gatwick for some time. Its slot share at the airport has declined in recent years, while airport charge increases have disproportionately hit operators of regional aircraft.
Why did Flybe make the decision; what does the deal say about the value of Gatwick slots versus those at Heathrow; and how might easyJet use the slots?
"...discriminatory pricing regime"
In explaining its decision to exit the Gatwick market, Flybe referred to the "discriminatory pricing regime applied by the airport's owners to the operators of smaller, regional aircraft which, in Flybe's case, has resulted in a 102% increase in charges over the last five years". It continued by explaining that "Flybe has a significant per seat cost penalty at LGW against the operators of larger, 150+ seat aircraft, such as easyJet and IAG". Domestic routes are further disadvantaged by the double charging of Air Passenger Duty (which is a UK departure tax).
Given Gatwick's status as the world's largest airport (by passenger numbers) with a single runway, it is easy to understand why its pricing regime does not make it an attractive airport for operators of smaller regional aircraft. The airport's preference is to squeeze more passengers from each take-off and landing. That said, Gatwick's charges are overall well under half those at London Heathrow and more or less in line with Stansted's.
It is likely that Flybe had been pondering this decision for some time, given three pre-tax losses in the past five years (its FY2013 results are expected in Jun-2013 and another loss is expected), the increases in charges at Gatwick and Flybe's declining share of slots at the airport. After growing its slot share through the early 2000s, Flybe has seen its share fall from 9% in summer 2010 to 6% in summer 2013. Former number one carrier British Airways is now second with 16%.
Meanwhile, easyJet has enjoyed a seemingly relentless increase in its Gatwick slot share from 4% in summer 2002 to 41% in summer 2013. The Flybe deal will take easyJet to 47%. When the Civil Aviation Authority recently published its initial proposals for a new airport charge regime at Gatwick, EasyJet argued that the proposed charge increase of RPI +1% appeared to be driven by capital expenditure that "doesn't provide value for money for passengers and an unreasonably high cost of capital".
It said that it will respond to the CAA asking for it to reduce the proposed charges. Nevertheless, its response was more muted than those of some other carriers and it presumably values the yield premium it attracts at Gatwick enough to continue its growth there in spite of higher charges.
See related report: CAA's price proposals for London's airports: the battle begins as airlines go on the attack
Share of slots at London Gatwick for easyJet, British Airways and Flybe summer schedule: 2002 to 2013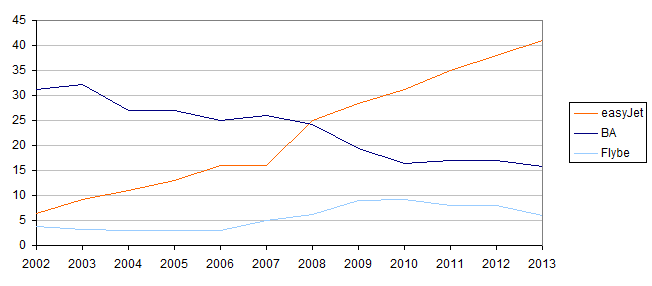 London Gatwick top 10 airlines by Air Transport Movement Summer 2013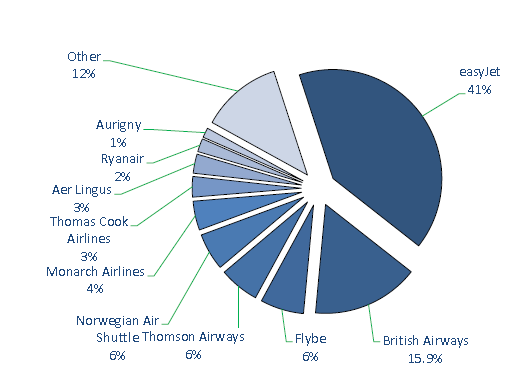 Flybe has less than half the average number of passengers per ATM at Gatwick
Although Flybe is Gatwick's number three carrier by slots (or ATMs), it is only number eight by passenger numbers. Operating regional aircraft with between 78 and 118 seats, Flybe's average number of seats per ATM is 78, versus an average of 174 for the airport.
Leading carrier easyJet has 161 passengers per ATM, using 156 seat A319s and 180 seat A320s. This is below the average for the airport as easyJet does not operate any long-haul routes. Other operators, such as Monarch, Thomas Cook and, in particular, Virgin Atlantic have above average levels of passenger per ATM, reflecting their long-haul networks.
London Gatwick top 10 airlines by seats Summer 2013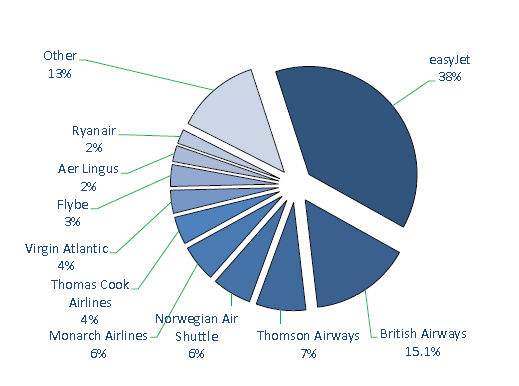 Seats per ATM at London Gatwick
| | | | |
| --- | --- | --- | --- |
| Airline | Share of ATMs % | Share of seats % | Seats per ATM |
| | 41 | 38 | 161 |
| | 16 | 15 | 165 |
| | 6 | 3 | 87 |
| Others | 37 | 44 | 206 |
| Total LGW | 100 | 100 | 174 |
The challenge of trying to make money at an airport where Flybe has less than half the average number of passengers for every take-off and landing, but does not pay only half the average airport fee has clearly become unsustainable. Moreover, the GBP20 million that Flybe will receive for the slots is a welcome influx of cash at a time when planned deliveries of Embraer aircraft have had to be delayed from 2014/2015 to 2017/2019.
LCCs have added to the pressure on Flybe
Flybe's problem at Gatwick is further highlighted when the competitive pricing environment is taken into account. As noted above, easyJet is already a dominant player and other LCCs are making their presence felt at Gatwick.
Norwegian Air Shuttle has 6% of slots and seats and can be expected to grow further since it has established a new base at Gatwick this summer. Ryanair has a small position at the airport, although it reduced its presence this summer versus 2012, and both Vueling and Pegasus are also present.
Comparing Flybe's average revenue per passenger with Europe's leading LCCs, only Norwegian charges its passengers more than Flybe. Given that Norwegian's average sector length is two and a half times longer than Flybe's, its 4% price premium looks very good value. The other LCCs all have average sector lengths at least twice as long as Flybe's, yet all are much lower priced (in terms of revenue per passenger). Although their route networks are different from Flybe's, they influence perception about market prices and make Flybe look expensive.
Total revenue per passenger for Flybe* and low-cost carriers FY2012 (EUR)
| Airline | Rev/pax (EUR) |
| --- | --- |
| Norwegian Air Shuttle | 97 |
| | 93 |
| Easyjet | 80 |
| | 75 |
| | 68 |
| | 58 |
| | 57 |
Of course, pricing profitably is all about costs and Flybe has a unit cost disadvantage relative to the LCCs, which are increasingly important at Gatwick. Its cost per ASK (CASK) is more than double that of Norwegian, the highest-CASK LCC, and more than four times that of Ryanair.
Again, Flybe has a shorter average sector length, but, even allowing for this, its CASK looks high compared with Europe's LCCs (see chart below). Operating small units of production at a relatively high cost airport such as Gatwick does nothing to mitigate this. Hence Flybe's decision to exit.
Unit costs (cost per available seat kilometre, EUR cent) and average sector length for selected European low cost carriers 2012*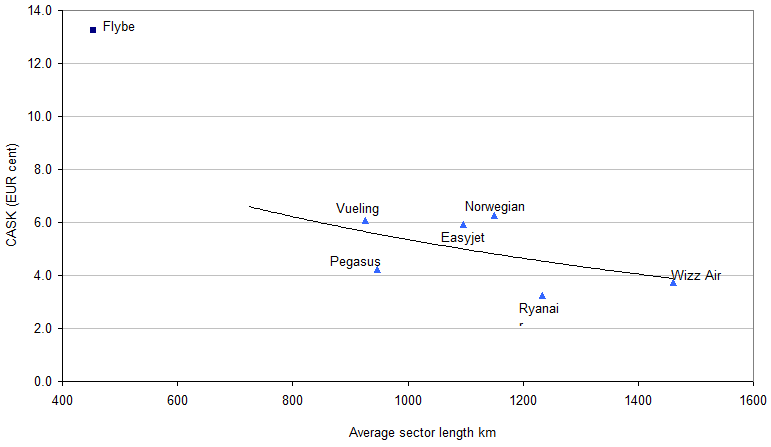 Gatwick slots, at GBP800,000 per daily pair, are valued at a wide discount to Heathrow
The deal between easyJet and Flybe is a rare example of a publicly announced trade involving Gatwick slots. Moreover, although it is possible that easyJet may see more value in the slots than smaller operators at Gatwick, the portfolio of slots sold is big enough (6% of the total) and sufficiently well distributed through the day to give what is likely to be a fairly representative view of the average market value of slots at the airport.
The deal values Gatwick slot pairs at GBP800k per daily pair, a considerable discount to slots at London Heathrow.
See related report Heathrow Airport's slot machine: hitting the jackpot again?
Flybe's slots are well distributed through the day
Flybe's daily slot pairs are fairly well distributed through the day, with arrivals from 7.55am to 7.25pm and departures from 8.30am to 9.20pm (see chart below). It lacks the night time arrival slots that can be useful for incoming flights from leisure destinations (easyJet has arrival times through the night for such flights) and is light on business friendly slots allowing pre 8am departures, but has four pre 9am arrivals that are suitable for business travellers.
Flybe's arrival and departure slots are fairly well coordinated into groups of arrivals separated from groups of departures with a delay of 30 to 45 minutes, which should fit with easyJet's turnaround targets and facilitates passengers choosing to self-connect, especially when blended with its existing portfolio.
Flybe's Gatwick daily arrival and departure times summer 2013 (27-May-2013 to 2-Jun-2013)

Focusing on departure slots, easyJet's current holding allows take-off times varying from 5.30am to 10pm, fairy uniformly spread through the day. It has a gap between 9.10am and 9.55am, which three of Flybe's departure slots will help to fill. Flybe's slots should also be useful in plugging a gap between 7.25pm and 7.45pm and in filling out easyJet's holding in other parts of the day that are currently relatively thin on departure times.
Flybe's and easyJet's Gatwick daily departure times summer 2013 (27-May-2013 to 2-Jun-2013)

easyJet may add frequencies and new routes to Gatwick
EasyJet has not given details of how it plans to use the new slots from Flybe, saying only in a statement released on 23-May-2013 that they will "allow easyJet to provide additional frequencies on popular existing routes from Gatwick as well as add new destinations across the UK and Europe". It has also said that it is committed to serving the Highlands (Scotsman.com 28-May-2013), one of Flybe's longstanding markets.
EasyJet's planning may start with consideration of whether or not to keep existing Flybe routes, in particular where easyJet already has a presence, or where the market may be big enough to support its larger aircraft capacity. According to Innovata, Flybe offers eight routes from London Gatwick (LGW) in the current summer schedule (week of 27-May-2013). Seven of these are domestic UK routes and one, Bergerac, is in France. EasyJet already operates two of the routes with the same airport pair (to Isle of Man and to Inverness, which easyJet also serves from Luton).
On a further three, easyJet operates the city pair with a different airport at one or other end of the route (London to Belfast, London to Jersey and London to Newquay). Of the remaining three airports, easyJet has no presence at two (Bergerac and Guernsey) and serves one (Newcastle) from other cities.
Flybe routes from London Gatwick where easyJet also operates the city pair
| Flybe route | Flybe service | Weekly freq. | easyJet route | easyJet service | Weekly freq. |
| --- | --- | --- | --- | --- | --- |
| | Dash 8, 78 seats | 2x | | A319, 156 seats | 31x |
| | Emb 195, 118 seats | 18x | LTN-Belfast Int'l | A319 156 seats | 18x |
| | | | LTN-Belfast Int'l | A320 180 seats | 2x |
| | | | SEN-Belfast Int'l | A319, 156 seats | 9x |
| | | | STN-Belfast Int'l | A319, 156 seats | 12x |
| | | | STN-Belfast Int'l | A320 180 seats | 1x |
| | Emb 175, 88 seats | 19x | | A319, 156 seats | 9x |
| | | | LTN-Inverness | A319, 156 seats | 7x |
| | Dash 8, 78 seats | 26x | | A319, 156 seats | 5x |
| | Emb 175, 88 seats | 28x | SEN -Jersey | A319, 156 seats | 5-6x |
| | Dash 8, 78 seats | 20x | SEN -Newquay | A319, 156 seats | 3x |
Flybe routes from London Gatwick not operated by easyJet
Gatwick is already easyJet's largest hub and the LCC flies from there to 107 destinations (according to its website 30-May-2013) in almost every one of the countries it serves apart from Sweden, Israel, Serbia and Kosovo. In addition to considering adding new routes to those countries from Gatwick, easyJet may consider adding destinations in Poland, where it currently serves only Krakow.
Alternatively, given what CEO Carolyn McCall believes to be a significant opportunity to grow share in existing markets, easyJet may focus on airports already in its network, but not served from Gatwick, and on additional frequencies on its current routes.
This summer, easyJet favours Switzerland, Italy, UK, Germany and Portugal, but is retreating from Spain due to increased airport charges.
See related report: easyJet sets course for record FY profits - and another clash with Sir Stelios...
EasyJet planned year on year seat capacity growth in 2H2013: Apr-2013 to Sep-2013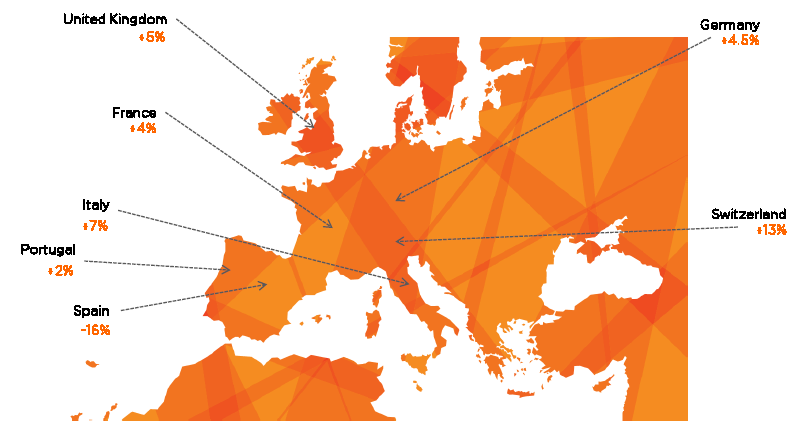 EasyJet destinations served from other airports, but not currently from Gatwick, include Tel Aviv and Istanbul to the East; Stockholm to the North; Ljubljana, Pristina and Belgrade in Central Europe; Cagliari, Alghero, Lamezia and Brindisi in Italy; Bilbao and Asturias in Spain; Brussels, Paris, Lille, Dortmund and Dresden in Western Europe; and Fez, Casablanca and Tangier in Morocco.
As Group Commercial Director Catherine Lynn explained to CAPA, the criteria for adding routes are that they should be "margin accretive and have no adverse impact on on-time performance, aircraft utilisation or customer satisfaction".
Overall, Flybe's slot portfolio looks sufficiently well balanced, in terms of times through the day and the coordination of arrivals and departures, to allow easyJet considerable flexibility in their use, whether for new routes or for additional frequencies.