EVA Air: new SE Asia services to feed North America network
Analysis
Regional Asia growth does not receive the attention that intercontinental long haul growth does, but regional expansion provides the foundation connections for an expanded range of long haul flights.
In Jul-2018 Eva Air inaugurated service to Chiang Mai, its 12th Southeast Asia destination. EVA Air disclosed that it is planning for its 13th and 14th destinations – Penang and Yangon. EVA Air may also fly to India.
Taiwan's "Go South" policy encourages the economy – transportation and tourism included – to do more business in Southeast Asia in order to differentiate away from Northeast Asia and reduce reliance on mainland China. The new destinations will also help fuel EVA's North America network, which accounts for approximately half of the airline's system-wide flying. Half of EVA's North American passengers connect beyond Taipei, mostly to Southeast Asia.
New destinations, especially those that few other competitors serve, add uniqueness. Rapid trans Pacific growth in recent years has necessitated a greater number of unique city pair combinations. Cathay Pacific's regional arm Cathay Dragon is adding service to two Southeast Asian destinations not yet served by another Northeast Asian airline.
Summary
The new destinations, if launched, would further Taiwan's aim to grow tourism from Southeast Asia and reduce dependence on Northeast Asia.
Approximately two thirds of Taiwan's visitor arrivals are from Northeast Asia. This includes mainland China, with a 25% share of all arrivals, and Japan at 18%. Taiwan's quest for Southeast Asia growth is partially out of opportunity, but also as a hedge should the uncertain mainland China market dip – which has occurred over the years, with significant impact on Taiwan tourism.
Taiwan visitor arrivals by market: 2017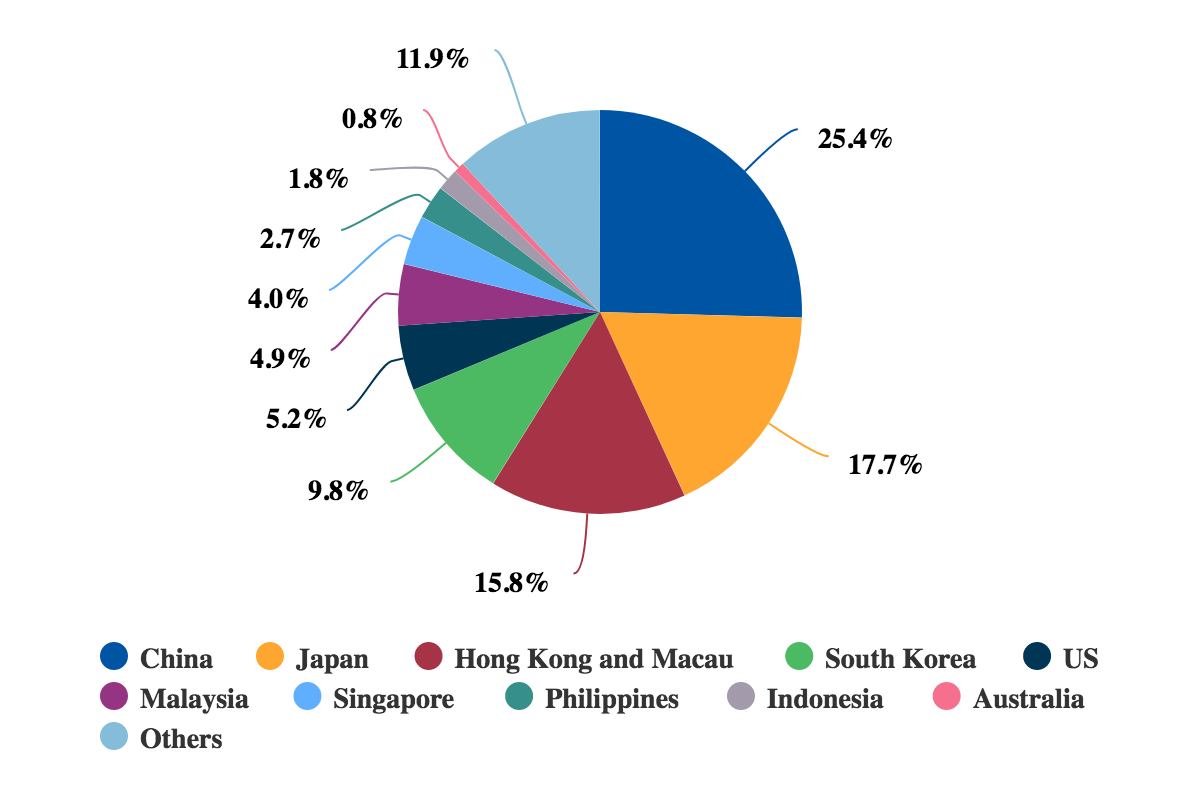 Taiwan receives a larger share of visitors from the US before any Southeast Asia market. Taiwan's largest Southeast Asian source markets are Malaysia (5%), Singapore (4%), Philippines (3%) and Indonesia (2%).
Singapore has only a 1ppt difference from Malaysia, despite Singapore's much smaller size. This is partially the result of LCC competition between Singapore and Taiwan (Scoot and Jetstar) as well as ample full service airline capacity, as EVA Air and China Airlines use widebodies to feed their North American networks.
Penang would be a new passenger destination for EVA Air. The airline has freighter services to Penang, while China Airlines has freighter services as well as a daily 737-800 passenger service. China Southern has twice daily Airbus narrowbody flights to Guangzhou, which connect with its North American network (albeit limited).
Penang International Airport international seat capacity by airline: week commencing 02-Jul-2018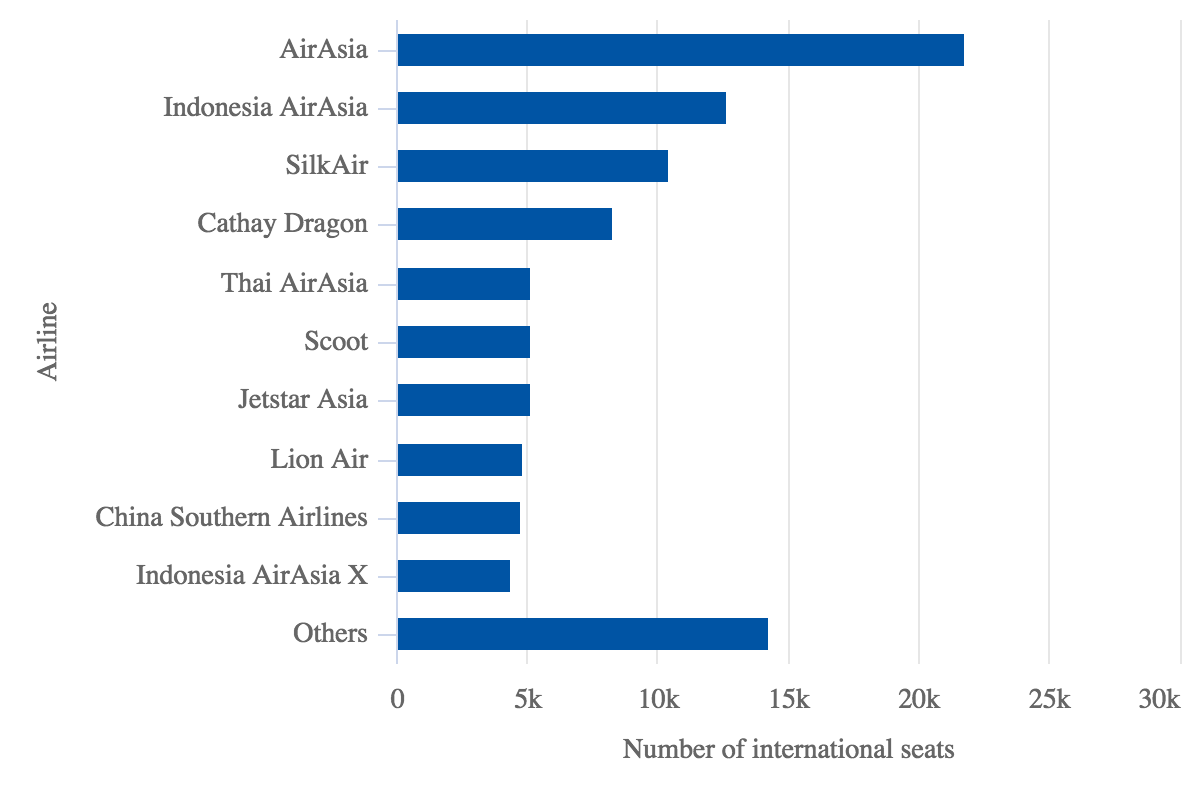 The main competition is from Cathay Dragon, which has twice daily flights on narrowbody and widebody aircraft. Cathay Dragon's sister airline Cathay Pacific has a larger North America network but also links Penang to the rest of Northeast Asia.
No other Northeast Asian airline serves Penang with passenger service (Korean Air has freighter service). Cathay Dragon is the fourth largest international operator at Penang. 17% of Penang's international capacity is to Northeast Asia.
Penang International Airport international seat capacity by region: week commencing 02-Jul-2018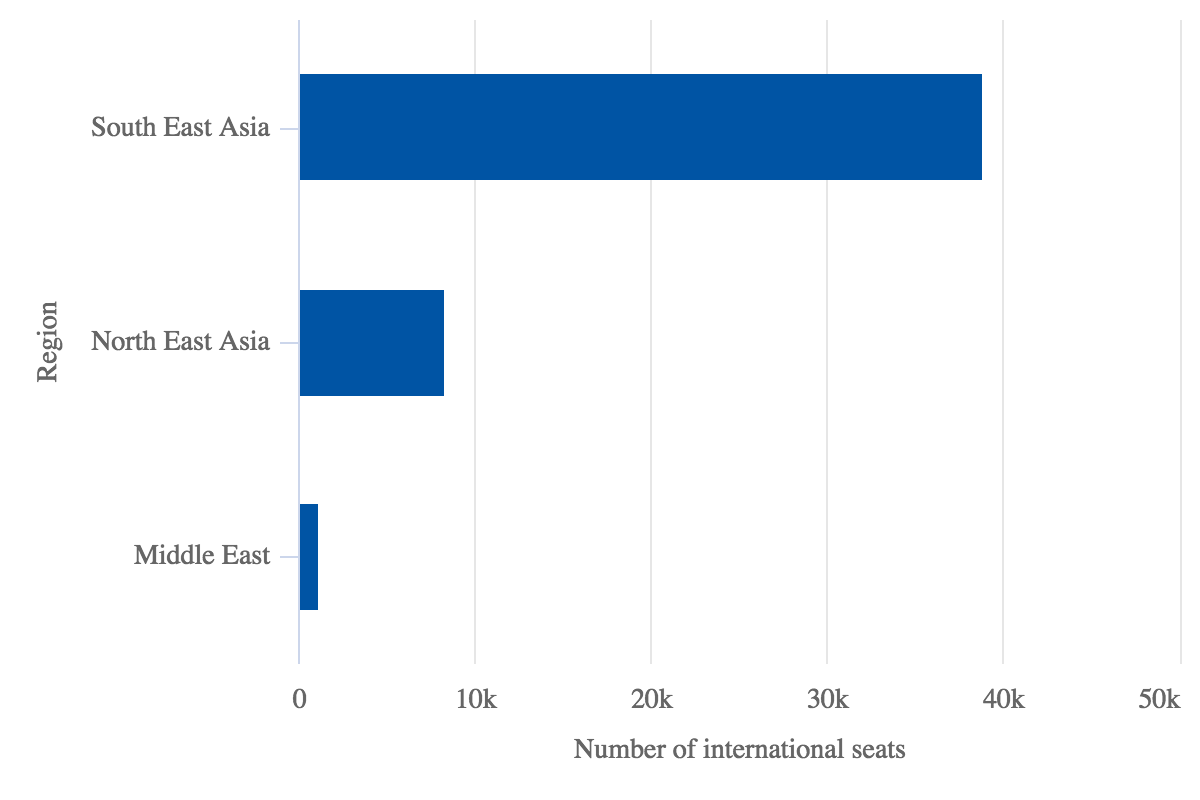 Yangon represents a service resumption for EVA Air, if launched. EVA Air was one of a number of airlines to launch service to Yangon after political change and an impending opening-up for business. EVA Air entered Yangon with other Northeast Asian airlines, including ANA and what is today Cathay Dragon, both of which are able to link Yangon with their large North American networks.
EVA Air served Yangon for eight months from Oct-2012 to May-2013. Taiwan was initially a smaller business partner for Myanmar and EVA Air operated at lower frequency than Cathay Dragon. ANA also had low frequency, but operated a premium aircraft while Japan had larger business ties.
Yangon has far more Northeast Asian competition than Penang. Also, Gulf airlines are more present in Yangon. One-stop flights from Yangon to North America can be longer than transiting through a Northeast Asian hub, but fares can be low. Gulf airlines tend to be more present in the Southeast Asia-East Coast North America market, which represents a smaller detour compared to Northeast Asia-West Coast North America.
Unlike service on Penang, the North American heavyweights ANA and Korean Air serve Yangon. Two mainland Chinese airlines – Air China and China Southern – link Yangon with their main hubs. China Eastern serves Yangon from Kunming and not Shanghai, the hub for its North American network.
Northeast Asia represents 19% of Yangon's international seats, which is a share not much higher than the 17% that Northeast Asia represents at Penang.
Yangon Mingaladon International Airport international seat capacity by region: week commencing 02-Jul-2018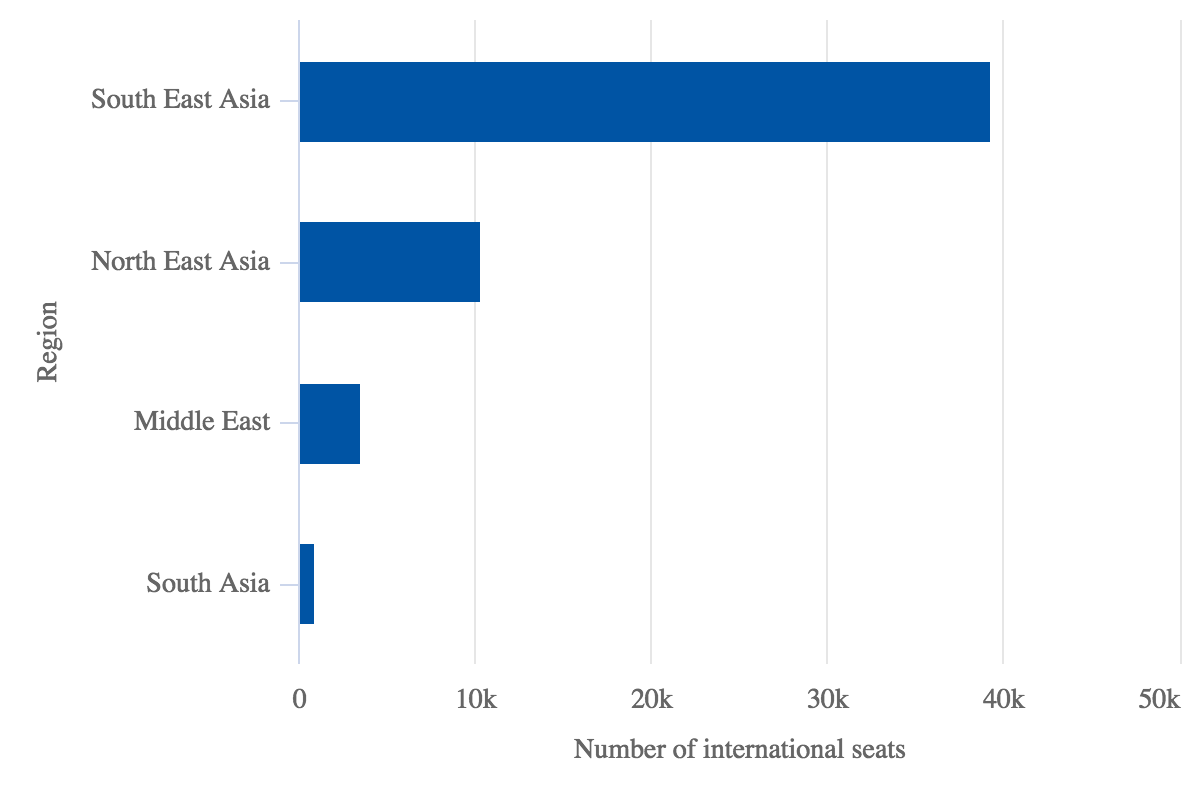 India's high volumes but low yields are challenging
EVA Air has also said that it is considering service to India but would have to assess aeropolitical instruments. Taiwan and India amended their air service agreement in 2016, with reports stating that each side was permitted 14 weekly passenger flights. The only passenger services are two weekly flights from China Airlines on the Taipei-Delhi route. This low frequency does not suggest a large unserved market.
Northeast Asian airlines have a number of challenges growing in India. Local demand is typically very small due to limited business, tourism and VFR markets – unlike in Southeast Asia.
Flights from Northeast Asian hubs to India can between five and nine hours – a long time to sustain a flight on mostly connecting traffic with little O&D traffic. Gulf airlines do this across their network, but their market is connecting traffic, whereas Northeast Asian airlines are structured more towards a balance between O&D and connecting traffic.
See related reports:
The high cost of Northeast Asia-India flights is especially limiting to ANA and JAL, which are historically Northeast Asia-North America connecting airlines but have the highest cost bases in Asia.
The distance between India and Northeast Asian hubs requires a widebody aircraft to be used in most instances. Next generation narrowbodies (A321LR, 737 MAX) will only open so many markets in Northeast Asia-India. This limits the opportunity to link thinner markets and offer high frequency, or trade three weekly widebody flights with a daily narrowbody (traffic rights permitting; some are based on frequency and others on seats/units of capacity).
New Asian destinations will help EVA's North America network. North America accounts for 48% of EVA's ASKs, and more when the regional Asia capacity that exists largely to feed North American flying is taken into account. An expanded Asia network can help EVA Air grow in North America while also improving the existing network.
As one-stop trans Pacific competition increases, EVA Air needs more differentiation.
EVA Air ASKs by region: Week commencing 02-Jul-2018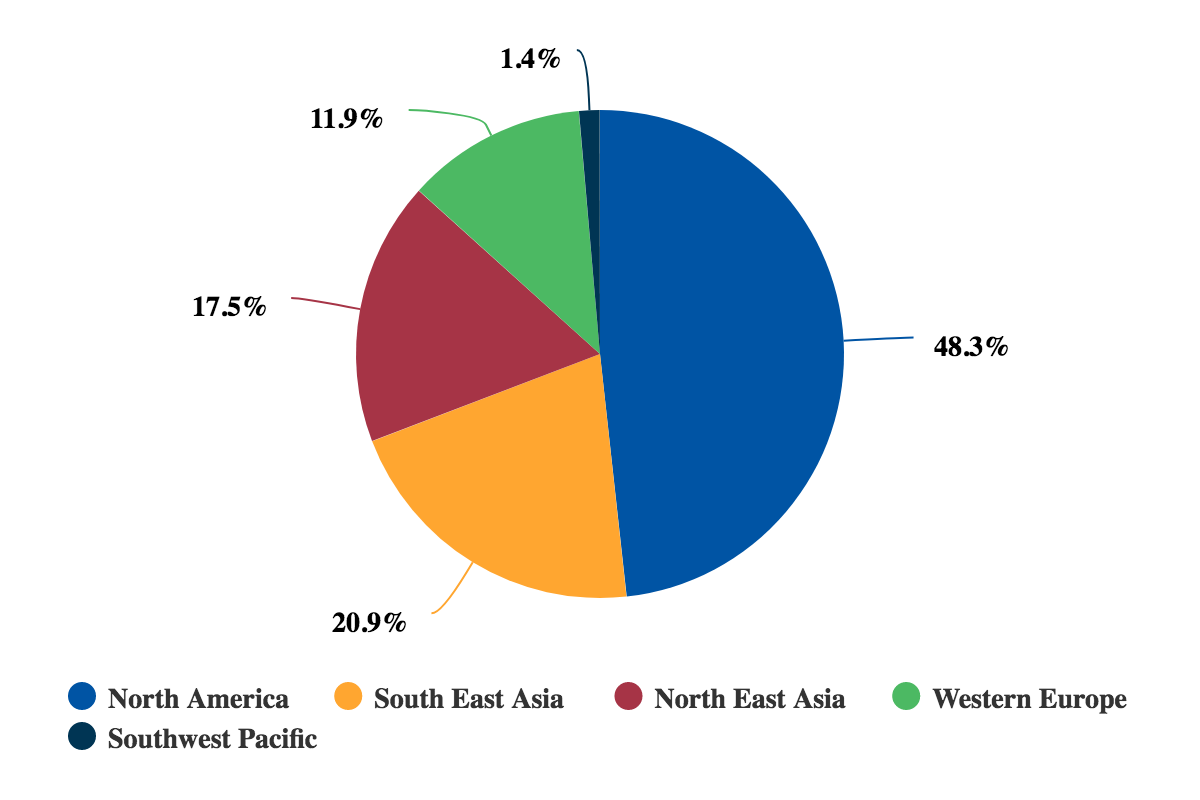 Should EVA Air add Penang and Yangon, it will have 14 destinations in Southeast Asia from its main hub.
In 2017, with 11 markets, EVA served the same number of Southeast Asian destinations as China Eastern did from its hub. This considers only destinations served, and not frequency, capacity or connectivity. EVA will have much more differentiation than ANA, and come up to Korean Air. Penang and Yangon, besides being new destinations, bring more uniqueness to EVA's network.
In comparison, all of ANA's Southeast Asian destinations are served by three or more airlines in this benchmark study of leading trans Pacific operators with Southeast Asian connections.
Southeast Asian destinations from selected Northeast Asian airlines: 2018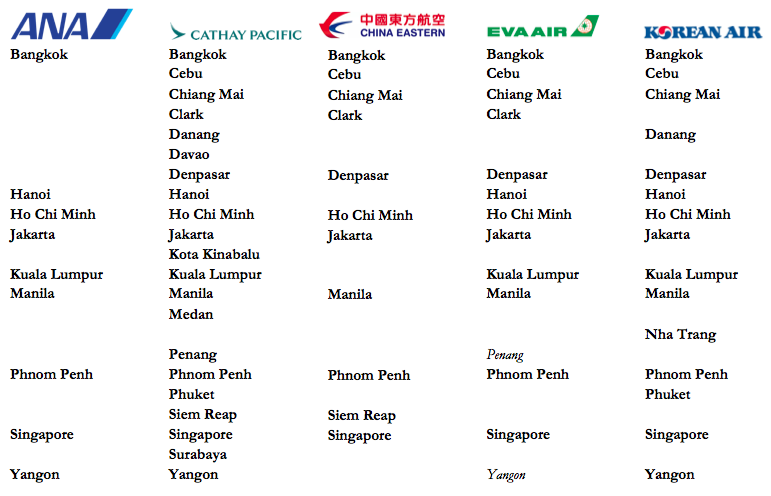 EVA Air's additions of Penang and Yangon also reduce the dominance of competitors. Exceptions are Cathay Pacific and Cathay Dragon, which have added service to two destinations – Davao and Medan – not served by any other Northeast Asian airline.
Southeast Asian destination comparison among selected Northeast Asian airlines: 2018
Potential for the connectivity upside is still largely unrecognised
Yet for all the changes, there is still far more growth to be unlocked with improvements in narrowbody aircraft technology, slots, traffic rights and government transparency. The inevitable focus on China market growth tends to disguise the great potential for growth of southeast (and south) Asian transfer markets over north Asia.
The large distances across the Pacific make direct services operationally difficult and often uneconomical, but as economies grow and trade links with north America expand, traffic flowing along the linkages made possible by connecting services will only increase.