Emirates and Air New Zealand CEO Rob Fyfe scoop top CAPA Awards for Excellence
Analysis
Emirates was named the winner of the prestigious Centre for Asia Pacific Aviation (CAPA) Airline of the Year Award for 2010 at a gala reception in Singapore this evening. Air New Zealand's Rob Fyfe was named CEO of the Year. The awards ceremony was held as part of this year's seventh annual Asia Aviation Outlook summit, showcasing airline and airport CEOs from around the Asia Pacific and Middle East regions.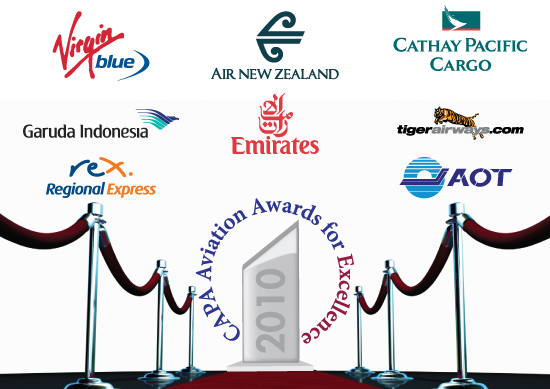 The CAPA Airline of the Year is awarded to the carrier that has had the greatest impact on the development of the airline industry in the region, establishing itself as a leader, and the benchmark for others to follow. It is the second time Emirates has won CAPA's coveted top award having previously won in 2005.
"Emirates' achievements in the past year have been extraordinary, as one of the most profitable and fastest-growing airlines in the world. Emirates' influence on competitor airline strategy continues to increase, as it aggressively enters new markets and expands others and demonstrates leadership in high-quality passenger service. Emirates' development has contributed to Dubai's surge through the rankings of the world's biggest international hubs, from 26th place in 2001 handling 12.4 million international passengers to sixth place last year with 40.1 million," said Executive Chairman of CAPA, Peter Harbison.
"The CAPA Airline of the Year for 2010 is certain to have a lasting and irreversible impact on the evolution of the worldwide aviation and tourism industries."
Previous winners of the CAPA award include Singapore Airlines, AirAsia, AirAsia X, Cathay Pacific, Air China, Virgin Blue and Qantas.
Other winners of 2010 CAPA Awards for Excellence included:
CAPA Transport Minister of the Year is Japan's Sumio Mabuchi

Mr Harbison stated: "Minister Mabuchi has provided strong leadership of and support to the Japanese aviation sector that is both confronted by tremendous opportunities, as well as significant challenges. His immediate predecessor, Mr Maehara, has set Japan on a new path which could see the country's aviation system reinvigorated from what had previously appeared to be an almost inevitable decline into stagnation. There is still much to be done to reduce Japan's excessively costly aviation framework, but with Mr Mabuchi's guidance and courage, we hope that much can be achieved. Significantly, although he had hoped to be with us tonight, he is committed to attending the formal opening of Haneda Airport's expansion, a vital piece of Japan's aviation future."
Regional Express accepts CAPA Regional Airline of the Year
Mr Harbison stated: "Regional Express has benefited from its superb commitment to regional areas in Australia during the hard times of recent drought, to be well positioned as the mining boom gathers pace and regional areas recover. Regional Express, under the leadership of Lim Kim Hai, continues to deliver excellent service and profits for shareholders. Among regional airlines in the Asia Pacific region, Rex continues to demonstrate keen leadership."
"Airports of Thailand has had a challenging few years, but has handled these demands with distinction," Mr Harbison said. "AOT's international airports have bounced back strongly in 2010 and the airport authorities' partnerships with airlines and the tourism industry are bearing fruit. This has been a particularly difficult period and strong leadership from AOT has been key in the industry's speedy recovery."
Tiger Airways announced CAPA Low-Cost Airline of the Year
"Tiger Airways is a worthy winner of the CAPA Low-Cost Airline Award, its second, following its initial success in 2006 as it burst onto the Asia Pacific aviation scene. Tiger has staunchly pursued its low-cost disciplines to help transform the Singapore and Australian markets and is poised to do likewise in Thailand and other Asian markets it chooses to enter. A successful IPO and the recent announcement of a JV with Thai Airways has positioned the LCC for a strong future. Headed by an excellent management team, Tiger is one of the world's best positioned LCCs to benefit from the growth in economic development and liberalisation of Asia Pacific aviation markets", Mr Harbison said.
Garuda Indonesia selected as CAPA's Airline Turnaround of the Year
According to CAPA's Executive Chairman: "Garuda Indonesia has enjoyed a return to form in recent years under President Director, Emirsyah Satar. Under his leadership, Garuda implemented a Business Transformation Programme in 2005, which saw net profits returned in 2007. The carrier is bullish on its future and has embarked on a comprehensive fleet rejuvenation and enhancement strategy. The carrier will also achieve a milestone IPO in coming months which should trigger further reform of the Indonesian aviation system. Garuda Indonesia has also been identified recently by CAPA as one the key Asia Pacific Airlines to Watch in 2011.
Air New Zealand CEO Rob Fyfe accepts CAPA Aviation Executive of the Year
"Our Executive of the Year has been a tireless advocate for innovation and customer orientation – two hallmarks of Air New Zealand's recent success. For a small airline at the end of extremely long thin routes, the carrier has performed remarkably in the past two difficult years. And for it to be seen consistently as an innovator, in extraordinary marketing initiatives and in remarkable products such as the new long haul economy seating, is testimony to the CEO's willingness to 'have a go'. It is hard to conceive of another airline CEO who would have been prepared to bare all, as he did, in last year's promotion to illustrate Air New Zealand's no-hidden-costs. And, with a similarly creative network strategy, the airline is well positioned to benefit from the upswing in mainland and SAR aviation markets and the vast opportunities presented in North Asia and beyond in the coming years," Mr Harbison said.
"Cathay Pacific responded astutely to the downturn and recent strong upswing in cargo demand and has laid an exceptional platform to benefit from China's economic and trade boom. In addition to its strategic canniness, Cathay has applied capacity intelligently throughout the downturn and has led the recent recovery in air cargo and is poised to play a vital role in the region's development in this area. A JV cargo operation with close partner Air China will further enhance its flexibility and penetration in this vital sector," Mr Harbison said.
Brett Godfrey joins CAPA Hall of Fame
AS a CAPA Hall of Fame inductee, Brett Godfrey joins Tony Fernandes, CEO of AirAsia Group Bhd, Ray Webster, former Chief Executive Officer of easyJet, Dr Cheong Choong Kong, former Deputy Chairman and Chief Executive Officer of Singapore Airlines, Maurice Flanagan, Vice Chairman, Emirates Airline, and Bashir Ahmad, Managing Director of Malaysia Airports Holdings Bhd.
This award honours strategic leadership, vision, innovation and influence in the aviation industry. Brett Godfrey stepped down on 07-May-2010 after 10 years as CEO of Virgin Blue, a tenure that saw the development of Virgin Blue from start-up into Australia's second-largest carrier, as well as the establishment of New Zealand-based Pacific Blue, the group's long-haul arm V Australia and the innovative cross-border JV with the Samoan Government.
Mr Harbison said: "Among aviation industry figures he is unique. A relatively low-key, albeit Type-A, CEO, he has gone where few in aviation history have ever walked. Airfares today on most major routes in Australia are to be had for about a fifth of the price before he came along. Communities which despaired of ever convincing Australia's pre-2000 high-cost airline duopoly to fly there, today have multiple jet services. And, to a very large extent, that is due to the vision and energy of one man, along with his willing and highly committed team. Virgin Blue would never have become a viable airline force without his passion, his obsessiveness and even pedanticism – to use his own description of himself.
"We are delighted to recognise Brett's leadership role in driving our industry forward. We wish him well for his future endeavours."
About the judging process
Asia Pacific airports, airlines and the industry are reviewed constantly through the year via the Centre's extensive data and information services gathering and reporting. This daily performance analysis, along with feedback from our members, is accumulated into a series of recommendations. A highly experienced aviation advisory panel – including industry CEOs - reviews and decides on our recommendations.