As Rome's Fiumicino burns, fashion capital Milan could benefit. Alitalia is left with a hub dilemma
Analysis
On 07-May-2015 Rome's Fiumicino-Leonardo da Vinci Airport, the principal airport for the Italian capital and home base of Alitalia, had to be closed down following a serious fire in Terminal 3, which broke out in a coffee shop. Hundreds of flights were cancelled, leading to chaos and confusion amongst passengers as entry was denied to all terminals.
As the crews of 15 fire engines fought to bring it under control the inferno destroyed several passport control cabins and the main commercial zone, including a large area of Duty Free shops. Fortunately there were no direct casualties but shortly after the fire was finally extinguished concerns began to be raised about health and safety issues. Those concerns continue despite action taken by the management of Aeroporti di Roma (AdR) and the Civil Aviation Authority, ENAC, initially to scale down operations to 60% of overall capacity.
Indeed, the fire managed to open a can of worms concerning the overall state of the Fiumicino infrastructure, its suitability to handle large numbers of passengers now and in the future, and whether or not it should even serve as the nation's primary, showpiece, air gateway, despite a massive planned expansion programme.
Fiumicino's Terminal 3 at the height of the fire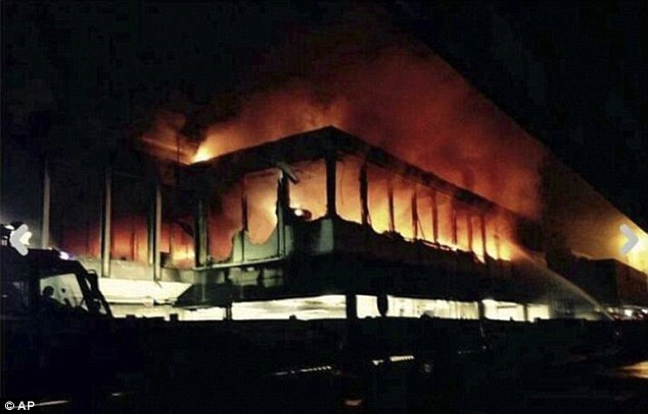 By the end of Jul-2015 Fiumicino had returned to full passenger capacity despite damage to some 1000 sqm of the terminal building and just in time for the peak vacation season. ENAC authorised the reopening of the main terminal building and the adjacent Pier D, which had been sequestered. The airport did not witness a fall-off of traffic during the time the terminal was closed.
The same number of passengers passed through as in 2014, including 266,000 who were redirected temporarily to the city's second airport, Ciampino, 7.5 miles (12 km) to the south of the metropolitan region (Fiumicino is 21 miles/35 km to the southwest, close to the coast). In fact, Fiumicino has reached 25 million passengers in less than eight months, with average growth of 7%.
There is latent danger from damaged infrastructure and particulates
But in other ways Fiumicino's problems were only just beginning. Public health and environmental agencies became involved as it became evident there was a latent danger from both unsafe infrastructure and lingering particulates in the air. In the first week of Jul-2015 the local court in the administrative region of Civitavecchia issued an order to remove fireproofing material in the terminal within a three-month period, due to safety concerns, to which AdR complied. At one stage it appeared that not only might T3 be closed during the removal and decontamination process, but also the entire airport. The National Institute of Health called on ENAC to ensure that T3 at least was closed as "there is still a source of contamination."
Then, just as things were getting back to normal, Fiumicino was hit by a second Bonfire of the Calamities when, on 29-Jul, the airport was forced to shut down its runways temporarily due to the amount of smoke from a nearby forest fire. Delays and disruptions because of smoke continued into the following day, with delays of up to three hours for some domestic and European services.
As if that wasn't bad enough, this fire brought a 20-minute power interruption on the following day. ENAC described the situation as "remaining critical," not so much for Alitalia, which was able to overcome the enforced delays quite quickly, but for the low cost carriers, some of which are fairly new to what is a traditional legacy carrier-supporting airport in the main.
The LCCs using Fiumicino now include Ryanair, although its main base is at Ciampino; the positioning of two aircraft at Fiumicino is part of its policy to attract more business passengers and could be regarded as a case of 'testing the waters.' Also easyJet, which has a base operation at Fiumicino (which it will close in Apr-2016, see the section on Milan, below) and Vueling, which has one of its two hubs there (the other is at -base Barcelona). Vueling in particular was badly affected.
Fires and power-out prompt a wider debate
It was a racing certainty that a wider debate about infrastructure suitability would arise out of these incidents, and it has. ENAC was quick to identify and single out the arcane air traffic flows at Fiumicino that exacerbated the effects of the various fires and power cuts. On the day of the forest fire and subsequent power-out for example there were 90 arriving flights and 40 departing ones, and this led to a congestion of both planes and passenger. It turned out that this mismatch was not unusual.
ENAC quickly requested AdR (and Alitalia) to devise a plan to improve the flow of air traffic during 'critical situations' and demanded that clearer and more stringent criteria be issued in view of an EU directive taking effect in 2017, which says the airport operator is responsible for balancing the flow of arrivals and departures. A new plan should be in place by the end of 2015. ENAC also called for improvements in fire fighters' procedures at the airport, and coordination of all involved entities. Moreover, it requested AdR and Alitalia to increase ground staff for passenger information and assistance in view of increased traffic at the weekend and throughout the remainder of the year.
The chart below hints at some of these traffic flow discrepancies. Note especially the period 13:00 to 13:59.
Rome Fiumicino Airport movements per hour for (typical day) Wednesday in the week 10 to 16-Aug-2015
(As a side issue ENAC additionally advised that a current tender offer for baggage handling services will limit to three the number of companies operating at Fiumicino, which should improve the efficiency of operations).
Alitalia threatens to look elsewhere for growth; Ryanair threatens to multiply
The upshot was that Alitalia's CEO, Silvano Cassano said on 29-Jul-2015 that Fiumicino "in its current state… due to the fragility of the airport infrastructure as a whole… is not an appropriate infrastructure to serve as the hub of an airline with our ambitions", adding: "if Fiumicino will continue to focus on low cost carriers and mediocre services, Alitalia will be forced to shift its growth elsewhere."
The airport, through its MD, Lorenzo Lo Presti, retorted that it has made investments for all carriers, adding that Emirates and Cathay Pacific are among network carriers who have increased capacity at the airport in recent years (though Thai will suspend flights from Feb-2015) . Also that it would not become a 'low-cost airport' if Alitalia chose to leave Fiumicino.
Alitalia's 'ambitions' reflect its association with part-owner (49%) Etihad Airways and the ever-increasing code share arrangement it has with that airline; also the forthcoming (2017) termination of the partnership with Air France-KLM, which should open up new long haul markets. (Meanwhile, Alitalia also has a codeshare partnership with Delta.)
It was not long before Ryanair – never knowingly under-hyped – joined the debate. The very next day the LCC stated it plans to add more aircraft, routes and frequencies to its base at Fiumicino, in the event Alitalia "makes additional cuts or leaves the airport." Ryanair currently bases two aircraft at Fiumicino, where it is currently the fourth largest carrier according to OAG. Ryanair overtook Alitalia as the biggest airline in Italy by seats in 2013 and offers far more destinations.
Alitalia's alternatives are limited
Where could Alitalia go? If it thinks the Fiumicino infrastructure is inadequate then it would not be inclined to consider an expansion at Ciampino, which is also operated by AdR. Ciampino is more convenient for many Romans and visitors alike. While it does not, unlike Fiumicino, have a direct rail link (only a tiny station about a mile away, with irregular and slow suburban service), there is a plethora of pre-bookable and ad-hoc bus services to and from the main downtown Termini rail station, which is accessible in about 30-40 minutes outside of rush hour periods.
While Ciampino was Rome's premier airport until 1960 when Fiumicino opened, and while the passenger facilities today are rather better than might be expected at an airport with such a high LCC capacity (100%), there is no provision for transfer traffic in the single terminal building, and no air bridges; all access and egress is on foot or by bus. Put simply, it is a low cost airport, exactly the same sort of edifice that Alitalia hints that Fiumicino is becoming.
Neither are there are any other airports of significance in the region and a plan to build a new one to service the Lazio province (and specifically for LCCs) fell by the wayside several years ago.
So considerable construction would be needed at Ciampino and that is not going to happen. The declared infrastructure expansion is at Fiumicino. According to the CAPA Global Airport Construction Database, almost USD13 billion was identified as being required over a period through to 2044, for terminal expansion and upgrades; a new terminal building; a new runway; and apron and taxiway rehabilitation, in order to take capacity from 35 million to 100 million per annum. Collectively it amounts to one of the biggest projects at an existing airport, and certainly over the longest time span, anywhere on Earth.
Rome Fiumicino needs to increase its infrastructure spend rapidly
Some of the money has already been authorised and spent, while the Italian Transport Minister stated in Aug-2015 (in what was probably a response to the fires and the adverse reaction there from) that as much as EUR1.1 billion (USD1.23 billion) will be required during the next five years at Fiumicino, EUR300 million of it having been allocated this year, and on top of the investment made in 2014 of EUR353 million. He admitted that there has been 'paralysis' in the airport's development over the last 20 years
There is an air of too little, too late about the government's position. It does not help that half of the state airline is now owned by another – Etihad - whose home base airport knows a little about infrastructure investment advance planning.
Abu Dhabi is spending USD6.8 billion on a new midfield terminal and associated works, which is scheduled to open on 17-Jul-2017 (they even know the exact date), never mind 2044.
So if Alitalia feels obliged to move some of its operations, they are more likely to go to other cities.
In Italy, where there is a distinctly 'poor south' (even including the capital, though that is about halfway down the country) and a more affluent north, that means one thing: Milan.
Despite downscaling, Alitalia maintains a significant presence in Milan
Alitalia still maintains a significant presence in Milan despite downscaling there during the period of its financial difficulties. Indeed it may come as a surprise that whereas Alitalia has 37.5% of seat capacity at Fiumicino as of Aug-2015 (and 0% at Ciampino), it has 56.5% at Milan's Linate Airport (and it holds 70% of slots). Then again, Linate is much smaller than Fiumicino, recording just 8.9 million passengers in 2014 compared to 38.5 million at Fiumicino.
Milan's other airports, Malpensa and Bergamo, which are a similar distance from downtown, are more influenced (Malpensa) and dominated (Bergamo) by LCCs. As an aside it is intriguing to learn what the second placed airlines are these airports. At Fiumicino it is the LCC Vueling (11.5% of capacity); at Linate it is the leisure travel-oriented hybrid Meridiana (9.2%); while at Malpensa, the leading airline by far is easyJet, with 31.7%).
Total passenger traffic at the three Milan airports in 2014 was 35.9 million compared with 43.4 million at the two Rome airports.
Italy's main airports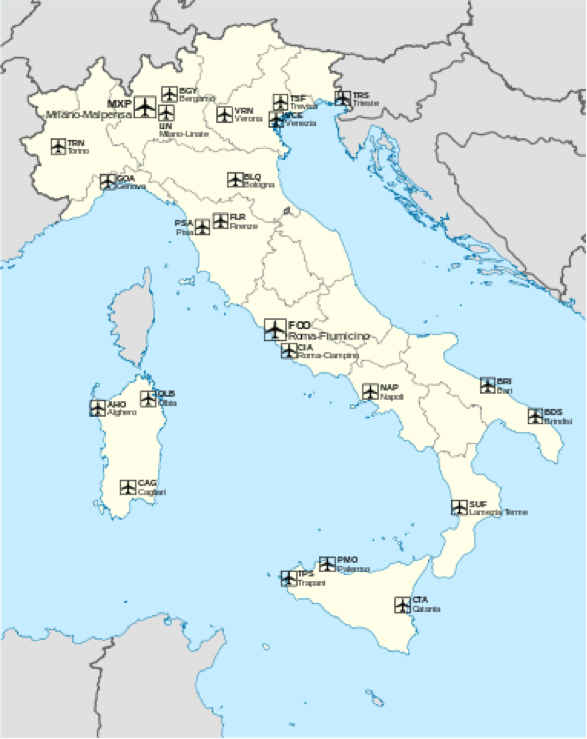 Source: "Principali aeroporti italiani" by ZH - Own work. Licensed under CC BY 3.0 via Wikimedia Commons
The economic case for Milan air services
While Europe is a continent that is well known for large countries that have disproportionate demographic and economic concentrations in their capital cities, notable examples being London, Paris, and to a lesser degree Madrid (and allowing for the fact that is starting to change, at least in the UK) there is quite a difference in Italy.
Rome carries less weight in terms of population than London or Paris. The three million or so people living in the capital's immediate city-region are broadly equivalent to the number in the Milan city-region, while Milan's per capita GDP is somewhat higher than Rome's. But Milan's broader socio-economic area stretches much further, to encompass some 10 million people across several provinces and within the boundaries of the 'Blue Banana' that represents the area of mainland Europe with the highest population and industrial/commercial density. In fact Milan has the third largest economy among all EU cities; and the largest among European non-capital cities.
The rivalry between Milan and Rome is as old as time. Milan is Italy's financial nerve centre and fashion capital. Its business district hosts the Borsa Italiana, the country's main stock exchange, and the headquarters of the largest national banks and companies. The World Expo is taking place in Milan until 31-Oct. It looks efficient and elegant. Rome, the seat of government and the Catholic Church (which admittedly attracts millions of tourists each year) is highly attractive aesthetically, yet at the same time decrepit, with cobbled main roads that look as if they are the original 'Roman' ones (and probably are), a tiny, defunct metro system and an ancient, overcrowded bus network.
In terms of economic resilience, Lombardy, the province for which Milan is the regional capital, has fared far better than Lazio, the central region that includes Rome, during the post-European debt crisis period. During the longest recession since World War II, gross domestic product per capita in Lazio fell by 24.3% according to projections made by Bloomberg, compared to an 8.5% decline in Lombardy.
Where unemployment is the measure, Lazio's unemployment rate climbed to 11.3% in 2014, while Lombardy's edged up to 8.4%. The City of Rome also has a bloated public administration with a disproportionate number of municipal employees compared to Milan.
Looking at economic efficiency in transport, Milan reached a total of 100 km (62 miles) of subway in 2015, compared with 62 km in Rome. But physically, Rome is seven times as big. To be fair, there are difficulties in developing an underground system when the city is one big archaeological site.
As mentioned earlier, Rome is considerably more popular as a tourist attraction, with an enduring allure. It has 27 museums, including the most visited tourist site in Italy, the Colosseum, while Milan has just two. It attracts 10 million foreign tourists per annum, but then Milan, surprisingly perhaps, attracts seven million. And a greater percentage of Milan's total can be classed as business tourism, to conferences and events in addition to individual commercial travel. Tourists never exceed those in Rome at any time of the year but they come closest in January and February when many of the main commercial conferences are taking place. Tourist numbers in Milan rose by 9% in May-2015 and by 12% in Jun-2015. Rome's tourists increased by just 5% in June.
The other factor to be taken into account – with tongue in cheek - is the soccer one. Milan wins hands down, with 18 'scudetti' (premier league championships) each to AC Milan and Inter Milan, compared to a grand total of just five for Roma and Lazio combined.
So, soccer apart, there are hard economic reasons why Milan should begin to feature more in Alitalia's network than it does.
Government's desire to build up Malpensa Airport weakens the case for more Alitalia services
However, there are practical considerations to take into account as well. Linate is popular with the Milanese; it is only 7km east of downtown. But the Lombardy Province and Central Government want to build up Malpensa Airport (40 km), where a third runway is anticipated, though much delayed.
As a result, Linate's slot capacity has been substantially reduced, although the net beneficiary at this restricted level of operation is Alitalia.
Malpensa would still be an alternative of course. The SEA Group owns both the main Milan airports (and it may merge with the owner of Bergamo Airport). There is a dedicated cargo terminal called "CargoCity" at Malpensa, which handles over 435,000 tons of traffic annually. It is better placed than Linate for the majority of the wider Milan region population, and its catchment area even crosses into southern France and Austria, perhaps 15 million people in all. The Lombardy President, Roberto Maroni, recently urged Alitalia to "reconsider and return to Malpensa," adding (with reference to events at Fiumicino), "We are giving the image of an Italy in shambles".
The government, which is concentrated in Rome, may want to see Alitalia services retained there as far as possible, bearing in mind it cannot directly influence the airport's operator.
Atlantia-Gemina holds a 96% stake in ADR, together with Local Entities (3%), others (1.2%). In that sense there is precious little difference between it and other European governments, none of which are keen to see any diminution of the 'flag carrier' at the capital, irrespective of the ownership. So for all the evident economic reasons to increase capacity outside of Rome, the will to do so may remain weak.
It thus seems as if only a conflagration of the sort witnessed by Emperor Nero in AD 64 will offer the impetus to Alitalia to shift significantly in the direction of Milan.
See the related report: https://centreforaviation.com/analysis/reports/italy-aviation-ryanair-easyjet-and-vueling-pursue-alitalia-across-the-country-234135
Passenger traffic seat capacity distribution by airport – Fiumicino/Linate; Ciampino/Malpensa