ANA first quarter losses widen but full year profit still expected. Some B787s deferred
All Nippon Airways (ANA) stated it still expects to be profitable in FY2011 despite the impact of the 11-Mar-2011 earthquake, although the carrier's net profit result is expected to decline by 14% year-on-year amid the disruption to travel demand.
The carrier noted that traffic "bottomed out" in the second half of Apr-2011 and business demand for both domestic and international services is rebounding. ANA Senior Vice President Eiji Kanazawa, noted that Japanese aviation "remains in a severe condition, though a recovery can be seen in some parts". He added although demand for both domestic and international routes has begun to recover gradually, our view is that it will take until the end of this fiscal year for demand to return to the pre-disaster levels."
Some B787s deferred
The airline will take such measures as downsizing aircraft and reducing services, as well as stimulating demand for leisure travel and trying to attract more foreign travellers, Mr Kanazawa said.
ANA, the B787 launch customer, has also deferred the delivery of four B787s according to a Bloomberg report, as it trims its capacity growth in line with demand trends. The carrier will receive 20 B787s by 31-Mar-2013, compared with 24 previously planned. ANA will receive 12 B787s prior to 31-Mar-2012, down from a planned 14. It will take delivery of eight B787s in the next fiscal year, instead of ten.
Net profit of USD259 mill expected in FY2011
ANA has forecast that in the full year, net profit is forecast to decline to JPY20 billion (USD258.5 million) although operating profit is expected to increase by 3.2% to JPY70 billion (USD904.8 million) and revenues are projected to increase by 3.9% to JPY1.41 trillion (USD18.2 billion).
ANA noted that improved business conditions and a recovery in production levels as supply chains are restored should help support the Japanese economy. However, the short-term outlook remains unclear due to factors including restrictions on electric power distribution, the nuclear power shutdown and a steep rise in crude oil prices.
Consolidated Operating Results (Forecast) unit: billion yen (rounded down)

Losses widen in 1Q following devastating earthquake
ANA reported a widening of net losses in the three months ended 30-Jun-2011 (1QFY2011) as domestic and international passenger numbers slumped in the period immediately after the 11-Mar-2011 earthquake.
The carrier, Japan's largest airline group, reported a net loss of JPY8.5 billion (USD108.6 million) in the Jun-2011 quarter, compared with a loss of JPY5.3 billion (USD67.2 million) a year earlier. At the operating levels, the carrier slipped to a loss of USD104.7 million from an operating profit of USD37.5 million in 1QFY2010. Revenues slipped by 0.6% to JPY305 billion (USD3.9 billion) and operating costs increased 3.1% to JPY313.1 billion (USD4.0 billion).
ANA operating profit margin and net profit margin: 1QFY2010 vs 1QFY2011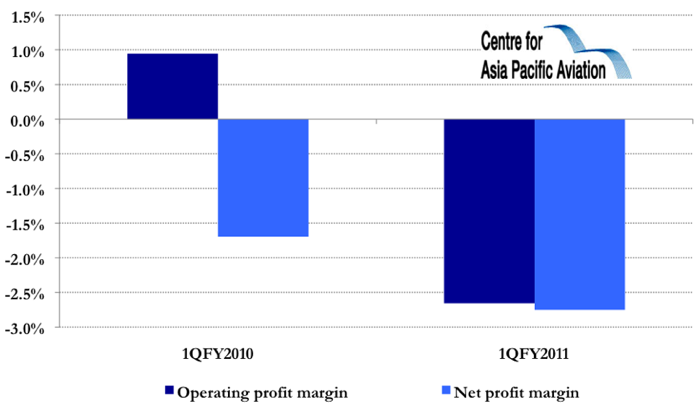 The earthquake impact
ANA stated the losses it experienced during the three months to Jun-2011 (1QFY2011) reflect the severe disruption caused by the earthquake in Mar-2011 that resulted in a significant decline in passenger numbers. However, ANA sought to minimise the impact of this with a series of initiatives to stimulate demand and reduce costs through a JPY30 billion (USD385 million) efficiency programme.
ANA passenger number growth, RPK growth and ASK growth in 1QFY2011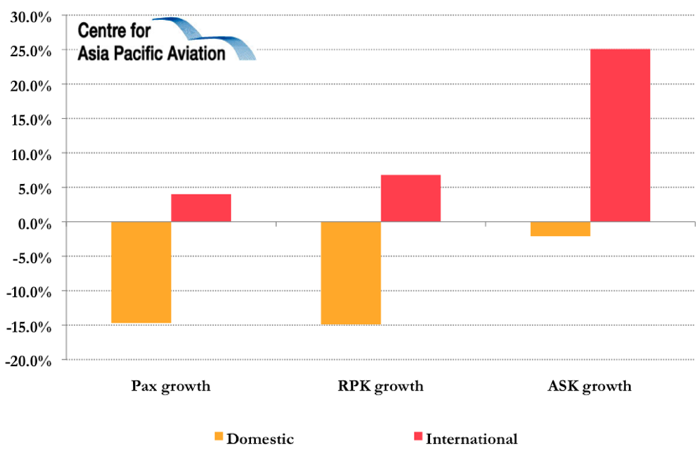 Immediately following the earthquake, there was a large decline in demand on both domestic and international routes. ANA said passenger numbers on domestic routes slumped 20% in Apr-2011, with year-on-year reductions of more than 10% in both May-2011 and Jun-2011, for a quarterly decline of 14.7% to 8.2 million. Load factors also declined heavily, by 8.0 ppts to 53.6%. Revenues declined 6.2% to JPY134.5 million.
Domestic passenger services: 1QFY2011

All Nippon Airways Passenger Numbers (Domestic) (2009 to 2011)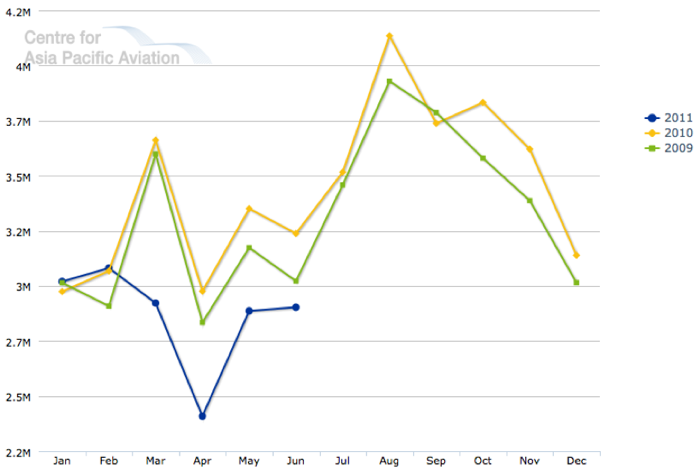 All Nippon Airways Passenger Load Factor (Domestic) (2009 to 2011)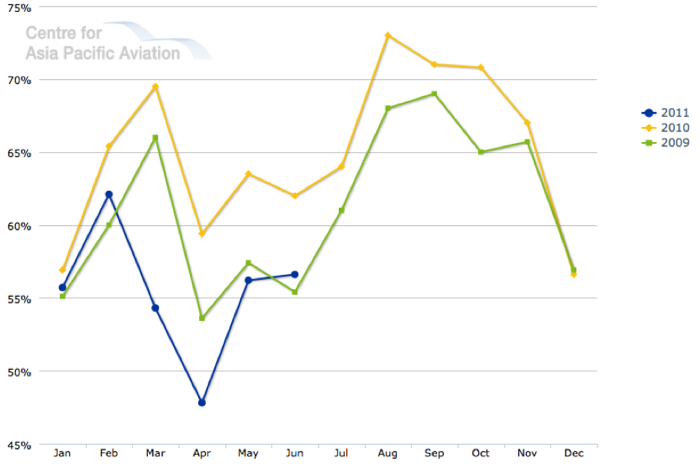 International resilient
International passenger numbers increased 4% to 1.3 million in the quarter as the carrier added flights following the opening of a new terminal at Tokyo Haneda Airport. It also gained market share as Japan Airlines cut capacity as part of its restructuring plan. Load factors, however, slumped 11.2 ppts to 65.7%. International revenues increased 8.0% to JPY69.2 billion. The total number of foreign visitors to Japan slumped a record 63% in Apr-2011, according to the Japan National Tourism Organization.
International passenger services: 1QFY2011

All Nippon Airways Passenger Numbers (International) (2009 to 2011)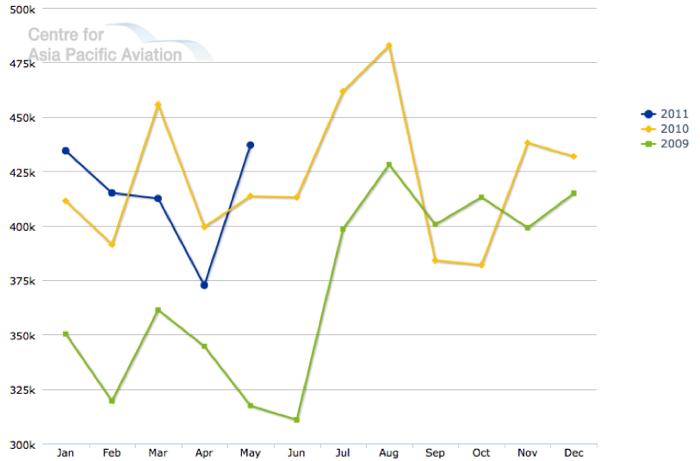 All Nippon Airways Passenger Load Factor (International) (2009 to 2011)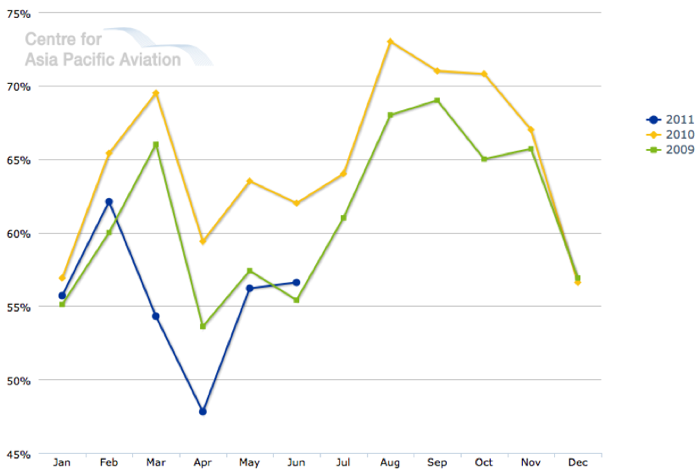 There are also some positive signs regarding the carrier's traffic levels. Domestic business passenger numbers recovered after bottoming out in Apr-2011 and leisure traffic also improved after Apr-2011. Internationally, traffic levels also commenced a rebound from mid-Apr-2011, with international business demand also showing an early recovery. However, inbound leisure demand is still significantly weaker than pre-crisis levels.
The earthquake impact
| Area of operations | Impact | Action |
| --- | --- | --- |
| Domestic operations | Demand declined in the three-month period due to weak consumer confidence following the earthquake. However, business passenger numbers began to recover after bottoming out in Apr-2011, with the level of demand in Jun-2011 almost returning to that of the previous year. Leisure traffic also showed signs of improvement after Apr-2011. | The Group took action to match supply with demand by partially reducing regular services and down-sizing aircraft on many routes. ANA flew relief flights to Sendai, Fukushima and Yamagata to provide recovery assistance following the earthquake. |
| International operations | In the month immediately following the earthquake, there was a marked decline in international passenger numbers. However, traffic levels began rebound around the middle of Apr-2011, with business demand showing early recovery. However, recovery in leisure demand is slow with in-bound passenger numbers significantly down. | Initiatives were introduced to capture more passengers wishing to connect to flights between North America and Asia via Narita, travel to western Japan and return to Japan from overseas countries. Furthermore, efforts have been made to stimulate leisure demand by strengthening discount fare options. With respect to demand for flights to visit Japan, the sector most seriously affected by the earthquake, ANA has actively sought to restore the image of the country with initiatives such as inviting governments, industry groups and media to visit various regions of Japan |
| Cargo operations | Transport volumes exceeded those of the same period last year as the demand to carry goods on air route instead of land transport increased after the earthquake, especially to Hokkaido. International cargo volumes were affected by the impact of the earthquake on the supply chain for automotive components and semiconductors. However, this was more than offset by the increase in transportation of emergency supplies such as medical equipment and water and a rise in volumes of tobacco-related materials and stockpiled components. This resulted in an overall increase in international cargo volumes compared to the corresponding period a year earlier. | Cargo capacity was reduced on domestic routes as a result of the downsizing of some aircraft. |
Freight levels, meanwhile, increased domestically and internationally. Domestically, freight increased 4.7% to 108,000 tons while revenues increased 4.6% to JPY7.9 billion. Internationally, freight increased 6.2% to 140,000 tonnes and international freight revenue increased 18.1% to JPY23.6 billion.
Cargo services: 1QFY2011

Focused on international expansion
ANA remains focused on pushing ahead with its international expansion plans. JAL's ongoing network rationalisation makes the process easier and the slow domestic economy also encourages an outward looking strategy for ANA.
Other external factors are supporting ANA in its expansion mode, such as the capacity increase at Tokyo Haneda and Narita airports, the scheduled delivery of the B787 and a series of JVs with its alliance partners – notably the 'metal neutral' antitrust immunity received for trans-Pacific operations with United Continental following the landmark Open Skies agreement between Japan and the USA, which will enable the carrier to fully exploit the bilateral expansion potential. ANA will also launch a strategic JV with Lufthansa part of the winter 2011 timetable between Japan and Europe. This breakthrough development was facilitated by the approval, on 01-Jun-2011, of what was the first Asian-European antitrust immunity.
Much of the forecast growth will be generated through a full offensive in the growing Asia Pacific region. ANA, as part of this, also plans to boost its cargo focus, with a continuing focus on Asian cargo shipments from its hub on the Pacific island of Okinawa. This strategy has already helped the carrier win business connecting China, Japan and Southeast Asia with ANA expecting the first profit at its cargo unit in the current fiscal year.
ANA's membership of the Star Alliance since Oct-1999 has also created opportunities for the carrier, and ANA is now exploiting these benefits in a more effective manner through deeper coordination with its alliance members. This has delivered strong domestic connections, opened up new capacity through codeshare opportunities and significantly boosted ANA's network and revenue potential.
ANA, which now has this new focus on expanding its network through alliance and JVs, stated that under this model, North/South American services would increase from 125 cities in FY2010 to 310-330 cities in FY2012 through agreements with United, Air Canada and TAM. Asia services will increase from 59 to 80-85 cities through agreements with Singapore Airlines, Asiana, Air China and Thai Airways and Europe services will increase from 60 to 70-75 cities through agreements with Lufthansa, SWISS and Austrian Airlines, subject to regulatory approval of the recently announced proposed Lufthansa JV.
ANA to receive first B787 in Sep-2011
A key cornerstone to ANA's growth is the much-anticipated delivery of the world's first B787 in Sep-2011. ANA, which has labelled the B787 "a game-changing aircraft" which marks a "new horizon for aviation and the company", is expected to commence operations with the B787s a month after delivery.
The B787 is key to ANA's plans for international growth from Tokyo Haneda. The carrier has stated the B787 fleet will enable the expansion of the carrier's network of 76 existing destinations. ANA, on 25-Jul-2011 stated it would operate its first revenue flight of the B787 as an international charter service from Tokyo Narita to Hong Kong. The first commercial service involving a B787 will take place approximately one month after the first aircraft is delivered to ANA, with delivery due in Sep-2011, with reports suggesting that the delivery will occur in the third week of Sep-2011. The first B787 delivered will be deployed on ANA's regular domestic service following the charter services, either on the Tokyo Haneda-Okayama or Tokyo Haneda-Hiroshima route.
Coinciding with the B787 deliveries, ANA is taking advantage of the increased number of slots at Tokyo Haneda, which ANA believes will further enhance its competitiveness and provide the opportunity to grab back international travellers from its Asian rivals. Tokyo Haneda Airport, which is ANA's "biggest source of revenue", underwent a once-in-a-generation expansion in 2010 with a new fourth runway opening for the winter 2010/11 schedule, providing a massive increase in slots, including for international long-haul services. The newly available capacity at Haneda and Narita, along with JAL's downsizing, conveniently made expansion and new entry possible for ANA. A further increase in runway slots is planned in the medium term, and this represents an opportunity for ANA Group to expand operations in what is becoming an intensely competitive business environment.
Looking to the LCC segment. AirAsia and ANA join forces to create Tokyo Narita-based LCC
While Tokyo Haneda is a cornerstone to the carrier's international and business-focused aspirations, ANA is also finally making the LCC plunge. ANA President Shinichiro Ito has stated the carrier is now "fully prepared for intense competition" in the Japanese market among LCC. "It is necessary to gain an advantage by moving ahead of rivals," he added. See related article: AirAsia and ANA join forces to create Tokyo Narita-based LCC
As part of its LCC strategy, ANA is also launching what will be Japan's first full-service low-cost subsidiary airline, "Peach", after beginning serious preparations to enter the LCC market three years ago. The carrier expects its Peach subsidiary to exploit new demand, targeting a different customer base to its full service operations and operating out of Kansai Airport where ANA has only a limited network.
AirAsia and ANA, meanwhile, announced on 21-Jul-2011 plans to form a JV LCC in Japan to be called AirAsia Japan Co. The carriers expect the JV airline, which will be the first LCC to be based at Tokyo Narita International Airport, to commence operations in Aug-2012, subject to regulatory approvals. AirAsia Japan will be AirAsia's first venture outside Southeast Asia.
Mr Ito has stated that the two LCC ventures will compete in two different markets.
ANA establishes superiority in Japan market
Despite the earthquake impact, ANA still expects to be profitable in FY2011, driven by JPY30 billion (USD369 million) in new cost reductions. Business travel has now recovered for the carrier, following a marked improvement in this segment since April, and ANA is now hoping tourists will be back over the peak summer period. Looking further ahead, the inevitable infrastructure rebuilding programme will have a positive impact on domestic economic activity.
ANA has proven itself as a versatile and dynamic competitor in the Japanese and wider Asian market and 2011 is shaping as a pivotal year for the carrier. ANA, which reported a recovery in annual profit and revenue in FY2010, is pursuing one of the world's most ambitious strategic growth plans as it prepares to become the first operator of B787 later this year and to launch two LCC subsidiaries in 2012.
Background Information
All Nippon Airways (ANA) revenue down 0.6% – financial highlights for the 3 months ended Jun-2011:
Operating revenues*: USD3,942.2 million, -0.6% year-on-year;
Operating costs: USD4,046.9 million, +3.1%;
Operating income/loss: (USD104.7 million), compared to a operating profit of USD37.5 million in p-c-p;
Net income/loss: (USD108.6 million), compared to a loss of USD67.2 million in p-c-p;
Passenger numbers:

Domestic: 8.2 million, -14.7%;
International: 1.3 million, +4%;

Passenger load factor:

Domestic: 53.6%, -8.0 ppts;
International: 65.7%, -11.2 ppts;

Cargo volume:

Domestic: 108,000 tonnes, +4.7%;
International: 140,000 tonnes, +6.2%;

FY2011 forecast:

Operating revenues: USD18,224.7 million, +3.9%;
Operating income: USD904.8 million, +3.2%;
Net income: USD258.5 million, -14.2%.