American Airlines charts a course through bankruptcy
Analysis
Last week's Chapter 11 filing by American Airlines (AA) and American Eagle (AE) parent AMR marks the end of the post-deregulation period as well as possibly signalling the beginning of the end of US legacy consolidation as many believe the shedding of American's baggage will position it for the US industry's final merger with the only other independent legacy, US Airways (LCC).
Across the board the feeling is this is the best thing for both AMR and the US industry because it means more capacity cuts. Delta and United are expected to be the principal beneficiaries. JP Morgan expects a 10% capacity cut from American, which translates to a USD1.4 billion, or 1-3% revenue jump for United, Delta Air Lines, US Airways, Alaska Airlines, Southwest and JetBlue in 2012. US Airways was already slated to benefit from the capacity cuts of competitors this quarter.
Even so, many are wondering whether this comes a little too late for the company to ultimately regain its former position as the US' top airline. Reading between the lines of churlish analyst comments during earning calls, one could make the case they were contemplating what liquidation would do for the rest of the industry.
Boyd Group International CEO, Mike Boyd, rejects the notion that American is not strong enough to emerge from bankruptcy largely because shedding its pension obligations, coupled with debt reduction, made it profitable even with the gas-guzzling jets. Mr Boyd cited liquidity and stated bankruptcy will make it much more cost effective and globally competitive.
He notes United and Delta have more debt than American, although several analysts disagree, placing American's debt at close to USD30 billion.
AMR financial burden
Bankruptcy is sad for many reasons but in American's case it is sadder still since one can only speculate as to where it would be now had it chosen this course in the post-9/11 period much like its peers. While it tried to cut costs, its competitors put their bankruptcies behind them, merged and created powerful networks that have become a huge competitive mountain American has to climb.
Stubbornly insisting on gaining USD1.6 billion in labour concessions in 2003 to avoid bankruptcy, paying out huge management bonuses a few years later which lost all the bon homie of the 2003 deal, and trying to power through the USD800 million cost disadvantage only postponed the inevitable, proves the old adage that 'nice guys finish last'.
Its cornerstone strategy has proved a failure and its deal with JetBlue is underperforming. In addition, its trans-Atlantic and trans-Pacific joint businesses (JBs) are also underperforming.
Facing deadline
American has 18 months to develop and gain approval for a reorganisation plan thanks to bankruptcy law changes imposed in 2005. Given labour is now one of its top creditors and it has failed to hammer out a deal with them after five years, it is not inconceivable they could miss that deadline despite suggestions it could reorganise in 18 months.
Even if it does miss the deadline, it doesn't mean it would liquidate after 18 months. It would lose the right to file the organisation plan. Its USD30 billion debt load, labour problems and potential creditor issues are not insignificant.
American did not go into Chapter 11 with a well-defined and agreed-upon reorganisation plan, therefore it is also not inconceivable for rivals to organise with creditors to pick off valuable assets. Indeed, US Airways would be better off acquiring American than in merging with the airline in order to gain those assets for itself.
United was in bankruptcy three years cutting costs by USD7 billion. Even so, its fortunes didn't rise to its current stratospheric levels until it cut its deal to merge with Continental. US Airways cut USD2 billion and raised its success rate by merging with America West. Delta cut about USD1 billion in labour costs alone during its bankruptcy but it was the Asian division of Northwest that really gave it its incredible boost.
A deal with US Airways does not offer such prospects. The bankruptcy, while it will allow AA to cut costs, does nothing to address its miserable revenue record compared to its peers and a US Airways merger would not solve the fact it has a small presence across the Pacific compared to rivals.
Revenues consistently lagged
In 2010, AMR posted USD22 billion in operating revenues on a net loss of USD471 million. Delta had USD31.7 billion in revenues and a net profit of 593 million while United posted an USD854 million profit on USD34 billion in operating revenues.
American Airlines total operating revenues
American is currently spending USD100 million monthly while unit revenue on its international routes, according to Barclays, has declined from about 110% of industry average in 2001 to less than 80% this year. However, Airline Forecasts managing partner Vaughn Cordle suggests a more dramatic 10-20%.
A measure of the difference in revenue production between Delta and American can be seen in the third quarter results which had Delta producing 12% more revenue per available seat mile at a 6% lower cost. Pilot costs per hour at Delta are 14% lower than American, while Southwest is 36% lower, US Airways 34% lower and JetBlue 51% lower, according to analysts.
Delta Air Lines total operating revenues
United has the same advantage, so it is clear that costs are only part of the problem. American must boost revenues and bankruptcy and downsizing won't help with that.
United Airlines total operating revenues
Merger may not be a slam dunk, or beneficial for AA
Given lessons learned from Delta/Northwest, bankruptcy is an ideal time to forge a merger since it allows companies to do things they might otherwise have been unable to do after emerging on the other side.
If a US Airways/American merger comes off, it would realise a prediction that was made at the dawn of deregulation when it was thought the US industry would consolidate around two or three major carriers, just as other major US industries, such as communications and auto manufacturing, have done.
But such a union does little for American since American's international footprint overlaps US Airways' (LCC). A more competitive company is also what an AA/LCC mix would accomplish since it would rival the Delta and United combinations in terms of passenger traffic and would combine their less than stellar revenue potential to surpass Delta's total revenues by about USD2 billion.
US Airways readily admits it cannot match, hub for hub, the revenue generated by United and Delta. But leveraging Miami, the Latin stronghold, and Charlotte, the only alternative to Atlanta, would be interesting. The link at Chicago and Washington would be powerful but Philadelphia would probably suffer as would Phoenix in favour of Dallas and Los Angeles hubs.
The overlapping routes would yield valuable slots that can be sold off and some have already suggested selling New York John F Kennedy International Airport (JFK) slots to Florida and Caribbean to JetBlue. However, that would be feeding the merged company's biggest competitor which is already benefiting from American shrinkage in the region.
Many are expecting CEO Doug Parker to jump at the chance of merging with his struggling rival. US Airways has also been driving the consolidation of the last decade starting with its union with America West. Having been left at the altar multiple times, it is, of course, the prime candidate for a merger with American once AA's baggage is gone.
Mergers generally yield USD1.5-2 billion in cost and revenue synergies and that is what is driving the speculation about American and US Airways (LCC). Those synergies would go to benefit labour and creditors.
The best thing that would happen in such a scenario is replacing American's management with the far more aggressive and fiscally conservative US Airways team that have navigated the last three years so successfully. Some suggest only that will put American back at the top.
Mismatched union
The biggest problem to such a union is, of course, labour which has kept US Airways from realising all the synergies promised by the 2005 American West merger. In reality, the two remain virtually separate.
Labour troubles between East and West pilots have caused the company increasing heartburn all year as Eastern pilots act out against the fact that Western pilots won the day in integration mediation and court battles. Adding the hard feelings amongst American pilots and another integration battle would only exacerbate problems for both organisations.
On the other hand, introducing the power of the numbers represented by American pilots could settle the matter once and for all. Even so, weaving in the seniority issue would put the company right back where it started.
While East and West struggles have largely been an internecine battle within the union, bringing in the AA pilots would only continue the merged company's role as collateral damage in the fight.
It is also questionable that, with their overlapping domestic footprints, such a union would pass regulatory muster although some have argued that it is the only deal that could get done.
They mirror each other across the Atlantic and overlap in the Caribbean. The AA/US Airways combination would be a more formidable competitor for JetBlue as it continues its expansion in the Caribbean/Latin markets. As for US Airways, it could benefit from South America and Asia where it has little or no presence.
On the international front, they are members of different alliances with American a founding member of oneworld. So, the only way for a merger to make sense, US Airways would have to come to oneworld, in order to take advantage of American's joint businesses with oneworld partners British Airways/Iberia on the one side and Japan Airlines (JAL) on the other.
Since long before the United/Continental union, US Airways has been wistfully looking through the window to the puppy that represents a closer relationship with United. It might be better off keeping hope alive that it will be sucked from the wall and asked to dance as a more significant Star partner.
Takeover
US Airways could make a deal with creditors to simply take over American and do whatever it wanted with the remaining company. Indeed, Mr Cordle suggests US Airways will present a reorganisation plan that exceeds the value of what American may offer as a stand-alone company. It is, indeed, a huge opportunity for the Phoenix-based carrier. The financial community would probably support that with investment.
Earlier this year American said it has identified USD800 million in saleable assets such as routes, but none are more valuable than its slots which amount to USD1 billion in assets.
Even so, what a US Airways takeover would yield is strategically muddled. AA's aircraft are all leased and mortgaged, although the international lift would be important for US Airways.
But, given comments that the filing may be too late to restore American to its former lustre, it would be far better to acquire American to keep the South American network and slot assets out of the hands of Delta or United.
Putting AA's filing in perspective
The US airline bankruptcy tally now stands at 100 since 1990, according to the Airlines for America (A4A), the new, name for the Air Transport Association. Few would have predicted deregulation would mean the ultimate bankruptcy of all legacy airlines, some more than once. However, Former AMR CEO Bob Crandall, diametrically opposed to deregulation, might have.
A look at the profitability of the company shows the dire impact of Mr Arpey's decision not to file bankruptcy earlier. American was profitable in 2000 and 2007 while the rest of the industry had three profitable years since 2000. Not an stellar record for any industry to be sure but a great deal better than American – they are at least benefiting from whatever economic recovery is out there. American was not only expected to lose USD1.1 billion this year but between USD500 million to USD1 billion next year as the industry continues its recovery.
American Airlines vs US airline industry
Bankruptcy puts American out of its eight-year misery, which Mr Cordle described as a slow liquidation. Indeed, analysts have been blatantly pushing bankruptcy for a long time.
The airline cited fuel, continuing untenable cost disadvantages, the tightening credit market since the Fitch Ratings downgrade and an uncertain economy. But it was its failure to reach labour accord with pilots that finally did the deed.
Even so, labour was only part of its problem: its ability to raise revenue woefully lagged peers and was largely the reason it lost USD12 billion in the last decade and was on track to post a USD1.1 billion loss this year and another USD500 million to USD1 billion next year.
One of its key problems was its continued focus on the now-rejected tactic of focussing on market share. It fielded too many seats and frequencies in a market, only resulting in reduced revenue per available revenue. This clearly failed since market share continued to shrink to the benefit of Delta and United. It will emerge as a smaller carrier having ceded more market share to its bigger rivals.
Airline bankruptcies have become so ubiquitous that the wholesale booking away that killed Eastern and Pan Am will not come to pass.
It is unlikely its costs will be lower than peers as some suggest but they will be competitive. It is also likely that the bankruptcy will produce downward pressure on labour demands which will benefit United in its own battle with unions.
Labour costs and productivity continue to be seen as a huge industry problem but, for American, it was more about productivity and restrictive work rules that put it behind the power curve compared to its peers. The same thing continues to hamper Continental and United. As such, new labour agreements will be telling for both United and American.
Vendors and suppliers will be kept moderately happy since its USD4.1 billion in cash and short-term investments, coupled with operating revenues are expected to be used to pay them and keep fuel and supplies flowing.
JetBlue and Alaska are expected to benefit with their tight relationship with American, especially if it rejects restrictions imposed by pilots on codesharing. It desperately needs to rebuild its domestic network, so look for a broadening of the JetBlue relationship to Boston and an expansion of its codesharing partnership it currently has with Alaska to cover its uncompetitive West Coast footprint.
Next steps
Signals from newly minted CEO Tom Horton suggest capacity cuts, which are expected to focus more on frequency, will be moderate, avoiding any dramatic downshift. Even so, analysts disagree.
Mr Horton states the airline's cash, 460-aircraft narrowbody order, which includes USD13 billion in financing coupled with its cornerstone strategy, places American in a "position of strategic strength."
But the airline continues to pursue its cornerstone strategy focussing on New York, Miami, Chicago, Dallas and Los Angeles.
Chicago will take a hit and it is instructive to take another look at Avondale Partners Bob McAdoo's May-2011 report which outlined American's revenue problem. His suggestions give us more insight as to what actions the airline should take, despite the fact Mr Horton thinks otherwise.
In a somewhat shocking proposal, Mr McAdoo suggested the airline might want to think about de-hubbing Chicago, which would have the same impact as US Airways moves at Boston and Pittsburgh and Delta at Dallas.
American has already said it was going to ditch leases at Chicago's Midway, again illustrating its quest to maintain market share against Southwest instead of pulling it to build its core at O'Hare.
O'Hare, however, is in the middle of its modernisation plan with the latest airline/airport/city agreement cut only last January.
Illinois Senators Dick Durbin and Mark Kirk wrote Mr Horton telling him how key they thought maintaining Chicago was to the future of American. Of course, they were speaking to the choir, given his statements on sticking to the cornerstone strategy. Even so, the letter came after JP Morgan analyst Jamie Baker, one of American's harshest critics, wrote Chicago would be a prime target for cuts.
Chicago O'Hare International Airport capacity (seats per week) by all carriers: 28-Nov-2011 to 04-Dec-2011
Given Mr McAdoo's and Mr Baker's comments, it is likely American will shrink at Chicago while maintaining is presence there and will likely try to grow back post bankruptcy. However, that will be tougher still after United benefits from its cutbacks. It will have to field a significant proposition to gain back territory.
Mr McAdoo suggests pulling down Chicago-London which lost USD75 million annually at 980 daily seats against 590 at United. New York-London is in the same shape. Its Pacific joint venture was supposed to make its Los Angeles-Shanghai route profitable when it never was during previous attempts or from other hubs. Chicago-Shanghai and Chicago-Beijing collectively lost the airline USD53 million annually. Add another USD40 million to that for Chicago-Delhi.
The difference is United's local traffic pull against American's feeder strategy from other hubs. United, wrote Mr McAdoo, has a bigger share of originating Chicago passengers at 23% compared to American's 18%. Instead of pulling from Chicago, American feeds the flights by bringing passengers in from Dallas and other hubs violating a cardinal rule of not diluting hub power by over flying your own hub. While its strategy is to provide lower fares than peers (one stop versus non-stop for competitors), it only results into further dilution of its revenue.
He advised eliminating India service, halving the flights between Chicago and China and reducing frequency between JFK, Los Angeles and San Francisco where competition not only includes Delta and United but also Virgin America and JetBlue. New York-California loses USD70 million annually with JFK-SFO taking USD54 million of that.
Other moves should include reducing Buenos Aires service to a single gateway rather than being served from multiple US hubs, as is now the case, would also be smart, he said.
Eagle is a weak feeder partner
A critical issue is the support from American Eagle. While other airlines treat such American cornerstone markets LAX, Chicago O'Hare and JFK as real hubs, American fields loss-leading small regional jet service to feed its international flights.
Delta has 40,000 more seats in the JFK market than American, although an AA/JetBlue codeshare would obviously help since it is about the same size as American at the hub. But exclusivity for JetBlue's connections over Kennedy is not part of that airline's business model, which favours codesharing with all comers.
New York John F Kennedy International Airport capacity (seats per week) by all carriers: 28-Nov-2011 to 04-Dec-2011
American has the same problem at New York that US Airways did before it did the slot swap with Delta. US Airways' departure from New York was based on industry fragmentation. It's departure continues to build Delta's power which far supersedes American. The slot divestiture in New York that resulted from the LCC/Delta slot swap also increased the JetBlue foot print in the market which could be good for American except for its opposition to codeshare exclusivity.
US Airways said such fragmentation means the airline has to be number one or at least a really strong number two in a given market or else it will lose money. Despite the fact that American is ranked number two in terms of seats at JFK, Department of Transportation statistics show American a distant player in the market behind Delta, the new United and JetBlue when it comes to capturing local New Yorkers.
Delta has clearly won the battle for the hearts and minds of the New York metro area with the slot deal giving it 45% to American's 20%.
The question then becomes again: does American have time to build back its domestic network to provide more feed at its international hubs, feed that is bigger than the regional jets it is using at LAX?
At Kennedy, Mr McAdoo noted, its domestic network feeding international routes number 50 fewer flights than US Airways has into Philadelphia. That is highly instructive given the different international foot prints of the two companies.
US Airways international vs domestic capacity seats share: 28-Nov-2011 to 04-Dec-2011
What is interesting is American is the top player when it comes to the split between domestic and international. Nearly a quarter of its capacity is in international compared to 17% and 14% at United and Delta, respectively.
American Airlines international vs domestic capacity seats share: 28-Nov-2011 to 04-Dec-2011
Delta Air Lines international vs domestic capacity seats share: 28-Nov-2011 to 04-Dec-2011
United Airlines international vs domestic capacity seats share: 28-Nov-2011 to 04-Dec-2011
While American is the largest LAX operator by seats, it is about the same size as United with Delta coming in a distant fourth behind Southwest in terms of passengers. Creating a feed from Alaska which has 67,000 seats in the market would definitely help. Here, again, though, the partnership lacks exclusivity since Alaska codeshares with both American and Delta.
Los Angeles International Airport capacity (seats per week) by all carriers: 28-Nov-2011 to 04-Dec-2011
Only in Dallas and Miami does American outshine competitors, so further cuts at the other three points will just put it farther behind the power curve.
Dallas/Fort Worth International Airport capacity (seats per week) by all carriers: 28-Nov-2011 to 04-Dec-2011
Miami International Airport capacity (seats per week) by all carriers: 28-Nov-2011 to 04-Dec-2011
Compounding this are moves by Delta and United in South America, which could compromise American's one powerhouse region.
US-Latin America/Central America (seats per week, one way) by carrier: 19-Sep-2011 to 19-May-2012
South/Central American service from Houston numbers 56,000 seats to Atlanta's 47,000, overpowering Dallas's footprint of about 25,000 seats in the market. But Miami has 217,000 seats in the South/Central American markets.
Atlanta Hartsfield-Jackson International Airport international capacity seats by region: 05-Dec-2011 to 11-Dec-2011
Houston George Bush International Airport international capacity seats by region: 05-Dec-2011 to 11-Dec-2011
Dallas/Fort Worth International Airport international capacity seats by region: 05-Dec-2011 to 11-Dec-2011
Miami International Airport international capacity seats by region: 05-Dec-2011 to 11-Dec-2011
Joint businesses also disappoint
Its joint business (JB) strategy with British Airways and Iberia across the Atlantic and JAL across the Pacific has taken far longer than anticipated to begin reaping promised benefits and little wonder.
Battered by high costs and lousy revenue management, American also suffers from the fact that its joint businesses across the Atlantic and Pacific have not spooled up as planned. The cornerstone strategy, plus the joint businesses were supposed to contribute USD500 million but many are sceptical.
Delta has the clear advantage to Europe where American has only 88,000 seats to Delta's 150,000.
Delta Air Lines international capacity seats by region: 28-Nov-2011 to 04-Dec-2011
The story is repeated in Asia where United rules the day. North Asia enjoys nearly 100,000 United seats while American is a quarter of that. Similarly, in South Asia, American's foot print is half that of United.
American Airlines international capacity seats by region: 28-Nov-2011 to 04-Dec-2011
United Airlines international capacity seats by region: 28-Nov-2011 to 04-Dec-2011
The JBs are starting to generate revenue benefits and push American's trans-Atlantic share up. The JBs have also resulted in 100 new corporate business contracts as the partners fan out to market the JB. But numbers don't count for much unless the revenues back them up to realise true potential.
Codesharing
Pilot negotiations have signalled likely future actions at the carrier which include codesharing with JetBlue and expanded codesharing at Alaska. However, JetBlue-to-American connections are underperforming expectations.
American wants its code on the Boston-LaGuardia-Washington National shuttle. As part of the deal it will launch six new JFK departures split between international and trans-con because it would rely on JetBlue to take over some of the domestic, peak-hour flights so it wouldn't have to waste these peak-hour slots on marginal flights.
What may happen is, once it gets a JetBlue codeshare, it will shrink its Boston presence, following what US Airways did at the city, and rely on JetBlue to feed its international destinations at Kennedy.
Given JetBlue's growth at Boston as well as US Airways' reductions in the market, it could be Boston and New York is where the JetBlue codesharing would be most valuable, if American could gain exclusivity with JetBlue which is highly unlikely.
Boston pilots suggest the company will probably park 15 aircraft at the Boston base and close both Boston and Washington National bases as it has already announced at San Francisco and St Louis. It is likely that SFO will see the same shift to low-cost carriers that Boston has, which means Virgin America is slated to benefit from the base and hub downsizings.
Its Alaska relationship has been a different story, likely because the two are codesharing. Alaska already puts more onto American than vice versa and American wants to expand that relationship to make up for its dismal footprint on the West Coast. It said the expanded relationship would allow it to use its equipment more productively.
Scope relief
One of the more restrictive, American's scope agreements, too restricting on codesharing, impacts the airline in another way. American Eagle was restricted to only 47 large regional jets and 43 large turboprops compared to more than 200 large RJs in the Delta Connection fleet. For that reason, American proposed mainline pilots fly anything between 50- and 125-seats with special, regional-competitive pay rates and work rules as part of its bid to offer job security.
"This is a radically different approach than any of our legacy competitors are taking," the airline told pilots during negotiations. "It enables us to take advantage of our recent aircraft order, which allows us to source small narrowbodies like the A319 and B737-700 at advantageous prices. It also helps us compete with the low-cost carriers and regional airlines whose low costs have driven us out of many markets over the last several years. Most importantly, it helps us create more jobs and more opportunity for pilots at our airline, while not displacing any of our current pilots under this new paradigm."
In the meantime, United negotiations suggest regionals operate aircraft up to 90 seats and it remains to be seen whether pilots will cave on its opposition to increased regional flying, one of their top issues in current negotiations.
Even so, American's separate pay scale for larger RJs boosts prospects for Bombardier and Embraer for the CSeries 100, CRJ 1000 and the ERJ 195, respectively.
American will push for scope relief in court and will probably get it given the caps on regional flying and limitations on codesharing. This is especially important in New York and Washington since those markets are constrained by slots and it would be difficult for the carrier to grow organically. That will contribute to it finally being able to rightsize its aircraft to market demand.
Eagle divestiture
Divestiture of American Eagle is again on hold although the company is a profitable, billion-dollar company. American has had interest from two companies to buy Eagle which ran up against Eagle management's desires to win out. The fact that Eagle management is the final decision maker and has an interest in frustrating other offers has, so far, stalled any progress and now it has run out of time.
Many have suggested that Eagle will just die during bankruptcy along with the other target for outsourcing, maintenance. It is also likely American will outsource fueling and cabin cleaning.
However, ground handling is the other prime candidate for outsourcing and this is a particular area of strength for Eagle. Indeed, the deal between Eagle and American, which must now be renegotiated, called for such outsourcing.
In addition, Eagle is 90% of American's feed and currently critical to feeding its cornerstone hubs.
There was also the matter of the newly minted deal with pilots which will now be renegotiated. That is a good thing since, as with its sister company, productivity and pilot pay were out of kilter with the regional industry which made the prospect of winning new contracts from other carriers, as the divestiture envisioned, iffy. Most CPA's call for maintaining industry competitive costs.
Eagle has already transferred its aircraft to American. As it was, the successor company would have been responsible for re-equipping its loss-making fleet but now looms the possibility of phasing out the subsidiary.
As for diversifying its operations by winning CPA with other airlines, the industry, read mostly Delta Connection carriers, have been hammered by CPA cost-cutting pressure. The regional airline industry itself is contracting not growing leaving few prospects for the immediate future.
As it is, the bankruptcy puts Republic Airways Holdings American contracts at risk, especially since Chautauqua has 15 lines of flying feeding American at Chicago.
If Eagle is spun out, it enters an industry that is itself restructuring making it more vulnerable than ever, despite the fact it is a profitable business.
Mr Boyd agrees, saying such expectations reflect an industry that no longer exists, especially given the glut of small regional jets. He expects most of American Eagle's will be flown to the desert. That would includes ERJ 135s and ERJ 140s and EJR 145s in the not too distance future.
Frankly, many think it would be far easier to kill it off and then get one of the regional airline holding companies to take over, especially since American has the aircraft. The vast majority of the 281 aircraft are uneconomical 50-seaters, many of which will be grounded in the bankruptcy.
Expectations are that Eagle would not be alone in fleet downsizing since three-quarters of the smaller RJs are expected to leave the fleet in the not too distant future.
Fleet changes
First step is to accelerate the delivery of the 137 B737s which began entering the fleet in 2009.
So far, American has announced it will end leases for 24 older MD 82s and 83s that are approaching age 30. Also on the block are four Fokker 100s that have been grounded for nearly a decade. Its B757s and B767s will likely be reduced from 15 to five, realising expectations of pilots in Boston. But that is only the tip of the iceberg and represents aircraft that are, mostly, already out of service. It only wants aircraft that will cover its current business.
The fleet, too, raises questions about whether American has the time to benefit from the record-breaking deal with Airbus and Boeing last summer since the order's payoff is half a decade away.
American's fleet now numbers 614 mainline aircraft and 302 regional aircraft for a total of 931. Mr Boyd He expects 438 current aircraft to be retired including 757-200s, 767-200s and MD82/83 along with early 767 300s and 737 800s between now and 2025. During that same time, it is expecting 556 deliveries including 777-200/300s, 787-900s, 737 NG/MAX and Airbus 319/321 and 320 neos, which he did not include in his forecast.
Eagle aircraft will be the first to "have wings clipped," he said in a research note for a small-jet fleet of only 56 aircraft by 2016. Some 246 ERJ 135/140/145s, along with some CRJ 700s and ATR 72s. The CRJS will start retirement after 2016.
"The A-319NEO will fill part of the 'thin market' gap," he said. "The rest of the 'gap' will simply not be economic to pursue which will be an industry-wide dynamic."
Boyd Group International projected AMR fleet forecast
The long-haul fleet has fallen behind in terms of business class, which lacks lie-flat beds and there are no new orders on the horizon. Even the 777s are over 10 years old as a group and the 767s are very long in the tooth. If, as they imply, most of the growth will come internationally, they are, right now, ill-equipped to provide a competitive product.
However, American does have a handful of 777 orders as well as a memorandum of understanding for 42 firm and 58 options on the 787. No movement has been made on the latter order as American continued its pay-rate negotiations with pilots on the new widebody, which may have also held up movement on its 460-aircraft Boeing and Airbus narrowbody order.
For that reason it has asked the court to approve Boeing and Airbus deals in its filing. The orders are set for delivery between 2013 and 2022.
Most expect more cost pressure on inking these deals as well as renegotiating the leases it expects to retain.
Mr Horton called its mega order, placed Aug-2011, "rock solid", adding it was a foundation of the restructuring and for the future of the company. He also noted the flexibility of the order the will only mean future growth for the company.
While Boeing and Airbus could cancel the contracts for the new order because of the bankruptcy filing, it is highly unlikely since the order is strategically important to both. Airbus got into all-Boeing American and Boeing made sure that it was not a complete transition and was finally pushed to make up its mind on its next aircraft model. There is little question that its mega aircraft deal took a possible filing into account.
Conversations with Boeing, GE and Airbus concluded that American and manufacturers both want to move "full steam ahead," Mr Horton reported.
Even so, definitive deals have not been cut and a merger with US Airways could threaten Boeing's role since the Phoenix-based carrier has opted for Airbus equipment.
With USD4.1 billion in cash it is "self-funding" its bankruptcy, avoiding the dreaded DiP (debtor in possession) route followed by others such as Frontier. Even so, analysts are saying that may be necessary during the course of restructuring meaning American would lose control of the restructuring process.
Pensions
Bankruptcy allows American to trim its half billion annual pension benefit costs following United and US Airways who rid themselves of USD9 billion in pension liabilities during their respective trips through bankruptcy. It also rids itself of the USD17 billion pension obligation, USD10 billion of which was under funded. That would be a record pension default.
When it filed for Chapter 11, Delta rid itself of pilot pensions but kept those for other workers although, of course, it stopped paying into the systems.
The Pension Benefit Guarantee Corp, which absorbed the pension plans of United and US Airways employees and Delta pilots, has already announced employees will lose USD1 billion.
Labour
The bankruptcy is expected to lead to up to USD1.5 million in labour costs in addition to its pensions savings.
"American risks being broken up and sold piecemeal if unions are unwilling to accept concessionary agreements that allow the airline to emerge from bankruptcy as a viable business worthy of investment," predicted Mr Cordle. "Alternatively, if the company emerges without the required cost structure, it risks a second bankruptcy at some point in the future as stronger competitors move to increase share at AA's expense. A merger with US Airways would make American a larger, lower-cost, more appropriately leveraged airline that can profitably retain market share. Without a merger, it will emerge from bankruptcy as a much smaller, still-high-cost, and over-leveraged competitor that will continue to lose market share over time. The go-it-alone strategy risks further demoralizing employees because they will be at the bottom of the industry's list in terms of total compensation. This resulting outcome would be a continuation of poor management and labor relationships and sets the stage for another showdown during future contract negotiations."
Benefit cost per mainline employee: 2010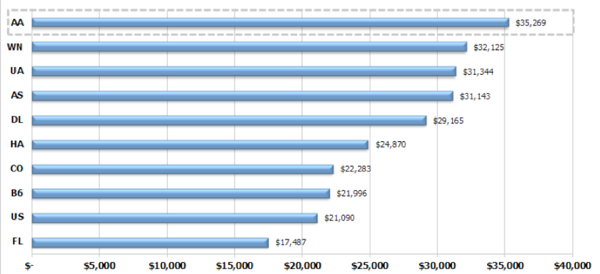 Here again the pilot negotiations are instructive to what might happen. American wants to increase monthly flying hours by 10 to 88. In addition, pilots could fly up to 98 voluntarily, up from 83 in the current contract. It would also tap check airmen who could fly three additional days at overtime pay. American would also increase overtime pay from three to five hours per day. It would eliminate monthly limits for supervisory flying and allow recently retired check airman to become check airmen simulator instructors.
Pilots are expected to hire Lazard to help them navigate bankruptcy and their huge status as creditors will mean that the negotiations which failed during November will play out once again but this time on the creditor's committee. Pilots have already stated they will not budge on outsourcing or pensions.
New proposals will be forthcoming to the unions which will not look like what they had been negotiating prior in mid-November.
It is interesting that Mr Horton has been saying the company will continue to work with employees to forge new deals. The company still needs massive relief regarding scope and work rules and can be judged by the offer the company made before negotiations broke down.
MIT International Center for Air Transportation research engineer Bill Swelbar analysed federal statistics compiled by the MIT airline data project and found pilot salaries at American averaged only 2% more than other legacies although pension and benefits were 40% higher. He suggested the court will immediately throw that out along with the work rules that cost the airline so much productivity. He estimated that a 10% improvement in productivity was worth about USD180 million annually in lower operating costs for the company.
American Airlines disadvantage
An MIT study showed pilots were 10.4% more expensive than Delta and 15.1% more than United. United and Delta won significant reductions, 25% and 37%, respectively, in pilot pay through bankruptcy and it is clear American must achieve the same thing. Its contract proposal to pilots trimmed the company's USD600 million labour cost disadvantage by USD100 million.
Pilots want increases in pay and benefits that would have added USD600 million to the company's costs.
There was little doubt that the 29-Nov-2011 action was inevitable, which only means American will, within a year or so, be in the same boat as the rest of the industry. The problem with that is the fact that industry restructuring has only achieved profitability through cutting capacity, personnel and other costs. Even for American's peers, is not a sustainable business strategy.