airBaltic-Etihad codeshare could lead to deeper links. Meanwhile, EU state aid inquiry continues
Analysis
AirBaltic commenced a new codeshare with Etihad Airways on 16-Dec-2013, launching a four times weekly A319 service and linking its Riga hub with Etihad's in Abu Dhabi. Riga is the Baltic region's principal transfer point – the airport says that 33% of passengers in 2013 are transit/transfer traffic – and Abu Dhabi is rapidly emerging as an important hub for travellers flying between Europe and Asia.
Following airBaltic's near bankruptcy in 2011 and its subsequent renationalisation and investment from the Latvian Government, the state has been on the look out for a private sector investor. Meanwhile, CEO Martin Gauss has been focusing on the carrier's restructuring programme and expects to restore profitability in 2014 after achieving better than expected results for 9M2013.
An EU investigation into state aid received in 2011 is ongoing and could potentially lead to the carrier having to repay the funds received from the state. This would increase the pressure to secure fresh investment. Some observers have suggested that the Etihad partnership could be a stepping stone to a future equity relationship. The codeshare attests to some meeting of minds already.
AirBaltic's network is almost all European
AirBaltic's capacity, all international, is almost entirely focused on Europe, with 61% of its seats in Western Europe and 38% in Eastern/Central Europe. It has two destinations in the Middle East (Abu Dhabi, in the new codeshare with Etihad, and Tel Aviv), representing only 1% of its seat capacity (week of 16-Dec-2013, source: OAG). The Etihad relationship will significantly extend airBaltic's offer to its passengers in Asia-Pacific.
Etihad's code is now on the new airBaltic operated service from Abu Dhabi to Riga and beyond to 15 cities: Alesund, Barcelona, Bergen, Billund, Copenhagen, Helsinki, Lappeenranta, Oslo, Prague, Stavanger, Stockholm, Tallinn, Turku, Vienna and Vilnius.
Subject to regulatory approval, airBaltic plans to place its code on Etihad flights beyond Abu Dhabi to Cairo, Jakarta, Singapore, Bangkok, Amman and Muscat.
airBaltic international seat capacity by region: 16-Dec-2013 to 22-Dec-2013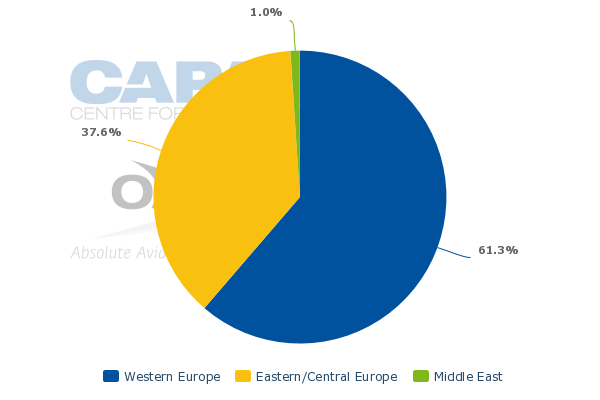 Russia is airBaltic's largest country destination by number of seats, closely followed by Germany. The other Baltic states and the Nordic countries are also important destinations for it. Apart from Germany, its next most important Western European destination countries are Italy and France.
airBaltic international seat capacity by country: 16-Dec-2013 to 22-Dec-2013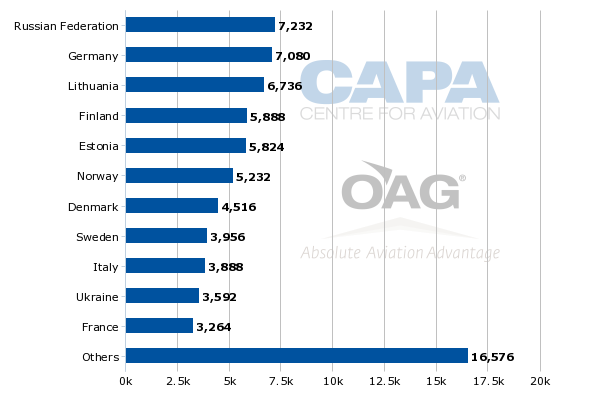 A short-haul and relatively low frequency network profile
AirBaltic's short-haul focus is reflected in the concentration of its weekly frequencies around routes of a roughly two hour flight duration. Of its 42 destinations, it serves almost half (22) with less than a daily frequency and only nine with a frequency of twice daily or more. Local capital cities Helsinki, Vilnius and Tallinn are airBaltic's most highly served destinations, each with a four times daily schedule.
Its leaning towards low frequencies suggests a more leisure-oriented offer, since business travellers tend to prefer a wider range of schedule options, although it supplements its own offer with its 18 codeshare partners. The combination of short-haul and a network nuanced towards leisure routes takes airBaltic into European LCC territory.
airBaltic frequencies and flight time: 16-Dec-2013 to 22-Dec-2013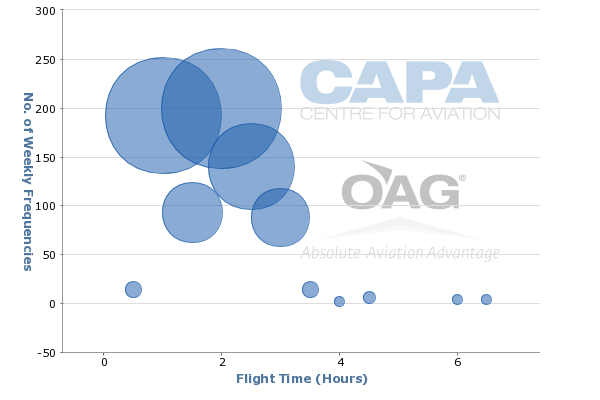 airBaltic destinations by frequency per week: 16-Dec-2013 to 22-Dec-2013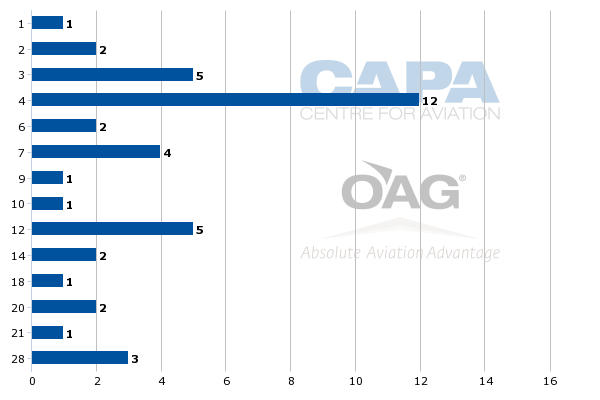 Leading market share in Latvia
AirBaltic has a strong share of seats at its Riga hub, with 61%. Nevertheless, it faces growing competition from foreign competitors, in particular LCCs. Ryanair is number two at Riga, with 18% of seats, and Wizz Air number three with 4%. Lufthansa and Aeroflot, fourth and fifth respectively, are both codeshare partners of airBaltic, as is ninth-placed Transaero.
Riga International Airport seat capacity by carrier: 16-Dec-2013 to 22-Dec-2013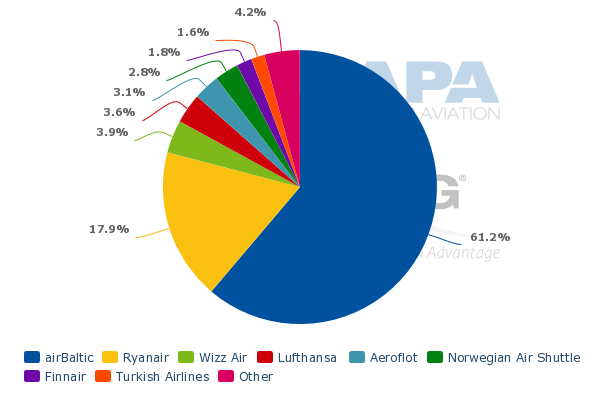 Top 10 airlines in Latvia ranked by share of total seats: 16-Dec-2013 to 22-Dec-2013
| Rank | Airline | Share of seats |
| --- | --- | --- |
| 1 | | 61% |
| 2 | | 18% |
| 3 | | 4% |
| 4 | | 4% |
| 5 | | 3% |
| 6 | | 3% |
| 7 | | 2% |
| 8 | | 2% |
| 9 | | 1% |
| 10 | | 1% |
| | Others | 2% |
| | Total | 100% |
Top 10 routes reflect airBaltic's Baltic/Nordic focus
AirBaltic's top 10 routes reflect its focus on the Baltic and Nordic region, with all six local capital cities represented in the list. The importance of Copenhagen, Oslo and Stockholm reflects airBaltic's still close links with SAS, which owned 47% of airBaltic until Jan-2009.
In Eastern Europe, Kiev and Moscow are represented and, in Western Europe, Paris and Amsterdam. Air France and KLM are both codeshare partners of airBaltic and the presence of the latter two cities in its list of top 10 routes partly reflects its need to offer Latvian passengers long-haul connections via these partners.
airBaltic top 10 routes by seat capacity: 16-Dec-2013 to 22-Dec-2013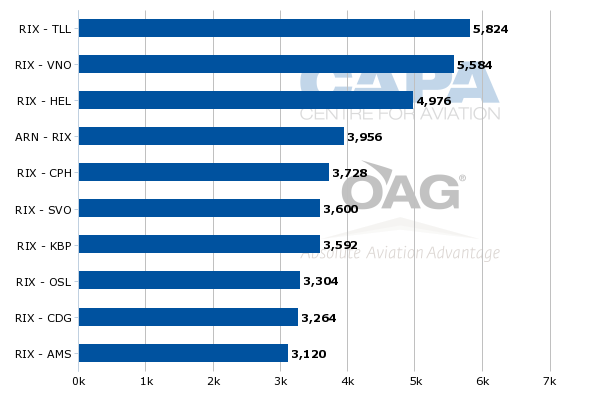 Leader on all of its top 10 routes, but LCCs are circling
AirBaltic has some strong market positions on its top 10 routes, where it is number one in every case, including five monopolies. The monopolies include Tallinn and Vilnius, the capital cities of the other two Baltic states, reflecting its dominance in the three Baltic nations. It also has a monopoly from Riga to the Ukrainian capital Kiev and to Paris and Amsterdam.
Given the Wizz Air Group's presence in Ukraine and easyJet's presence in Paris and Amsterdam (and, to a lesser extent, Ryanair's presence in Paris), the latter three monopoly routes could, at some stage, become susceptible to LCC competition. Although airBaltic markets itself as a LCC, its unit costs (CASK) are higher than LCCs such as Norwegian, Vueling and easyJet and much higher than ultra-LCCs Wizz Air and Ryanair.
See related report: Restructuring rigour from Riga: airBaltic narrows 2012 net loss
Nevertheless, LCC competition does not unduly worry airBaltic chairman and CEO Martin Gauss, who told CAPA at its World Aviation Summit in Nov-2013 that he was not afraid of Ryanair. He pointed out that the Irish LCC entered the Riga-Rome routes and subsequently left it. "They have a good contract with Riga Airport," he said, "but routes need to be year-round to fill a 737. Ryanair can't be in every niche successful."
On a city pair basis, airBaltic already faces LCC competition on three of its top 10 routes: the Scandinavian capitals Stockholm, Copenhagen and Oslo. On Stockholm, both Ryanair and Norwegian are present, while these two are joined by Wizz Air on Oslo. airBaltic faces competition from all three principal Russian operators on Riga to Moscow (although it also has codeshare agreements with two of them, Aeroflot and Transaero).
airBaltic market position on its top 10 routes by seats: 16-Dec-2013 to 22-Dec-2013
A mixed fleet allows seasonal flexibility
Mr Gauss considers that airBaltic's fleet, consisting of both Boeing 737 and Bombardier Q400 equipment, gives it the flexibility to adjust capacity to seasonal demand patterns, while maintaining frequencies.
In the weaker winter season, 737s can be grounded in favour of the smaller Q400s on certain routes, while the larger aircraft can also be deployed on ski routes, for example. Mr Gauss sees this as an advantage versus LCCs, who cannot always operate profitably all year on every route.
airBaltic Fleet Summary: as at 19-Dec-2013
| Aircraft | In Service | In Storage | On Order* |
| --- | --- | --- | --- |
| | | | |
| | | | |
| | | | |
| | | | |
| | | | |
| | | | |
| | | | |
9M2013 net profit turnaround 'far surpassed' its plans
In the first nine months of 2013, airBaltic turned around a net loss of EUR27 million last year to record a slim net profit of EUR0.7 million. Revenues grew by 2% to EUR256 million, in spite of a 5% fall in passenger numbers.
For 3Q2013, net profit almost doubled to EUR13 million, with revenues up 2% on a 4% dip in passenger numbers.
airBaltic results highlights: 9M2013
| | 3Q2012 | 3Q2013 | Change | 9M2012 | 9M2013 | Change |
| --- | --- | --- | --- | --- | --- | --- |
| Revenue EUR million | 101.0 | 103.3 | 2% | 250.0 | 256.0 | 2% |
| Net profit EUR million | 6.8 | 13.2 | 93% | -26.7 | 0.8 | - |
| Passengers million | 0.92 | 0.88 | -4% | 2.33 | 2.22 | -5% |
| Yield per pax EUR | 109.72 | 117.67 | 7% | 96.41 | 102.28 | 6% |
| RASK EUR cent | 7.91 | 7.99 | 1% | 7.38 | 7.66 | 4% |
airBaltic says that the 9M2013 result "by far surpassed its original plans", attributing its progress to the success of its ReShape restructuring programme. This improved level of profitability has been achieved in spite of lower passenger numbers than previously planned and it remains on course to meet its target of returning to full year profit in 2014.
EU state aid investigation puts growth plans on hold
The airline's 2013 budget originally saw 2% growth in passenger numbers, but year-to-date figures now demonstrate that a decline in traffic is much more likely. It has had to revise its plans pending the EU investigation, commenced in Nov-2013, into alleged state aid to airBaltic from the Latvian Government. The passenger decline of 5% for Jan-Sep 2013 was followed by a further decline of 6% in Oct-2013. Load factor fell by 5 ppts in Sep-2013 and by 3 ppts in Oct-2013.
If the EU investigation approves the funds received from Latvia, this will clear the way for airBaltic to resume its growth plans. However, the carrier's priority is to make a profit. Mr Gauss told CAPA that he was prepared to "skip passenger growth" if the airline was profitable. After fleet rationalisation in recent years, airBaltic plans to grow its aircraft numbers to 36 by 2022 (it has 27 today, according to the CAPA Fleet Database).
If the EU rules that airBaltic must repay the funds received from the state, this would increase the pressure to find a new investor.
A deeper relationship with Etihad looks a good option for airBaltic
Mr Gauss told CAPA that the carrier could not grow out of Riga forever, but that it had the potential to do more from the other Baltic states, Lithuania and Estonia. Both of these countries have national flag carriers that are struggling and airBaltic has ideas for developing its business there. Already strong in the region, it is well positioned to build its position further in the Baltic states.
This, together with a fleet that can give it flexibility in adapting to seasonal demand fluctuations, may help to mitigate the impact of growing LCC competition. In addition, its Riga hub, already the most important Baltic transfer point, should be further boosted through the new relationship with Etihad.
It would seem that a deeper relationship with Etihad might also be welcomed by airBaltic, with or without a positive outcome from the EU's state aid inquiry. The Dec-2013 codeshare launch is a step towards closer cooperation, in whatever form.
However, none of this should allow airBaltic to reduce its focus on cost efficiency, given a CASK that is above the levels of its LCC competitors.
See related reports: