airBaltic opts to acquire CSeries aircraft as part of turnaround effort
Analysis
Latvian national airline airBaltic is set to become an all Bombardier operator following its decision to replace its aging 737 fleet with Bombardier's CSeries as it forges ahead with a restructuring plan to return to profitability. airBaltic has signed a letter of intent (LOI) to acquire 10 CS300 jetliners and take purchase rights on a further 10 CS300s with the first of the new aircraft scheduled to arrive at the airline's base in Riga in 4Q2015.
An airBaltic spokesperson told CAPA that the company aims to sign a firm agreement with Bombardier "shortly" and that pre-delivery payments will come from the company's own cash flow. airBaltic Corp's supervisory board, which includes members of its primary shareholder, the Latvian state (which has owned 99.8% of the company's shares since the end of 2011), has endorsed the CSeries order.
airBaltic has been looking to replace its narrowbody fleet for a couple years but shareholder disgruntling over the carrier's deteriorating financial performance hindered a decision. The airline's former management had stated it was evaluating an order for up to 30 new narrowbodies in Apr-2010 with the first new 737 or A320 family aircraft potentially joining the fleet by the end of that year.
In hindsight, the delay might be a blessing. The new timeframe opened competition among the more fuel efficient A320neo and 737 MAX as well as the CSeries, which in 2010 faced an uncertain future owing to a lack of potential buyers. airBaltic has chosen the larger CSeries variant, the CS300 which has a range of 2,950 nm/ 5,463 km (based on the manufacturer's design specifications) and allows for a cabin configuration with up to 145 seats. The CS300 range covers the Latvian' s airline present network.
Efficient fleet is essential for airBaltic's turnaround
The carrier currently has a fleet of 32 aircraft consisting of 14 older-generation 737-300s/-500s, eight Q400s and 10 Fokker 50s. As part of its ReShape restructuring plan, airBaltic is seeking to modernise and simplify its fleet to only two aircraft types: Bombardier Q400 turboprops and CS300s. The streamlining of the fleet to two aircraft types will reduce operating, maintenance and training costs.
At the signing of the LOI during the Farnborough International Aishow, airBaltic CEO Martin Gauss said that the company had reviewed the narrowbody platforms from the major airframers and "determined that the all-new CS300 aircraft was the best fit. With its advanced technologies, it is optimised for our market sizes and will be an excellent companion to the eight Bombardier Q400 NextGen turboprops in our fleet."
airBaltic introduced new Q400 NextGen aircraft at the end of 2010 and all eight of the turboprops are being leased from Nordic Aviation Capital (NAC). The airline has mandated Skytech to help it acquire three used Q400s, which could be deployed from this autumn. It also has options on an additional five Q400 NextGens. Gradually all aircraft except for the Q400s will be phased out over the next six years as airBaltic modernises its fleet.
It used to operate two 757s, but they have left the carrier's operations as they are leased out on a long-term contract to a leisure airline in Cambodia. The leases on the F50s will expire by early 2014, but airBaltic has already parked five F50s and it is planned that the total Fokker fleet will be grounded with the start of the IATA northern winter schedule at the end of Oct-2012.
See related article: airBaltic's restruturing in full swing but competition from Estonian Air is rising
Seat configuration still to be decided
In supporting the CSeries decision, Mr Gauss noted that the "superb economics of the aircraft and the delivery timeframe that is available to us are also key factors in our decision to choose Bombardier's CS300 airliners for our network".
airBaltic is in the process of restructuring its model and network as part of its ReShape turnaround efforts. It is moving away from a stringent focus on transfer traffic over its hub at Riga International Airport to a more point-to-point approach as part of its drive to return to profitability and build a sustainable long-term business.
It operates to 54 non-stop passenger destinations in Europe, Russia and CIA and the Middle East, according to Innovata. The majority of its weekly seat capacity is deployed in Western Europe and most of its ten busiest routes in terms of seat capacity are to destinations in the Nordic region, including Vilnius, Helsinki, Tallinn, Oslo, Copenhagen and Stockholm Arlanda.
airBaltic international capacity by region (% of seats): 09-Jul-2012 to 15-Jul-2012
airBaltic top ten international routes (seats per week): 09-Jul-2012 to 15-Jul-2012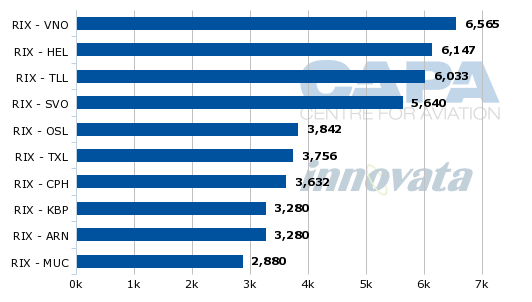 The airline hopes to receive its first CS300 in the final quarter of 2015. The bulk of the firm order for 10 of the aircraft is scheduled for delivery in 2016, an airBaltic spokesperson told CAPA.
airBaltic has not yet decided on the cabin configuration of its new single-aisle long-range regional jets and the layout will depend on the outcome of management's on-going assessment whether to maintain business class throughout its network. The airline applies a hybrid airline model with features from traditional full service and low-cost carriers. It operates to primary airports rather than secondary airports, has a frequent flyer programme and offers a business class product. But its economy class offerings resemble more of a pure LCC approach with no frills and a number of ancillary charges such as seat selection, priority check-in and checked baggage.
Business class, where airBaltic blocks the middle seat for sale like most European network carriers, is available on all routes, but the airline only achieves good load factors only on a couple of routes, such as Riga to Moscow, Mr Gauss recently told to CAPA. The airline is looking at several options for its business class, and might eliminate business class on routes where no demand exists for the product.
The CS300 has a standard configuration with 130 seats in a 3-2 layout with seats having 32in pitch and 18.5in width, except the middle seat which is 19in. The aircraft can feature up to 145 seats if the airline chooses to reduce the seat pitch to 28in, which could be an option for airBaltic if it shifts closer towards a LCC business model and further away from a network carrier.
Mr Gauss believes LCCs will further expand on intra-European routes and airBaltic has to adapt to this environment and lower CASK further. LCCs (including airBaltic) have a dominant position at Riga International Airport, and account for 87% of the total seat capacity at the airport. The largest full service carrier at the airport is Aeroflot, which offers about 4,800 weekly seats, equating to a capacity share of less than 2%.
Riga International Airport capacity by carrier (% of seats per week): 09-Jul-2012 to 15-Jul-2012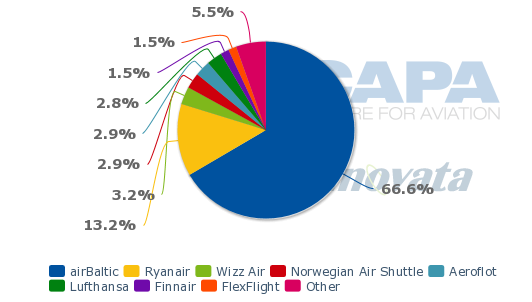 airBaltic's order further casts doubt on A319neo
airBaltic had been seen as favouring the A319neo as its narrowbody replacement. Airbus has heavily criticised the CSeries, but so far Airbus has not attracted too many buyers for its A319neo.
The A319neo received its first and only order from Republic Airways Holdings, Inc., the parent company of U.S.-based Frontier Airlines, at the Paris Le Bourget Airshow in Jun-2011. Republic signed a LOI for 40 A320neo aircraft and 40 A319neo jets. The commitment made the company a launch customer for the A319neo, although it reduced its order for A319neo to 20 and enlarged the order for the larger A320no when it firmed the LOI in Nov-2011. At the end of June, the A320neo family has logged more than 1,400 firm orders since its launch in 2010. The A319neo is the only variant not selling well. Republic's Feb-2010 firm order for 40 CS300s also remains intact.
ReShape restructuring makes progress
ReShape is aimed at returning airBaltic to profitability by 2014. The target is to trim losses to LVL38 million (EUR54 million) this year, a further reduction of the red ink to LVL16 million (EUR23 million) in 2013 and turning a profit of LVL10 million (EUR14 million) in 2014. The restructuring plan targets to improve the carrier's performance by LVL330 million (EUR473 million) between 2012-2016 and rests on three pillars: cost reduction; revenue enhancement; and fleet modernisation and network improvements.
airBaltic's new management has made good progress so far in reducing operating costs and slimming down the structure, but a long term low cost base is not possible without a more streamlined and cost efficient fleet. The carrier hopes for CS300 order to be a corner stone in airBaltic's turnaround and give employees a more confident outlook for their carrier.