WestJet braces for currency headwinds after recording favourable results for FY2013
Analysis
Canada's WestJet managed to grow FY2013 earnings by nearly 11% – in the same year it launched a new regional carrier, reconfigured its aircraft to offer an extended legroom section and introduced new fare bundles. The results are commendable given the debut of Encore in particular pressured WestJet's unit revenue and yields during the latter half of 2013.

WestJet maintains a relatively positive view in the early days of 2014, supported by a recent 2% fare hike across its network that for the moment is being matched by its competitors and absorbed by the market. But the carrier is warning of cost headwinds during 2014 driven by a weakening of Canada's currency against the US dollar and the acceleration of certain engine overhauls.

With a fairly decent balance sheet, WestJet should be able to withstand some of the potential economic challenges created by currency fluctuations that are driven by uncertainty in the emerging markets. But if conditions worsen, it may need to temper some of its growth plans in order to protect its consistent profitability.
WestJet posts encouraging gains in profits and revenue
WestJet's FY2013 revenues reached CAD3.3 billion (USD3 billion), a nearly 7% rise year-on-year. Its top line expenses also increased approximately 7% to CAD3.3 billion (USD3 billion). The carrier grew its FY2013 operating income from CAD375 million (USD338 million) to roughly CAD400 million (USD361 million). Its overall profitability grew from CAD242 million (USD218 million) to CAD269 million (USD243 million) year-on-year.

For 4Q2013 WestJet's profits increased from CA61 million (USD55 million) to CAD68 million (USD61 million) year-on-year. Its revenues increased almost 8% to CAD926 million (USD835 million) as expenses jumped 7% to CAD824 million (USD743 million). The carrier's operating income during 4Q2013 grew from CAD92 million (USD83 million) to CAD102 million (USD92 million) year-on-year.
WestJet financial results: 4Q2013 vs 4Q2012 and FY2013 vs FY2012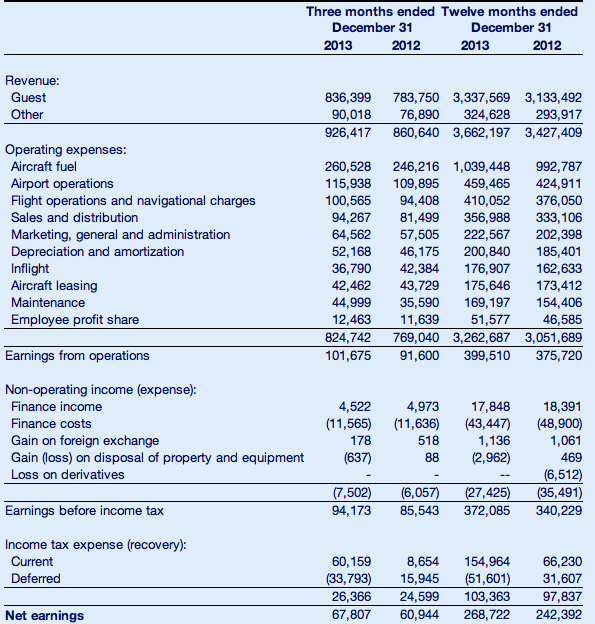 WestJet recovers some lost ground in yield and unit revenue
On a unit basis WestJet's revenues fell 1.4% year-on-year for 2013 as yields decreased 0.4%. The carrier's roughly 8% capacity increase driven by the introduction of eight Bombardier Q400s flown by its new regional operator Encore was the main driver in WestJet's unit revenue pressure during 2013.

See related report: Encore's introduction continues to contribute to WestJet's unit revenue pressure

With so many changes to its business in FY2013 WestJet could have faced worse yield erosion, but a 1.4% increase in yields during 4Q2013 helped the carrier post essentially flat yield growth for FY2013. WestJet also kept its unit revenues flat during 4Q2013, an improvement over 2% declines in unit revenue recorded by the carrier for 9M2013.
WestJet yield unit revenue and unit cost results: 4Q2013 vs 4Q2012 and FY2013 vs FY2012
Encore gives WestJet leverage as competitive capacity grows on international routes
Encore operates eight 70-seat Bombardier Q400s and expects to add eight more aircraft during FY2014. WestJet's executives unsurprisingly continue to remark positively on Encore, and during a recent earnings discussion with investors, EVP sales, marketing and guest experience Bob Cummings stated that Encore overall is accretive to the WestJet enterprise while CEO Gregg Saretsky estimated that 50% to 60% of Encore's guests connect to WestJet mainline.

Using the connecting passenger levels as a springboard, Mr Saretsky and Mr Cummings showed little concern in response to queries of a risk of excess capacity in international sun markets and some leisure destinations. During summer 2014 in the northern hemisphere Air Canada is transitioning mainline flights from Toronto and Montreal to Cuba, the Dominican Republic, Bahamas, Barbados, Haiti, Cancun and Tampa to its low-cost carrier rouge, and estimates 22% more seats on routes to the Caribbean year-on-year for the summer timeframe. Air Canada estimates the greatest increase is from Montreal, where seats on those routes will increase 36% and the number of flights will rise by 20% as additional flights are flown to Cancun, Port-au-Prince and Punta Cana.

Mr Cummings remarked that yields and demand are healthy in those markets, which will be driven in part by the new feed from Encore. Roughly half of WestJet's planned 4% to 6% capacity growth for FY2014 is allocated to Encore, so it is no surprise WestJet is banking on connecting revenue to bolster its international offerings.
WestJet cites connections on low-cost airlines through Dublin
WestJet also is encouraged by point of sale Canada bookings for its new seasonal trans-Atlantic flights from Toronto to Dublin via St John's beginning in Jun-2014 and running through Oct-2014. The carrier is still working to make sales available in Europe, but concluded "Canadians are showing up in large numbers," said Mr Saretsky. At the same time the carrier is acting regarding its partnership strategy for its foray into the trans-Atlantic market.

Asked about WestJet's approach to partnerships on the new route, Mr Saretsky highlighted the carrier's existing codeshare pacts with Air France-KLM and British Airways and disclosed that "we've been in conversations with them".

But WestJet's CEO also took time to stress that Dublin is home to one of the largest global low-cost carriers, Ryanair. And while WestJet has no plans to interline or codeshare with Ryanair, customers would have an opportunity for end to end travel for about 100 points beyond Dublin at very low cost through offerings by those airlines. It was an interesting point made by Mr Saretsky, as it seems WestJet would be touting low cost travel throughout Europe without any revenue benefit from codesharing or interlining with low-cost carriers.

See related report: WestJet dips a toe in the trans-Atlantic market with Dublin service; any prospective partners there?
WestJet believes ancillary revenue can offset some currency pressure
After a unit cost decline excluding fuel and employee profit sharing of 0.3% in 4Q2013 and 0.7% for FY2013, WestJet has revised its unit cost forecast for FY2014 upwards to a 1.5% to 2.5% increase compared with previous estimates of flat growth to a 1% rise. WestJet cited the decline of the Canadian to US dollar exchange rate of USD1 to CAD1.11 as the main driver in its unit cost revisions.

During 2014 WestJet estimates every one cent change in the value of the CAD versus the USD would hurt its annual unhedged operating costs by CAD13 million (USD11.7 million) – CAD10.7 million (USD9.7 million) for fuel and CAD2.6 million (USD2.3 million) in other USD-denominated expenses.

Mr Saretsky concluded there are opportunities for WestJet to offset some of the currency headwinds through ancillary products including change fees, buy-on-board and the Plus fare bundle upsells. For FY2013 WestJet's non-passenger revenue grew at a faster clip than its "guest" revenues. Its ancillary revenues per guest in FY2013 increased 13% to CAD8.94, and with a full year of fare bundles sales for FY2014, its ancillary revenue per guest show grow further as WestJet repeatedly states that it will hit the upper end of its CAD50 million to CAD80 million in annual revenue produced by its new fare groupings.
WestJet's top-line revenue performance: FY2013 vs FY2012

WestJet on 30-Jan-2014 also pushed through a 2% fare hike across its network that executives said has been matched by its competitors. The carrier believes the market's absorption of the fare increase illustrates that presently demand is holding steady. However, WestJet only expects unit revenues to be flat to up slightly for its "record breaking" 1Q2013 when unit revenues grew 2.4% year-on-year.

The carrier also stands ready to use yield to offset cost pressures and protect its margins, said WestJet CFO Vito Culmone. He stressed WestJet is "committed to transparency" in its advertised price, stressing WestJet opted not to tack on fare surcharges to cover cost pressure triggered by currency swings.
WestJet 1Q2014 and FY2014 outlook

WestJet has a lot of young initiatives that need attention even if demand wavers
WestJet's cash balances of CAD1.2 billion were roughly 34% of its trailing 12M revenues, which gives the carrier some balance sheet cushion if currency pressure does start to erode demand. The airline also has some fleet flexibility with lease expirations on three Boeing 737 narrowbodies should conditions worsen.

But for the moment WestJet's confidence in demand remains strong even as markets show jitters over the currency fluctuations. Given it just completed its 35th consecutive quarter of profitability, WestJet perhaps has a proven ability to withstand some erosion in demand.
A big area for attention is the range of new initiatives that need substantial resources before reaching maturity, which could create a challenging balancing act for WestJet for the remainder of 2014. That will be a real test of management as the once-LCC evolves into a more comprehensive operation.