TAM and Gol continue to rein in capacity as Brazil's economy slows
Analysis
Continued downward revisions of Brazil's economic growth for 2012 have weakened domestic demand in the country, forcing its two largest carriers Gol and TAM to continue to trim capacity to ensure their supply growth is in line with the moving GDP target.
Gol's new CEO Paulo Kakinoff in a 14-Aug-2012 discussion with investors outlining the company's 2Q2012 loss of BRL715 million (USD409 million) stated the Brazilian economy "has disappointed many of us during the first half of the year", noting that originally GDP growth was projected at roughly 4% for 2012. During 1H2012 growth was essentially flat, said Mr Kakinoff, and now GDP is expected to grow in 2012 by only 2%.
Gol, which has been reducing domestic capacity throughout 2012 has further refined its guidance as Brazil's economy appears to be slowing. Previously, Gol has estimated its domestic capacity would drop by roughly 2%. Under its latest revision Gol now expects its domestic supply to decrease between 2% and 4.5% during 2012.
Gol's change in capacity and traffic: 2Q2012 vs 2Q2011 and 1Q2012 vs 1Q2011
See related article: Continued erosion in Brazil's domestic demand triggers stringent capacity discipline for Gol and TAM
Sao Paulo-based Gol has less international network diversification than its larger rival TAM, which allows TAM to better weather the sagging domestic market in Brazil more favourably than Gol. Data from Brazil's ANAC show that in Jun-2012 TAM held a 90% share of the Brazilian international market compared with a 10% share by Gol.
Since the start of 2012 Gol has cut 130 loss-making flights from its combined domestic network with Webjet, a smaller Brazilian carrier Gol acquired in 2011 to counter consolidation among Latin America's larger airline groups. Avianca and TACA merged in 2010 and in Jun-2012 LAN and TAM formally merged to create the region's largest airline group LATAM. In the domestic market space, Brazilian regional carriers Azul and TRIP revealed their plans to merge in May-2012.
See related articles
No region within Brazil was spared as Gol paired down its flight levels during 1H2012, with the country's north-central and north-western regions taking the brunt. The carrier reduced its flying to those areas by 25% between Dec-2011 and Jul-2012.
Gol's flights reductions in the Brazilian domestic market: Dec-2011 to Jul-2012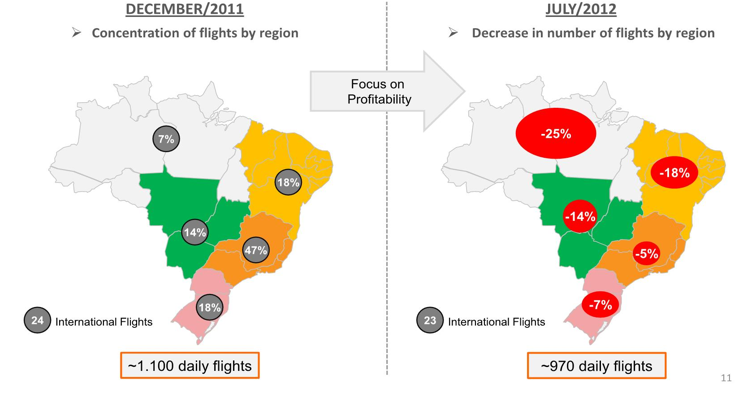 Brazil's largest carrier TAM has also refined its 2012 domestic capacity projections from zero to a 2% decrease to a drop of 2%-3%. TAM's capacity reduction strategy appears to focus less on cutting routes and more on refining schedules as some of its aircraft could be reallocated to other business units in the larger LATAM group that operate elsewhere in Latin America where economic growth is still on the rise. It is an obvious and immediate benefit from the scale created by the merger of LAN and TAM.
Pricing appears rational as Gol and TAM record gains in yields
Along with capacity rationalisation in the Brazilian domestic market it appears that pricing has also stabilised as both of the country's largest carriers recorded an increase in yields during 2Q2012. Gol's 0.8% increase was less robust than the 14% growth TAM posted in its domestic yields.
Both airlines also improved their 2Q2012 unit revenues with Gol posting a nearly 6% rise in passenger unit revenues while TAM's domestic unit revenues grew by 15%. Both carriers also recorded increases in load factor, with TAM growing Brazilian domestic a slight 0.4ppt to 69.6%. Gol's load factor grew 3.2ppts to roughly 70%. The company's stronger load factor performance and weaker yield growth could suggest that Gol is trading increasing loads for lower yields.
Gol select operating statistics: 2Q2012 vs 2Q2011

In discussing 2Q2012 results with analysts, LATAM executives highlighted a concerted effort to bolster TAM's pricing and revenue strategy in the Brazilian domestic market, and predicted significant improvement in the short and medium-term.
See related article: LAN-TAM parent LATAM's first combined financials offer a mixed bag behind consolidated net profit
Mr Kakinoff offered a more negative assessment, noting that overall in the domestic market he does not see a strong movement toward yield recovery. Although he did state he expects Gol's competitors to adopt less aggressive pricing policies.
Smaller regional carriers in Brazil continue to expand capacity
While TAM and Gol appear to be refining their supply guidance to match Brazil's decreasing GDP growth, the country's smaller carriers seem to have concluded enough demand remains available to support their expansion into the country's smaller markets.
Mr Kakinoff remarked that there is clearly an increase in fights from Brazil's smaller regional operators, which has resulted in market share for both Gol and TAM slipping as those two carriers pull-in their supply. However, he assured that when Gol assesses its competitive position at the most important airports in the country, the carrier has retained its dominant position in those important markets. Gol's new CEO stressed that the Gol-Webjet combination gives Gol a dominant slot position in about nine of the 14 airports catering to travellers during the 2014 FIFA World Cup football tournament held in Brazil.
Gol's slot position at the 14 airports handling traffic for the 2014 FIFA World Cup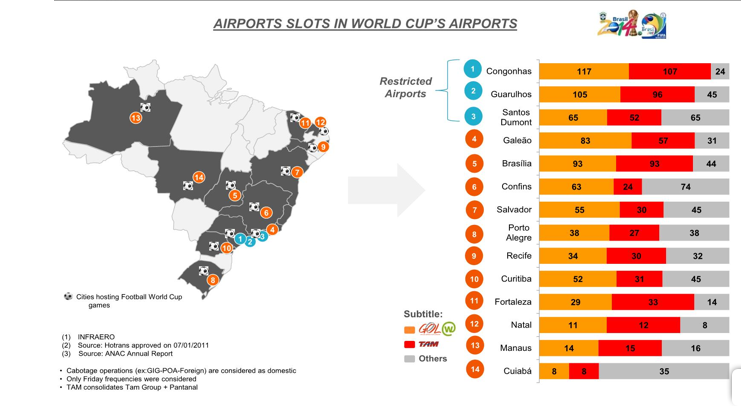 But the latest ANAC data highlight the trend slipping domestic market share for both Gol and TAM. Taking the average market share for 2Q2012 vs 2Q2011, Gol's share fell 2ppts to 34% while TAM's slide was more pronounced, falling 4ppts to 40%.
Smaller carriers Avianca Brazil, Azul, and TRIP all recorded gains in their share. Avianca Brazil posted a 2ppts increase to 5%, while Azul's share also jumped 2ppts to 10%. TRIP recorded a 1ppt gain to 3% while Webjet's share remained essentially flat year-over-year at 5%.
Brazil domestic market share by carrier (based on % of RPKs): 2Q2012 vs 2Q2011
2012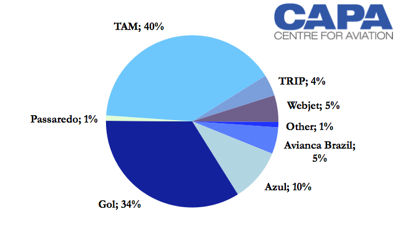 2011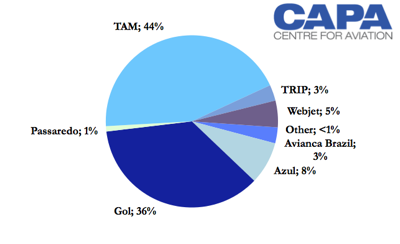 The decrease in Gol and TAM's domestic market share during 2Q2012 corresponds with their respective capacity reductions. Using the average capacity share for the three month period, TAM's share of Brazilian domestic capacity dropped 3ppts year-over-year in 2Q2012 to 41% while Gol's capacity share dropped by 3ppts to 35%.
Avianca Brazil's share of domestic capacity jumped 3ppts to 5% while Azul's increased 2ppts to 9%. TRIP's share of the domestic capacity on offer in Brazil during 2Q2012 increased 2ppts year-over-year to 5% while Webjet's 5% share remained constant, which reflects the flight reductions undertaken by Gol as it works to improve its financial position.
Brazil average domestic market share by carrier (based on % of ASKs): 2Q2012 vs 2Q2011
2012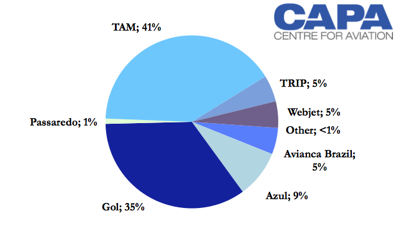 2011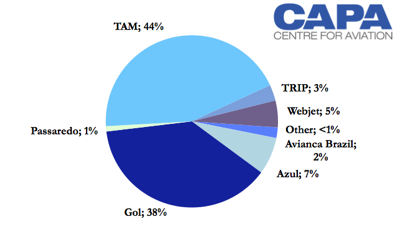 While Gol and TAM both reported RPK drops in 1H2012, the overall Brazilian market still grew on the back of rapid expansion from Avianca Brazil, Azul and TRIP. Domestic RPKs were up 7.3% in 1H2012 compared to 1H2011, according to ANAC data. Avianca Brazil led all carriers with RPK growth of 103% in 1H2012 while Azul recorded 40% growth and TRIP recorded 63% growth.
See related article: Avianca Brazil accelerates expansion as ex-LAN A318s and new A320s are added to fleet
TAM and Gol gravitate to more international fights
Both TAM and Gol appear to be looking outside of Brazil for expansion opportunities now that demand in Brazil's domestic market-place continues to soften. Gol now expects domestic traffic growth in the entire Brazilian industry of 6%-9%, down from previous estimates of 7%-10%.
Gol select financial projections for 2012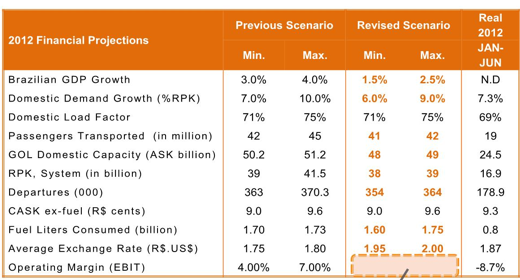 Management of the newly-formed LATAM is stressing that TAM's focus throughout the remainder of 2012 and into 2013 will be to captilise on the success of its long-haul flights to the US and transiting more passengers through the combined LAN-TAM network from LAN's operations in Argentina, Chile and Peru to TAM's hub in Rio de Janeiro to bolster long-haul connections from the airport. Those moves allow LATAM as a whole to reduce its exposure to the Brazilian domestic market, which accounted for roughy 37% of the company's capacity during 1H2012.
Gol now appears to be reversing a strategy it has adopted during the last few years of focusing on the Brazilian domestic market and aims to expand its international offerings. Its 10% share in the international market from Brazil in Jun-2012 was a decline from the nearly 13% share it held during the year prior.
Gol is bolstering its regional international services, offering from Aug-2012 new daily non-stop flights from Sao Paulo to Montevideo beginning in Nov-2012, while reducing capacity on its existing Porto Alegre-Montevideo route. With the adjustment in Montevideo, Gol is seizing on a gap created by the sudden closure of Uruguay's main carrier Pluna in Jul-2012.
See related article: Aerlineas Aregentinas, BQB, Gol and LAN-TAM poised to benefit from demise of Uruguay's Pluna
Taking advantage of service gaps created by another recent Latin American airline casualty, Gol plans new non-stop flights from Sao Paulo to Santa Cruz, Bolivia, which will replace one-stop service operated through Campe Grande. Bolivian carrier BoA also operates from Sao Paulo to Santa Cruz, which was a main route for fellow Bolivian carrier Aerosur before it ceased operations in May-2012.
See related article: Boliviana de Avacion set to expand as re-launch of Aerosur is unlikely due to government roadblocks
Gol in Nov-2012 also plans to launch direct flights from Sao Paulo to Asuncion in Paraguay, which was previously operated as a one-stop service through Curitiba. Gol beginning in Aug-2012 plans to launch service from Sao Paulo Campinas Viracopos to Buenos Airs Ezeiza via Curitiba and is increasing flight frequencies from Porto Alegre to Ezeiza.
The carrier also aims to return to the US, and is awaiting regulatory approvals to launch Sao Paulo-Miami via a stop in Caracas. Gol is also reportedly examining direct flights from Belem located in Northern Brazil to Miami.
See related article: Gol's return to Miami signals strategy shift following investment from Delta
More international expansion from Gol is likely as Mr Kakinoff told analysts that the carrier is studying new international opportunities, but currently there is nothing concrete to announce.
Despite Gol's efforts to combat a weakening Brazilian economy, its fortunes for 2012 look mixed at best. While the carrier predicts a "better second half of 2012 compared to the first half", it has already declared it will record negative margin for the year after recording a negative net margin of 39% in 2Q2012. TAM, meanwhile, can meaningfully diversify its offerings from the Brazilian domestic market by broadening its reach through leveraging its enlarged presence through LATAM. Unfortunately, the options for Gol to turn its fortunes around appear limited.