Southwest continues de-hubbing Atlanta as ROIC targets start to look murky
Analysis
Southwest Airlines continues to refine the combined operations it has with AirTran in Atlanta as part of its overall strategy to put less emphasis on Atlanta as a connection point and more focus on creating a rolling schedule in the market that is more reflective of its other top focus cities.
All of the efforts that are designed to reach fruition in Nov-2013 are being undertaken to improve the overall performance of Atlanta in the combined AirTran-Southwest network as the integration of the two carriers continues.
But in the short-term Southwest is battling some revenue weakness as unit revenues during 1Q2013 increased just roughly 2% and fell 4% to 5% during Apr-2013. Some of the weakness in Apr-2013 resulted from the timing of the Easter holiday and system slowdowns triggered by budget cuts in the US. Moving forward, Southwest believes it should post unit revenue improvements during the last two months of 2Q2013, with the momentum continuing throughout the rest of the year.
See related report: Southwest presses to improve its fortunes in Atlanta by officially de-hubbing in Nov-2013
More pruning in Atlanta to maximise connecting traffic
More of AirTran's routes are being pared from Atlanta during Nov-2013 as Southwest works to optimise AirTran's schedule through the elimination of smaller cities as a means to focus on more local traffic.
The cuts taking effect in Nov-2013 are from Atlanta to Buffalo, Memphis and Pensacola. Delta is the dominant carrier in all of those markets – accounting for 67% of the one-way seats in Buffalo, 71% in Memphis and 77% in Pensacola. Delta is also the dominant carrier in the three destinations' markets – holding a 42% seat share in Pensacola, 23% in Buffalo and a 71% share at its Memphis hub.
Given those dynamics Southwest likely concluded that AirTran is not generating enough local traffic in those markets to make them viable over the long-term.
Seat share in market AirTran-Southwest is cutting from Atlanta
Market
Seat share by carrier
Buffal0

AirTran 33%

Delta 67%

Memphis

AirTran 29%

Delta 71%

Pensacola

AirTran 23%

Delta 77%
Buffalo Niagara International capacity by carrier (% of seats): 3-Jun-2013 to 9-Jun-2013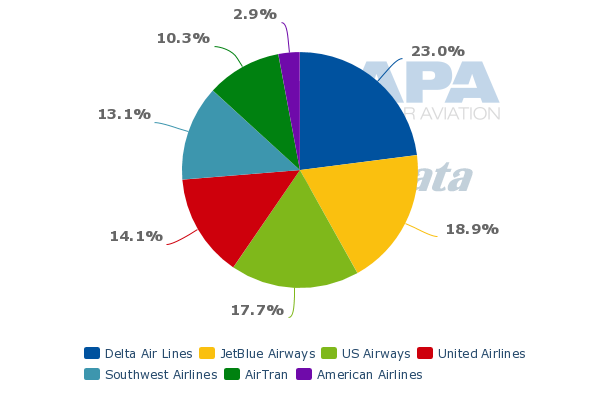 Memphis International capacity by carrier (% of seats): 3-Jun-2013 to 9-Jun-2013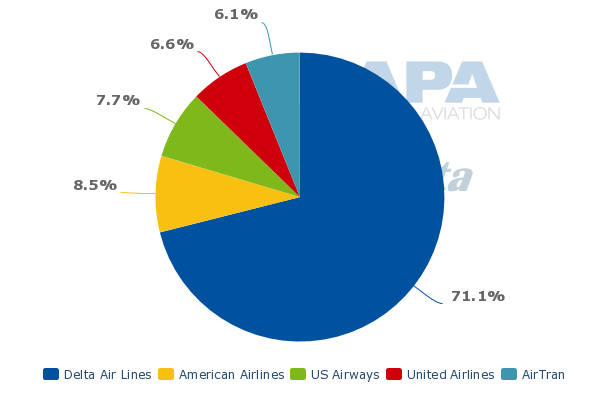 Pensacola Regional capacity by carrier (% of seats): 3-Jun-2013 to 9-Jun-2013
pensacola.png" alt="" width="600" height="400" />
Southwest has opted to serve Memphis and Pensacola from Houston Hobby, where it holds a commanding 82% seat share. As part of the shifting dynamics in the US domestic market ushered in by legacy carrier consolidation during the last few years, Delta, even though it remains the dominant carrier in Memphis, has been steadily pulling down its operation as the airport, which is 617km from its much larger Atlanta hub.
Beginning in Aug-2013 Southwest through AirTran is adding some service to Memphis with the introduction of flights to the combined carriers' strongholds of Baltimore, Chicago Midway and Orlando. The first Southwest-branded service debuts with the launch of Houston Hobby.
While the calculus for improved revenue generation from Hobby to Memphis and Pensacola seems logical, Delta and United serve Memphis from Houston Intercontinental, offering roughly 2,600 one-way seats per week, according to current schedules in Innovata (2-Jun-2013 to 8-Jun-2013). United offers about 1,600 seats from Intercontinental to Pensacola.
But Southwest has long been the dominant carrier at Hobby, competing with legacy carriers in many markets from Houston, so the carrier should easily spool up those routes fairly quickly. Southwest's retention of Memphis and Pensacola reflects a conclusion recently offered by company CEO Gary Kelly that even though certain markets are being cut from Atlanta, it does not mean they will not work within the larger Southwest system.
Southwest has made similar moves during its rejig of Atlanta during the last couple of years, cutting service from the airport to Flint, Michigan and Rochester, New York, but opting to add service from its focus city of Baltimore to Flint and Chicago Midway (its largest market in terms of daily departures) to Rochester.
Southwest expands its own branded flights from Atlanta during 4Q2013
At the same time three markets are being eliminated from Atlanta during Nov-2013, Southwest is adding its own branded single daily flights from Atlanta to New York LaGuardia, West Palm Beach and St. Louis, Missouri, joining AirTran's existing service and flights operated by Delta. According to Southwest, AirTran presently operates five daily flights to LaGuardia and two to West Palm Beach. The added capacity to New York seems rational as LaGuardia is the second largest domestic market from Atlanta based on one-way seats deployed.
Demand trends must be strong enough for West Palm Beach as a destination market in the US winter season to warrant another Southwest-branded flight. Atlanta is the top destination served from West Palm Beach based on seats deployed, and even though Delta is the dominant carrier accounting for 87% of the seats on offer, AirTran must be generating decent local travel and revenue results in the market.
New York LaGuardia Airport top 10 domestic routes by seats: 3-Jun-2013 to 9-Jun-2013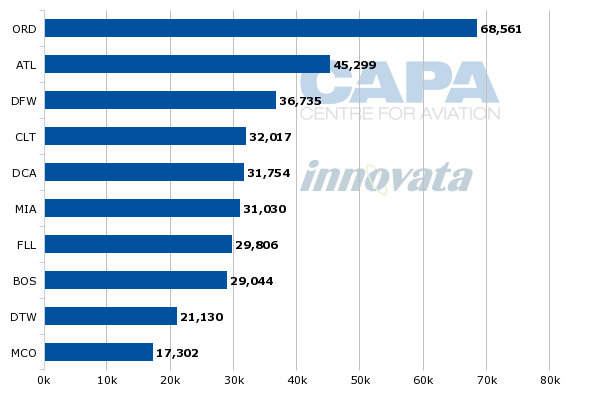 West Palm Beach International top 10 domestic routes by seats: 3-Jun-2013 to 9-Jun-2013
Southwest has a strong position at St. Louis with an 28% seat share, so the incremental capacity between Atlanta and St. Louis shouldn't be detrimental, and Southwest could be attempting to leverage its brand awareness in St. Louis to preserve or improve the existing local traffic generated in the Atlanta-St. Louis market.
St. Louis Lambert International capacity by carrier (% of seats): 3-Jun-2013 to 9-Jun-2013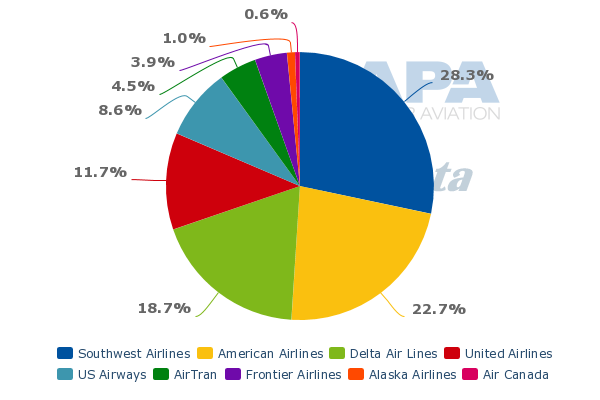 AirTran is also debuting new flights from Atlanta late in 2013 to Hartford, Connecticut and Oklahoma City, two markets currently served by Delta, who presently is the second largest carrier in Hartford with respect to seats on offer.
Southwest is the largest carrier in Oklahoma in that metric, so it is curious that the company is launching AirTran-branded service given that AirTran does not presently serve Oklahoma City.
Oklahoma City Will Rogers by carrier (% of seats): 3-Jun-2013 to 9-Jun-2013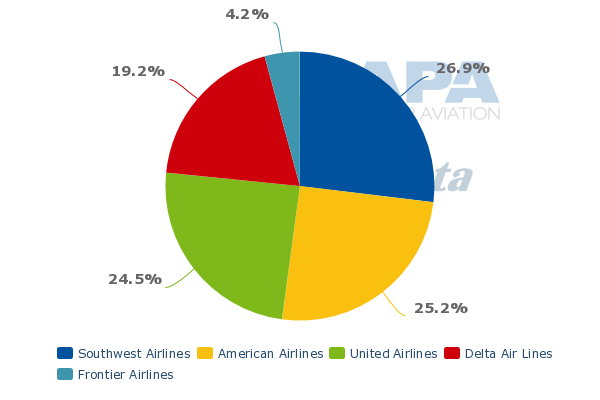 New service from AirTran is also joining Southwest's existing service from Atlanta to Louisville, Kentucky, a market not surprisingly also served by Delta, which is the largest carrier in Louisville with a 33% seat share followed by Southwest. Given Delta's dominant position in Louisville, its Atlanta hub naturally is the largest destination served from the market with respect to seats on offer. Delta accounts for 79% of the seats deployed between Atlanta and Louisville, but it must be a strong market in terms of local traffic given flowing traffic through Atlanta is somewhat backtracking for passengers connecting to flights to the US northeast.
Rounding out the changes in Atlanta during Nov-2013 is Southwest assuming AirTran's flights to San Juan, Puerto Rico, a route served by Delta as well. With the service, Southwest is taking its brand to near-international routes. Given the pairing is a highly-concentrated leisure market, the transition may be smooth compared to business markets where AirTran's first class service will be eliminated once the full integration is complete – although there could be some pricing pressure if Southwest opts to offer promotional fares, even though it is a route presently served by AirTran. Southwest will need to make some sort of splash to educate passengers that the service has officially transitioned to a different brand.
Southwest cuts smaller markets from Denver and adds AirTran service elsewhere
Southwest is also making tweaks to its schedule outside of Atlanta during Nov-2013 with service from Denver to Manchester and Providence, Rhode Island scheduled for elimination. Southwest is the only carrier serving both those markets, but Manchester is only 85km from Boston Logan, which is served from Denver by Southwest along with United, JetBlue and Frontier. Given the proximity to Boston, Denver-Manchester is a bit redundant in Southwest's network. The same logic can be applied to Providence as it is located 85km from Boston. It is safe to say there is probably not enough demand from Denver to justify the costs of operating service to two airports so close to Boston.
Joining new service being introduced by Southwest from Houston to Memphis and Pensacola is the launch of flights from Nashville to Pensacola, an uncontested market that should perform decently for Southwest given its stature as Nashville's leading carrier, accounting for 28% of seats on offer. The same is true for new service between Austin and New Orleans scheduled to begin in Nov-2013. Southwest accounts for 24% of the seats on offer at Austin, and presently no carrier offers service between the two cities.
Given the strong ties to the music industry each city has, demand should be fairly robust in the market.
AirTran is also introducing new service to join Southwest's existing flights from Baltimore to Kansas City, Columbus to Tampa Bay and between Jacksonville and Fort Lauderdale. The Florida service could be seasonal adjustments to accommodate increased demand to the warmer destinations during the US winter. The added capacity from Baltimore to Kansas City is possibly being used to boost connections in Baltimore – Southwest's fourth largest destinations by departures and AirTran's third – to the combined carriers' east coast network and possibly international sun destinations that include Cancun, Montego Bay, Nassau, San Juan, Punta Cana and Bermuda.
Southwest may rue declaring ambitious ROIC targets
Southwest is de-hubbing Atlanta, implementing a codeshare with AirTran and continuing to optimise the combined networks during a time when it has pledged to deliver an ambitious return on invested capital (ROIC) of 15% for 2013.
Given its slower unit revenue growth relative to the industry during 1Q2013, and some underlying demand uncertainty, that goal might start to become unrealistic.
The carrier believes that revenue momentum will occur during 2H2013, but as previously reported by CAPA, it has fallen short of that goal in the past, and the carrier needs to tread carefully to avoid setting up false expectations among investors – and the repercussions that follow.
See related article: Southwest Airlines plots a course to meet previously missed ROIC targets