Russia can lay claim to being one of the world's most dynamic air transport markets
Analysis
Sometimes seen as the laggard of the BRICs, Russia's recent performance demonstrates it is anything but. The Russian Government, aviation regulators and major industry players are increasing efforts aimed at addressing structural inefficiencies, which should drive future growth and unlock the potential of a country ideally suited to air transport.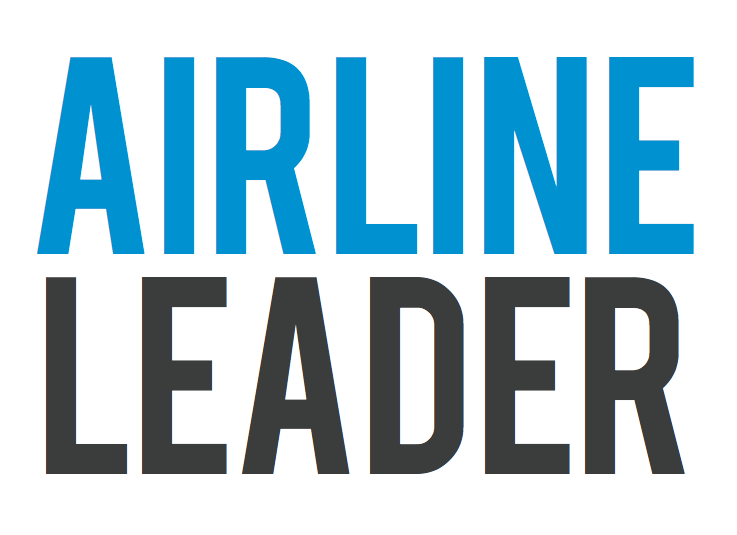 This article appears in Airline Leader, CAPA's strategy journal for airline CEOs.
Go to www.airlineleader.com to view or download the latest edition.
Russian aviation back in growth mode
Following a horrible 2009, when the Russian economy shrank 8% and threw the country's air transport market into an even deeper recession – passenger numbers on Russian carriers fell 9.5% in the year to 45.1 million – the market roared back to life in 2010. Passenger numbers increased 26% year-on-year and 10% against 2009, to 57 million.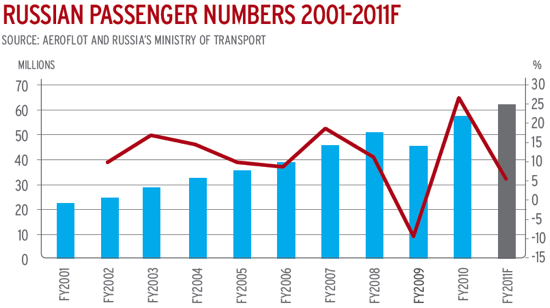 2009 was the only year in the century's first decade where air transport demand recorded an annual fall, an anomaly in what has otherwise been an exceptional growth story. In fact, passenger numbers on Russian airlines have more than doubled in the past eight years. In 2000, 22 million passengers travelled on Russian airlines. Even despite 2009, the average annual GDP growth rate has been 10.5%.
There is a remarkable cocktail of factors influencing Russian aviation, which have the potential to produce growth rates above current forecasts. These include Russia's increasing economic status and trade liberalisation, greater integration into global financial and commodity markets, increasing consumer wealth and disposable income and expanding liberalisation of air transport access.
One glaring absence in the industry's growth story, in contrast to other emerging markets, is low-cost carriage. Only two Russian airlines, Sky Express and Avianova, are LCCs. With 15 aircraft between them they account for 4.3% of total passenger numbers, according to Rosaviatsia. Both airlines' traffic figures pale in comparison to Russia's "big four" carriers, which are much more significant contributors to the country's growth.
Even so, the fragmentation of the Russian market makes profitable operation difficult for many of its players. The top five carriers control only 57% of the market, according to Rosaviatsia. The top 15 carriers control 83% of the market. This diversity is largely the result of the country's vast geography, thinly spread population, the 1991 break up of the Soviet-era Aeroflot and the multitude of semi-autonomous "federal subjects". Russia's competitive environment, however, is set to change following the government's 2010 decision to expedite consolidation efforts, which will go some way in addressing the patchwork nature of Russian aviation.
INDUSTRY STALWART AEROFLOT IS RUSSIA'S KEY DRIVER OF GROWTH and is the largest domestic and international carrier, with market shares of 16.8% and 22.5%, respectively, according to Innovata. The Aeroflot group is, however, still small by global standards. Including subsidiaries Donavia and Nordavia, it carried 14.0 million passengers in 2010, a 27.2% increase over 2009. The group's IFRS net profit increased 195% in the period to RUB7.67 billion (USD253.2 million), on a 29% increase in revenue to USD4.32 billion, good for a 5.9% net margin. In the six months to 30-Jun-2011, Aeroflot's passenger traffic was up another 22.3% to 6.23 million, placing it narrowly behind rapidly-expanding Transaero for the position as the country's fastest growing "big four" carrier. Aeroflot possesses Russia's most extensive network, serving 102 destinations across 49 countries, including 29 domestic destinations, and in terms of passengers carried, remains more than twice the size of nearest rival Transaero.
Sheremetyevo-based Aeroflot has transformed enormously since the break-up of the Soviet Union. From its status as the world's largest carrier in 1990, Aeroflot fell in line with Russia's aviation industry in the 1990s, metamorphosing from a wholly state-run enterprise to a semi-privatised, profitable enterprise. The Russian Government continues to hold a 51% stake in Aeroflot and, as the majority shareholder, exerts considerable influence over the airline's strategy. The resulting and often obvious favouritism this creates also has its downside, in the form of government intervention in commercial decisions. For example, in 2010 Prime Minister Vladimir Putin placed public pressure on Aeroflot to support the local aviation industry, after the airline had placed a string of orders from Airbus and Boeing in recent years.
Modernising its fleet with western-built aircraft has been part of Aeroflot's plans to overhaul its image, positioning itself as an international, rather than strictly Russian carrier. These efforts culminated in the airline joining the SkyTeam alliance in 2006, making it the first Russian carrier to join an alliance and giving SkyTeam a strong foothold in the market. Aeroflot codeshares extensively with alliance partners, has a growing international network and a large aircraft order backlog split now between US, European and Russian manufacturers.
Aeroflot is also at the centre of the government's plans to address the industry's fragmentation and will play a key role in changing Russia's competitive dynamic. Six embattled regional carriers - Kavminvodyavia, Orenair, Rossiya, Saratov Airlines, SAT and Vladivostok Avia – which were originally to be merged to form one airline, Rosavia, to rival Aeroflot, are instead to be merged into the national carrier. Aeroflot expects that merger to increase its domestic market share to 35%. CEO Vitaly Saveliev predicts further consolidation in Russia, with the number of Russian airlines ultimately falling to 35, from the currently unsustainable 170.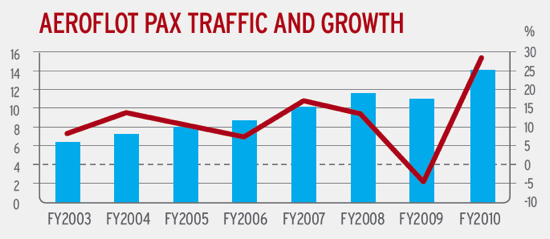 DOMODEDOVO-BASED TRANSAERO IS RUSSIA'S SECOND-LARGEST AIRLINE, FOCUSSING MORE ON LONG-HAUL AND LEISURE DESTINATIONS. While Aeroflot carries over twice as many passengers as privately owned Transaero, Aeroflot is only 34% larger in RPK terms, according to Rosaviatsia, reflecting the nature of Transaero's operation. The airline is essentially a long-haul operator, with the majority of its year-round services to destinations across Russia, the Far East, Southeast Asia, the Indian Ocean, Europe, the Caribbean and North America. In 2009, more than 60% of Transaero's flights were to non-CIS destinations, 6% were to CIS destinations, with the remaining third serving domestic destinations.
Reflecting its intercontinental focus, Transaero has largely replaced its entire Russian-built fleet with Boeing equipment, using Boeing 737, 767, 777 and 747 types, and Transaero is Russia's only operator of the latter two models. Transaero also operates an extensive short-haul summer route network and is one of Russia's major carriers of leisure and charter traffic. It serves more than 20 leisure destinations on the Mediterranean and Black Sea coasts in the summer months. Transaero has been adding short-haul capacity in recent years, following the liberalisation of domestic air services in 2007. The carrier has since made significant inroads into the domestic market, and Transaero is now Russia's fourth-largest domestic carrier, according to Innovata, up from eighth position a year ago.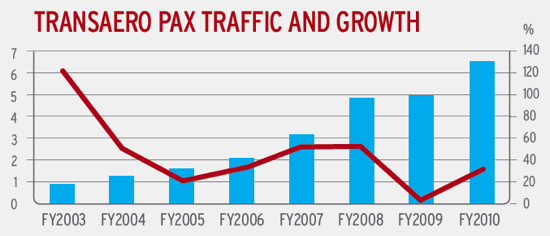 If the Russian government was looking to create a carrier to offset rival Aeroflot, it need look no further than Transaero. It is the only "big four" Russian carrier to consistently increase market share (by system RPKs) over the past five years and it more than doubled its share of the total market (by passenger numbers) between 2006 and 2010, now claiming 12% of the total Russian market. Transaero even eked out a 3.6% increase in 2009, when the Russian market shrank 9.5%. Passenger traffic in the six months to 30-Jun-2011 increased 24.0% to 3.44 million and RPKs increased 25.8%, making it the fastest growing major Russian airline in both metrics.
Most importantly, the carrier's strong growth over the past five years has come profitably. Transaero reported a net profit of RUB580.8 million in 2010, a 48% year-on-year increase, and a 9.5% net margin. In the difficult 1H2011, the airline reported a net profit of RUB114 million, a 6% year-on-year increase and a testament to the airline's operating model. The 1H2011 result contrasts with rival carriers across Europe, the majority of which have reported sharp year-on-year reductions due to rising fuel costs and difficult economic conditions. Now consolidated as the country's number two carrier, Transaero will be in Star Alliance's sights. As the only global alliance not to be represented in Russia, Star will have found the carrier's network profile unattractive in the past, but Transaero's new focus on growing its domestic network makes it a better target.
See related report: Rapidly growing Transaero increases net profit in first half, places A320neo order
RECENT ONEWORLD ADDITION S7 AIRLINES IS RUSSIA'S THIRD LARGEST CARRIER, but including charter subsidiary Globus, the S7 group is the country's second largest. The privately owned carrier's strength is in the domestic market, where it comes a close second to Aeroflot. S7 has a much heavier concentration on domestic and intra-CIS services than its larger rivals - of the 86 destinations it serves, 66 are in Russia and the CIS - and the carrier is unlikely to venture far from its home market, a role oneworld partners will have earmarked for S7 as they seek to tap into the carrier's expansive home network. Despite this heavy focus on Russia and the CIS, S7 positions itself as a western-style carrier, complete with its eye-catching livery, a cutthroat approach to profitability and its fleet, which comprises only western-built aircraft. S7 operates out of three main hubs – Domodedovo, Novosibirsk and Irkutsk – and has only three widebodies in its current fleet and none on order, according to Ascend. The airline is unlikely to join the battle between Aeroflot and Transaero for long-haul, intercontinental traffic, reflecting its belief that the Russian and CIS markets offer more room for growth than more distant markets. Rather than focus on growth, S7 has focussed on increasing profitability. It is the slowest-growing major Russian carrier, increased passenger numbers by 3.4% in the six months to 30-Jun-2011 to 2.25 million.
Despite the strong passenger growth in its key markets, S7 only grew by a modest 5.6% to 4.8 million passengers last year. Of Russia's top 35 carriers, only subsidiary Globus reported slower growth. The airline has made no secret of its plans to resist accelerating expansion like other players in the industry, focussing on the quality of its growth over quantity.
Improving operational efficiency is the airline's main short-term aim, a tough ask for a carrier whose assets already sweat more than 10 hours per day. In 2010 S7 reported net income of RUB97.6 million on RUB39.82 billion in revenue. Improving on this 0.2% net margin, a level of profitability below its larger rivals, has been S7's major strategic focus. In 1H2011, S7 reported a net profit of RUB200.5 million on revenue of RUB17.3 billion in revenue, a 1.1% margin.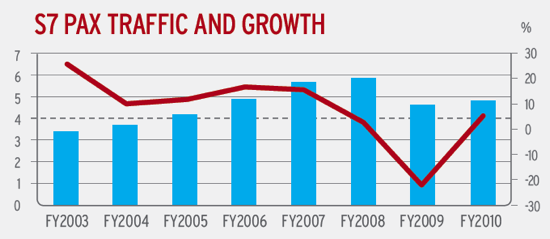 DOMESTICALLY FOCUSSED UTAIR AVIATION ROUNDS OUT THE "BIG FOUR" RUSSIAN CARRIERS. The airline carried 4.4 million passengers in 2010, a 25.4% year-on-year increase, according to Rosaviastia. Passenger numbers in the six months to 30-Jun-2011 increased 8.6% to 2.32 million.UTair is the third-largest carrier in the domestic market, but the twelfth-largest international carrier, according to Innovata. Unlike the other three major airlines, UTair is not based in Moscow, but operates through hubs in Tyumen, Surgut and Khanty-Mansiysk. It is part of integrated aviation conglomerate UTair Group. After the strong 2010 performance, the airline has aggressively added capacity this year, which has seen load factors drop 4ppts in the six-months to 30-Jun-2011, to 70.7%, the lowest level of the four majors.
UTair operates scheduled and charter services; both segments contribute about 60% of the group's revenue. The carrier operates a mix of Russian and Western-built aircraft, including Boeing 737 Classics, 757s, Bombardier CRJs and ATR 72s. The airline placed an order for up to 40 B737NGs at the 2011 Paris Air Show; they will be used to replace ageing Boeing, Tupolev and Yakolov equipment and add capacity across the network.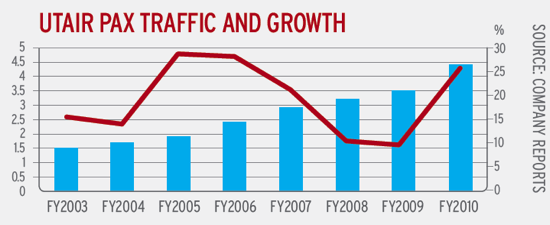 TWO OTHER NOTABLE PLAYERS IN THE MARKET, WITH FAR SMALLER ROLES THAN THE FOUR MAJORS, ARE LCCS SKY EXPRESS AND AVIANOVA. Despite the enormous potential that could be unlocked by low fares, LCC market share remains far below the world average and below LCC market share in other key emerging markets, at just more than 4%. Sky Express launched in Jan-2007 as the country's first LCC. It operates a fleet of eight Boeing 737 Classics from its base at Moscow Vnukovo to 12 destinations across eastern Russia. It carried 1.1 million passengers in 2010, a 12.1% increase over 2009, at an average load factor of 75.7%. In the six months to 30-Jun-2011, passenger numbers were up just 8.7% against the system's 11.0% growth in the period.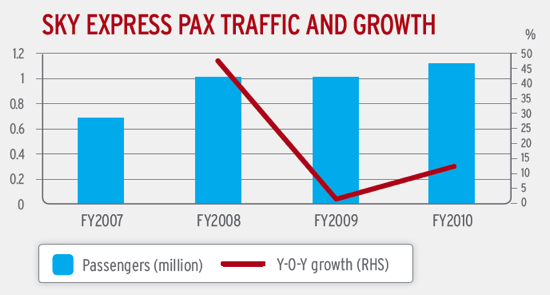 Despite its smaller fleet, Sky Express rival Avianova is the carrier making the noise more expected of an LCC. Avianova launched operations in Aug-2009 and operates a fleet of six A320s. The LCC has its major base at Moscow Sheremetyevo and operates to 22 destinations, mainly in European Russia. Avianova is a joint venture between Russia's Alfa-1, which owns 51% of the LCC, and US-based Indigo Partners, although the ownership of the LCC has been in flux since Jun-2011, when a shareholder dispute broke out that resulted in the departure of CEO Andrew Pyne. Avianova has serious pretensions as an airline. Passenger numbers surged ahead in 2010, with the LCC carrying 1.3 million passengers at an average load factor of 77.9%.
Avianova has gained far more momentum in its short history than its low-cost rival and continues to move at breakneck pace. It already carries more passengers across a wider network, and the LCC has now overtaken Sky Express in size. Avianova carried 573,416 passengers in the six months to 30-Jun-2011, a 32.8% year-on-year increased. Load factors increased 3.7ppts to 74.1%.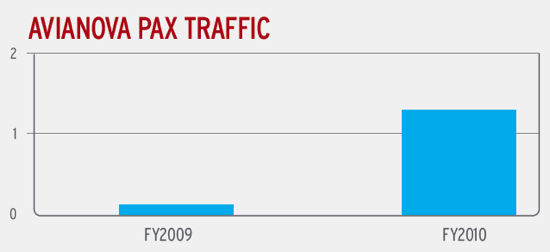 But the carrier is facing shareholder and financial challenges, which has forced it to halt plans to expand its fleet to 10 A320s. A1 has reportedly harboured intentions to sell its 51% stake since late 2010 and is seeking USD70m. An unsuccessful offer was made to Aeroflot, but the flag carrier's attentions are focussed on its merger with the country's regional carriers.
Furthermore, a dispute involving shareholders and senior management has resulted in the departure of CEO Andrew Pyne, who along with other expatriate staff, was locked out of the airline's offices in Jun-2011. General director Vladimir Gorbunov accused Mr Pyne of managerial incompetence, flouting Russian law and inflicting severe financial damage on the company. Mr Pyne, a British citizen, said the allegations were "laughable and have no factual basis" and claimed his termination was the result of a dispute between A1 and Indigo Partners, as he could only be dismissed with the agreement of all shareholders. Mr Gorbunov maintained that the company's shareholders were united.
As would be expected with the Indigo Partners' pedigree, the airline's strategies are similar to Ryanair's, with very low lead-in fares of RUB250 (USD10). It aims to ultimately lower fares to "nothing", generating revenue solely through ancillary offerings. Such marketing stunts, which also include calling itself Russia's "first" LCC, have provoked retaliation from its rival. Sky Express stated in Aug-2010 that Avianova is wrong to claim it is "revolutionising the market when all [it is] really doing is following in the footsteps of the company that really brought the idea to the market".
Regardless of these competing claims, the fact remains that there is reluctance by airlines to move into this segment. Foreign LCCs have largely avoided operations to the Russian market. Russia appears to be a market congenial to air transport, but perhaps not necessarily low-cost air transport. The model is defined by several characteristics that have proven difficult to emulate in the Russian market. Sceptics, including the country's major carriers, maintain Russia's market conditions mean it will take time for LCCs to capture a meaningful slice of the market. With long thin routes, the Russian market may not be well suited operationally, but quirky regulation – often creating discriminatory positions – constrains growth. Avianova is confronting these challenges and will be the litmus test for the genre in Russia.
Effective leadership and vision will be required in order to accommodate Russia's growing appetite for air travel, an area where the Russian government will have a vital role to play. This will be most pertinent in the reform of a structure that underpins Russian aviation: its regulatory environment. Russia's complex and often protectionist regulatory policy damages the industry's potential and has resulted in a system where unequal treatment of players, with a strong bias towards Aeroflot, has become entrenched.
Poor regulatory oversight extends from areas such as Russia's airport and air navigation service charges, many of which do not comply with ICAO principles, to areas including the tax system, where VAT is as high as 18%, along with high customs duties on foreign-built aircraft. Some improvements have been made in this area. Uneven provision of air and ground infrastructure needs to be addressed, where poor surface infrastructure can require the use of Russian-built aircraft, limiting the growth opportunities of Russian carriers, many of which increasingly use western aircraft types.
But the government has been moving in the right direction by addressing industry fragmentation, essential to achieving market sustainability and safety standards.
Russia's aviation history has been chequered. But it is tempting now to believe the potential is there for a very bright future. More intelligent and impartial regulation will be key ingredients if that is to be the case.
See related report: Jeppesen working to transform Russian airports