Republic announces branding decision: It's Frontier! Animals and cookie survive, challenges remain
The anticipation was palpable and the excited buzz in the room rose and fell in the minutes before Republic Vice President of Marketing and Branding Ian Arthur took the stage at Coors Field in Denver to announce that Frontier would be the surviving brand for Republic Airways Holdings' branded operations. With President, Chair and CEO Bryan Bedford in Milwaukee, Arthur was dispatched to Denver (where employees number 4,100) for the simultaneous announcements. Frontier's popular 'spokesanimals' will be the face of the branded operations. Also surviving is Midwest's iconic chocolate chip cookie, to be served on all branded operations by the Summer. The cookie, Bedford told local press, "transcends economics."
The Denver event, telecast over the internet, erupted into sustained shouts, applause and glee after Arthur made the announcement, forcing one to wonder what the reaction had been at the Midwest hangar at General Mitchell Airport where CEO Bryan Bedford had, it seemed, just lowered the boom. While not telecast, local Milwaukee media provided the answer. The response was dead silence for what seemed like a very long, pregnant moment that even took Bedford aback. Then the silence was broken by very weak applause and relief on the part of the CEO.
The reaction was clear. The Milwaukee employees didn't like that they are losing their identity and Bedford explained why. "These are two passionate cultures," he said. "No doubt about it. We've heard from our customers on both sides both east and west. We've heard from our employees on both brands east and west. Both have fierce loyalty with a lot of emotional attachment, but I do believe, our management team believes and, quite frankly, I think our employees believe we are going to be stronger as one unified company than we would be as two separate airlines."
It was also the final stroke in a process that began when Republic acquired the Midwest Airlines last Summer and began dismantling everything that was Midwest. "There is no operating certificate, no unions, no anything," noted Bedford in December. "It is a virtual airline providing capacity sourced either through Republic with the E-Jets or Frontier with its A319s."
Republic also replaced Midwest crews with lower cost crews from Republic. It switched out the Boeing 717 fleet for Embraer ERJ 170s and 190s saving USD3 million per year for each aircraft. It also moved five Frontier A319s to Milwaukee to fly high-density, low-yield leisure markets such as Phoenix, Las Vegas, Tampa, Orlando and Fort Lauderdale, where price stimulation actually works. The only thing Midwest got was the 400 maintenance and call-center jobs that were transferred to the lower cost city. It expects to add an additional 400 employees by the end of the year.
The move marks the end of a respected airline brand dating back to 1983 when the Kimberly Clark employee shuttle switched to being an airline called Midwest Express. It was later renamed Midwest Airlines.
Two into One
Frontier may be the surviving name but it was clear Republic was at pains to take the best of both brands and carry them forward. Arthur's speech was peppered with the two airlines' slogans – Midwest's best care in the air and Frontier's whole different animal. The iconic spokesanimal trademarks have garnered more than 80 awards for groundbreaking communications and advertising, said the airline, adding they will now be leveraged across an even larger customer base. See the spokesanimals latest commercial
Meanwhile, Bedford pledged to add Wisconsin's state animal to the spokesanimals. It wasn't as easy as some of the other animals on its planes, he told local press. "It's hard to find a cute badger."
The announcement illustrated just what a sly beast Republic, itself, is, though. Speculation had it that since Bedford was going to be in Milwaukee for the company's announcement about its brand strategy that would mean it could be Midwest getting the nod. Despite that, everyone knew that Midwest was the weaker brand and certainly limited geographically at a time when it is far better to be seen as a national, not local, brand. The exception, of course, is Southwest.
In reality, however, Arthur – who hailed from Frontier in the first place – would get the easier job while Bedford faced the tougher audience with those of Midwest's 1,200 employees that were able to attend the event.
"This decision was an emotional one for everyone involved," said Bedford. "While the research showed that customers preferred the Frontier brand, they also expressed a strong loyalty to both brands based on affordability, convenience, destinations and delivery of a differentiated experience. As we work to integrate these two brands into a unified Frontier Airlines, you can expect to see a lot of influence from the Midwest brand. This airline is now bigger and stronger, with an immense opportunity for sustainable, profitable growth in Milwaukee, Denver and across our network. We are launching service to new destinations out of our Milwaukee and Denver hubs and we are adding more jobs in the communities we serve."
The 2010 growth includes 10 new destinations out of the Denver hub and five new destinations out of the Milwaukee hub. As a result, the carrier will grow by 7% in seat miles this year, three times the industry average. The company sees opportunity for hiring at both locations.
Arthur called the brand choice a milestone for the company. He noted that Republic polled over 70,000 frequent flyers and received over 4,500 responses from employees via an online survey while at the same time pulsing thousands of passengers, frequent flyers, not so frequent flyers and a sampling of uncommitted flyers.
It's how the cookie crumbled
"It was a tough call," he said. "One based on hard facts. Sixty eight percent of employees said that the two brands could live together. They said, 'we are your most important asset; we want this to succeed.' Research told us we have significant strength rooted in great service and a loyal following. But one showed the best opportunity for growth elsewhere. One brand was in the best position to address the needs of passengers looking for affordable prices in an expanded network. We have two brands with great loyalty but one with great growth potential."
Arthur also pointed to Frontier's significantly larger customer base and its position as a low-cost carrier, saying Frontier was in the best position "to meet the needs of today's passengers."
"We have taken the best of two airlines with one promise to provide the best care in the air," he said. "We have one vision which is an airline for our guests that, at its heart, a an airline that celebrates its difference in that each plane, each flight and each experience is a whole different animal. We will have one mission the best care in the air. The extra mile is made up of inches and that chocolate chip cookie is the symbol of our contract with them and our goal of sustainable, profitable growth that is good for everyone – our employees and our customers."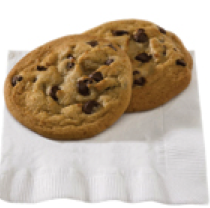 The company has set a very aggressive integration timeline of 12-18 months. In that time, the company will work to integrate the customer experience and cultivate the attributes that will set Frontier Airlines apart in the industry. The company plans to complete technology integration, including the reservations system, by November. The Midwest brand will not be phased out until October of 2011 when it anticipates completing the transition to the Frontier livery. Co-branding will be completed by 2011, with the two airline systems integrated as early as this fall.
It has set up a web site to communicate with the public throughout this process at FrontierMidwest.com. The site will include a timeline of all the major milestones that the company will achieve throughout the integration; including the move to one Web site, one frequent flyer program and the implantation of new product attributes. It will also change the name on the Milwaukee convention center from Midwest to Frontier Airlines.
"There's still a lot of work to be done in integrating these two carriers," stated Arthur. "Throughout this process we will keep an open ear to our customer's wants and needs. We appreciate your patience and support as we continue to develop an airline that treats our customers with respect, and will strive to provide those little things that make all the difference in our guests' travel experience."
Still faces challenges
While it is widely agreed that the Frontier brand should be the one to survive, the company still faces broad challenges. It is competing in a very crowded space and is leagues behind the other US low-cost carriers – JetBlue, Southwest and AirTran. Its main competitors are Southwest in Denver where it also competes with United.
Denver Airport domestic market share by airline (%): Oct-2007 vs Oct-2009
At Milwaukee its 34% market share in February is just ahead of AirTran's 29% which was just announced in March. Midwest once had a 53% market share there. In addition, Southwest has made tentative forays into Milwaukee with its usual eight trips a day when it enters a new market.
Milwaukee Airport domestic market share by airline (%): Oct-2007 vs Oct-2009
Crafting a successful strategy
"My job is to craft and design the vision and strategy to achieve our goal of profitability and growth," Bedford told the two audiences via a video feed just before the announcement was made. "Our business has been in capacity purchase which has been profitable in the last decade. But the industry is changing. There is an urge for legacies to consolidate, de-hub and shrink domestically and grow internationally. That has negative implications for our capacity purchase business but positive implications for our brand strategy."
Bedford has always exuded confidence in Frontier's ability to compete. Republic, said Bedford, is anticipating a USD2.7 billion in group revenues for 2010 split between its fixed fee operations with regionals Shuttle America, Republic Airlines and Chautauqua at USD1 billion and the Frontier/Midwest combination at USD1.7 billion.
Republic Group revenues and fleet: 2010
RASM advantage on competition
Midwest's USD400 million in revenues and its number one position in Milwaukee will be combined with the USD1.3 and its strong number two position in Denver, according to Bedford who outlined the carriers' strengths last December.
But that advantage was also seen as part of the branding problem. Bedford explained that the Midwest brand was seen as a high-fare airlines while the Frontier brand was seen as a low-cost brand. In today's world, where price matters as much as anything the high fares image could not be sustained against the incoming competition with Southwest and AirTran. Thus, the Frontier brand will be a stronger competitor against those airlines.
Midwest PRASM performance in AirTran overlap markets only*: 2Q2008 to 2Q2009

According to the Department of Transportation second quarter 2009 survey data, on competitive overlapping markets, Midwest maintains a 156% RASM premium.
* RASM calculated using F9 prorate methodology; weighting based on relative ASM production of Midwest network Source: Republic
Midwest was always able to produce a RASM premium in the strong business market but, with it, came a CASM premium. Republic has eliminated much of those costs by replacing Midwest employees with Republic employees and by dismantled everything that was Midwest. We've eliminated the CASM problems and hope we retained the RASM premium," Bedford told analysts. "We surrender a slight CASM disadvantage to AirTran but enjoy a fairly significant CASM advantage to Southwest and United at Denver."
Frontier PRASM performance in Southwest overlap markets only*: 2Q2008 to 2Q2009
Milwaukee remains a tough market
Bedford indicated that Milwaukee will not be profitable for any carrier given the 30% increase in the number of daily seats between H108 and H109 with AirTran. "This is not sustainable," said Bedford, adding it represents 25% of Republic's branded exposure.
At Frontier, the 20% capacity reduction during the same period resulted in a 10-point drop in relative capacity which was surrendered to Southwest. That carrier also picked up from United's 20% capacity reduction at Denver. "But we are maintaining a slight RASM advantage in Denver in competitive overlapping Southwest markets," said Bedford. "And this is an area where we think we can improve. If the brand has value, then we think we should be able to charge for it. We'll find out."
The brands, combined network: Nov-2009
Mainline SLA CASM, ex-fuel and ex-items: 3Q2009
CPA operations also in question
The company enjoys long-term contracts (the earliest expiration is 2012) with its major partners in its capacity purchase business, but as Bedford so rightly pointed out, that business is changing as well. In addition to the changes outlined by Bedford, Republic's branded operations now compete with the very partners it serves.
Subsidiary Chautauqua flies as AmericanConnection, Continental Express, Delta Connection, Midwest, United Express and US Airways Express. All-jet Republic operates as US Airways Express and also flies for the branded operations. Shuttle America currently operates as Delta Connection, United Express and Mokulele Airlines.
According to Republic numbers it enjoys a cost advantage over rivals SkyWest and Pinnace.
RJET cost and margin advantage: 3Q2009
The question then remains what will major carriers do as the regional model changes. In addition to Republic's move into branded operations, SkyWest is now in a codesharing deal with AirTran in Milwaukee.
Recently, Pinnacle Chair and CEO Phil Trenary pointed to all the changes that will develop in the next few years with 468 aircraft expiring through 2016. He noted that, for an industry that has been virtually static in recent years, the contract expirations represent a lot of opportunities.
Perhaps the most worrying is the legacies move toward consolidation which constitutes a significant threat to the regional sector. The Delta-Northwest merger has yet to shake out at the regional level and only awaits the expiration of contracts for that to happen. Delta has already tried to clean house with Mesa Airlines although that faces a court challenge. In the meantime, most of the Delta Connections, along with all other regional operations, were forced to scale back with the twin crises of high fuel costs and recession.
Indeed, the regional business model itself is about to change. The sweetheart contracts cut in the immediate post-9/11 period as well as those cut in mid-decade are a thing of the past. Mainline carriers have been comparing their negative profitability and weak margins in even the best of times to regional profitability and 8% to 10% margins. The major carriers stated last year that future requests for proposals for regional services will include a lot more risk sharing. That means that not only will the RFPs be less lucrative, consolidation will mean there will be fewer of them.
Then there are changes in the regional industry as that sector prepares for what is coming next. Republic is the unquestionable leader on this score. The question then becomes what legacy partners will do in awarding the next RFPs. Indeed, they will likely take into account Republic's competitive operations against United and Delta.
Delta has already cancelled its codesharing relationship with Midwest acquired with Northwest. Delta's three-year Midwest Airlines partnership began with Northwest, which, was trying to discourage AirTran from gaining a Midwest foothold to become a larger competitor. Northwest acquired Midwest, effectively blocking AirTran's 2007 bid on the carrier. The relationship ultimately blossomed to codesharing and frequent flyer programs.
Delta's cancellation of the frequent flyer partnership prompted travel blogger Brett Snyder to say: "That tells me it's Delta that said this wasn't a good idea. They were effectively supporting a competitor that's also a supplier. As Republic continues to try to build a single brand as a more fierce competitor, we can probably expect to see more airlines re-evaluate their relationships."
If that is the case, well the writing is already on the wall if Frontier survives and flourishes. The next question is whether or not SkyWest's strategy to open up new markets for regionals by serving the low-cost carriers will be successful. It is such a miniscule part of either AirTran or SkyWest it will be hard to tell.
Republic's earnings track record: 2000 to 2010