Qantas' Asian transformation, relaunching Beijing & Melbourne-Tokyo; highest Asian activity ever
Analysis
Qantas has been transforming in Asia. Its partnership with Emirates and shift of European stopover hub from Asia to Dubai drove a need for Qantas to restructure its Asia network to support the local market, and not onward connections to Europe. Widebody capacity has become available as Qantas further decreases widebody services in the domestic market, which was overcompetitive and impacted by a decline in the resource sector, which was a key corporate contract focus.
In calendar 1Q2017 Qantas will operate more flights to Asia than at any time this decade, including prior to its Emirates-necessitated restructure.
Seat capacity has reduced slightly, reflecting the use of smaller aircraft (A330s instead of A380s) but Qantas still has more seats for the local market since it no longer sells onward flights to Europe. Qantas' most recent Asian additions are the relaunching of Melbourne-Tokyo (taking the service over from Jetstar, which will instead open new flights to Vietnam) and Sydney-Beijing – an important market for its JV with China Eastern as Virgin Australia signals its intent to fly to Beijing in 2017, in partnership with HNA.
Qantas' return to Beijing is important. Qantas exited Beijing in 2009, and Air New Zealand did so later, in 2012. Qantas was impacted by the post-Global Financial Crisis environment; Beijing was not as strong a commercial hub as Shanghai and was too far north, and one-stop competition was growing for Beijing connections. (Air New Zealand also struggled with competitors, including fellow Star member Air China, which is based in Beijing.) Qantas now breaks Air China's monopoly on the nonstop Australia-Beijing market.
Beijing and Qantas are a different proposition in 2017: Qantas has a lower cost base, while Beijing has grown as a market.
An important, if underappreciated, development is Qantas' JV with China Eastern.
China Eastern is based in Shanghai and cannot, even if it wanted to, fly Beijing-Australia routes since Air China holds the Chinese rights for the most compelling opportunities. (The same does not hold entirely true for Air China, which is allowed to fly alongside China Eastern on Shanghai-Sydney and Shanghai-Melbourne.)
Qantas is not subject to such restraints, and thus can offer the JV a nonstop Australia-Beijing option. Qantas is launching Beijing with slot times that are not as ideal as it would like – Beijing is heavily constrained (to the ire of many foreign airlines seeking access), but Qantas can make Beijing work.
Virgin Australia has announced its intent to fly to Hong Kong and Beijing under its planned partnership with the HNA Group, which comprises Hong Kong Airlines in Hong Kong, and then in mainland China – Hainan Airlines and other HNA units.
Hainan has its flying base in Beijing but, like China Eastern, cannot access routes that Air China already serves.
Sydney Kingsford Smith Airport to Beijing Capital International Airport (seats per week, one way): 19-Sep-2011 to 3-Jul-2017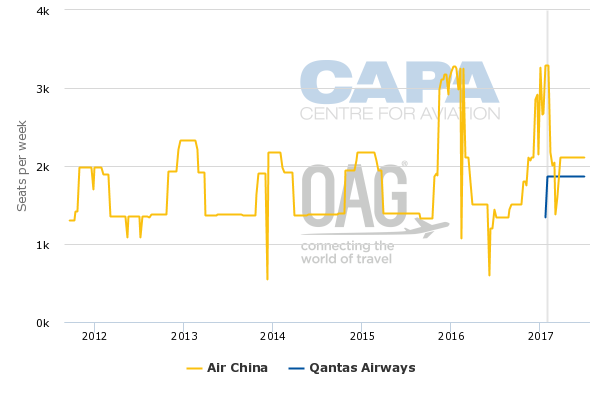 Qantas resumed Melbourne-Tokyo Narita services in Dec-2016. Qantas last served the market in a very different era: flights, which were not daily, ended in 2008 as Qantas' international network came under greater pressure from costs and the global financial crisis.
Jetstar launched in 2014 (less than daily) and grew the market, in size and premium yield opportunity, to a point where Qantas could take it over. Qantas and Jetstar briefly overlap on Melbourne-Tokyo, with Jetstar ending its service in Feb-2017 after the peak period of travel.
Qantas has long served Tokyo from Sydney, and added Brisbane-Tokyo in 2015. Qantas operates the only nonstop Japanese service from Melbourne, although Cathay Pacific and Singapore Airlines have had a quiet indirect role in the Australia-Japan market.
Melbourne Tullamarine Airport to Tokyo Narita Airport (seats per week, one way): 28-Apr-2014 to 3-Jul-2017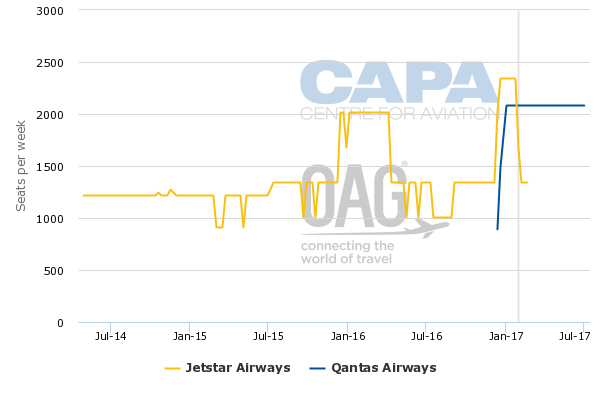 Qantas rebounds in Asia, even without European connections
Qantas, in 1Q2017, is nearly the size it was in Asia in 1Q2013 before the implementation of the Emirates partnership. That deal resulted in the effective closure of Qantas' Singapore hub and the end of Qantas' onward connections for Asia-Europe flights. This had a flow on impact on Qantas' Australia-Asia capacity, much of which continued to Europe.
Immediately after the partnership was implemented Qantas' presence in Asia dipped, but the number of seats available for sale in the local Australia-Asia end-to-end market increased, as there were now no European flights to transfer onwards to. (1Q2017 is not fully reflective of forward capacity since Qantas relaunched Sydney-Beijing in late Jan-2017.)
Qantas available seat capacity from Australia to Northeast Asia, Southeast Asia and Asia-Europe: 1Q, 2010-2017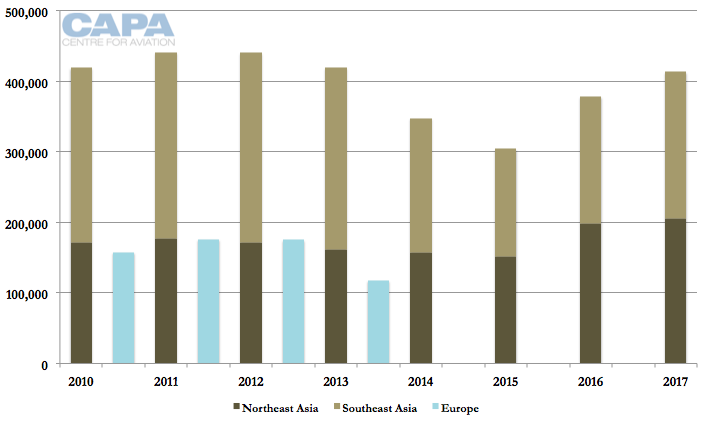 It is a sign of its growing international strength that Qantas has returned to its pre-Emirates size in Asia, even though almost all seats are now sold for Asia and there are no European connections. Besides capacity size there is Qantas' improved product, and a lower cost base that improves finances.
Qantas' frequency to Asia has not only improved, but has surpassed pre Emirates levels. Qantas operates 12% more flights to Asia in 1Q2017 than in 1Q2016, which itself surpassed 1Q2011 for a recent record.
Qantas frequencies from Australia to Northeast Asia, Southeast Asia and Asia-Europe: 1Q, 2010-2017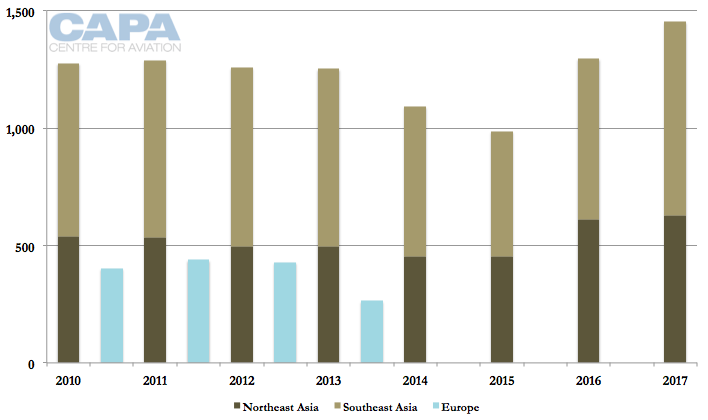 As has been the case since 2015, Qantas' Asia seat capacity is balanced between Northeast and Southeast Asia, with an approximately 50:50 split.
Before the Emirates partnership there was broadly a 60:40 split in favour of Southeast Asia, reflecting capacity for European connections, but that change also highlights how Northeast Asia is stronger now.
Qantas share of available seat capacity from Australia to Northeast Asia and Southeast Asia: 1Q, 2010-2017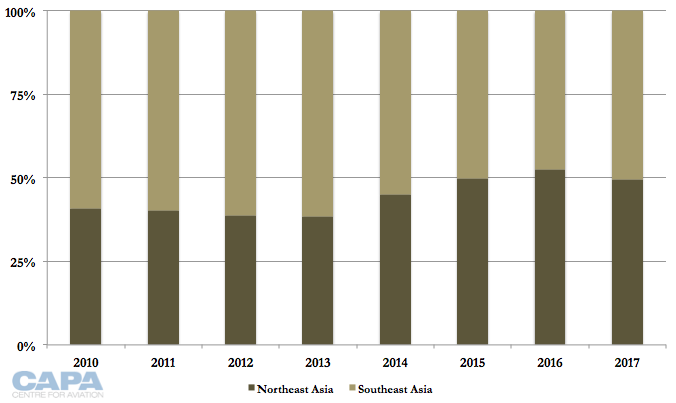 Compared to 1Q2011, before the post Emirates Asia restructure, Qantas is increasing seat capacity across all Asian markets except Singapore and Bangkok. The exclusion of Singapore is inevitable, since that was Qantas' major hub for Europe, and without European connections it does not need as much seat capacity into Singapore from Australia.
Northeast Asia shows strong growth across mainland China, Hong Kong and Japan. Indonesia's growth is driven by Qantas' Bali service.
Qantas available Australia-Asia seat capacity by market: 1Q2011, 1Q2017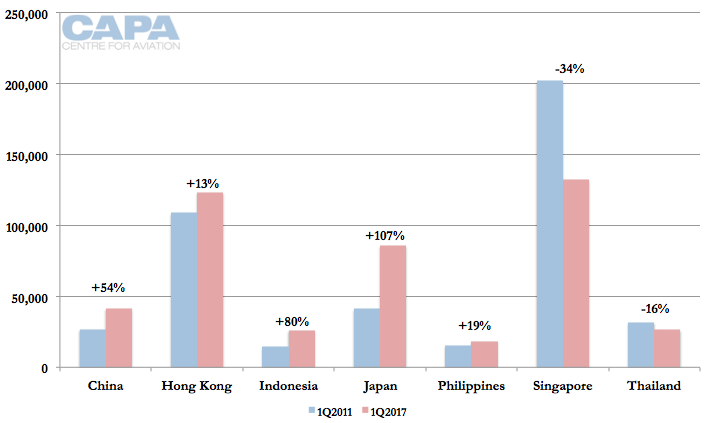 Qantas' growth is stronger on a frequency basis, reflecting the use of smaller aircraft (for example, A330s instead of A380s). In Singapore and Thailand Qantas' frequency reduction is not as great as its seat capacity reduction - so that Qantas maintains its prior level of connectivity.
Qantas available Australia-Asia seat capacity by market: 1Q2011, 1Q2017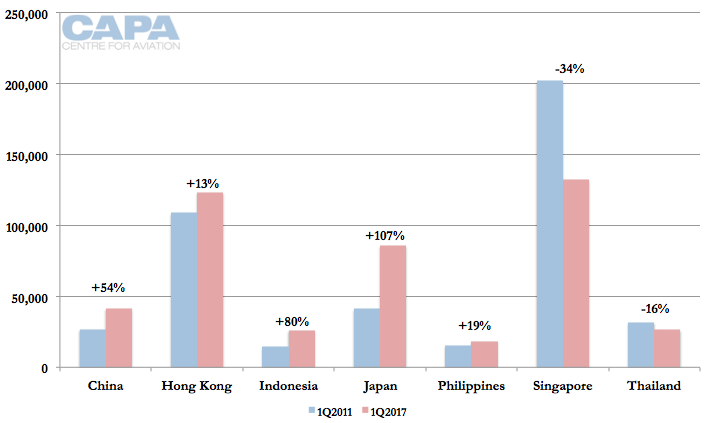 Asia growth becomes possible as Qantas redeploys widebodies from domestic market
Qantas' relaunch of Beijing and Melbourne-Tokyo, as well as the previous Asian growth, are made possible by two developments:
the Emirates partnership; and
the decreasing number of domestic widebody flights.
Qantas' partnership with Emirates meant that it moved its European stopover hub from Asia to Dubai. Qantas' Asia network had been timed to facilitate connections to Europe, which often meant less favourable timings for the local Australia-Asia market. Removing European connections allowed Qantas to construct an Asia network optimised for the local market.
Growth has since occurred as Qantas shifts widebody aircraft from domestic to international operations. Widebodies were important on East-West routes (to/from Perth) because of corporate travel contracts held with the resource industry. As the sector experienced a downturn – the capacity was not needed. Virgin Australia's domestic capacity war and Qantas (previous) market share "line in the sand" position created an overcapacity situation.
At the peak in 2014, 93% of Qantas' East-West routes were flown by widebodies. In calendar 1Q2017 this has decreased to 72%. There are 4% fewer Qantas East-West flights in 1Q2017 than in 1Q2014, so there is an overall capacity reduction as a product of fewer flights and the use of smaller aircraft.
East-West market Qantas and Virgin Australia frequencies by aircraft type: 1Q, 2010-2017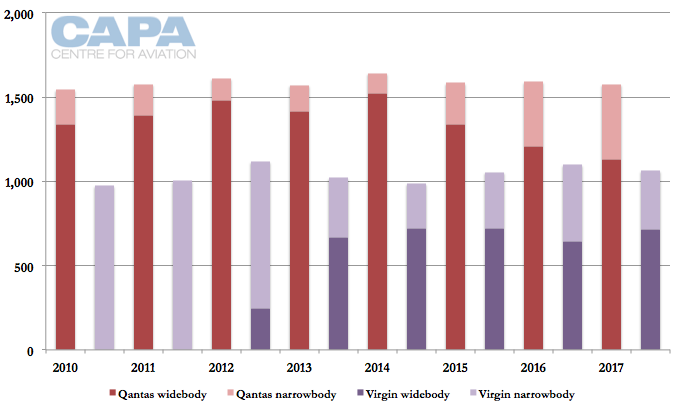 Widebody utilisation has also become available as narrowbodies are pulled off "golden" Triangle (Melbourne-Sydney-Brisbane) services.
Widebody usage has risen since a low point in 1Q2015, but 1Q2017 levels are still well below pre 1Q2015 levels. Widebodies operate 11% of Qantas Triangle services in 1Q2017, up from 7% in 1Q2015 but below a peak of 49% in 1Q2011. There are one quarter as many widebody Triangle flights in 1Q2017 as in 1Q2011. Unlike the East-West market, however, overall Triangle frequency has grown (offset by use of smaller aircraft).
Triangle market frequencies by Qantas aircraft type (left axis) and widebody share (right axis): 1Q, 2010-2017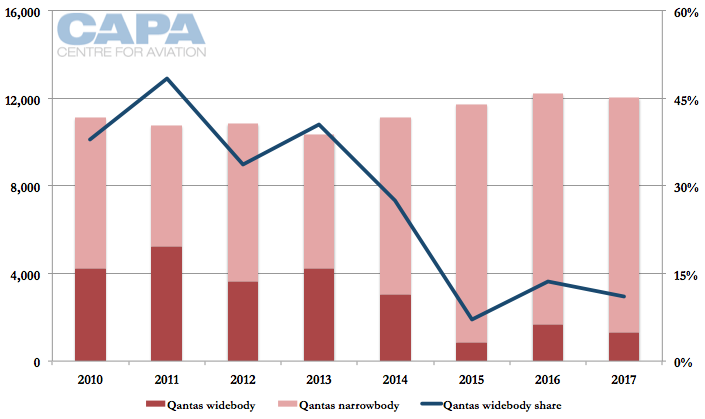 Outlook: Qantas transformation has strengthened its Asian network – to the annoyance of competitors
Qantas' growth in Asia, surpassing its pre-Emirates size despite no longer having European connections, reflects Qantas' successful (and ongoing) transformation.
There has been a virtuous circle of a lower cost base, enabling growth, and investment in product, which improves sustainability. Partnerships have expanded, and there is also the significant Asia network of Jetstar, accessible via local Asia units as well as Jetstar's own Asia services.
Jetstar will put the group back in the Australia-Vietnam nonstop market with flights from Melbourne and Sydney to Ho Chi Minh. Although sastisfied with its development, Qantas would still like a bit more in some markets but is held back by slot issues.
Many of Qantas Group's Asian competitors have been caught off guard by this expansion. Some regarded Qantas as losing further relevance in the Asia-Australia market, and had more or less written it off as a competitor.
Although Qantas has its sights on further developments and growth in Asia, its transformation of this market will partially be replicated, and expanded on, over the next two years as Qantas receives its 787 Dreamliner and changes European and North American flying.