Porter Airlines' plans remain in limbo as its competitors work to sustain their long-term viability
Roughly a year ago in Apr-2013 Canada's Porter Airlines declared bold plans for the next phase of its business, underpinned by a move to operate larger Bombardier CSeries jets to broaden its product reach to destinations in Western Canada and the US.
But a year later Porter finds itself in, arguably, self-imposed limbo as the necessary and controversial approvals to operate the CSeries from the airline's main base and headquarters at Toronto Billy Bishop airport have been mired in politics, and for the moment remain frozen pending further study.
A decision to put off approving or denying Porter's planned addition of the larger CSeries narrowbodies at the island airport and the necessary changes to support the carrier's operation of the jets occurred just as non-refundable deposits on the aircraft were due to Bombardier.
All of the push and pull during the last year has resulted in two glaring questions – why did Porter base its future on a scheme rife with controversy, and does the carrier have a plan B?
Porter's operation is currently limited by the range of Bombardier Q400s
Perhaps Porter thought it could prevail in gaining approval for a controversial extension of Billy Bishop's runway and other changes at the airport, which is close to the city centre, after its controversial debut from the airport. It launched service from the island airport in 2006 amid strong opposition from Air Canada. After protracted litigation Air Canada finally returned to Billy Bishop in 2011, joining Porter in operating Bombardier Q400 turboprops from the airport.
Porter has always positioned itself as a niche carrier, offering a distinctive product featuring leather seats with 34in and complimentary food and beverages. Its philosophy rests on providing short-haul passengers deserve an optimal experience, and previously Porter's rival Air Canada has complimented the smaller carrier's service.
The carrier presently operates a fleet of 26 Q400s with an approximate range of 1,362nm. Given its short-haul model, the majority of Porter's flights have a duration of between 1h and 2h, reflected in its route map that is concentrated in Eastern Canada and the Eastern and Midwest regions of the US.
Porter Airlines system frequencies: 21-Apr-2014 to 27-Apr-2014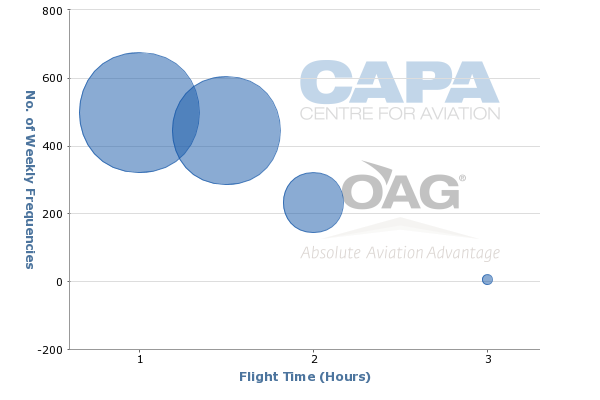 Porter Airlines route map as of Apr-2014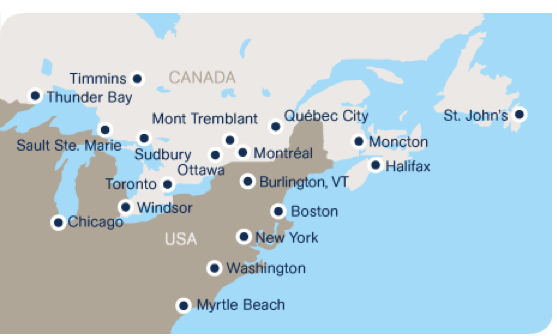 See related report: Porter sets its sights on becoming Canadian aviation's third force
Porter's plans at Billy Bishop ignite political posturing
Porter's aspirations for the CSeries revealed a year ago included longer-haul destinations such as Vancouver, Edmonton and Calgary in Western Canada and San Francisco, Los Angeles and Las Vegas in the Western US. It also aimed to serve Orlando, Tampa, Fort Myers, West Palm Beach and Miami in Florida and Nassau in the Bahamas.
Porter Airlines proposed CSeries routes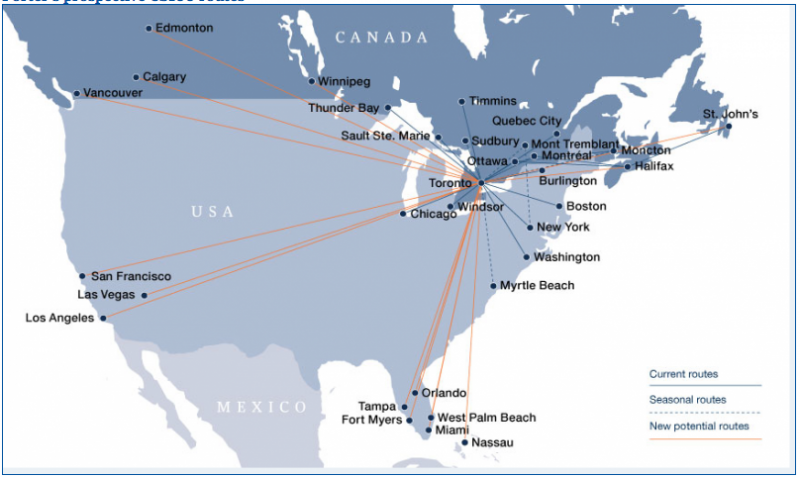 All of Porter's plans to establish a more firm presence within the Canadian aviation market, (presently the carrier accounts for approximately 3.7% of the system-wide seats on offer in Canada) rested on changing stipulations in an agreement governing operations at Billy Bishop among the city of Toronto, the Toronto Port Authority and the federal government that banned jet operations at the facility.
Canada capacity by carrier (% of seats): 21-Apr-2014 to 27-Apr-2014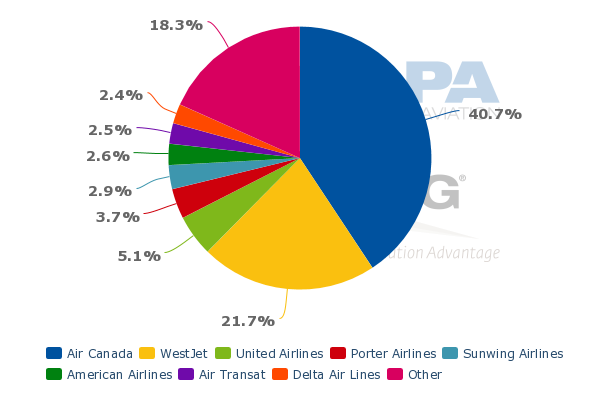 During the last year as Porter has lobbied for changes to the agreement, controversy has ensued. Among the concerns raised by a city report on the proposed operational changes at Billy Bishop were how the potential increase from current passengers levels of roughly 2 million to 4.8 million would affect airport infrastructure beyond the required runway additions to support large jet operations.
Porter garnered support from Toronto's mayor Rob Ford and Deputy mayor Norm Kelly. But some members of Toronto's city council opposed Porter's plans, and the political posturing that has taken place over the last year has resulted in councillors voting to delay a vote approving or denying proposed changes to the airport pending further study, particularly into environmental assessments and the noise impact from the CSeries, which now has a scheduled service entry date of 2015.
As a result of the latest developments, a final decision regarding the proposed sweeping changes at Billy Bishop is not likely to occur until 2015. Porter has attempted to put a positive spin on the decision ultimately not to make a decision. Carrier CEO Robert Deluce claimed victory after the the vote. But a group formed to block jet aircraft from flying at Billy Bishop dubbed No Jets TO also viewed the delay on a decision positively, declaring: "That Robert Duluce's push for quick approval was stalled is in no small part the results of grassroots organising."

See related report: Canada's airlines Part 3: Porter's future rests on controversial expansion from Billy Bishop
Porter's competitors press forward while it is suspended in limbo
Of greater concern for Porter is its seeming lack of a back-up scenario if its plans to add larger jets at Billy Bishop fail to materialise. During the last couple of years Porter has faced added capacity in some of its core markets, particularly the Toronto-Ottawa-Montreal triangle and in some of its US cross border markets. WestJet in particular has made a push into those markets, and plans an expansion eastward in 2014 of its Encore regional subsidiary, which also operates Bombardier Q400s.
While Porter's Billy Bishop plans remain in limbo for at least a year, and then potentially await another two years before beginning to operate large jets from Billy Bishop (although Porter has stated it could still start flying the CSeries from the airport in 2016) its much larger rivals are progressing with building out their respective new carriers – Air Canada's new lower cost subsidiary rouge and WestJet's Encore.
Air Canada and WestJet already serve all the destinations proposed by Porter for its CSeries jets. rouge is adding Orlando, Las Vegas and Sarasota to its route network in Nov-2013, which should create a more profitable scenario for those routes for Air Canada. WestJet is also pressing ahead with Encore and the debut of its new trans-Atlantic service to Dublin via St John's in Jun-2014.
See related report: Canada's airlines Part 1: WestJet continues its ambitious diversification strategy in 2014
Perhaps it is time for Porter to shy away from controversy
Porter made a success of acting against the flow, in opening up the downtown Toronto market. But it now faces a real possibility that its plans to expand and manifest itself as a larger force in Canadian aviation may never materialise. At the very least its current state of limbo creates ample time for its competitors to fortify themselves for the potential new competition Porter could eventually usher into those markets. For the moment Porter is holding on tightly to its confidence that it will successfully enlarge its business at Billy Bishop.
But perhaps it is time for the carrier to consider an alternative plan which is less exposed to political posturing. The airline business is difficult enough without the added pressure of a company's fate resting on the hands of politicians - which means Porter may not be so lucky in executing its second round of growth at an airport that for the last few years has constantly seen some form of controversy – mostly from its largest tenant, Porter.