Canada's airlines Part 3: Porter's future rests on controversial expansion from Billy Bishop
Analysis
Porter Airlines enters 2014 with its future hinging on a decision on proposed expansion plans at is major base and headquarters at Toronto Billy Bishop Airport. It is a high stakes gamble for Porter, which has created a political firestorm over its vision for the airport that occupies a sensitive space on Toronto's waterfront.

The issue is so divisive that a firm decision on approving structural changes to the slot-controlled airport was postponed until 2014 as opponents of the plan raised concerns over financing of the project that includes an extension of the airport's main runway to support jet operations.

Perhaps Porter believes its track record in successfully launching service from Billy Bishop in 2006 and, for a time, beating back Air Canada's return to the airport allows for some confidence in its efforts to convince city officials of the merits of airport expansion. But if the carrier fails in its attempt to chart a new course for the airport, Porter may need to refocus its long-term business strategy.
Porter has fuelled rapid passenger growth at Billy Bishop
Billy Bishop was key to Porter's business plan as its sleek product was designed to attract high yielding business travellers that found the airport situated on an island in Toronto's city centre more convenient than travelling to Toronto Pearson roughly 29km away.

Porter's introduction of Bombardier Q400 service from the airport has resulted in a rapid rise in passenger movements, from less than 200,000 in 2005 prior to Porter's launch to nearly two million in 2012.
Billy Bishop annual passenger movements: 2005 to 2012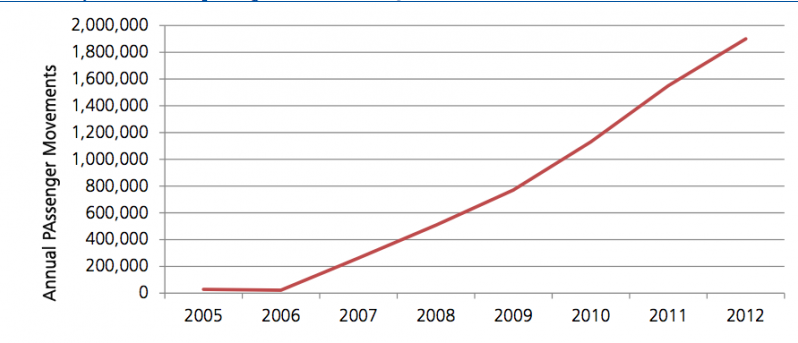 It its unclear how the growth has helped Porter's bottom line as the carrier remains privately held after shelving plans for an initial public offering in 2010 and 2011 citing unfavourable market conditions. The airline claimed to be profitable in both those years.

If Porter succeeds in getting all the necessary approvals to launch jet service from Billy Bishop, its funding requirements could change as it has placed a conditional purchase order for 12 107-seat Bombardier CS100 jets. If the carrier firms the deal, it might need to re-examine an IPO to fund its jet aspirations.
Concern grows over infrastructure financing to support jet operations
Predicting the outcome of Porter's efforts to persuade Toronto city officials to amend an agreement that governs operations at Billy Bishop to lift the ban on jets is difficult. Some council members have pushed to delay a decision until 2015, which would likely disrupt Porter's projected 2016 delivery of the first CS100.

In order to operate jets from Billy Bishop, Porter not only needs approval from Toronto's City Council, but also from the Toronto Port Authority and Transport Canada.

Porter appears to have support from Toronto's deputy mayor Norm Kelly, but opposition is fierce from residents concerned that the introduction of jets from Billy Bishop will shatter the waterfront revitalisation efforts that began on Toronto's waterfront in the 2000s.

Concerns range beyond just allowing jet operations at the airport. A Toronto city report released in late 2013 raised questions over how the increase in passengers, up to 4.8 million from current levels, would affect airport infrastructure beyond expanding each end of the airport's runway by 168m. One council member opposed to the expansion noted in Canadian news outlet The Globe and Mail that the real concern is fitting an airport the size of Ottawa International on the Toronto waterfront without a massive half-billion plus investment.

Roughly 4.7 million passengers travelled through Ottawa during 2012, and if the expansion is approved for Billy Bishop, its passenger statistics could reach similar levels to Ottawa. Presently, Ottawa its Canada's sixth largest airport in terms of seats deployed, and Billy Bishop ranks eighth.
Canada top 10 airports by seat deployment: 13-Jan-2014 to 19-Jan-2014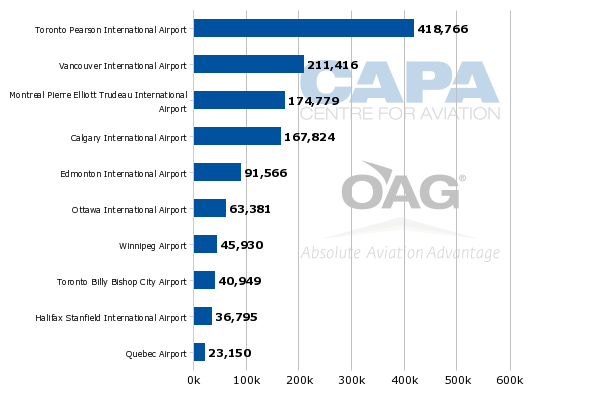 Questions are also arising over violation of international law if only one aircraft type is granted an exemption from the jet ban at Billy Bishop.
In the long term, Porter needs larger aircraft at Billy Bishop
Despite vocal opposition to its plans, Porter's quest to operate jets from Toronto's island airport continues unabated. It argues city-commissioned consultant reports indicated mainland airport access can be improved with no more than CAD3 million (USD2.8 million) in investment to handle passenger growth, and CAD50 million (USD46 million) in landside infrastructure would be enough to handle "unrealistically high scenarios for traffic volume". The estimates likely fall in between the two extremes, and it remains unclear the sources of funding for the expansion.

Porter's push for approval of changes to the agreement governing Billy Bishop is key to its strategic direction for the future. By making the slot constrained airport its major base of operations – its seat deployment from the island airport is more than three times its second largest base in Ottawa – Porter needs to deploy larger aircraft than 70-seat turboprops to better utilise its slots and expand into longer-haul markets.
In some ways it is a reverse strategy from that of WestJet, which during 2013 launched its new regional carrier Encore that operates a fleet of Q400s, and expects to render a decision some time in 2014 on exercising options for additional 70-seat aircraft.
Porter Airlines top 10 hubs/bases/stations by seats: 13-Jan-2014 to 19-Jan-2014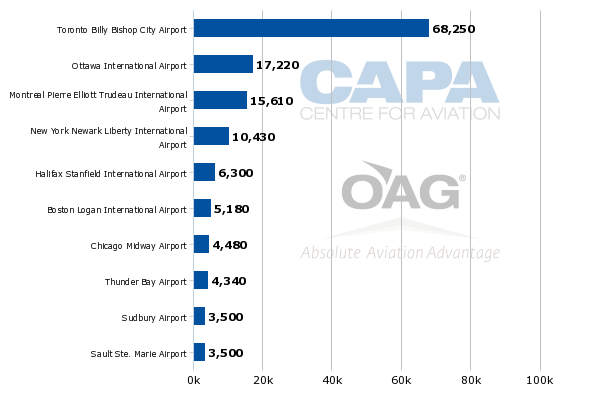 See related reports:
Porter's route network is also concentrated in some of the most competitive Canadian domestic and US transborder markets. Carriers operating in Canada's eastern triangle – Toronto, Montreal and Ottawa – and on transborder routes from those busy airports to the northeastern US have endured competitive capacity additions and pricing pressure during the past couple of years.
Porter Airlines' route map as of Jan-2014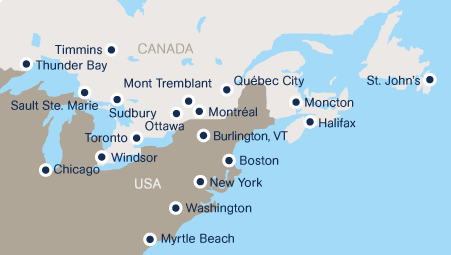 Air Canada finally returned to positive unit revenue and yield trends in its US transborder markets in 3Q2013 after recording dismal results for roughly a year. WestJet has also added a significant amount of capacity in the eastern triangle during the past couple of years, and is opening a base in Toronto during 2014. With Porter's route network weighted more towards those two competitive regions, it has likely endured some yield pressure as well.

See related report: Canada's airlines Part 2: Air Canada works to bolster its international network in 2014

The slot constraints at Billy Bishop, coupled with the cut-throat competition in most of Porter's markets means that Porter needs to craft a long-term vision for remaining viable in the Canadian aviation market. While most carriers in today's airline business have abandoned market share grabs, Porter still only accounts for roughly 3% of Canada's seat deployment.
So its needs to build some network scale and breadth to diversify away from some of the more competitive markets.
Canada capacity by carrier (% of seats): 13-Jan-2014 to 19-Jan-2014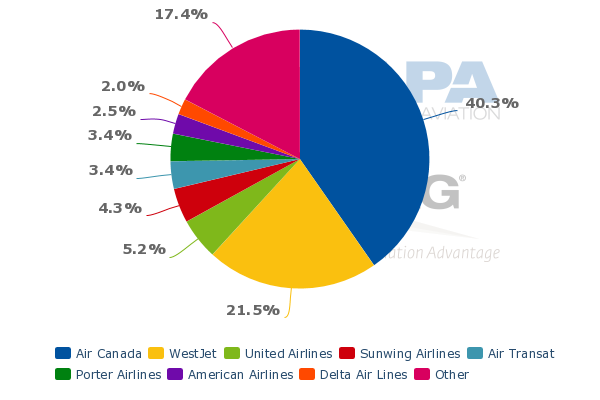 However, most of the routes Porter is eyeing from Billy Bishop with the longer-range of the CS100 – 2,950nm (versus 1,014nm for the Q400) are amply served by its competitors. At the time it announced its intent to purchase CS100s Porter identified 13 markets – Calgary, Edmonton, Vancouver, Winnipeg, Fort Myers, Las Vegas, Los Angeles, Miami, Orlando, Nassau, San Francisco, Tampa, and West Palm Beach – as prospective markets for the larger aircraft. Of those 13, only two markets – West Palm Beach and San Francisco – were served by a single carrier from Toronto, Air Canada from Pearson. Many markets were served by both Air Canada and WestJet, and three were served by those two carriers and tour operator Sunwing.

The reality is that through their partnerships (and WestJet's potential long-haul aspirations) WestJet and Air Canada can offer more connectivity to their passengers, competitive frequent flyer benefits and a growing range of product offerings – evidenced by premium economy sections being introduced by both carriers.

Porter can of course inject some healthy competition for Air Canada and WestJet, but it also stands to reason that the added capacity will also trigger some price dilutive effects, which will hurt yields in the markets Porter plans to enter.
Porter bases its future on politically charged expansion at Toronto Billy Bishop
Porter finds itself in a unique scenario, basing its future on what has become a controversial expansion of its home base. Publicly, it is exhibiting confidence that its efforts will prevail; but privately perhaps Porter needs to develop a Plan B for its future endeavours.
Even if Porter succeeds in gaining approval to operate jets from Billy Bishop, its ultimate standing in Canada's aviation industry remains uncertain as both Air Canada and WestJet take any new competition in their respective markets very seriously. Porter's work to lift the jet ban at Billy Bishop may be just the beginning of a drawn-out battle to carve out an enduring place in Canadian aviation.