Canada's Airlines Part 2: Air Canada works to bolster its international network in 2014
Analysis
Air Canada begins 2014 on relatively solid footing after taking painful steps during the past few years to thwart a second formal restructuring. It is paring down debt to improve its financial leverage, achieving its liquidity targets and setting ambitious cost reduction goals in order to narrow cost gaps with its domestic rival WestJet.

While Air Canada continues to watch developments in the Canadian domestic market – mainly the introduction of WestJet's new regional carrier Encore – and craft its competitive responses, international service is a major tenet of the carrier's strategy to sustain its positive momentum in 2014. The main pillars of Air Canada's international push are its new low cost carrier rouge, higher density 777-300ERs and the long-awaited arrival of the first of 37 Boeing 787s set to debut on service to Tel Aviv and Tokyo.

Air Canada appears poised to execute both offensive and defensive moves during 2014 as it works to fend off WestJet's encroachment on regional domestic routes and works to optimise and grow its long-haul international network as its rival examines the possibility of increasing competition with Air Canada on long-haul flights. Much like WestJet, Air Canada has a full agenda, but appears now to be in a reasonable position to execute its plans.
Air Canada offers a solid financial foundation to support international growth
In late 2013, Air Canada ticked off a list of positive financial metrics, made possible in part through new labour contracts (formalised with the aid of the Canadian government, following confrontations with unions) and pension relief it received in Mar-2013, that set the stage for the carrier to carry out its 2014 agenda.

Air Canada's CAD2.4 billion in liquidity during 3Q3013 was above its targeted minimum of CAD1.7 billion. Its liquidity levels as measured by 12 months trailing revenue were 20% at the end of Sep-2013, a percentage the carrier had not reached since 2010 and up from a low of 9% during 2008.
Air Canada's liquidity position and % of 12 month trailing revenues: 2007 to 3Q2013
As its liquidity levels have risen and stabilised, Air Canada's debt has also been decreasing, falling about CAD1.4 billion from YE2009 to Sep-2013. Those improvements have resulted in more favourable leverage ratios for Air Canada. Its adjusted net debt to EBITAR fell from 8x in 2009 to 2.9x at the end of 3Q2013.
Air Canada net debt: YE2009 to 30-Sep-2013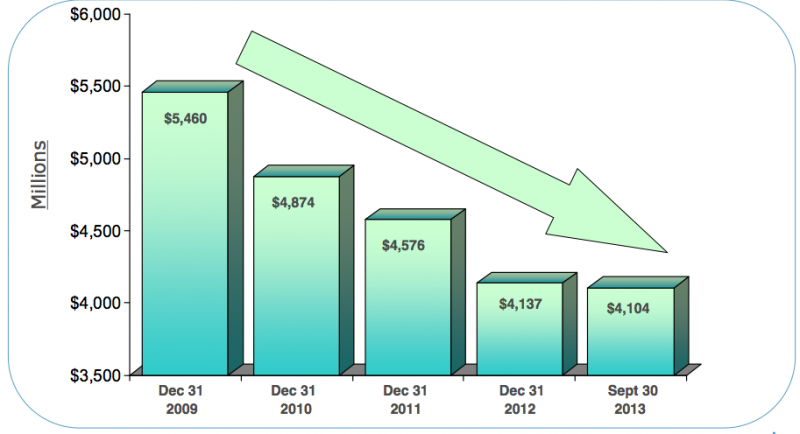 Air Canada leverage ratios: 2007 to 3Q2013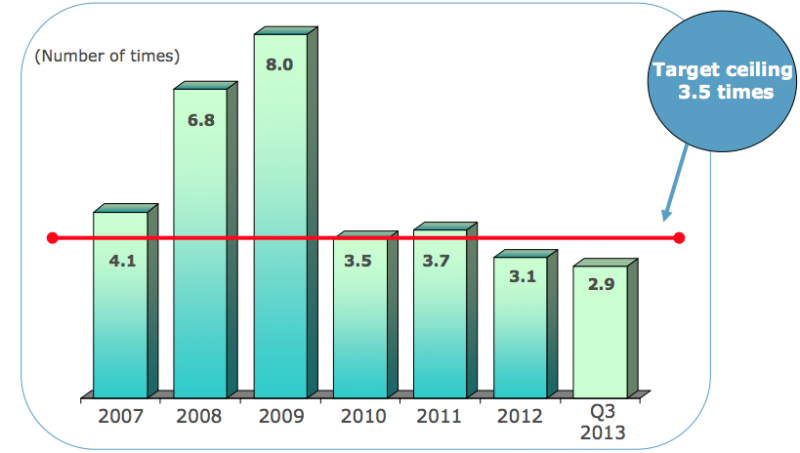 Again, some of the positive momentum is arguably attributed to aid from the Canadian government; but Air Canada during the last couple of years has also worked on its own to improve its balance sheet and lower its costs. On a unit basis, Air Canada's costs fell 3.4% year-on-year for 3Q2013, which beat previous estimates of a 1.5% to 2.5% decline.
Air Canada during 2013 also declared that rouge, larger capacity 777s and the 787 are major drivers in its ambitious target to reduce unit costs by 15% over the medium term. At the same time Air Canada for the moment is reaching the lower end of stated return on invested capital (ROIC) range of 10% to 13% by 2015 with returns of 10.8% at the end of 3Q2013.

See related report: Air Canada's positive momentum continues as it eyes sustainable ROIC targets
Air Canada is deploying 787s on routes to test the aircraft's mission profile
During 2014 many pieces of Air Canada's international strategy should fall into place as the carrier is expected to add six 251-seat Boeing 787-8 aircraft by YE2014.
Air Canada fleet projections: 30-Sep-2013 to Dec-2015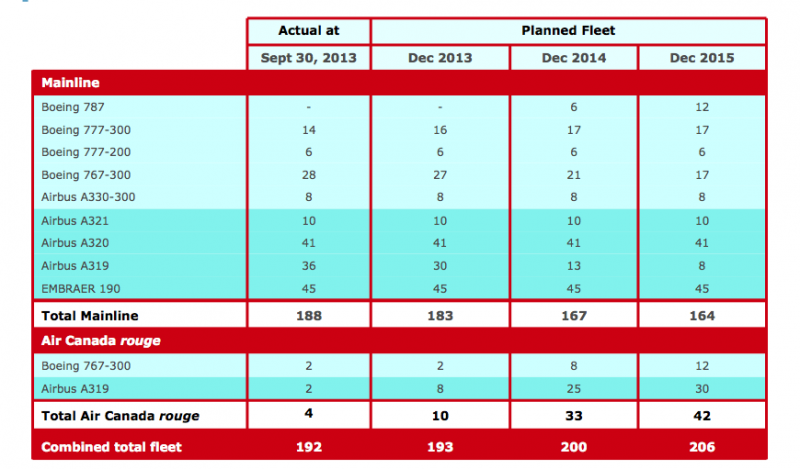 After operating its 787s on some domestic services, Air Canada plans to deploy the new widebodies on flights from Toronto to Tel Aviv and Tokyo Haneda starting in Jul-2014. The service to Tel Aviv appears to fit the 787's touted mission profile of an aircraft suited for long and thin routes. Tel Aviv is roughly 5,030nm from Toronto, and current schedules in OAG (6-Jan-2014 to 12-Jan-2014) show that Air Canada presently operates three weekly flights from Toronto with Boeing 767-300s, which have a 5,990nm range.
The 767s used on the service to Tel Aviv are pushing their operating envelope, and the 787s presumably should allow Air Canada to operate a more efficient and properly-sized aircraft for the market.

Haneda, which is approximately 4,040nm from Toronto Pearson, is also a market that fits the 787's stated mission. The daily service to Haneda allows Air Canada the opportunity to achieve favourable load factors with the 251-seat Boeing 787s (versus the 349-seat 777-300s and 208-seat 767s it operates to Tokyo Narita). Air Canada also promotes the fact that it is operating the first daytime service from near-downtown Haneda to North America. It will need some magic on Pacific routes, noting in its 3Q2013 report that it had suffered a "4.8% yield decrease which reflected yield declines on all major Pacific services with the exception of Hong Kong", with negative impacts in China and Japan due to "increased industry capacity on (those) services".

The 7,650nm to 8,200nm range of the 787-8 and the 8,000nm to 8,500nm range of the -9 variant (Air Canada has 15 -8 and 22 -9 aircraft on order), clearly open up a range of long-haul routes for Air Canada with a seating capacity that allows it to match demand profiles of some of the new routes it is examining, including Moscow, Rio de Janeiro and Lagos.
Potential Air Canada 787 routes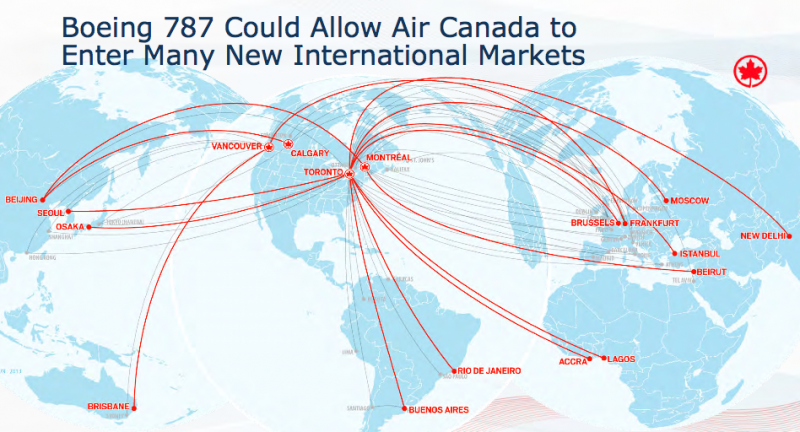 After its 2013 debut, rouge needs to begin proving its mettle in 2014
Air Canada rouge will also receive much scrutiny during 2014 as it enters it first full year of operations. After a hard-won battle with its unions to create the low-cost carrier, pressure is mounting for Air Canada to deliver on the premise that a lower cost base will allow Air Canada to improve its profits (or in some cases attain profits) in markets featuring a higher percentage of leisure travellers.

During summer 2014 rouge is bolstering service to European leisure destinations after its market debut in summer 2013 with service to Athens, Edinburgh and Venice, using 767s previously dedicated to mainline operations. During 2014 rouge is launching year-round Toronto-Dublin service (as WestJet launches seasonal Toronto-St John's-Dublin flights and with Air Transat also in the market), and fights from Toronto to Barcelona, Lisbon and Manchester. Rouge is also introducing flights from Montreal to Rome, Barcelona and Nice.

See related report: Rouge trans-Atlantic expansion creates new competitive dynamics in long-haul leisure markets
Additionally, Air Canada is either introducing or transitioning service to Caribbean and US destinations to rouge, including markets in Florida and Las Vegas during 2014 as well flights to Mexico. Back in Jun-2013, Air Canada stated it expected rouge to offer service to 40 routes from four Canadian cities by YE2014. So perhaps new flights from Vancouver and Calgary could be in the offing.

Air Canada has previously estimated a unit cost reduction of 21% and 29% for rouge's Airbus A319s and 767s, respectively, versus operating unit costs at the mainline.

As rouge's scope broadens during 2014, questions about the carrier's financial and cost performance will also grow as investors attempt to determine if Air Canada can successfully operate a low-cost subsidiary. By YE2014, Air Canada expects to have transitioned a total of eight 767 and 25 A319s from the mainline to rouge.
Higher gauge 777-300ERs allow a widebody diversity for specific market demands
Air Canada's mainline international expansion during the past couple of years has included service to Copenhagen, Brussels, Tokyo Narita (from Calgary) and new service from Toronto to Istanbul and Seoul.

During 2013 Air Canada also added seven flights to Beijing, and at mid-2013 the carrier stated it offered 11 daily departures to Asia, an important region for Air Canada to be steeped in as WestJet continues to discuss a potential widebody order during the next few years.

Capping off Air Canada's international strategy is the addition of five high density 777-300ERs, which should be accounted for in the carrier's fleet in early 2014. The 458-seat, three class aircraft (Executive First, premium economy and standard economy) are aimed at markets with a higher volume of economy travellers, and Air Canada began operating the aircraft on service from Montreal to Paris in Jul-2013. Five times weekly service from Vancouver to Hong Kong was slated to begin on 1-Jan-2014.
Other possible routes reportedly under consideration include Toronto-Munich and Vancouver-London (the latter of which is interesting given that Delta is launching service from Seattle to London in Mar-2014. Seattle is approximately 225km from Vancouver).

With its widebody evolution, Air Canada appears to have a range of aircraft to deploy long and thin markets, routes that have a high volume of leisure passengers but a steady flow of higher-yielding business customers and markets where the majority of customers are leisure passengers. The carrier also assures that the financing of these widebody aircraft is manageable, noting it forged an EETC transaction for the five higher capacity 777-300ERs with a blended coupon rate of 4.7% for a 12-year maximum term. The carrier has also cited "positive developments" with respect to its 787 financing.
Air Canada's international expansion is driving significant capacity growth in 2014
Air Canada is projecting a capacity increase of 9% to 11% during 2014 versus a 4% to 6% rise anticipated by WestJet. Canada's largest carrier stresses "higher margin" international flying represents a large portion of the projected capacity increase in 2014, driven by the six 787 deliveries and the transitioning of 767 widebodies to rouge. Still, the rise (which is more than double its 2013 ASM growth) might give investors pause as Air Canada is still in the infancy of regaining its financial footing, and has much to prove in terms of sustaining viable financial returns.
Air Canada capacity growth: 2010 to 2014
But after a few painful years of stressing it needed to transform its legacy business model, Air Canada starts 2014 with some much-needed positive momentum. There are immediate threats from WestJet's new short-haul operations and the looming possibility its familiar rival could expand its long-haul presence in the mid term.
But it seems Air Canada for the moment can enjoy going on the offensive in its international operations, rounding out its long-haul network before the next competitive round with WestJet commences. (Air Canada does possess the advantage of its antitrust-immunised North Atlantic partnership, noting in its 3Q2013 report that it "continues to benefit from increased traffic through its transatlantic revenue sharing joint venture with United Airlines and Lufthansa.")
In short 2014 promises to be an important year in pointing the way for Air Canada's international future.