Philippines-China air service growth to lift Philippines' Chinese tourism as Duterte changes horses
Analysis
First bananas, then people. China's lifting of a trade ban against bananas from the Philippines bodes well for aviation. Relations between China and the Philippines turned negative in 2012. The issue was primarily over China's claims to uninhabited islands – a debate that also caused China-Japan relations to turn sour. China banned Filipino banana imports and issued a travel warning against the Philippines. Travel warnings from China carry more weight than in other markets since state-owned/linked travel agencies essentially stop selling the impacted market. Diplomatic rows have resulted in drastic reductions in outbound passenger flows from China.
Japan has more than recovered but the Philippines' underexposure to China is well evident: the Philippines has received the least number of Chinese tourists in Asia. Laos and Cambodia, far smaller than the Philippines, each received more Chinese tourists than the Philippines.
New Filipino President Rodrigo Duterte is pivoting Manila's allegiance away from the US – to China. His presidency is young and the calculation has its sceptics, but China appears to be warming. Following the lifting of its ban on banana trade, China is expected to use President Duterte's visit to Beijing to lift its travel warning against the Philippines. This will likely stimulate large air service growth between China and the Philippines. Yet for existing markets, there is some concern that the Philippines presents new competition.
Philippines is at present Asia's smallest market for Chinese tourists
Of 12 major Northeast and Southeast Asia markets, the Philippines received the lowest number of mainland Chinese tourists in 2015: 491,000. Despite being much smaller than the Philippines Laos and Cambodia received more visitors, with 511,000 and 695,000 respectively.
A much smaller Southeast Asian market, Myanmar, received 148,000 Chinese visitors in 2015.
Between 2013 and 2015 these core Asian markets collectively recorded a 46% increase in Chinese visitors. (Note that Malaysia figures include Hong Kong, and Hong Kong figures are only for visitors by air.) Three countries had fewer visitors in 2015 than 2013: Malaysia (6% lower), Singapore (7% lower), and Vietnam (7% lower).
Political tension with Vietnam remains, and there is also lingering resentment with Malaysia over the MH370 flight from Kuala Lumpur to Beijing that disappeared. Singapore makes up part of the "Sin-Ma-Thai" visitor triangle incorporating Singapore, Malaysia and Thailand; it was often the least popular part of the trip, given its relatively high costs.
With Malaysia not popular to visit, visitors are instead focusing on only visiting Thailand. This is changing, however: in 1H2016 Singapore posted 54% growth in Chinese visitors and Malaysia 32% (although again, Malaysia figures are distorted by mainland China being grouped with Hong Kong).
Chinese visitor arrivals to Asia's largest markets: 2013-2015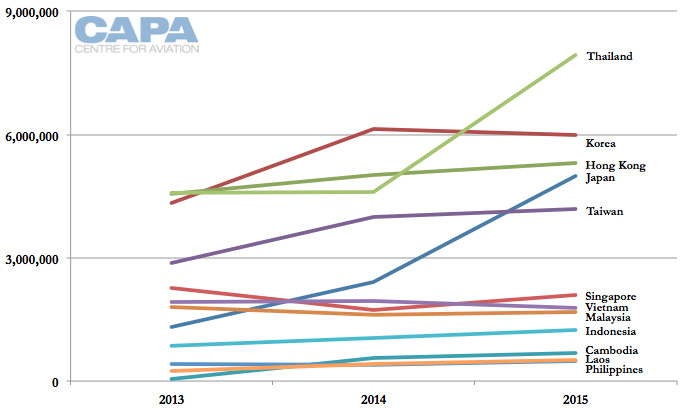 Philippines is fastest growing market in 1H2016
Between 2013 and 2015 Chinese visitors to the Philippines grew 15%. A higher growth rate might be expected, given the low base, but political tension reduced demand and would have been a factor in state-owned airlines growing to the Philippines, or Filipino airlines seeking slots in China.
President Duterte was inducted into office on 30-Jun-2016, having won the election in May-2016. Despite these events occurring at the end of 1H2016, in the period there was a 79% increase in Chinese visitors to the Philippines.
This made the Philippines the fastest-growing Asian market for Chinese visitors. Singapore was second fastest at a more distant 54%. Yet since the base figure for Chinese visitors to the Philippines was so small, the 79% growth equates to only 151,000 further visitors. This net growth was one of the smallest: Taiwan increased by 63,000 and Cambodia by 41,000. Hong Kong shrank by 83,000.
Chinese visitor arrivals to Asia's largest markets: 1H2015-1H2016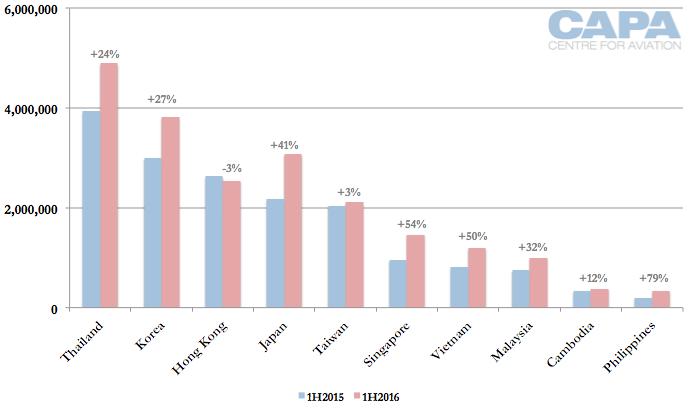 Over the past year in the Philippines market Philippine Airlines has restored growth that was cut in 2014 and is adding new capacity; Philippine Airlines will be approximately 14% larger in 2016 than in 2013. By growing, Philippine Airlines has grown the gap between itself and nearest competitors. It is now nearly twice the size of its three largest competitors, who all operate approximately 3,000 weekly seats in Oct-2016: Cebu Pacific, China Southern and Xiamen Airlines.
Xiamen Airlines has grown over 2016 and joined China Southern and Cebu Pacific as a market leader, whereas before it was more distant in size.
The other state-owned Chinese airlines have not grown significantly in 2016, although Air China did grow in mid-2015. The overall small size of the market means, as seen with Xiamen Airlines, that market share can rapidly change in the future.
China to Philippines (seats per week, one way): 14-Oct-2013 to 13-Mar-2017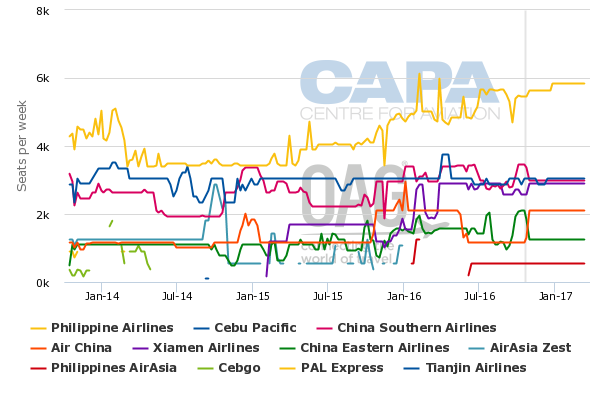 Growth from Philippine Airlines and Xiamen Airlines, as well as full-year realisation of Air China's growth, have produced 29% growth in the Philippines-China market in 2016 compared with 2015.
This is after two consecutive years of decline, but the size of the market in 2016 is still 18% larger than the peak in 2013. In a longer time frame, in 2016 the market is twice the size as in 2010. 1H2017 is so far scheduled to be approximately 4% larger than in 1H2016.
Annual China-Philippines seat capacity: 2010-1H2017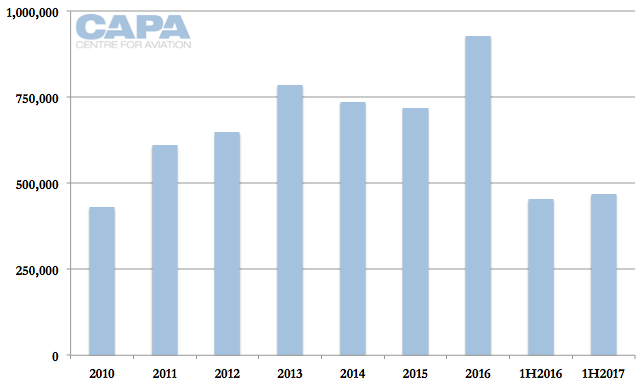 Looming Chinese visitor influx occurs as Boracay gateway Caticlan airport finishes expansion
There are only nine routes between the Philippines and China for the week of 17-Oct-2016, according to OAG data. Manila accounts for 95% of seat capacity and six of the nine largest routes, including the five largest.
There are two routes to Cebu (from Chengdu and Xiamen) and one route to Kalibo (from Beijing). Guangzhou is the largest departure point with 27% of capacity, followed by Shanghai Pudong (24%), Beijing (18%), Xiamen (16%), Quanzhou (10%) and Chengdu (5%).
Routes between China and the Philippines ranked on available seat capacity: 17-Oct-2016 to 23-Oct-2016
Growth will be challenging. Unlike the case with Chinese visitor booms to Japan, Korea or Thailand, the main airport in the Philippines – Manila NAIA – is saturated. But with an opaque slot environment there may be arrangements that mean NAIA slots are made available to Chinese airlines, while Chinese slots are made available to Filipino airlines.
Manila is not a tourist draw but will attract some demand for business, as well as Chinese airlines looking to connect Manila into sixth freedom networks, and in particular their growing number of flights to North America.
Indirect traffic via Hong Kong could grow as Cathay Pacific combines its mainland China presence with its position in the Philippines as the fifth largest airline and largest foreign airline.
China's removal of the travel ban against the Philippines comes conveniently as Caticlan airport finishes an expansion project. From Caticlan it is a 10-minute ferry ride to the popular island of Boracay. Previously Caticlan could only accommodate turboprop aircraft. Kalibo was historically another gateway to Boracay, but at 70km away – less convenient than Caticlan. Chinese airlines might investigate what partnerships they could form for connections on the Manila-Caticlan route. This could help local airlines alleviate overcapacity.
See related reports:
There are fewer destinations and activities in the Philippines compared with Japan, Korea and Thailand.
China's outbound growth to the Philippines is unlikely to match regional peers, but given the near dearth of flights, considerable volume will be added. Chinese airlines tend to follow each other, giving an advantage to the first movers.
The relatively low cost bases of Filipino airlines and their existing experience with international flights (unlike Japanese LCCs or Nok Air) should also mean that they will be able to capture the growing demand.
The level of growth will continue to depend on political relations, and how the Philippines can orient itself towards Chinese visitors. It would clearly make a lot of sense from China's point of view to encourage a steep lift in Chinese tourism to the Philippines, in order to cement the opportunity presented by this highly strategic new initiative from the volatile President Duterte.