PEOPLExpress business model remains murky as it finally moves closer to launch
Analysis
The somewhat-hyped acquisition by start-up PEOPLExpress of charter carrier XTRA Airways may accelerate the carrier's long overdue market entry, but it will do little to improve PEOPLExpress' odds of survival in a US market place that now revolves around three distinct business models – ultra low-cost, hybrid and full-service network carriers.
PEOPLExpress' declaration that it would retain the XTRA brand and its charter services only clouds its already murky business plan, which should give rational, would-be investors pause as the carrier has done little to crystallise its vision other than buying a smaller carrier in order to obtain an operating certificate after overestimating the time and effort entailed in gaining approval from the US FAA.
PEOPLExpress buys its way into business after underestimating certification complexities
The purchase of Xtra Airways by PEOPLExpress is a tactic that has long been adopted by start-up carriers who often find themselves back-peddling against ambitious launch dates that are missed more often than not. PeoplExpress was no different, as the original time for its debut – late summer 2012 – came and passed.
PEOPLExpress missed its deadline after making a splash in Feb-2012 with its plans to resurrect an airline that carried the same name and operated during the 1980s. Shortly after the resurfacing of the brand, William Stockbridge – who was affiliated with the original iteration of the airline and later CEO of defunct carrier Maxjet – was transitioned from board chairman to vice-chairman. He was replaced by investment banker William Mayer.
At the time it announced plans to launch in the summer of 2012 PEOPLExpress had about USD5 million in pre start-up capital. Skybus, which ceased operations in 2008, launched with USD160 million in capital. No major startups have ventured into the US market place since that time as a wave of consolidation has resulted in three major network carriers, Southwest Airlines, hybrids JetBlue and Alaska and ultra low-cost carrier Spirit Airlines.
See related report: Window for targeted launch continues to shrink for latest iteration of PEOPLExpress
Operating a charter and launching a new scheduled brand will be a challenge
PEOPLExpress used a USD500,000 loan it received from the local government in Newport News, Virginia to purchase XTRA, and it plans to retain XTRA's name and charter business. XTRA also holds authority to operate scheduled service from the FAA, which will accelerate PEOPLExpress' time to launch. Back in Mar-2013 local news outlet The Daily Press reported that PEOPLExpress received a four-month extension to pay back the taxpayer-financed loan, which does not exactly speak well of the carrier's financial state.
Its initial business plan now also seems somewhat tenuous after PEOPLExpress declared it would retain XTRA's charter business, noting that maintaining the status quo "makes perfect sense". Terms of the purchase agreement were not disclosed, so sustaining the charter business might have been a stipulation in the deal that seemed worth it to PEOPLExpress in order to accelerate its much-delayed launch.
Originally, PEOPLExpress told the US Department of Transportation (DoT) it had signed a term sheet for 12 Boeing 737-400s, eight of which it planned to operate during the first year of operations. It is not clear if any movement has been made on those aircraft. But the website of XTRA Airways indicates it has a Boeing 737-400 based in Freeport, Bahamas and another -400 available in San Antonio, Texas. The jets are also configured in a two-class configuration, compared with the planned 158-seat single-class configuration previously mentioned by management of PEOPLExpress.
While PEOPLExpress told DoT more than a year ago that it would use one of eight Boeing narrowbodies it planned to operate during its first year as a spare and for ad-hoc charters, it is very different to try and balance the launch of scheduled service as a low-fare carrier and manage a dedicated charter business with aircraft that operate in a different fleet configuration. It seems attempting to add the complexity of charter operations on top of the launch of a brand new airline is ill-advised given the gruelling effort necessary to build brand awareness to attract passengers for new scheduled service.
Operating O&D markets from Southeastern Virginia is a daunting task
PEOPLExpress selected Hampton/Newport News-Williamsburg Airport as its base of operations after AirTran Airways exited the market during 2012. Southwest's new owner has eliminated many unprofitable smaller markets from AirTran's network, which included service from Newport News to Atlanta, Orlando International, Boston and New York LaGuardia.
Current schedules in Innovata (10-Jun-2013 to 16-Jun-2013) show service from the airport to Atlanta and Orlando remains intact. AirTran's familiar rival Delta operates service primarily with Bombardier CRJ700s to Atlanta and Allegiant Air operates twice-weekly service to Orlando Sandford with its MD-80 aircraft. Newport News serves a spoke for US Airways' service to its Philadelphia and Charlotte hubs and United on flights to its hub in Denver. US Airways represents the largest share of seats on offer from the airport, given it serves two of its hubs from Newport News.
Hampton Newport News/Williamsburg Airport capacity by carrier (% of seats): 10-Jun-2013 to 16-Jun-2013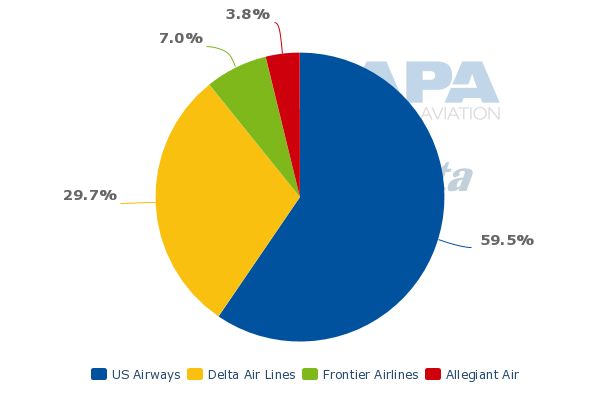 Prior to AirTran exiting the market, it transported a significant number of passengers from Newport News, reflected in the airport's nearly 40% drop in travellers carried from 2011 to 2012. It is no wonder the local government is throwing its support behind PEOPLExpress; but it could be in vain if the carrier does not do a better job of communicating its business model.
Hampton Newport News/Williamsburg Airport annual passenger numbers: 2009 to 2012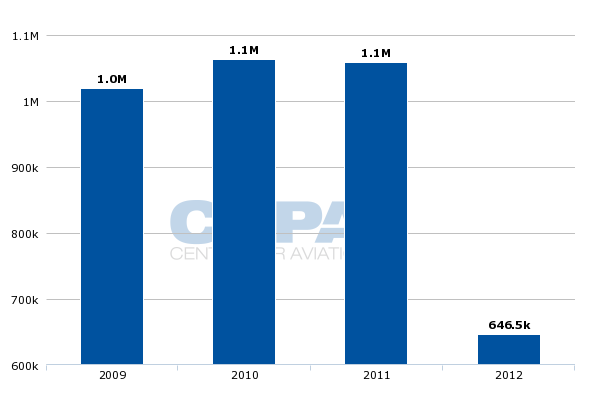 As passenger statistics fell dramatically at Newport News during 2012, they actually increased at Norfolk International, which is less than 30km away from Newport News. PEOPLExpress may need to rethink its plans to make a push into Orlando as Southwest operates daily weekday flights to Orlando International from Norfolk and alternating service on the weekends.
Service from both those airports to Orlando seems somewhat redundant, and while PEOPLExpress would probably have some initial success in attracting cost-conscious travellers in the market, Southwest would lower its fares to compete, and has more scale to absorb the fallout from a fare competition.
United also serves Newark from Norfolk; however, United has little to worry about given that Newark is a slot-controlled airport.
Norfolk International Airport annual passenger numbers: 2009 to 2012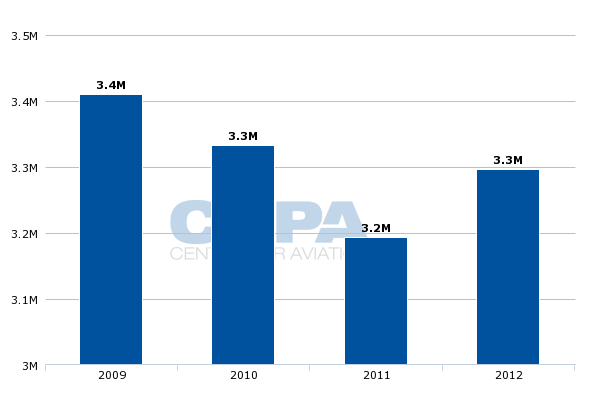 There might be some demand for point-to-point operations from Newport News to Pittsburgh and Providence, but the routes seem like they would be very thin, which would mean PEOPLExpress would have to charge fares below its expenses to stimulate passengers in those markets.
Previous estimates indicate PEOPLExpress would incur about USD90 million, but with just USD5 million in pre-start-up capital and the granting of a loan in order to purchase an operating certificate, it would seem PEOPLExpress runs a high risk of being underfunded, which means its losses would be much greater.
It is tough to place much faith in PEOPLExpress even though it touts an impending launch
Even with a more distinct business plan, PEOPLExpress would face a tough sell to investors that are clearly more interested in hedging their bets with established US carriers that in recent years have recorded a streak of profitability. In the year since it missed its launch date, PEOPLExpress has done little to shore-up confidence about its plans, and provided scant information about its product or marketing. While it is understandable to keep some elements under wraps, what can be gleaned from comments made by management is that the carrier plans to offer low fares with perhaps some frills, but that remains uncertain.
By miscalculating the timing of its much-hyped entry into service, underestimating the financial resolve it needs to launch scheduled service and somewhat deviating from its original business plan, it is becoming increasingly difficult to take PEOPLExpress seriously.
Now that the carrier says it is moving closer to launch, it will need to work harder to crystallise how it intends to improve the market place. As route readjustments are made in an evolving US network, some opportunities will arise; PEOPLExpress will need more than its fair share of luck to capitalise on this.