Newly public Mexican LCC Volaris sees ripe opportunities inside and oustside of Mexico
Analysis
Having recently celebrated the significant milestone of competing an initial public offering, Mexican low-cost carrier Volaris remains bullish over the opportunities inherent in the Mexican aviation market as its domestic share continues to grow and its position in the international transborder space remains steady.
Key to Volaris' belief in the robust opportunities present in Mexico is the growing appetite for air travel among the country's increasing middle class. In the short term that thesis may prove tough to execute as the Mexican economy has been slowing and domestic passenger growth has not been as rapid during 2013 as recent years when Mexico's carriers were scurrying to fill the void left by the collapse of Mexicana in late 2010.
As Volaris works to capture more of Mexico's middle class, its competitors are devising their own strategies to compete in the dynamic Mexican market place. Aeromexico recently launched a new low-fare product scheme, "Contigo" while Interjet is planning a small market push as the first of its 20 93-seat Sukhoi Superjet 100s comes online. All of those dynamics should make for an interesting market place during the next couple of years as those carriers, along with VivaAerobus work to stake out their respective claims among the growing passenger base. Volaris is basing its future on a fleet comprised only of Airbus A320s while some of its competitors are utilising smaller jets to exploit thinner Mexican and transborder routes.
Volaris has built up a solid market share in domestic and transborder routes over its short existence
Volaris netted approximately USD336 million from its IPO concluded in Sep-2013. Some of the net proceeds of roughly USD196 million are pegged to make payments towards certain loans and the carrier's growth.
Obviously Volaris is keeping its growth prospects related to specific markets under wraps, but management has publicly stated in its filings that part of its growth strategy rests on building up share in existing markets by connecting cities it currently serves and the introduction of new markets.
During the last couple of years Volaris has been building up Guadalajara, Mexico's second largest city as measured by population. In 2012 Volaris introduced new links from Guadalajara to Puebla and Los Mochis and remains the only carrier serving those pairings. Additionally, it ushered in new competition with Aeromexico in Chihuahua, and became the fourth carrier between Guadalajara and Monterrey (joining Aeromexico, Interjet and VivaAerobus).
The focus on domestic growth during 2012 is reflected in the latest traffic results from the Mexican Government covering Aug-2013. Volaris' share of the domestic Mexican market jumped nearly 4ppt to 25% year-on-year, the largest increase among Mexico's bigger domestic carriers. Volaris also kept its international share relatively stable year-over-year in Aug-2013. Its share among Mexican carriers transporting international passengers was 22% during the month versus 24% the year prior. During 2012 Volaris' transborder expansion included new service from Mexico City to Orlando, Culiacan to Los Angeles, Denver to Mexico City.
Mexican carrier domestic passenger market share Aug-2013 vs Aug-2012
| | |
| --- | --- |
| Aug-2013 | Aug-2012 |
Mexican carrier international passenger market share Aug-2013 vs Aug-2012
| | |
| --- | --- |
| Aug-2013 | Aug-2012 |
In its relatively short seven year history Volaris has grown its domestic market share from 4% to about 23% and its international share among Mexican carriers from 3% when it launched transborder service in 2009 to 21% in Jul-2013.
Volaris Mexican domestic market share growth: 2006 to Jul-2013

Volaris Mexican international market share growth: 2006 to Jul-2013
See related report: Volaris makes a move to leapfrog other Mexican LCCs with potential IPO
Volaris believes numerous new route opportunities are within its sights
Volaris' rapid growth has been accompanied by decent financial performance as CAPA has previously reported that it recorded annual profits in three of five years spanning from 2008 to 2012. During 2012 the carrier recorded a profit of MXP203 million (USD15.5 million) an improvement from the MXP315 million (USD24 million) loss recorded the year prior as the carrier initiated 15 new routes between late 2010 and 2011.
Volaris now has a network of roughly 80 routes connecting 30 cities in the US and Mexico, and while the losses recorded in 2011 may serve as a lesson to perhaps not roll out quite so many new routes in a year, the carrier believes ample opportunities exist for expansion.
Volaris route map as of Oct-2013
The airline states that it has identified approximately 180 routes within Mexico with population in excess of 250,000 and other leisure destinations with stage lengths of 273km. Volaris also concludes there are potentially 150 international routes it can access with a stage length of at least 321km. Some of those opportunities are in Latin America, says Volaris, which means the carrier at some point will likely launch service to central and upper Latin America, creating a new layer of low-cost competition for Aeromexico in those regions.
The number of routes Volaris has set its sights on seems ambitious, and of course not every single route will ultimately be an option to Volaris given that it has decided to rest its future on 174-seat Airbus A320 aircraft. Its A320 fleet is projected to increase from 44 at year-end 2013 to 69 by 2020, a 56% increase in a seven year timeframe.
It also appears that Volaris has some flexibility as the operating leases it had on the 41 aircraft in its fleet as of YE2012 have expirations beginning in 2013 and running through 2023. So if the carrier needs to dial-back growth it can opt not to renew some leases.
Volaris fleet plan: 2013 to 2020

Volaris' single-fleet type strategy may not prove fruitful in the future
It is understandable that Volaris wants to keep a single fleet type in order to drive cost efficiencies associated with a single aircraft type. It remains bullish that it can stimulate growth in underserved markets and new routes with its larger Airbus fleet.
It is a departure from strategies undertaken by Aeromexico and Interjet, who each have smaller subfleets to serve thinner Mexican markets. Aeromexico subsidiary Aeromexico Connect (as of 2Q2013) operates a mix of 33 50-seat Embraer ERJ-145s, three Embraer 170s, two Embraer 170s and 19 Embraer 190s. Interjet, meanwhile, has reportedly taken delivery of two of the 20 Superjets it has on order. Previously Interjet has stated that it would have launched medium-density routes with the aircraft in late 2012, but it only received first deliveries in 2013.
Grupo Aeromexico fleet as of 2Q2013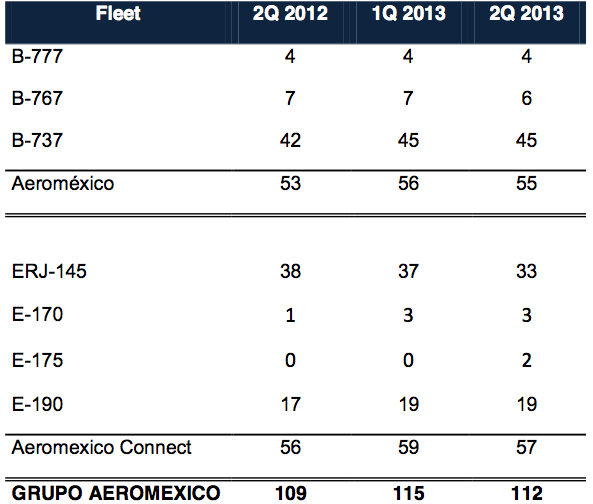 Interjet's strategy with the 93-seat aircraft is to gradually move from medium-density routes to thinner regional routes that are not viable for its 150-seat Airbus A320s. Interjet has a somewhat different business model than Volaris evidenced by its less-dense A320s with a seat pitch of 34in (the same pitch featured in the Superjet narrowbodies) targeted towards more higher-end travellers. The carrier also offers corporate-packaged fares.
See related report: Mexico's Internet plans further expansion with new Superjet fleet targeting thinner routes
But the reality is Aeromexico, Interjet and Volaris are all targeting the still-significant portion of Mexico's population that travels by bus. In 2012, Interjet estimated that more than 97 million passengers in Mexico travel by long-haul luxury and premium intercity buses at fares in the same range it was charging. In the prospectus for its initial public offering, Volaris highlighted the large bus industry in Mexico, citing roughly 2.8 billion passenger segments in 2012, of which approximately 74 million were executive and luxury passenger segments. Aeromexico has expressed similar sentiments regarding the potential to lure passengers away from the bus business in Mexico.
With three carriers chasing the same passenger base, and Volaris hedging its bets on a single fleet of higher-density A320s, it will need to ensure it keeps its cost low enough to both stimulate traffic and take share from its competitors. Spirit Airlines so far has executed on stimulating enough low-fare and low-yielding traffic in US markets that has been abandoned by legacy carriers, so there is not a need to siphon off passengers from other airlines. It is not clear if the same logic applies to the Mexican market, where a spate of low-cost carriers have emerged during the last decade.
Mexico's economy could create short term pain for Mexican airlines
While Aeromexico also believes there is untapped potential in the domestic Mexican market, the reality is for the last year the carrier has repeatedly stated that demand in the domestic market is softening. The carrier previously stated during the first five months of 2013 that traffic in the domestic market grew 6.3% compared with 8.3% the year prior, driven in large part by a softening of the Mexican economy.
The Bank of Mexico earlier this year cut its GDP forecast of growth between 2% and 3% from a previous estimate of 3% to 4%. Given the close correlation between GDP and air traffic growth, in the short term Mexican carriers may need to temper their excitement over the potential for market stimulation. And in the long term only time will tell if the market can support the existing players – Aeromexico, Interjet Volaris and VivaAerobus. Each carrier will need to craft a clear-cut strategy to boost revenues and keep costs in check, which is simple in theory, but no easy task in the global airline industry.
See related reports: