Latin America, a bright spot for aviation, with continued growth and robust aircraft requirements
Analysis
IATA, Boeing and Airbus have again noted the potential of the Latin American market, with IATA describing the region as a "bright spot in the aviation world" and Airbus commenting that Latin America's aviation sector "has never been stronger", following a boom in the sector over the past five years. Boeing has similarly noted the large potential in the Latin America market in its market forecast.
Latin America is "the only region generating aggregate profits for three consecutive years," IATA CEO and director general Tony Tyler noted at ALTA this month. On the outlook for the region, he commented: "Taking a long-term view of Latin American aviation, one can only be optimistic. The economic potential of this vast and varied geography can only be realised with a successful aviation industry".
Strong economic growth, market liberalisation and industry consolidation have helped drive these positive results. Mr Tyler also attributed the region's strong performance to structural change over the last decade. "It is absolutely clear that the hard work of the last decade has transformed the region's air transport industry for the better. Overall, Latin American aviation has become safer and more profitable. It has also been a cradle of innovation on cross border ownership structures. And the merger of TAM and LAN will create an aviation powerhouse of global scale," Mr Tyler said in his ALTA address.
Passenger traffic growth faster than the average in Latin America
IATA Sep-2011 traffic figures show the region's international passenger traffic growing faster than the global average. Total passenger growth by the region's airlines stood at 8.3% in Sep-2011, with international growth of 10.6%. Domestically, Brazil was one of the world's strongest markets, behind India and China, based on Sep-2011 IATA data. IATA also noted that the four top growth markets for premium traffic over the first nine months of 2011 have been either connected to, or within, the region.
Total passenger growth by region: Sep-2011 vs Aug-2011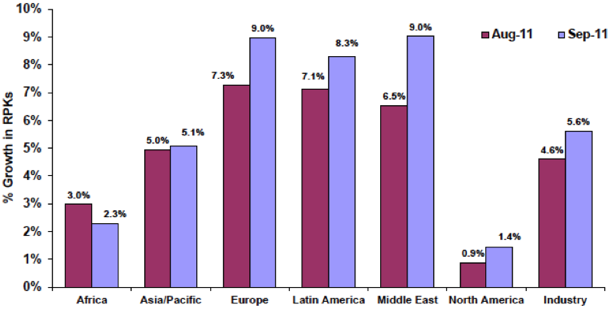 International passenger growth by region: Sep-2011 vs Aug-2011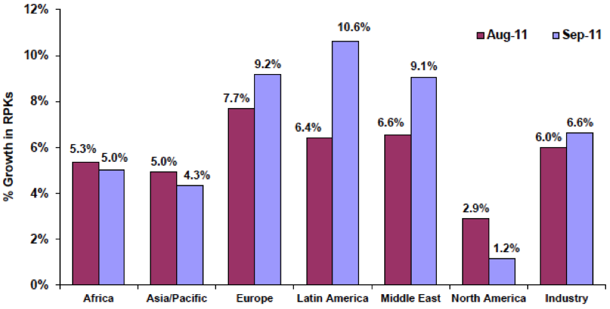 Domestic passenger growth by country: Sep-2011 vs Aug-2011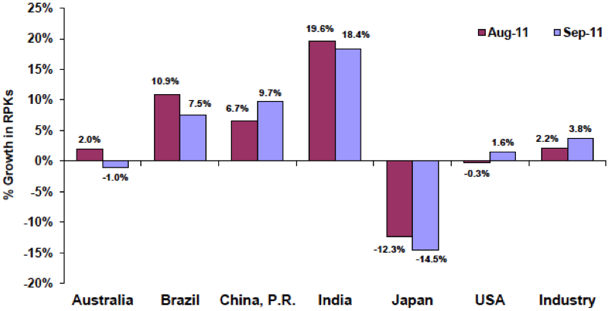 Annual growth over 6% for next 20 years
According to Airbus forecast, Latin American airline traffic will grow by more than 6% per year in the next 20 years, the second highest growth rate in the world after the Middle East and ahead of Asia Pacific. Overall, the region's traffic is expected to triple in the next 20 years, according to Airbus. The manufacturer also noted the importance of inbound tourism in contributing to this growth, with average annual growth of 3.5% p/a since 1992.
Intra-regional and domestic traffic in Latin America is predicted to expand by 6.6% in the next 10 years, a faster rate than the 5.4% world average, and driving the overall market growth rate. Growth in the intra-regional/domestic market, according to Airbus, is being driven by the "economic dynamism" in the region and LCC development, which over the last 10 years have grown to hold a 33% market share in intra-regional/domestic travel in the region. However, LCCs only have a 19% fleet share at present, according to Airbus, with this expected to grow to 24% by the end of 2030.
Latin America fleet share by airline type: 2010 vs 2030F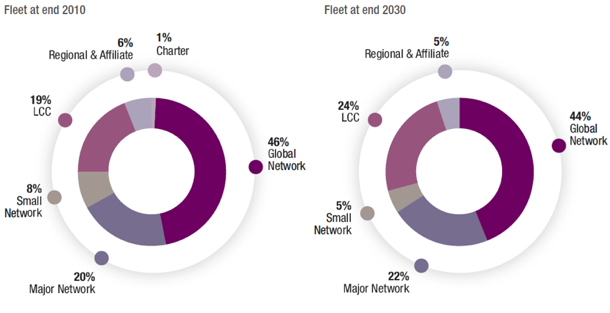 Europe and North America are expected to remain the most important long-haul markets for the region and are expected to reach a share of 31% and 25%, respectively, by 2030, compared to a 35% market share forecast for intra-regional and domestic traffic. Airbus noted the international traffic share of Latin American carriers remains below 25%, but has "started a rebound in the last four years".
Market share of Latin America carriers on international routes**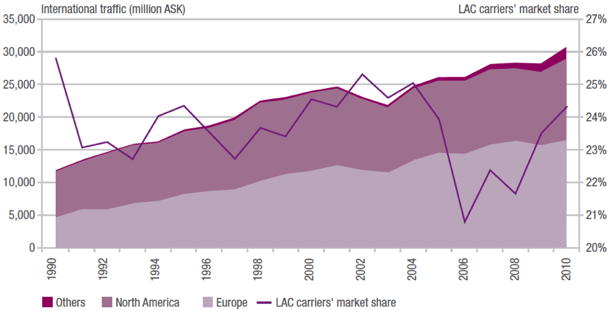 Airbus has also provided forecasts for the key Latin America markets of Brazil, Mexico and Colombia.
Airbus fleet, traffic and economy forecasts for Brazil, Mexico and Colombia
| | Fleet forecast | Traffic forecast | Economy forecast |
| --- | --- | --- | --- |
| | Airbus expects Brazil will require 701 new passenger aircraft of more than 100 seats between today and 2030. The 501 single-aisle, 174 twin-aisle aircraft and 26 very large aircraft have an estimated value of USD82 billion. | Brazil, the largest and fastest growing market for Airbus in Latin America, has seen international and domestic air travel more than double in the past decade. By 2010, Sao Paulo had become the largest gateway city for international travel to Latin America. Brazil will become the fourth-largest domestic air-travel market in the world by 2030, with an average annual growth rate of 7.4%, according to Airbus. By 2030, Brazil will be the fourth-largest domestic aircraft market after the US, China and India. | GDP is expected to increase 144%, 20% above than regional average, over the next 20 years. |
| | Will need 412 new passenger aircraft of more than 100 seats between today and 2030, according to Airbus. The 371 single-aisle and 41 twin-aisle aircraft forecast have an estimated market value of USD30.5 billion. | International traffic to/from Mexico City grew by almost 90% in the last decade. | |
| | Forecast demand for 135 new passenger aircraft of more than 100 seats between today and 2030. The 102 single-aisle and 33 twin-aisle aircraft have an estimated value of USD13.7 billion. Colombia's fleet with more than 100 seats is also among the youngest in the world with an average age of four years, six years younger than the Latin American and world average. | Domestic air traffic grew nearly 80% in the past 10 years and international traffic to/from Colombia more than doubled between 2003 and 2011. | |
Boeing, meanwhile, has forecast that traffic within the Latin America region is expected to grow at a rapid pace, most quickly within South America, where growth will average 7.0% per annum.
By 2030, South America will have the sixth largest internal traffic flow among the regions covered in Boeing's market outlook. Total traffic carried by Latin American airlines will grow 6.9% per annum. Boeing noted Latin American airlines currently account for 48% of the traffic to, from, or within Latin America. By 2030, that number will grow to 61%, according to its estimates.
Traffic growth spurred by economic growth
The rapid growth is expected to occur amid continued economic growth in the region. "Economic growth is enabling the rise of a new travelling middle class," Airbus executive VP for Latin America and Caribbean Rafael Alonso said. The manufacturer continued: "At a time when the global economy is trying to stabilise, Latin America's GDP is growing faster than the world at an average annual rate of 5%, while the region's middle class is expected to surge 75% in the next 20 years."
Growth of real GDP at consumer spending in select Latin American economies: 2010 to 2015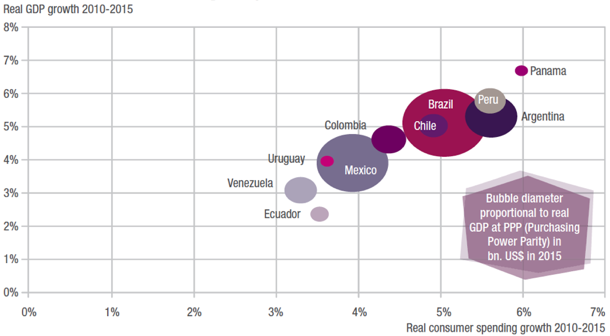 Boeing similarly forecast that "the region's economy is projected to grow strongly over the next 20 years, spurring Latin American air traffic growth to exceed the world average". Boeing continued: "Air travel is assuming an increasingly important role in the region's commerce as travellers switch from roads to air transportation. Rising prosperity is also creating demand for international travel. More citizens can afford to travel outside the region and more businesses seek wider economic bonds." Boeing projects GDP growth of 4.2% per annum in the region over the next 20 years.
Latin America's economy expanded by 5.8% in 2010, with Airbus commenting that "high commodity prices, easy external financing conditions, and accommodative macro-economic policies stimulated domestic demand". According to the IMF, Latin America's GDP will slow to 4.5% in 2011, based on current forecasts.
Latin America needs more than 2000 new passenger aircraft in next 20 years: Airbus
Airbus, in its recently released Airbus Global Market Forecast, forecast Latin America will require 2028 new passenger aircraft of more than 100 seats between now and 2030, including 1653 single-aisle, 334 twin-aisle and 41 very large aircraft, estimated at USD197 billion. This will result in a more than doubling of the region's fleet from 1067 to 2491 aircraft over the next 20 years.
Airbus new passenger aircraft deliveries: 2011 to 2030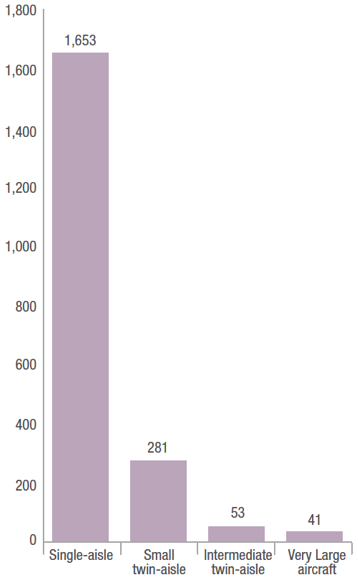 Latin America fleet size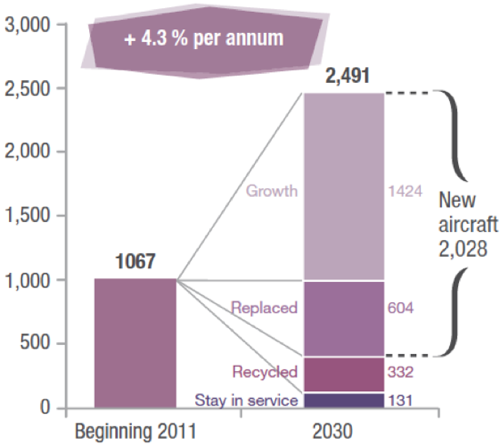 With more than 600 aircraft sold and a backlog of nearly 300, over 400 Airbus aircraft are in operation throughout Latin America and the Caribbean. In the last 10 years, Airbus has tripled its in-service fleet, while delivering more than 60% of all aircraft operating in the region.
Boeing expects Latin American fleet to consist of 3390 aircraft by 2030
Boeing, meanwhile, has forecast that by 2030, the Latin America fleet will consist of 3390 aircraft. Most of the fleet delivered over the next 20 years will be new single-aisle aircraft for travel within the region, according to its forecast. The manufacturer added that it expects the single-aisle aircraft market to account for roughly 84% of Latin America's aircraft demand over the next 20 years, representing approximately USD150 billion of the USD250 billion total value for the Latin American aircraft market. Around 360 twin-aisle and larger aircraft will be used to support international growth, according to Boeing forecasts.
Boeing Latin America market value forecast (USD250 billion)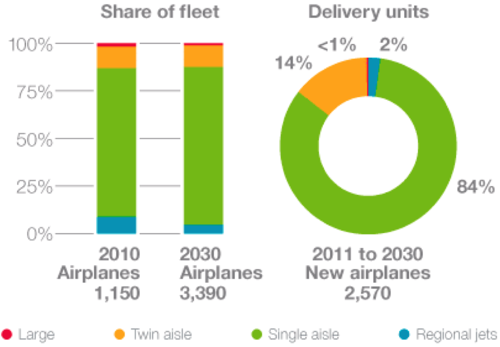 Boeing Latin America key indicators market outlook: 2011 to 2030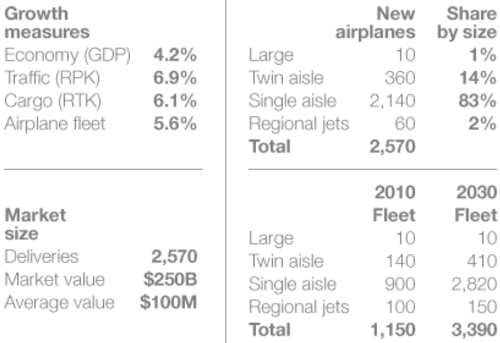 Boeing stated that aircraft orders in the region have generally trended upwards over the past decade. In fact, the 187 orders in 2010 exceeded the total orders receive between 2000 and 2004.
Latin America aircraft order growth: 2000 to 2010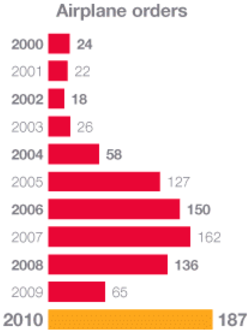 Airlines in Latin America can collectively expect to receive approximately 30 new-build aircraft per year in the short-term, according to CAPA's OAG Fleet iNET data. This excludes aircraft acquired through orders placed with lessors or second-hand aircraft, which can considerably increase the region's fleet. Deliveries later in the decade will be increased as airlines place more orders.
Latin America projected delivery dates all aircraft as at 22-Nov-2011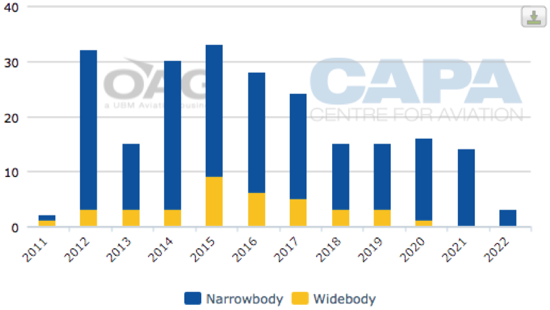 Passenger traffic growth faster than the average in Latin America
Airbus has stated it has targets to surpass Boeing as the market leader for widebody aircraft in the Latin America region. In Brazil, Boeing holds a 35% market share (combined Boeing and Boeing/McDonnell Douglas), with Airbus holding a 29.5% market share, according to CAPA data. Embraer (13.9%), ATR (6.3%) and Bombardier (4.4%) have a smaller presence in the Latin America market.
Latin America fleet breakdown by manufacturer for aircraft as at 22-Nov-2011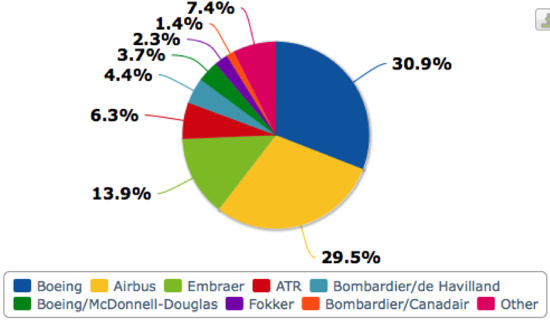 There are currently no A380s operating to/from Latin America. Airbus has had mild success with the A350, scheduled for delivery in 2015, with the manufacturer having already sold 37 A350s in the region, 27 of which were purchased by TAM. Airbus also has 75 orders for its single-aisle A320neo in Latin America, including 22 to be delivered to TAM.
Many emerging carriers operate second-hand aircraft, making them potential customers for new-build aircraft as they gain a standing in the market.
Infrastructure limiting growth
However, challenges remain in a number of areas in the region, with a key concern relating to the "bottleneck" in infrastructure developments in the region: a situation that will be pressured due to the upcoming Olympic Games and World Cup in Brazil and amid continued traffic growth in the region. Brazil's governemnt has set out to address this via privatisation, a plan that raises new concerns with some carriers.
See related articles:
Airbus has noted that Sao Paulo, which handles 25% of Brazil's air traffic, is facing "critical" congestion issues. Airbus also noted a trend in the Latin America market that the region's international traffic is "heavily concentrated on a very few airports: two thirds of the inter-continental traffic goes to or through just 10 airports".
Share of arriving passengers* to Latin America per entry airport: 2009 to 2010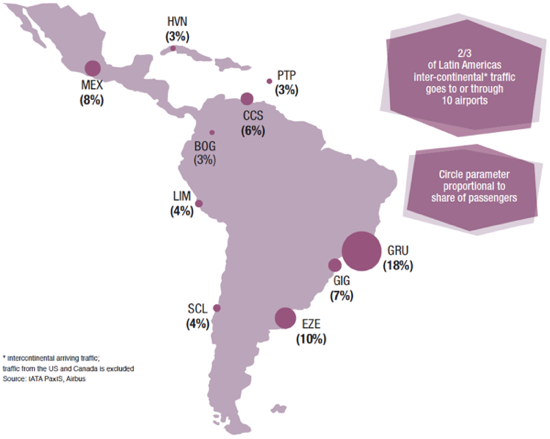 Mr Tyler similarly commented: "Looking around LatAm, it is clear that investment in runways and airport facilities has not kept pace with the region's impressive traffic growth. A number of Latin American governments are turning to privatisation programmes for their airport infrastructure, but privatisation is not a panacea. Careful thought is needed to understand the potential benefits and to avoid a repeat of the mistakes of the unsuccessful privatisations of a decade ago". Mr Tyler also noted that there is "a lot of scope to work with LatAm governments to improve air navigation".
Other challenges, according to IATA, are in the areas of safety, security and environment. IATA noted that safety "is a continuing challenge in LatAm". Although there were no hull losses in the region in 2009, the region's hull loss rate in 2010 was three times the global average. IATA continued: "Over the first ten months of 2011, the hull loss rate has reached four times the global average".
Opportunities for consolidation
Both Boeing and Airbus noted that airlines in the regions have been consolidating to expand their businesses across the region. During 2010, Avianca and TACA completed their merger, and LAN and TAM announced their planned merger into LATAM, which would be the third largest airline by market capital, according to IATA. "Opportunities may exist for further consolidation in the region over the next 20 years. These more competitive airlines will allow Latin America to have a more substantial stake in the airline market," Boeing said.
Latin America is a region which has strong potential for air traffic growth, as highlighted recently by IATA, Boeing and Airbus. The mood in the region's aviation sector is also positive, with continued growth, both domestically, regionally and internationally, forecast in coming years. Concerns, however, centre on the potential impact on growth of ageing infrastructure in the key airports in the region and uncertain regulatory environments.
See related article: Avianca-Sky tie-up and LAN-TAM alliance selection could lead to further consolidation in Latin America