Avianca-Sky tie-up and LAN-TAM alliance selection could lead to further consolidation in LatAm
Analysis
The rivalry in Latin America between leading airline groups LATAM and Avianca-TACA has increased another notch following the establishment of a new alliance between Avianca-TACA and Chilean carrier Sky Airline. While relatively small, the tie-up forged this week between leading Colombian carrier Avianca and Sky could be a precursor to further consolidation in the region. Such consolidation will almost certainly follow alliance lines as LATAM, which will be formally established in late 1Q2012 once LAN and TAM complete their merger, is poised to opt for oneworld while Avianca-TACA is now in the process of joining Star Alliance.
Santiago-based Sky is an unaligned carrier in a market dominated by oneworld member LAN. Sky currently has a 19% share of Chile's domestic market and a 4% share of Chile's international market, according to Chilean civil aviation authority data for the first three quarters of this year. In comparison, LAN has a 76% share of Chile's domestic market and as a group LATAM will have a 66% share of Chile's international market.
Chile domestic market share by airline group (based on passengers carried Jan-2011 to Sep-2011)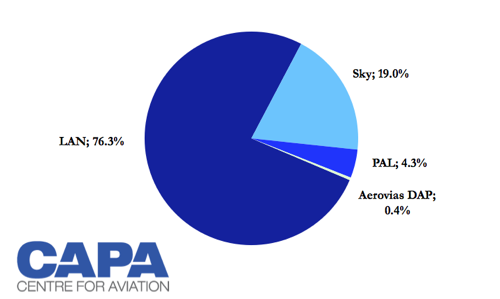 Chile international market share by airline group (based on passengers carried Jan-2011 to Sep-2011)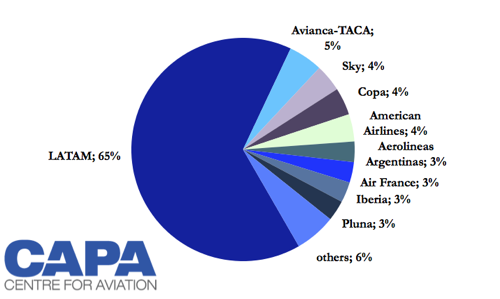 Other small Latin American carriers like Sky may need to forge ties with major groups in order to survive in a region that is increasingly controlled by just a handful of carriers. Following the upcoming LAN-TAM merger, about 70% of capacity among Latin American carriers will be controlled by only five airline groups and 90% of capacity will be controlled by only 10 groups. That leaves the rest of the region's carriers accounting for only about 10% of the total market. Sky, according to a ranking conducted this month by CAPA sister publication Airline Leader, is currently the 17th largest airline group in Latin America, accounting for 1% of total capacity among Latin American carriers.
Sky would be logical addition to Avianca-TACA group
While for now the alliance between Avianca-TACA and Sky includes only a codeshare, an equity tie-up or outright merger would make sense. Avianca-TACA already has passenger airline subsidiaries or sister carriers in four of South America's seven major aviation markets – Brazil, Colombia, Ecuador and Peru. Chile is the only remaining market open to Avianca-TACA expansion because South America's other two major markets – Argentina and Venezuela – are closed due to protective government policies.
LATAM also has passenger airline subsidiaries or affiliates in Brazil, Colombia, Ecuador, Peru, Chile and Argentina (in Argentina LAN was able to establish an affiliate before the market closed up). Chile could become the fifth market with head-to-head competition between LATAM and Avianca-TACA.
Chile: one of the world's fastest growing aviation markets
While it is a relatively small country of less than 20 million people, Chile has a rather larger domestic aviation market that can potentially support two major airline groups. According to Chilean civil aviation authority data, Chile's domestic market grew 18% in 2010 to 6 million passengers and by another 20% through the first three quarters of 2011 to 5.1 million passengers. Chile's international passenger market has also grown by 21% through the first three quarters of 2011 to 4.4 million passengers.
Chile's government is keen to encourage more competition in its aviation market. This was evident in the Sep-2011 decision by Chilean antitrust court TDLC to propose several mitigation measures in approving the LAN-TAM merger. The mitigation measures included freeing up slots to allow a new entrant (potentially Sky) in the LATAM-dominated Santiago-Sao Paulo and Santiago-Asuncion routes. One measure also prohibits LATAM from being a member of two global alliances and from being in the same global alliance as Avianca-TACA. Therefore, it is almost certain LATAM will end up in oneworld.
See related article: oneworld favoured with more at stake than Star in LAN-TAM alliance decision
oneworld is LATAM's only viable alliance option
TAM is currently a member of Star while LAN is in oneworld. LAN and TAM have not yet revealed which alliance they will choose. But the carriers have said the new group plans to select a single alliance shortly after the merger is completed. With Avianca-TACA now slated to enter Star in 2Q2012, LAN-TAM is left with only one viable option – oneworld.
Technically SkyTeam could be selected but LAN rival Aerolineas Argentinas is currently in the process of joining SkyTeam. Gol, which is currently the third largest Latin American airline group after LAN and TAM, is also being wooed by SkyTeam.
SkyTeam likely to end up with Gol as new member
Gol until now has stated its preference to remain unaligned. But SkyTeam is optimistic Gol will be swayed next year to commit to SkyTeam as all the major airlines around it begin to join global alliances. Gol already codeshares with SkyTeam members Delta Air Lines, Air France and Aeromexico and is planning to implement a codeshare next year with incoming SkyTeam member Aerolienas Argentinas. Gol also has codeshares with oneworld members American Airlines and Iberia but could be forced to drop these if TAM switches to oneworld following its merger with LAN.
Aerolineas told CAPA at last week's ALTA Airline Leaders Forum in Brazil that it expects to formally join SkyTeam in Jul-2012 or Aug-2012. The addition of Aerolineas will boost SkyTeam's share of the Latin American market to 11%. Securing Gol would give SkyTeam a 27% share, putting it ahead of Star's projected 16% share and just behind oneworld's projected 30% share (which assumes LATAM selecting oneworld - see Background information below).
Avianca-TACA told CAPA at last week's ALTA Forum that all of the group's passenger airline subsidiaries except Ecuador's AeroGal are now on track to join Star in May-2011. Copa told CAPA at the Forum that the group (which includes Copa Colombia) is now on track to join Star in Apr-2011.
As Avianca-TACA is already 60% through the process of joining Star, Avianca-TACA is extremely confident it will end up in the alliance. It does not think Star will try to derail this process in attempt to woo LATAM. Without kicking out Avianca-TACA, Star has no chance at keeping TAM due to the stipulations outlined by Chilean antitrust court TDLC.
LATAM plans to formally make alliance selection in late 2Q2012
Speaking at the Forum, LAN COO Ignacio Cueto said he expected LATAM would select a single alliance by the end of 1H2012. He said an alliance decision before the completion of the merger, anticipated in Mar-2012, is not possible because the two airline groups are not able to gather data and have any detailed discussions until the deal closes. LATAM is hiring "specialists" to help analyse its alliance options but even this work can not begin in earnest until March.
"Some of the information won't be in our hands until March," Mr Cueto explains. "This is a very hot topic. I hope we can make a decision as soon as possible … We have a mandatory role to make this decision. I think in the short term we will have made the decision."
Mr Cueto would not go as far as publicly stating that oneworld is the only realistic option.
AeroGal, Avianca Brazil and Sky could further boost Star's presence in South America
If LATAM selects oneworld as expected, Star will have to rely on Copa and Avianca-TACA to fill out its Latin American network. Three key markets that would be missing are Brazil (assuming TAM moves over to oneworld as expected, a process which could take between 12 to 18 months), Chile and Ecuador. But Star can potentially regain a presence in Brazil and add Ecuador because Avianca-TACA already has a sister carrier in Brazil and a subsidiary in Ecuador. Star decided last year to initially exclude Avianca Brazil, which is not yet part of Avicanca-TACA Holding even though there is some common ownership, and AeroGal when accepting Avianca-TACA although it has said it is open to adding these carriers as members later.
Chile could potentially be added with Sky as a new Star member given the relationship Sky now has with Avianca-TACA. If it adds Avianca Brazil, AeroGal and Sky, Star would have about a 19% share of the Latin American market (which again assumes LATAM selects oneworld).
TACA Peru, one of several carriers in the Avianca-TACA group that is now in the process of joining Star, already began codesharing with Sky late last month. On 22-Nov-2011, Colombian carrier Avianca and Sky forged a new codeshare agreement, further cementing the relationship between the two groups.
Avianca-Sky codeshare to begin in 1Q2012
Avianca-TACA says the new codeshare will be implemented in 1Q2012 and includes Avianca's Bogota-Santiago route. Avianca passengers will also be able to connect in Santiago onto Sky-operated domestic flights.
The recently implemented codeshare between Sky and TACA Peru includes flights between Chile and Peru operated by both carriers. The codeshare also includes domestic connections in Chile for TACA Peru passengers and domestic connections in Peru for Sky passengers.
Sky has indicated the new feed from Avianca-TACA should help it increase its share of the Chilean domestic market from 19% currently to 25% within three years. Sky is primarily a domestic operator, serving 22 domestic routes in Chile.
Sky also has a limited international network consisting of Arequipa and Lima in Peru, Buenos Aires in Argentina and La Paz in Bolivia. The codeshare with Avianca allows Sky to virtually extend its network to Colombia. The tie-up with Avianca-TACA could also lead to the launch of new services from Santiago to Brazil and Ecuador. It would be difficult for Sky alone to profitably operate such routes, but support from Avianca Brazil and AeroGal could make such a proposition viable.
Sky has a fleet of 17 aircraft consisting of ageing B737-200s and A320s, which it began acquiring last year. Avianca-TACA's narrowbody jet fleet consists entirely of A320 family aircraft, offering synergies should the group pursue an even closer relationship with Sky.
Background information
Latin America current capacity share by global alliance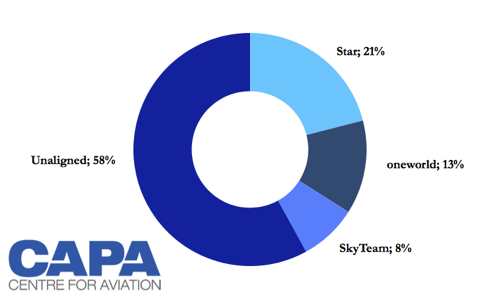 Latin America future capacity share by global alliance