UPDATE: oneworld favoured with more at stake than Star in LAN-TAM alliance decision
Analysis
(this article, which was initially published on 24-Sep-2011, has been updated to include initial LAN response, further discussion of TDLC measures and implications for Gol and SkyTeam)
The stage is set for the biggest global alliance selection of the decade as new airline group LATAM is being forced by Chile's anti-trust court to choose a single grouping. The decision by LATAM, the new parent company for oneworld's LAN and Star's TAM, will have huge ramifications as the winning alliance will be guaranteed a leading position in the fast-growing and increasingly important Latin American market. The more likely outcome is a oneworld victory, which would result in its share of capacity in the region increasing to 30% compared to approximately 15% for Star and 11% for SkyTeam.
If Star wins, its share would reach nearly 40% with oneworld's share dropping to only 7% and SkyTeam, which is not expected to be a serious contender in the battle for LATAM, retaining 11%. Losing LATAM would be unrecoverable for oneworld, unlike for Star who is poised to grow intra-region traffic with forthcoming members Avianca-TACA and Copa. But ironically Star's decision last year to accept Avianca-TACA as a new member could preclude it from contending for LATAM because Chile's anti-trust court is proposing a measure which would prevent Avianca-TACA and LATAM from being in the same global alliance.
The LAN-TAM merger is the first time major carriers from competing alliances have agreed to merge, which also for the first time forces global alliances to jostle for a merged carrier.
Oneworld and Star began courting LATAM almost immediately after LAN and TAM first unveiled in Aug-2010 their plans to merge and establish LATAM. But LATAM has so far elected not to address the alliance issue with LAN CEO Enrique Cueto and TAM CEO Libano Barroso initially stating that a decision may not be made until one or two years after the merger is completed. Mr Cueto, who will serve as CEO of LATAM and will control the largest single stake in the new entity, also repeatedly indicated over the last year that LATAM would consider retaining the status quo with LAN remaining in oneworld and TAM in Star.
Unprecedented two alliance option ruled out
But the door on the split alliance option, which in theory could have been pursued as the two airline groups will remain separate units under the new LATAM structure, has been shut by Chilean anti-trust court TDLC. On 21-Sept-2011 TDLC approved the proposed merger on the condition that 11 mitigation measures are adopted, including one that states LATAM must withdraw from one of the two global alliances. Allowing LATAM to potentially be part of two groupings – an outcome oneworld and Star would likely not have allowed anyway – could have stifled competition and made it challenging for other Latin American carriers to compete.
LATAM, which will include nine passenger carrier subsidiaries in seven South American countries, will account for about one quarter of total capacity (seats) to/from and within Latin America, according to current Innovata data. Such a large portion of a growth market, which is increasingly becoming a destination for global business travellers, would be attractive to any global alliance.
Capacity to/from and within Latin America by airline (seats per week, 12-Sep-2011 to 18-Sep-2011)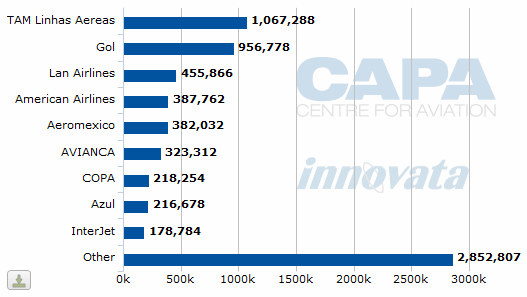 Based on data from Latin American airline association ALTA, the LAN and TAM groups combined accounted for 38% of all passengers carried among Latin American and Caribbean carriers in 2010 and 43% through the first seven months of 2011. On an RPK basis according to ALTA data, LAN and TAM have seen its share of total RPKs grow from 43% in 2010 to 46% through the first seven months of 2011. Both carriers have been growing much faster than the region's average 5% RPK growth rate.
With annual revenues of over USD12 billion, LATAM will be more than double the size of the region's next two largest airline groups – Gol and Avianca-TACA. Further increasing its appeal to the alliances, LATAM will be the largest or second largest airline group in six of South America's seven largest aviation markets (the only exception is troubled Venezuela).
LATAM will now almost certainly make an alliance selection next year, potentially even before the merger is completed. Once a decision is made it will likely take another 12 to 18 months to switch LAN or TAM over to the selected alliance. The merger integration process is also expected to take one to two years. As a result a fully integrated single-alliance LATAM, which is poised to be one of the world's 12 largest passenger airline groups by revenues, should emerge in 2H2013.
LAN's allegiance to oneworld to play big role in LATAM's selection
Oneworld is seen to have the inside track as LAN is one of its earliest members and Mr Cueto, who is one of the longest standing airline CEOs in the global industry, has been one of the alliance's biggest proponents for over a decade. On the other hand, TAM only entered Star last year.
Retaining LAN is critical for oneworld because the collapse of Mexicana last year left LAN as the alliance's only member in Latin America. Oneworld now has a 14% share of the Latin American market, with LAN accounting for approximately half of that. The rest of oneworld's capacity in Latin America is primarily provided by American Airlines, the largest foreign carrier in the region, and to a lesser extent British Airways/Iberia parent IAG, which is the largest airline group serving the Europe-South America market.
Latin America current capacity share by global alliance (based on seats per week for 19-Sep-2011 to 25-Sep-2011)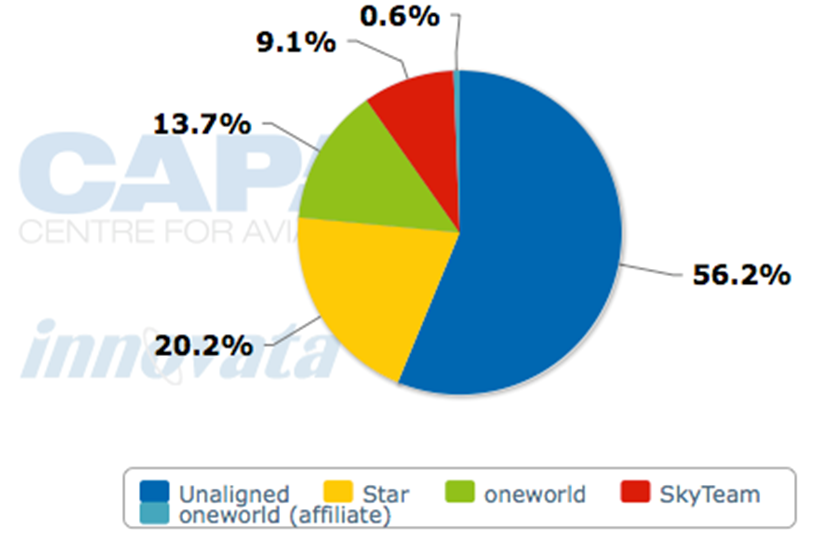 For oneworld, losing LATAM would be an unrecoverable blow
Without LAN, oneworld's share of capacity in Latin America would slip to only 7%, putting it behind SkyTeam, which currently has a 9% share that is slated to grow to 11% next year when Aerolineas Argentinas becomes SkyTeam's second Latin American member after Aeromexico. It would be impossible for oneworld to offset the loss of LAN.
With Avianca-TACA and Copa already committed to Star and Aerolineas committed to join SkyTeam, Brazil's Gol from next year will be the only decently sized non-aligned carrier left in Latin America. But Gol has so far insisted it plans to remain non-aligned and, if it did change its mind, would most likely end up in SkyTeam. After Gol there is only a limited pool of very small carriers that are likely not of any interest to oneworld.
Gaining TAM, however, would allow oneworld to retake Star as the region's biggest alliance and capture a 30% share of the Latin America market. Oneworld lost this distinction last year when TAM joined Star. A win for oneworld would also significantly boost the alliance's profile, which has slipped in recent years as Star and increasingly SkyTeam successfully woo new members, especially in high-growth regions.
Latin America capacity share by alliances assuming LATAM opts for oneworld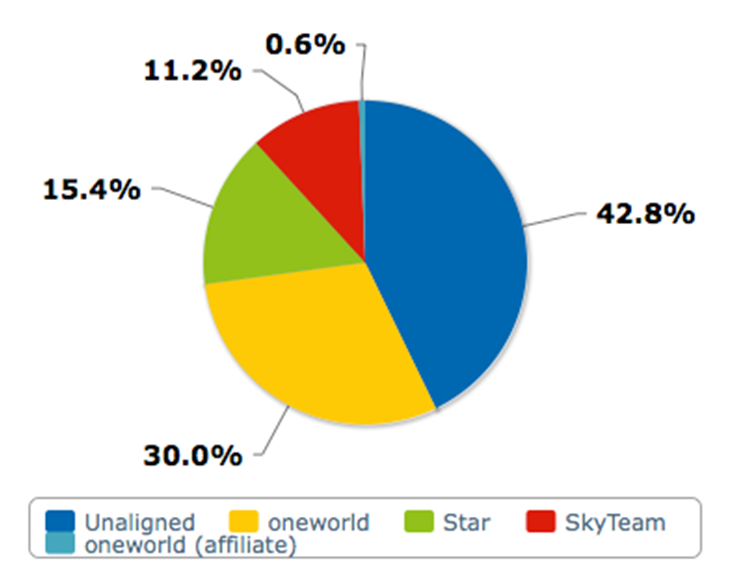 Most significantly, TAM would instantly give oneworld a big presence in Brazil, the largest single market in Latin America and the only major South American market where oneworld's presence is now limited. LAN already provides the alliance with a local presence in four important South American markets: Argentina, Chile, Ecuador and Peru. LAN will also soon give oneworld access to a fifth important South American market in Colombia, where new LAN subsidiary Aires will be rebranded LAN Colombia at the end of this year.
For Star, losing LATAM would be recoverable thanks to Avianca-TACA and Copa
For Star, losing TAM would be a bitter pill to swallow after spending three years trying to fill the void left by Varig, which left Star in Jan-2007 following a restructure that saw the emerged carrier acquired by Gol and no longer relevant. But Star doesn't have nearly as much at stake in the LATAM alliance battle as oneworld.
TAM is currently Star's only Latin American member but two of the region's other major airline groups, Avianca-TACA and Copa, are now in the process of joining. The Avianca-TACA group ensures Star will have a local presence in two South American markets, Colombia and Peru, and potentially a third if its Ecuadorean subsidiary AeroGal also enters the alliance. Adding LATAM would result in Star having the two largest carriers in Peru and the three largest carriers in Colombia – an enticing proposition but potentially resulting in too much overlap
With Avianca-TACA and Copa, Star regardless of what happens with LATAM will have a dominating share of the market in Central America, with hubs in all three of Central America's largest airports. Copa is also the largest carrier in the international intra-Latin America market, a fast-growing business-oriented market that is particularly appealing to global alliances.
The addition of Avianca-TACA and Copa next year will add about 10 percentage points of market share for Star in Latin America. The almost unthinkable combination of Avianca-TACA, Copa, TAM and LAN would give Star four of the current top seven airline groups in Latin America – allowing it to dominate intra-region traffic – and an impressive 39% share of all capacity to, from and within the region.
Latin America capacity share by alliances assuming LATAM joins opts for Star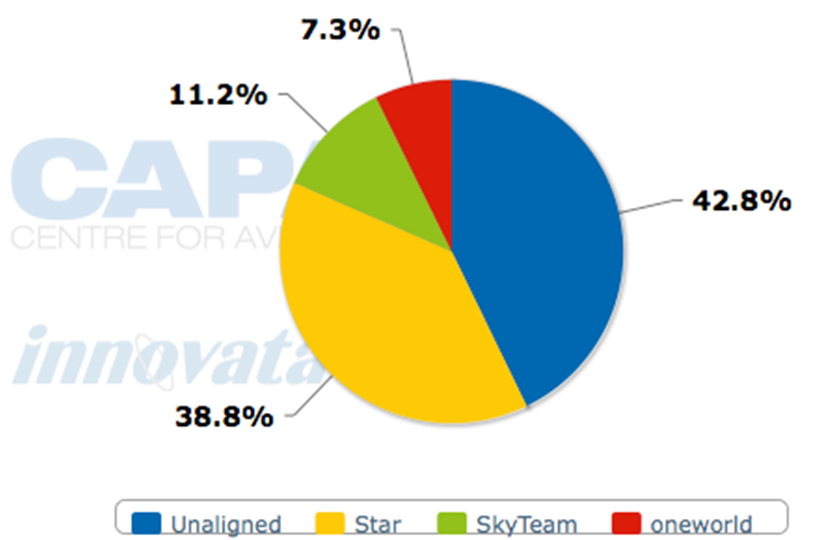 Without TAM, Star would still have a respectable 15% share of the Latin American market as a result of having Copa and Avianca-TACA as members, which gives it critical intra-region traffic, whereas oneworld would largely be shut of intra-region traffic if it loses LATAM. Star's market share in the region would further increase slightly if AeroGal and Avianca Brazil, previously known as Ocean Air, join the group.
Avianca Brazil could replace TAM as Star's Brazilian member
Avianca Brazil gives Star an important potential alternative solution in Brazil should TAM move over to oneworld. Star has not yet approved Avianca Brazil as a new member because the carrier is not yet formally part of Avianca-TACA Holding. But ownership of Avianca Brazil is expected to shift into Avicanca-TACA Holding over the next several months, opening up the opportunity for Avianca Brazil to join its sister carriers in Star. Losing TAM would add urgency to bringing Avianca Brazil into the Star fold.
Avianca Brazil is only the sixth largest carrier in Brazil, with a 3% share of the domestic market. But it covers all the major Brazilian markets and is the fourth largest carrier at Brazil's main international gateway, Sao Paulo Guarulhos, where it currently has 10 domestic routes. As a result Avianca Brazil is big enough to give the 10 Star members now serving Brazil the feed they need. Avianca Brazil is also growing fast and the addition of feed from Star members would likely help support an acceleration of its expansion plan.
Potentially more concerning to Star would be the prospect of losing not only TAM but also TAP, the Portuguese carrier that is the largest European carrier serving Brazil, with an unrivalled network of 10 Brazilian destinations. The Portuguese government is currently in the process of privatising TAP. Star's Lufthansa, oneworld's IAG and SkyTeam's Air France-KLM are seen as potential buyers. LATAM could also be enticed to put in a bid although LAN and TAM have said they will focus on completing the merger before entertaining any additional consolidation opportunities.
LATAM's next strategic step could be pursuing a merger or acquisition in Europe - a move which would also have big global alliance implications
TAP would be a good fit for LATAM as the new entity will still only be the fourth largest player in the South America-Europe market. Securing both TAP and LATAM would be a major coup for oneworld, giving the alliance a powerful presence within South America as well as across the South Atlantic, and potentially set the stage for improved links across the Pacific to Asia, the world's other high-growth continent.
A LATAM-TAP combination could also be a precursor to a potential LATAM-IAG merger. As a leading global airline group with one of the highest market capitalizations in the industry, LATAM is expected at some point to look at merger and acquisition opportunities outside of South America. Europe would be the most likely region for an unprecedented cross-ocean merger as the US market remains off limits due to foreign ownership regulations. Among European companies, TAP and IAG are the most logical targets given the close business and ethnic ties between Latin America and the Iberian Peninsula.
Clearly the stakes are high as LATAM begins its evaluation of its alliance options. Both oneworld and Star will likely pull out all the stops to woo the new group. Even SkyTeam could put in a surprise campaign, similar to its ultimately unsuccessful Delta-led attempt in 2009 to woo oneworld member Japan Airlines, which was evaluating its standing following a restructure. But SkyTeam is clearly a big underdog and navigating potential overlap in Argentina, where Aerolineas and LAN are archrivals and are the country's two biggest carriers, will be tricky.
SkyTeam could decide strategically against mounting a campaign for LATAM in hopes of later securing Gol as its third Latin American member. TAM moving over to oneworld and Avianca Brazil joining Star could potentially persuade Gol into re-thinking its non-aligned strategy.
Gol has been keen to remain non-aligned and work with all non-Star carriers, taking advantage of the need for Brazilian feed from members of oneworld and SkyTeam as well as other non-aligned carriers such as Qatar Airways. But American and Iberia would have to drop their codeshares with Gol in favour of new deals with TAM should LATAM select oneworld. Avianca Brazil going into Star would also prohibit any Star carriers from pursuing codeshares with Gol to replace existing relationships with TAM, leaving Gol with only SkyTeam and non-aligned carriers as potential partners.
Gol already has close bilateral relationships with three key SkyTeam members – Aeromexico, Air France and Delta – and on 28-Sep-2011 unveiled plans to begin codesharing with future SkyTeam member Aerolineas Argentinas. Securing Gol, Latin America's second largest airline group, would give SkyTeam about a 25% share of the Latin American market and three of the region's six major airline groups,
LATAM studies TDLC ruling; some conditions may be appealed
Before the games truly begin, LATAM has to first formally accept TDLC's proposed measures and proceed with the merger. Only one other approval is still required, from Brazil's anti-trust regulator CADE, which is expected next month. As Brazil's aviation market is much more competitive than the smaller Chilean market, few if any mitigation measures will likely come from CADE.
LAN stated on 27-Sep-2011 that it continue to study the TDLC ruling but in the meantime asked the court to fix several numerical errors in its report, claiming yields on several routes were miscalculated. LAN could potentially appeal parts of the ruling Chile's Supreme Court. Opponents to the merge could also potentially appeal the TDLC's conclusion to approve the merger despite having attached several conditions.
Any appeal could further delay the merger from completing. LAN and TAM now expect to complete the merger in 1Q2012.
While LATAM is still analysing TDLC's proposed measures, it will almost certainly accept all or nearly all of them. Chilean consumer rights group CONADECUS, which was one of the most vocal opponents of the deal and persuaded TDLC to initially take up the case, has already said it is satisfied with the proposed measures and will not appeal. Other opponents such as PAL, Chile's third largest airline, could also lodge an appeal although such an appeal would have virtually no chance of resulting in the TDLC decision being overturned.
Proposed measures which LATAM could potentially appeal include requiring LATAM to secure special permission from the court to retain any existing or enter into any new codeshares with carriers outside the global alliance it selects, covering routes from Chile to Europe and North America (non-stop and connecting flights). To ensure long-haul flights from Santiago are not re-routed via other LATAM hubs following the merger, the TDLC is also requiring LAN to continue operating at least 12 weekly flights from Chile to the US and at least seven weekly flights from Chile to Europe.
TDLC proposes to block LATAM and Avianca-TACA from being part of the same alliance
In addition, TDLC plans to prohibit LATAM from entering into any codeshares with Latin America's other top three airline groups, Avianca-TACA and Gol, on routes within South America. Another proposed measure states that LATAM and Avianca-TACA cannot end up in the same global alliance as they are the two biggest competitors on intra-South America routes.
If this measure isn't appealed and overturned, it would force Star to withdraw its campaign at LATAM or not proceed with Avianca-TACA, which is now over halfway through the 18-month joining process. LATAM essentially may have to make its alliance choice over the next few weeks as if it is able to now select oneworld, which is the most likely outcome in any event, there would be no need to appeal some of the more controversial measures in the ruling. If LATAM decides against appealing, it would also potentially reap the benefit of being able to complete the merger earlier.
Most of the other proposed mitigation measures relate to three monopoly routes from Santiago to Sao Paulo, Rio de Janeiro and Asuncion. TDLC is requiring LAN and TAM to interline with any airline interested in launching service on any of these three routes. They must also hand over four of their daily slot pairs at Sao Paulo Guarulhos to any new entrant on the Santiago-Sao Paulo route. LATAM should not have any issues with accepting these measures as they offered similar concessions when appearing before TDLC in a May-2011 hearing. See related article: LAN-TAM concessions to increase competition on Santiago-Sao Paulo route.
LAN is also being asked to give up four of its frequencies on the Santiago-Lima route to other Chilean carriers. There is competition on this route, including from Chile's second largest carrier Sky, but LAN still dominates the Santiago-Lima market with 87% of current capacity, according to Innovata data.
LATAM will account for almost two-thirds of all capacity in Chile. It will also be the market leader, although not nearly as dominant, in three other South American markets – Brazil, Paraguay and Peru – and the second largest airline group in another three – Argentina, Ecuador and Colombia.
With such a small pool of unaligned carriers remaining, it is rare these days to have such a powerful airline company up for grabs. LATAM also represents the first time two major airlines from competing alliances have merged. As a result, the alliance battle over LATAM is in many ways unprecedented. The industry may not see another alliance battle of this magnitude for some time.