Brazil airport privatisation plan comes under attack at ALTA forum
Analysis
Brazil's new plan for privatising three of its largest airports has already started to draw criticism from Latin American carriers as well as IATA and the Latin American airline association ALTA. The upcoming privatisation of Brasilia, Sao Paulo Guarulhos and Viracopos-Campinas airports was a hot topic at last week's ALTA Airline Leaders Forum in Rio de Janeiro.
ALTA, which represents airlines throughout Latin America and the Caribbean, and IATA are concerned the three concessions as currently outlined will result in higher fees and a large chunk of the generated revenues not being reinvested in modernising the airports. But ALTA, IATA and the airlines in the region widely recognise the potential benefits of airport privatisation as Latin America struggles to cope with infrastructure challenges that are now threatening to curtail continued growth.
IATA director general Tony Tyler told the Forum that Brazil's airport privatisation programme "should open the door to desperately-needed investment at key airports, especially Sao Paulo". But Mr Tyler added that while the programme "is potentially good news…we also have serious concerns."
"The possibility for a conflict of interest exists, with the Government having dual roles as a major shareholder in the airport concessionaire and the economic regulator. Additionally, airlines do not have a place in the rate-setting and development processes, nor is there a mechanism for ongoing and regular discussions between the aviation community and the airport owner," Mr Tyler warned.
Brazil's plan to award airport concessions simply to the highest bidder comes under fire
ALTA president and Avianca-TACA chairman Roberto Kriete similarly criticised the requirement that the Brazilian Government receive a share of the revenues from the three privatised airports. Mr Kriete also singled out the potential pitfalls of awarding the three concessions simply to the highest bidder rather than consortiums which offer the best overall solution. He urged Brazil and governments throughout the region to stop viewing airport privatisations as a "cash cow".
Mr Kriete said the Brazilian Government seems "more interested in raising funds" than developing tourism or its aviation industry. He urged the Government to instead use privatisation as a vehicle "to make the system more efficient".
Mr Tyler also emphasised the need for the Brazilian Government to select the best proposals, not simply the proposals which generate the highest revenues. "Our message will be that the long-term interests of the Brazilian economy transcend any short-lived or temporary financial gains from a privatisation process. I raised these issues personally with the Minister [during a meeting in Brasilia on 16-Nov-2011]. And our team in Brazil will continue to do so. But we will be far more effective as a chorus of industry advocates than a solo voice, so I urge others to join the effort," Mr Tyler says.
ALTA executive director Alex de Gunten stressed, at a media briefing during the Forum, the importance of focusing the airport privatisation model "on the best service at the lowest cost". ALTA is lobbying governments in the region to focus airport concessions more on non-aeronautical revenues and increasing efficiencies. "It's very important for the government to focus on efficiencies, not revenue generation," Mr de Gunten says, adding that so far the focus in Latin American airport privatisation projects has been on revenues.
ALTA wants to avoid a repeat of the airport privatisation processes that took place in other countries in the region, particularly Argentina and Mexico. Costs increased significantly following the sale of most of Mexico's airports, except Mexico City, to three consortiums which now have profit margins that Mr Kriete pointed out far exceed the margins at any airline in the region. In Argentina, over 30 airports were sold to a single consortium, Aeropuertos Argentina 2000, leading to some of the highest airport fees in the world.
ALTA sees Brazil's first airport privatisation, Natal, as a bad example
In Brazil, the relatively small airport at Natal was privatised earlier this year as a test case before moving on to some the country's main airports. Mr de Gunten is not encouraged by what he happened at Natal because the winning bid, from a consortium which includes the majority owner of Aeropuertos Argentina 2000, raised twice the amount that the Government originally projected. "They saw that as a great success for Brazil. We saw that as a great concern for Brazil," Mr de Gunten says.
Natal is the 19th largest airport in Brazil based on current capacity, with Sao Paulo Guarulhos the country's largest with over 800,000 seats per week, according to Innovata data. Guarulhos is currently the 36th largest airport in the world.
Brasilia International Airport, serving the country's capital, is Brazil's third largest airport. Campinas-Viracopos, an alternative airport located outside Sao Paulo, is the 10th largest airport in Brazil but is one of the fastest growing.
Brazil's top 20 airports, based on total capacity (seats per week): 21-Nov-2011 to 27-Nov-2011
| Rank | | Airport | Total seats |
| --- | --- | --- | --- |
| 1 | GRU | Sao Paulo Guarulhos International Airport | 814,046 |
| 2 | CGH | Sao Paulo Congonhas Airport | 508,421 |
| 3 | BSB | Brasilia International Airport | 475,110 |
| 4 | GIG | Rio De Janeiro-Galeão International Airport | 455,570 |
| 5 | CNF | Belo Horizonte Tancredo Neves International Airport | 308,810 |
| 6 | SDU | Rio De Janeiro Santos Dumont Airport | 288,480 |
| 7 | SSA | Salvador Airport Luis E Magalhaes | 271,851 |
| 8 | POA | Porto Alegre Salgado Filho Airport | 239,520 |
| 9 | CWB | Curitiba Afonso Pena Airport | 229,398 |
| 10 | VCP | Sao Paulo Campinas Viracopos Airport | 206,212 |
| 11 | REC | Recife Guararapes International Airport | 188,028 |
| 12 | FOR | Fortaleza Pinto Martins Airport | 142,924 |
| 13 | FLN | Florianopolis Hercilio Luz Airport | 109,003 |
| 14 | BEL | Belem Val De Cans Airport | 105,384 |
| 15 | VIX | Vitoria Eurico Sales Airport | 92,482 |
| 16 | GYN | Goiania Santa Genoveva Airport | 91,484 |
| 17 | MAO | Manaus Eduardo Gomes International Airport | 91,012 |
| 18 | CGB | Cuiaba Marechal Rondon Airport | 77,602 |
| 19 | NAT | Natal Augusto Severo Airport | 70,886 |
| 20 | SLZ | Sao Luiz Marechal Cunha Machado Airport | 66,256 |
Brasilia and Guarulhos are already highly congested airports while Campinas is expected to become congested over the next three years. During his presentation at the Forum, Mr Kriete said 11 of Brazil's airports are already "congested" or "highly congested" and 14 airports will be congested or highly congested by 2014.
Brazil's leading airports by passenger traffic and congestion level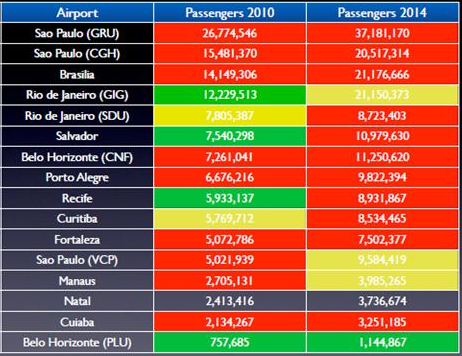 (red=highly congested, yellow=congested, green=not congested)
As reported by CAPA earlier this month, the concessions in Brazil call for a minimum bid of BRL2.3 billion (USD1.3 billion) at Guarulhos, BLR521 million at Campinas and BRL75 million at Brasilia. At Guarulhos, the winning bidders will be required to invest BRL4.8 billion (USD2.7 billion) over 20 years and pay the Government 10% of gross receipts. At Campinas, the investment required is BRL6.3 billion over 30 years with 5% of revenues allocated to the Government. Brasilia requires an investment of BRL2.2 billion over 25 years with only 2% of revenues being set aside for the Government.
Formal tenders are expected to be issued in Dec-2011, followed by an auction in May-2012.
See related article: Time is running out on Brazil's bid to privatise its airports successfully
Azul's Neeleman concerned with airport privatisation proposal
Azul chairman David Neeleman told CAPA on the sidelines of the Forum that he is "a little concerned" with the Government's airports privatisation proposal primarily because it includes a new tax on connection flights which could inhibit demand. Mr Kriete also singled out the transit tax, telling the Forum "it will affect demand and drive traffic to airports that don't have it".
In addition, Mr Neeleman is lobbying the Government to make sure the concessions include guarantees that fees will not be increased, explaining that previous privatisations have shown the tendency of the winning consortium to "raise the cost of everything".
"My concern is the Argentina privatisation has been a disaster and Mexico has some of the highest airport costs in the world," Mr Neeleman says. Campinas is the main hub for Azul. Mr Neeleman says airports costs at Campinas are currently BRL5 (USD2.77) less per passenger than Sao Paulo's two main airports, Guarulhos and closer-in Congonhas, which gives the low-cost carrier an important cost advantage over its rivals that it strives to maintain.
Chief of Brazil's ANAC defends privatisation plan at ALTA
Deflecting criticism of the proposed concessions, the president of Brazilian civil aviation authority ANAC, Marcelo Guaranys, told the Forum the privatisation model being pursued in Brazil will lower costs and increase competition. He pointed out that no consortium will be able to win more than one concession, which will foster competition between the airports.
Mr Guaranys says while only three airports are being privatised for now, these three airports all have "hub characteristics" and account for 30% of total capacity in Brazil. He says the idea of the privatisation is to accelerate investment in these three hub airports and alleviate some of the burden on government-owned airport operator Infraero.
With three major airports to be privatised, Infraero will be more free to invest in some of Brazil's other airports, several of which are also now congested and will similarly need upgrades prior to the 2014 football World Cup. Upgrades at Rio de Janeiro's two airports will also be required to support the 2016 Summer Olympics.
World Cup and Olympics require prompt solution
Avianca Brazil president Jose Efromovich told the Forum he sees "the World Cup and Olympics as an incentive to solve the serious problem we are facing with our infrastructure". But he pointed out both the World Cup and Olympics are "short events" and Brazil also needs to come up with long-term solutions to its infrastructure issues because "we are reaching limitations of our capabilities". Mr Efromovich explained that "airport infrastructure can't be solved in weeks or months. It's a long-term problem."
Generally there is optimism that Brazil's airports, which have not kept up with consistent double-digit growth in the country's domestic market since mid-2009, will be ready for the big events. "We will be able overcome these problems for sure," GOL CEO Constantino de Oliveira Junior told the Forum.
Brazil domestic passenger growth (RPK): Jan-2009 to Sep-2011
Brazil.png" alt="" />
Mr Neeleman is also optimistic, telling CAPA: "The World Cup is coming so that is helping getting people focused."
Speaking at a small press conference during the Forum, Mr Tyler said, "time is clearly tight" but added that "building terminals is not terribly time consuming. Clearly it's quite possible enough will be done soon enough".
But Mr Tyler also shares Mr Efromovich's concerns that the Government could become too focused on the big events rather than the long-term issues. "We would hate to see unnecessary investment in infrastructure airlines are forced to pay for a generation," he says.
Brazil is not alone in Latin America with airport infrastructure challenges
Mr Tyler, who was attending ALTA's annual meeting for the first time, highlighted the general infrastructure problems facing Latin America. Several major hub airports throughout the region have fallen well behind the growth curve, although Brazil's airports have received the most recent attention.
"The general point is traffic growth has taken off in recent years through remarkable entrepreneurial drive and skill through many Latin American carriers. Infrastructure growth has failed to keep place," Mr Tyler told reporters. "In Brazil there are particular bottlenecks. The Government is aware of it and clearly wants to do something about it."
He added that "across the region we see problems of growth. These are good problems to have rather than problem of no growth. We do need governments to step up."
IATA has launched a campaign throughout Latin America and other emerging markets to illustrate through studies the economic benefits which aviation bring, hoping it will persuade governments to change their attitude towards airport infrastructure. Mr Tyler told the Forum that in Brazil aviation contributes BRL32 billion to the economy, the equivalent of 1% of GDP, and supports 700,000 jobs. "Aviation should be on the Government's radar screen as an industry worth nurturing as a strategic asset," he says.
"Sao Paulo is particularly a problem as Brazil prepares for [the] World Cup with inadequate runway and terminal capacity," Mr Tyler added. "The economic center of Brazil needs world-class connectivity. That should be a core part of the Government's economic strategy. And the same argument concerning airport infrastructure could be made to governments across the region – including Buenos Aires, Antigua, Caracas, Bogota and others – which suffer from insufficient capacity. It's not just having a building and some concrete. Our business models depend on airports accommodating the billions of dollars in new aircraft that we are buying in order to meet business demand. We need well-designed terminals capable of facilitating the rapid transit of passengers. And we need reliable, robust airport IT infrastructure that is capable of evolving to meet customer demands for self-service from check-in to baggage recovery. The physical constraints at many airports are the result of an outdated regulatory and financial model that values aviation more for its role as tax collector than for the wealth it creates."
"Where governments are not able to support development directly, they are turning to the private sector. Privatisation is not a panacea," Mr Tyler warns. "Careful thought is needed to understand the potential benefits and to avoid the very real pitfalls. The Latin American region suffered tremendously from a series of misguided privatisations about a decade ago. We don't care who owns an airport, so long as they are committed industry partners. And to ensure that, governments must accompany any privatisation with a regulatory framework that supports transparency, user consultation, investment in future facilities, service level standards, and efficiency incentives – and of course all in line with ICAO principles. Brazil is at a vital crossroad in this regard."
Clearly the next few months represent an important juncture for Brazil and its rapidly growing aviation industry. In addition to the region's airlines, other Latin American governments will be clearly monitoring the results of the upcoming privatisation at three of Brazil's top 10 airports. These concessions could mark an important turning point for the region as governments finally try to catch up with the growth curve. But if not managed properly the concessions could instead set back Latin America's promising aviation industry and create an even bigger obstacle to growth.