Time is running out on Brazil's bid to privatise its airports successfully
Analysis
Brazil hosts the World Cup in 2014 and the Summer Olympics in 2016 but is struggling to update its airports and add capacity in time. In 2010, the government announced that rather than rely on state airports agency Infraero to undertake the necessary work, it would seek concessions contracts from private-sector companies to expand and modernise some of the country's airports.
Traditionally, Infraero, which used to be a branch of the military, has had responsibility for almost all Brazil's airports but ANAC, the recently-formed Civil Aviation Authority, took charge of the proposals, calling at first (in Jun-2010 and after an exasperating 1H2010 for potential investors) for proposals to develop a new USD575 million airport at Sao Goncalo do Amarante in Natal, in the state of Rio Grande do Norte.
Natal Augusto Severo Airport* seat capacity (by carrier): 07-Nov-2011 to 13-Nov-2011
Natal Augusto Severo Airport, seat capacity per week (by carrier): 07-Nov-2011 to 13-Nov-2011
Natal Airport (existing)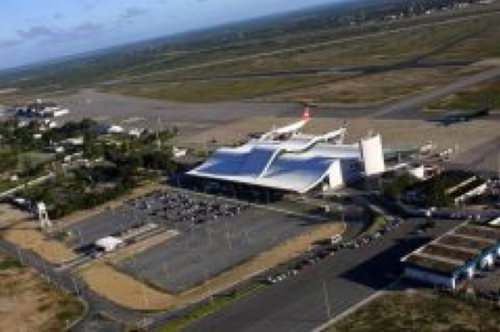 This project did move rather more quickly, bids were received the following month and the procedure was based simply on the size of the concession fee offered. The winning bidder was selected in Aug-2011, triumphing over three other bids. The successful consortium brings together the Argentina-based Corporacion America, which is the majority owner of Aeropuertos Argentina 2000, which itself operates 33 airports in Argentina as well as in Montevideo Uruguay, Guayaquil Ecuador, Italy and Armenia, and the Brazilian engineering firm Engevix, which already played a significant role in the modernisation of the Brazilian Airport System, taking part in project design, technological updates, expansion and construction of terminals and runways, and construction monitoring and management. Engevix took part in 15 projects in the most important airports in the country, such as Rio de Janeiro, Sao Paulo and Brasilia as well as previous work at Natal. The consortium is known as Infra America and is a straight 50/50 split.
Natal could be considered a test case
It offered USD106 million as an up-front fee, well above the USD33 million minimum set by ANAC and must now build the new airport within three years after which it can operate it for 25 years, with a possible one-off five-year extension. Crucially, it also committed to investment in excess of USD400 million.
The Natal Airport could be considered a test case. Brazil is unpractised in developing rules for concessions and there were no previous benchmark projects or studies on which to base this deal. Subsequently, in Sep-2011, ANAC published the regulations under which the larger projects will be carried out.
These projects will upgrade the two principal airports in Sao Paulo, and the principal one in Brasilia, Belo Horizonte, and Rio de Janeiro. Sao Paulo, Rio de Janeiro and Belo Horizonte are, respectively, Brazil's three biggest cities.
Tough concession terms include Infraero veto powers
But they merely offer a 51% stake in each airport, with Infraero retaining not only the other 49% but also a veto over unspecified "strategic and relevant issues." Moreover, in a subsequent announcement, it was revealed that no company or investment group bidder could win more than one of the three airports. The auction will not take place until May-2012, though a tender for the Brasilia and Sao Paulo airports will come in Dec-2011. The idea is to have different operators in those three airports, so ANAC can have a basis for comparison to better regulate the system.
Subsequently, the Head of the Civil Aviation Authority, Wagner Bittencourt, stated airlines may not hold more than a 1% stake in groups bidding for airport concessions in Sao Paulo and Brasilia "in order to avoid a conflict of interest."
Details of the concession agreements at Sao Paulo and Brasilia are as follows:
Sao Paulo Guarulhos International Airport: Minimum bid is BRL2.3 billion (USD1.3 billion). The winning bidder will be required to invest BRL4.8 billion during the 20-year term and pay the Government 10% of gross receipts;
Sao Paulo Campinas Viracopos Airport (approximately 100km north of Sao Paulo): Minimum bid is BRL521 million. Investment required from winning bidder is BRL6.3 billion and 5% of receipts for a 30-year concession;
Brasilia International Airport: Minimum bid is BRL75 million. Investment required from winning bidder is BRL2.2 billion and 2% of receipts for a 25-year concession.
Ideology must be matched by action
So an ideological shift is taking place as the Government belatedly ramps up for the World Cup and 2016 Olympics. It has been driven by new President Dilma Rousseff, to the surprise of Airport Investor Monthly, which did not believe she was capable of reversing years of anti-privatisation dogma from her predecessor. But ideology has to be matched by action and as things stand only two of 13 airport terminals under expansion are on schedule to be finished when the World Cup begins in Jun-2014, a government-backed research group reported earlier this year. Brazil's airports are also dragging on the country's economic potential: one of several factors dimming the outlook for growth after record 7.5% expansion in 2010 as domestic air travel growth remains the second highest in the world after India (Aug-2011) and total demand for air travel expanded 23% last year, putting incalculable strain on the country's airports.
At least two further hurdles face Ms Rousseff. One is a new airport tax on airlines based on the number of connecting passengers, which was announced by Infraero's president Gustavo do Vale in Oct-2011. As well as confirming that Infraero still has some influence, it is the last thing that airlines making plans for the World Cup need, as the way in which international arrivals will be scheduled, with different airports allocated to different world regions, means that many passengers will be doing just that.
More to the point, one of the largest labour unions voted in favour of strike action on 17-Oct-2011 and plans selective action to protest the Government's plans to privatise their operations. As Infraero covers both airport operations and ATC, controllers are involved.
Ms Rousseff, the Government, ANAC and Infraero jointly have a fight on their hands to complete the necessary work in time. By some estimates, Brazil needs to invest the equivalent of between USD16 billion and USD22 billion over the next 20 years in order to bring capacity in line with future demand. Current capacity of 130 million passengers will likely need to more than double, to 310 million during the next two decades, to match air traffic demand growth of as much as 7% per year.
Initial interest in the tenders has come, apart from those organisations mentioned earlier, from Spain's AENA Aeropuertos Internacional together with Brazil's OHL Concesiones. AENA is, of course, going through its own (stalled) concession privatisation programme at Barcelona and Madrid, with both the main opposition party (which may well become the Government on 20-Nov) and unions opposed to it. Mexican operators GAP and ASUR may table separate or even joint bids. Most of the other potential bidders are yet to play their hand.
BNDES offers finance
Intriguingly, Brazil's National Development Bank (BNDES) has already played its hand by offering to finance 65% to 70% of investments at the airports to be privatised, though its president Luciano Coutinho baulked at a figure of 80% when asked. BNDES is a federal public company associated with the Ministry of Development, Industry and Foreign Trade. Its goal is to provide long-term financing for endeavours that contribute to the country's development. BNDES is the largest development bank in the world.
The lingering problem with the entire procedure is the continuing association of Infraero, an agency with its strings firmly tied to the military, which means retention of power and influence of an entity at odds with the principles of the market. Specifically, the ill-defined power of veto suggests a big and largely unquantifiable risk for investors. On top of that there is a limited timeframe in which to complete what are expected to be major makeovers for these and other airports, of the kind expected by the top brass in FIFA. It would be unreasonable to blame 'privatisation' as such if these projects turn out to be ignominious failures, but it is in the way of things that such excuses will be offered, rather the actual reason, namely that the Government left it too late in the day to guarantee the work being completed on time, within budget and to a high standard.
Another problem is that Brazil has been hit by the crisis in the Eurozone, which played havoc with third quarter corporate earnings in Brazil and other emerging markets.