IAG earnings fall 34% in 3Q2011, but full-year bullish outlook retained
International Consolidated Airlines Group (IAG), the owner of oneworld members British Airways and Iberia, reported a 33.5% year-on-year fall in operating profit due largely to fuel price increases in the quarter. Despite elevated fuel prices, which are not expected to relent, and deteriorating economic outlooks for Europe and the UK, IAG stands out amongst European carriers as having the most bullish outlook for the full-year. This reflects competitive advantages that accrue to IAG, namely, its exposure to the lucrative and hitherto resilient long-haul market from London.
IAG reported an operating profit of EUR363 million (before exceptional items) in the third quarter, a 33.5% year-on-year fall as revenue growth failed to keep pace with rapidly increasing costs, which where led higher almost entirely by fuel. Net profit fell 27% to EUR283 million in the quarter, due to a lower tax bill in the period compared with a year ago.
Despite macroeconomic uncertainty, which has seen sharp earnings falls across Europe and full-year profit warnings from rivals Air France-KLM and Lufthansa, IAG remains much more upbeat. The group expects a higher level of profitability in the fourth quarter, despite the impact of demand slowdowns and stubbornly high fuel prices. In the nine months to 30-Sep, IAG has recorded a five-fold increase in pre-tax EBIT income. Following the strong fourth quarter, IAG expects to deliver a full-year 2011 operating profit double 2010 levels.
The group, Europe's third largest airline by revenue (behind Lufthansa and Air France-KLM), said that it "saw some demand softness in October", but stated forward bookings for premium cabins are broadly in line with levels seen last year. "Non-premium cabins are weaker than last year, particularly in the Spanish market. We remain ready to adjust our capacity quickly to respond to any sustained downturn."
Revenue gains on fewer pax, but costs eat into earnings
Revenue increased 2.2% to EUR4.49 billion. Passenger revenue was the strongest contributor to the revenue increase, with revenue up 2.9% to EUR3.81 billion. The revenue increase actually followed a 2.7% fall in passenger numbers, to 14.55 million. Cargo revenue was flat year-on-year in 1Q2011 and other revenue was down 3%.

IAG revenue, EBIT (before exceptional items) and EBIT margin: 3Q2010 vs 3Q2010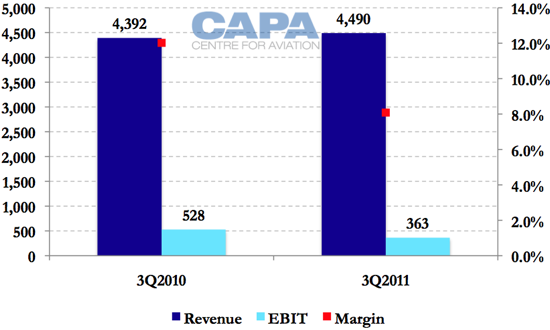 Group ASKs increased 3.1% in the third quarter and RPKs increased 3.4%, boosting load factors 0.3 ppt to 84.5%.
Despite the gains in load factor and passenger revenues, yield was more or less unchanged in the period, falling 0.4% to EUR8.11 cents. RASK was unchanged at EUR6.85 cents and CASK increased 3.5% to EUR7.41 cents, led entirely by fuel costs. Fuel costs per ASK soared 19.9% to EUR2.47 cents. Excluding fuel, costs per ASK were down 3% to EUR4.94 cents, demonstrating the work IAG has done to bring down costs and exploit synergies.
IAG, however, is experiencing a significant imbalance in growth between its two business units, London-based British Airways (BA) and Madrid-based Iberia, with the BA unit expanding much faster, and much more profitably, than its Spanish counterpart. In the third (summer) quarter, which is understandably Spain-based Iberia's strongest opportunity for traffic gains, the airline's traffic (RPKs) fell in all but one month. BA, on the other hand, grew traffic at least 5% in every month in the period.
British Airways vs Iberia, traffic (RPK) growth: 3Q2011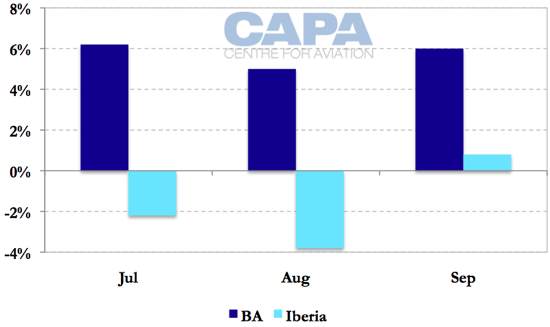 Yields, although not disclosed by airline unit, are also weaker at Iberia than at British Airways, IAG said. Yields in economy were weaker in the third quarter, "particularly in the Spanish market", IAG said. Iberia competes in Europe's biggest LCC market, where penetration levels are around 60%. British Airways, on the other hand, is the largest operator at the world's busiest premium travel airport, and has exposure to London's valuable corporate travel segment, which appears be holding up better than expected in light of economic conditions. "Forward books for premium cabins are currently broadly in line" with 2010 levels, IAG said.
Iberia suffers from the same short-haul problems that plague Lufthansa and Air France, although the Spanish carrier's long-haul business is unlikely to be as profitable as its rivals. IAG has confirmed plans are underway to turnaround Iberia's loss-making short-haul business, which includes the launch of Iberia Express, a new low-cost subsidiary that will take over part of Iberia's short-haul (feeder) network. Weak domestic demand and high fuel prices might keep Iberia in the red until at least 2013, CEO Rafael Sanchez Lozano stated.
Relative to partner BA, Iberia remains heavily exposed to the intra-European market
British Airways international vs domestic capacity (seats): Nov-2011
Iberia international vs domestic capacity (seats): Nov-2011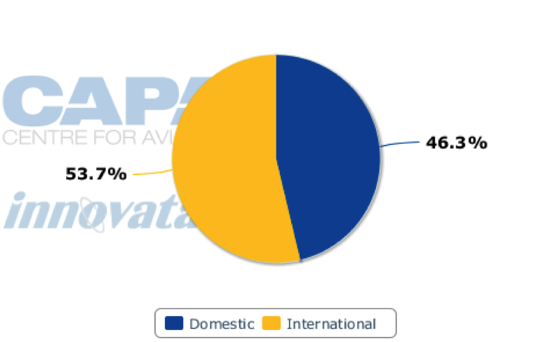 British Airways, with its greater relative international capacity, also has far more exposure to North America, the Middle East, the Caribbean and Southern Africa, according to CAPA's Innovata data. Iberia has far more seats deployed in short-haul markets, where LCC competition is greatest and has little intercontinental exposure outside of South America, which, coincidentally, is where BA is little represented.
British Airways international capacity (seats) by region: Nov-2011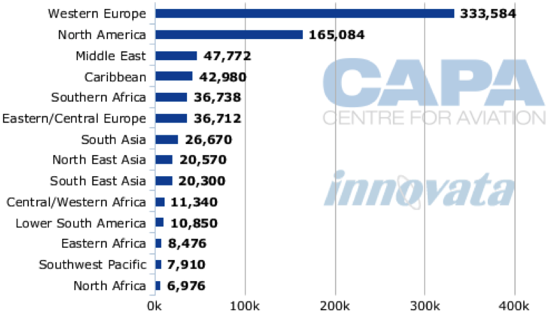 Iberia international capacity (seats) by region: Nov-2011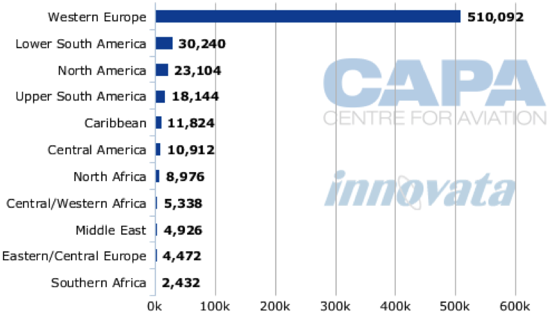 IAG is likely to further exploit the two carriers' highly compatible networks in search of yield growth. IAG is the dominant operator between Europe and Latin America and the group's joint venture with oneworld partner American Airlines on the trans-Atlantic is arguably the most lucrative, due largely to its dominance of the US-UK market. The US-UK country pair is the single largest travel market on the North Atlantic.
Despite the revenue gains, IAG's EBIT income fell sharply in the third quarter due entirely to fuel costs. IAG's fuel bill in the third quarter ballooned to EUR1.39 billion, a 25% year-on-year increase. Fuel accounted for 33% of total costs in the period, up from 28% a year ago.
Non-fuel costs were flat year-on-year in the quarter, despite the 7.7% capacity (ASKs) increase, reflecting the hard work done to contain and kill costs in the wake of the merger. Sharp cost declines were recorded in aircraft lease and employee costs, despite the higher year-on-year staff headcount.
Key changes to come as challenges mount in 2012
The second half of 2011 has so far been a pivotal period in IAG's short history, with two major strategic steps forward announced in recent months. Despite what appears to be relatively smooth sailing in 2011 for IAG, integration efforts among carriers in the growing IAG family will be a key challenge going forward.
IAG's board confirmed in Oct-2011 plans to launch new LCC offshoot Iberia Express, which will operate "part of Iberia's short and medium-haul network". Iberia Express is the group's delayed response to the rapid expansion of LCCs in the Spanish market. IAG has not shed any light on the impact Iberia Express might have on the relationship with Iberia's LCC subsidiary Vueling, which currently operates the same role in the IAG group envisioned for Iberia Express. The new LCC is expected to commence revenue service in Mar-2012 or Apr-2012, Iberia CEO Rafael Sanchez Lozano has stated.
See related article: IAG to establish new LCC subsidiary Iberia Express
Another key strategic move, which was made in Nov-2011, was IAG's in principle agreement with Lufthansa to acquire London Heathrow-based bmi. The deal, which remains subject to regulatory approval, would be a game-changer in the UK market, allowing BA to quickly build on its market leading position. CAPA looked at the acquisition in early Nov-2011 and found that the deal would allow British Airways to increase its number of seats out of prized and slot-restricted London Heathrow airport by 20% to 40% under a range of scenarios. Oneworld's share of traffic at Heathrow could potentially increase from 47% to 60%. IAG CEO said the bmi acquisition would allow the group to "expand BA's long-haul network…to emerging markets, particularly in Asia and Latin America." "We're confident we can make a success of it," Mr Walsh said.
See related article: IAG acquisition of British Midland would give British Airways 20-40% capacity increase at Heathrow
2012 looks set to be another year of ongoing integration efforts for IAG as it works to better combine BA, Iberia, Iberia Express, Vueling and bmi (waiting closure and regulatory approval). IAG conceded the main challenge in 2012 would be to counter high fuel costs against a background of potentially weaker demand. Ongoing cost reduction and yield improvements, including through fuel surcharges, will be the only protection IAG has to offset high fuel costs. The group will seek to further exploit synergies to cut costs, bolster yield through more effective network integration and diversification away from the struggling UK and European economies. The fact that the group failed to offset the high fuel costs with revenue gains was perhaps the only negative in a third quarter result that was otherwise very strong.
IAG looks set to finish its first full-year in a very strong position, relative to peers, giving it a solid foundation on which to progress. This solid footing is of enormous importance as the group is likely to be hit harder than most by added costs in 2012, following the aviation industry's inclusion in the European Union's Emissions Trading Scheme (EU ETS). The group has demonstrated its cost reduction abilities and has taken aim at the UK's onerous Air Passenger Duty (APD) regime. "The competitiveness of the UK economy and the aviation industry has been damaged by Air Passenger Duty with UK airlines facing the highest tax levels in the world," Mr Walsh said. "Unless the British Chancellor reverses this, even more passengers and businesses will avoid the UK and further undermine the economy." The UK Government has not yet announced intentions to heed the industry's calls to change the APD system. If passengers and businesses indeed start avoiding the UK, well-diversified IAG will be hoping the majority of UK deserters opt for Spain instead.