IAG acquisition of British Midland would give British Airways 20-40% capacity increase at Heathrow
Analysis
The in principle agreement between British Airways and Iberia owner International Airlines Group (IAG) to acquire British Midland from Lufthansa would allow British Airways to increase its number of seats out of prized and slot-restricted London Heathrow airport by 20% to 40% under a range of scenarios. Oneworld's share of traffic at London Heathrow could potentially increase from 47% to 60%.
With such dominating control of capacity from British Airways and oneworld, it is little wonder Virgin Atlantic is trying to secure a deal with Lufthansa for British Midland and its valuable 9% share of Heathrow slots. A Virgin Atlantic acquisition of British Midland, even if British Airways is close to signing the deal, would add to Virgin's bargaining power as it seeks to form or join an alliance to remain competitive.
A short statement from IAG on 4-Nov-2011 about the in principle agreement it hopes to finalise in coming weeks ends Lufthansa's long quest to shed itself of under-performing acquisition British Midland.
While details are few and no price has been mentioned for IAG's offer, British Midland is expected to be broken up into more manageable and attractive components, with IAG interested in British Midland's slots at London Heathrow. British Midland controls about 9% of Heathrow's 480,000 annual slots, estimated to be worth between GBP250 million and GBP400 million.
Slots critical but capacity determines affect
That figure of 9% belies the potential impact acquiring British Midland has on Heathrow's largest carrier, British Airways. Using large capacity aircraft would see British Airways disproportionately increase its capacity. The almost guaranteed not to occur scenario of British Airways deploying only Airbus A380s with a low density configuration of 410 seats on all British Midland slots – about 60 return flights daily – would increase British Airways' existing Heathrow capacity by over 50% to one million weekly seats. (Such a scenario would require far more than the 12 firm A380s British Airways has on perhaps, perhaps delighting Airbus' John Leahy but irking Emirates' Tim Clark.)
The likely outcome for the short-term is for British Airways to use the slots for short-haul and long-haul routes. Under a scenario of half the slots being used for short-haul flights on A320s with 152 seats and half for long-haul flights on B777-200s with 229 seats (as a baseline example), British Airways would increase its weekly capacity at Heathrow by 23%.
Potential British Airways London Heathrow capacity changes from acquiring British Midland slots
Capacity at Heathrow
Weekly Seats

Increase

over Current

oneworld Share

at Heathrow

Current: Week of 31-Oct-2011 to 6-Nov-2011
673,912
n/a
47%

Future: Half of acquired slots for 229-seat B777-200 services,

half for 152-seat A320 services

832,027
23%
55%

Future: 75% of acquired slots for 229-seat B777-200 services,

25% for 152-seat A320 services

847,966
26%
56%

Future: Half of acquired slots for 300-seat B777-300 services,

half for 152-seat A320 services

861,492
28%
57%

Future: 75% of acquired slots for 300-seat B777-300 services,

25% for 152-seat A320 services

923,744
37%
60%
In the long-term those slots can be expected to gravitate to mostly long-haul services. When British Airways in Sep-2011 acquired six slots from British Midlands, the carrier said it would use the slots on short-haul and long-haul routes but eventually only long-haul routes. Under a scenario where 75% of the new slots are used for long-haul services on 229 seat B777-200s and 25% of the slots on 152-seat A320s, British Airways would increase its Heathrow capacity by 26% from current levels. Using 300 seat B777-300ERs instead of the B777-200 under the same scenario would boost seat capacity at Heathrow by 37% from current levels.
British Airways also operates 213,546 seats to and from airports, primarily London Gatwick, besides London Heathrow. British Airways can be expected to shift existing flights from Gatwick to Heathrow with the new slots as well as open new services. British Airways is the 18th largest carrier globally based on available seats. While it could be expected to move up one or two rankings, potentially overtaking JAL and easyJet, an increase in overall capacity would have to be matched by long-term fleet expansion plans, which other carriers are embarking on as well.
London Heathrow Airport capacity (seats per week) by carrier (31-Oct-2011 to 06-Nov-2011)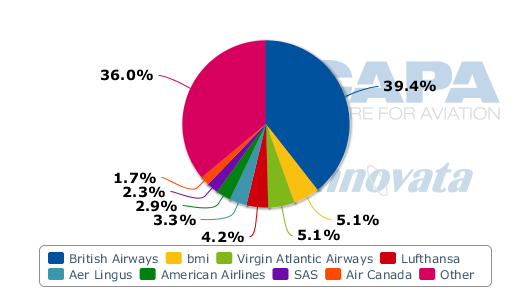 Oneworld becomes majority presence at Heathrow
The oneworld alliance accounts for 47% of current seats at Heathrow due to British Airways' dominating presence as well as large capacity from alliance members American Airlines, Iberia, Cathay and Qantas. Not many additional slots and associated capacity are needed to tip control of the airport to oneworld. Oneworld control of Heathrow would increase to approximately 55% if the slots were split evenly between A320 and B777-200 services. Using 25% of the slots for A320 services and 75% for B777-300ER services would see oneworld control 60% of Heathrow capacity.
The highly unlikely scenario of British Airways only using A380s on the new slots would see oneworld control 67% of Heathrow seat capacity. But that would still be lesser dominance than at some other hub airports, such as Atlanta where SkyTeam controls 78% of capacity or Frankfurt where Star controls 79% of capacity.
London Heathrow Airport capacity (seats) share by alliance (31-Oct-2011 to 06-Nov-2011)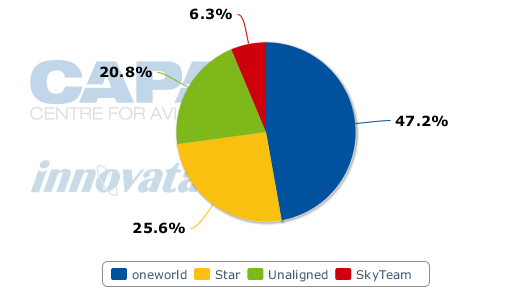 No way BA-BMI, Virgin to say
Virgin Atlantic has said it is still in discussions with Lufthansa and hopes to reach a deal despite the in principle agreement between Lufthansa and IAG. It would be in Lufthansa's strategic interest to hand the gold pot of slots to a lesser competitor, such as Virgin Atlantic. But IAG may be willing to pay more, tipping the balance – measured against any long-term revenue declines at Lufthansa from a more powerful British Airways at Heathrow. Previous reports have indicated Virgin Atlantic may be working with Etihad to complete a deal.
Virgin Atlantic with its founder and consumer crusader Sir Richard Branson can be expected to fight IAG's acquisition if it proceeds, although IAG is confident it will obtain clearance.
London Heathrow Airport capacity (seats per week) by carrier (31-Oct-2011 to 06-Nov-2011)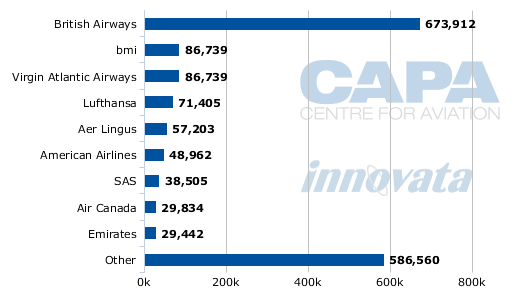 Regulatory clearance
The existence of such a distorted competitive outlook if IAG completes the transaction with Lufthansa will make it a difficult case for regulators to approve unconditionally. A situation may emerge where IAG has to surrender some of the slots, as British Airways and American Airlines did in 2010 in order to receive trans-Atlantic anti-trust immunity.
A done deal or room for negotiation?
The short statements issued after media leaks earlier this week suggest the IAG-Lufthansa deal is not being announced in hopes of Lufthansa securing a better offer from other interested parties, such as Virgin Atlantic. But the news will certainly prompt the parties to re-examine their offers for the acquisition of the decade at the world's most congested and popular airport.