Hawaiian Airlines sees promising signs for Japanese outbound recovery
Analysis
While many airlines are watching for the return of Japanese outbound travel demand, this traffic flow is particularly important to Hawaiian Airlines.
Japan represented the airline's largest international market before the pandemic, and its restoration will be a key element in Hawaiian's full recovery. However, overall international leisure travel from Japan has been slow to resume after most entry restrictions were removed in Oct-2022.
Other airlines are also affected by this trend. All Nippon Airways and Japan Airlines have both discussed it previously, as seen in this analysis of ANA and this one on JAL.
The relative significance of the Japan market to Hawaiian Airlines, and to the state's tourism industry, means the airline has some interesting insights into post-pandemic outbound demand dynamics there.
Theo Panagiotoulias, Hawaiian Airlines senior vice president for global sales and alliances, talked to Aviation Week about what Hawaiian is seeing in this important market.
Summary:
There were 134 Japan-Hawaii flights per week before the COVID-19 pandemic, but there are now only 65.
Outbound passenger numbers from Japan to Hawaii remain 70-80% lower than pre-pandemic levels.
Government actions in Mar-2023 and May-2023 could help spur outbound recovery.
Travel from other markets to Hawaii has rebounded strongly, particularly from mainland US.
Hawaiian Airlines has been able to reallocate Japan capacity to better-performing markets.
Capacity is still down on Japan-Hawaii routes, but the decline in visitor numbers is larger
Hawaii is usually a very popular destination for Japanese travellers.
Just before the COVID pandemic hit there were 134 flights per week from Japan to Honolulu on all airlines, according to data from CAPA and OAG. Now there are 65 weekly frequencies, or slightly less than half of the total from early Mar-2020.
One-way departing flights from Japan to Honolulu: all airlines, as measured in weekly frequencies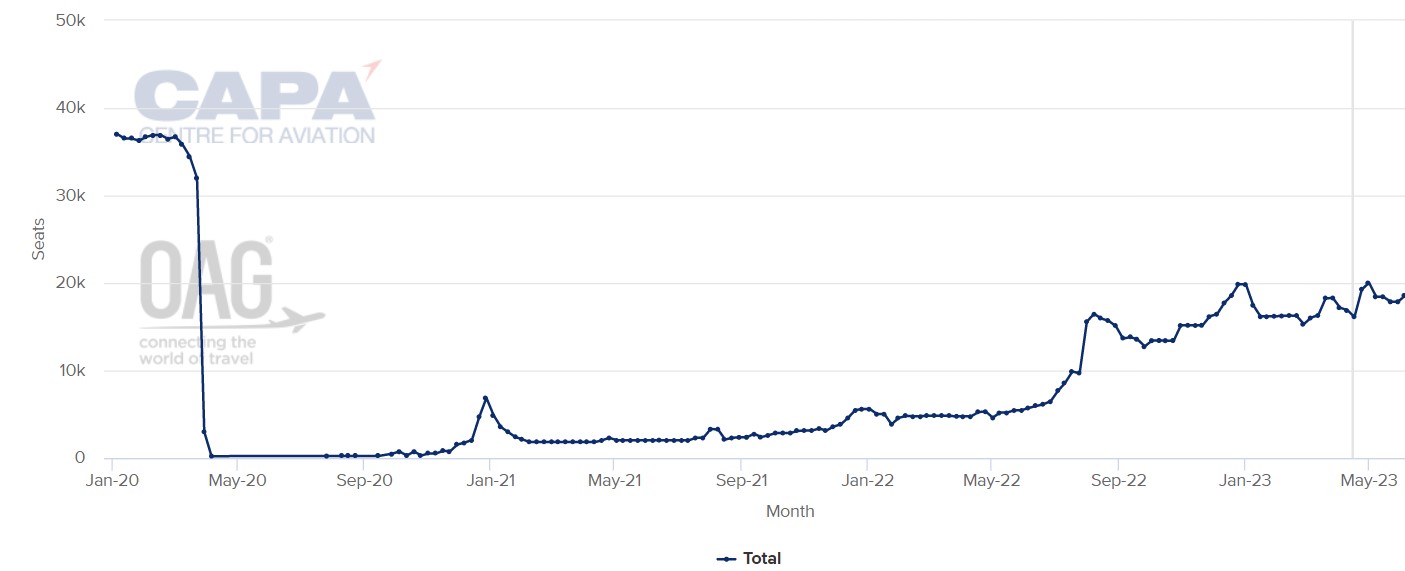 Passenger numbers are down more than capacity. Overall outbound international travel from Japan is about 70% less than pre-pandemic levels, and this also applies to the Japan-Hawaii market, said Mr Panagiotoulias.
This is reflected in data from Hawaii's Department of Business, Economic Development and Tourism. For the month of Feb-2023, the department reported that the state's visitor numbers from Japan were down by 77.9% versus 2019 levels.
In comparison, visitor numbers from the US mainland to Hawaii were significantly above 2019 levels in Feb-2023. Visitor numbers from Canada were down by 17.6%, and visitors from all other international markets were down by 20.6%.
At the same time, overall demand is strong for inbound travel to Japan.
However, Mr Panagiotoulias noted that this inbound demand does not benefit Hawaiian Airlines as much as other airlines, since 90% of the passengers on routes between Hawaii and Japan originate from Japan.
Hawaiian Airlines currently operates routes from Honolulu to both Tokyo airports – Narita and Haneda – and a route to Osaka. The airline plans to restart its flights to Fukuoka on 28-Apr-2023, although its route to Sapporo remains suspended.
Japanese outbound tourism is proving slow to gain momentum, but it will come back eventually
There are multiple reasons why Japan's international outbound market has been sluggish, Mr Panagiotoulias said. The lingering effect of the pandemic itself has been a disincentive, as Japanese travellers tend to be relatively risk-averse.
Another factor is that the Japanese government has been spending a lot of money on promoting domestic leisure travel. And a relatively weak yen makes travelling overseas a lot more expensive.
However, Mr Panagiotoulias is confident that Japanese international outbound demand will fully return. Past industry crises have shown that "the Japanese market is slow to recover, but when it does, it recovers pretty robustly", he said.
"It will come back, it's just a matter of time."
There is a strong affinity between Japan and Hawaii, Mr Panagiotoulias said. There are long term cultural ties between the two markets, and Hawaii is viewed as an aspirational destination by many in Japan.
Further downgrading of Japan's COVID-19 measures should help boost travel sentiment
It is hard to predict when Japanese overseas tourism will rebound. However, there are some significant trigger points that Hawaiian Airlines has been watching closely, Mr Panagiotoulias said.
The first of these occurred in Mar-2023, when the Japanese government relaxed its general mask-wearing guidelines. The next trigger will be on 8-May-2023, when the government is due to downgrade COVID-19 to the same category as the seasonal flu.
These moves are important from a psychological perspective, and will hopefully make the public more confident about travelling overseas.
"All these steps will send important messages to the community," Mr Panagiotoulias said.
Hawaiian Airlines did see some movement in demand when the mask rule was eased. Mr Panagiotoulias said Japanese bookings for the northern summer season are starting to see a recovery, although he cautions that "it is not a fast one, it is a step-by-step gradual recovery".
Meanwhile, outbound travel to Hawaii from other US and international markets is surging
There has been a much more positive rebound for Hawaiian Airlines in its other markets.
Demand from the US mainland has been very strong, and the airline's international routes to South Korea, Australia and New Zealand have also recovered well, Mr Panagiotoulias said.
Hawaiian Airlines has been able to allocate aircraft to the US mainland routes that normally would be used on Japan routes – particularly Airbus A330s.
The airline wanted to take advantage of idle aircraft when its Japanese routes did not recover as quickly as its other major markets, said Mr Panagiotoulias. "This gave us the ability to pivot and redeploy the aircraft that otherwise would have flown to Japan and put them where we were seeing really strong demand", he said.
The surplus Japanese capacity has also helped while some of Hawaiian Airlines' Airbus A321neos are grounded. The airline currently has three A321neos out of service due to an engine-servicing backlog at the supplier Pratt & Whitney that is also affecting other airlines.
Hawaii's long-standing popularity in the Japanese market will be an advantage as outbound travel picks up
It is realistic to expect that the important Japan-Hawaii tourism demand will return fully to pre-pandemic levels. As with some other international markets that have been slow to recover, the underlying fundamentals that drove Japan-Hawaii demand are still there, and will reassert themselves.
The demand recovery that has occurred in Hawaiian Airlines' other markets will happen on the Japan routes too, although the growth curve has obviously shifted to the right.
While the speed of the recovery remains an unknown factor, it is likely to accelerate during the northern summer season and through the remainder of 2023. And the popularity and familiarity of Hawaii with Japanese travellers may mean that it recovers faster than many other Japanese outbound markets.