Gatwick's first full-year financials – few signs of an upturn
Analysis
London Gatwick Airport released its FY2011 annual report, outlining the financial highlights for the 12 months ended 31-Mar-2011, the first full year of operation under the control of Global Infrastructure Partners (GIP), which took over Gatwick from BAA in Dec-2009. While the management is upbeat the highlights do not inspire confidence, even allowing for some poor trading circumstances during the year in question.
Table: Financial highlights for the 12 months ended 31-Mar-2011. All financial figures are GBP million:
| Measure | Amount | Variation % |
| --- | --- | --- |
| Revenue | 476.3 | +0.2 |
| (Aeronautical) | 244.3 | +0.1 |
| (Retail) | 115.6 | +0.5 |
| (Car parking) | 51.7 | +2.6 |
| (Other, including property rental) | 64.7 | -1.8 |
| Total ordinary operating costs | 363.4 | -4.19 |
| EBITDA* | 189.4 | +12.2 |
| EBITDA margin | 39.76% | (pre-exceptionals) |
| Capital investment | 211.4 | +16.5 |
| Regulatory Asset Base | 1985.5 | +13.8 |
| Net debt | 1184 | +55.2 |
| Passenger numbers | 31.6 million | -2.3 |
| Aircraft movements | 235,738 | -3.6 |
| Average load factor | 78.7% | +0.7 ppts |
The GIP management, led by CEO Stewart Wingate, quickly set out its stall to "transform the passenger experience" and improve efficiency right from the start at Gatwick, necessarily incurring investment costs which have already become evident in the table above (cap ex of GBP211.4 million, +16.5%, part of a GBP1 billion expenditure strategy).
Transforming the experience and improving efficiency formed part of an overall strategy to differentiate Gatwick from the two BAA London airports – Heathrow (an international hub simply by way of the huge volume of traffic that transits it) and Stansted, which is dedicated in the main to low-cost airlines – and thereby improving its competitiveness.
"Becoming London's airport of choice" (a slogan not dissimilar from that of Heathrow) is also part of the strategy, an indirect reference perhaps to the legions of international transit passengers at Heathrow that have no reference to London, and to the hordes of budget travellers from all over the UK that converge on Stansted in order to fly to obscure cities in Europe that are not served by any other UK airport. Gatwick's marketing and promotion indisputably attempts to identify it as the O&D airport for London and the southern Home Counties (Surrey, East and West Sussex and Kent).
MAP: The Home Counties
Another key plank of the strategy is to increase value and efficiency by maximising income, lowering operating costs and driving capital efficiency.
The jury is out on whether or not that has been achieved. Revenues rose only marginally, by 0.2%, with car parking revenues leading the way. Aeronautical income was flat as passenger numbers fell.
Costs reduced – on paper at least
But if income did not rise appreciably at least the management was successful in containing and reducing costs – at least on paper. An example perhaps of how a culture of excess can continue to pervade a previously state sector company (BAA, or even British Airways) long after it has been privatised. The biggest saving was in the vague category "general expenses" and was GBP7.5 million, enough to cover at least 50% of the rise in staff costs. But the real saving came from the removal of BAA's intra-group charges, which had been more than GBP23 million in the previous year.
Of course, Gatwick was affected by the volcanic ash cloud in Apr-2010 as were most UK airports. It was adversely affected also by heavy snow in Nov and Dec-2010, initially before Heathrow was but ultimately not as badly as the management reacted quickly by acquiring additional snow-clearing equipment and seemingly having been better prepared in the first place. These factors must be taken into account.
Stewart Wingate attempted to put the best spin on it when he said: "Resilient passenger traffic combined with our relentless focus on cost efficiency helped us achieve solid financial results. We also successfully refinanced the business, enhancing our capital structure and establishing a strong liquidity position. We worked in partnership with the airlines to re-scope our near GBP1 billion capital investment programme, which is now being delivered with greater efficiency and pace. Passengers and airlines are already benefiting from new, modern facilities and we are currently investing around GBP20 million per month."
Middle of the road margin
Perhaps so, but to the casual observer it does not appear that great progress is being made with any speed, despite all the claims about cap ex. The EBITDA increase is a positive but the margin remains middle-of-the road and at best on par with BAA. Some of the investors in Gatwick (see 'Background Information' below) are pension funds that have come on board since the Dec-2009 sale, and, together with sovereign wealth funds, they are in no hurry to see a big upturn in performance. They need to put their money somewhere and it might as well be in the bricks, mortar and concrete of a big airport.
But an infrastructure fund like GIP might reasonably expect to dip in and out of investments with the objective of making a quick killing and there is no sign of that being possible, never mind imminent, from the figures in the table above, even allowing for some difficult trading months
That cap ex programme is detailed below:
The Company spent GBP211.4 million on Gatwick's Capital Investment Programme during 2011, the third year of Q5 (2010: GBP181.4 million). In addition, the Company acquired two car parks from Ivy Subco, a subsidiary of Ivy Bidco, which is the immediate owner of the share capital of the Company for GBP20.8 million as part of the refinancing package. This brings total capital expenditure for Q5 to GBP517.6 million (2010: GBP285.4 million). Approximately a further GBP400 million will be invested in the next two years of 'Q5.'
For the year ending 31-Mar-2014 (the last year of the now extended Q5), consultation is underway with the airlines operating at Gatwick on approximately GBP250 million of additional capital expenditure.
The following key projects were completed during the year, resulting in "improved passenger experience, increased capacity, improved airline performance and updated technology at Gatwick":
• The new Shuttle that runs between the North and South Terminals commenced service in Jul-2010, two months ahead of schedule;
• Two projects improving the access routes for passengers were completed in the North Terminal in the middle of the year;
• In the South Terminal, the first phase of refurbishment works to gate rooms in Pier 2 were completed in Mar-2011; and
• The North West zone aircraft parking area was completed during the year, creating six new wide-bodied aircraft stands which will enable A380s to park at Gatwick.
Financing for many of these projects will come from bond issues. On 02-March 2011, the Company's subsidiary, Gatwick Funding Limited, issued GBP600 million publicly listed fixed rate secured bonds comprising GBP300 million Class A 6.125% bonds with scheduled and legal maturities of 2026 and 2028 respectively, and GBP300 million Class A 6.5 per cent bonds with scheduled and legal maturities of 2041 and 2043 respectively. The proceeds of the issue were lent to the Company under the Borrower Loan Agreement, the terms of which are essentially back-to-back with those of the Bonds. The GBP596.5 million net proceeds of the Bonds and drawings under the term facility of the Initial ACF Agreement were utilised to prepay and terminate the outstanding amounts under the Facilities Agreement. A GBP350.5 million interim dividend was also declared and paid by the Company.
Gatwick takes on the regional airports over APD levels
Gatwick, now annexed from BAA, is one of many UK airports to have responded to the UK government's consultation on the future of Air Passenger Duty (APD). It described calls by regional airports to increase taxes on passengers flying from London airports (which presumably includes Stobart Group's small but fast-expanding London Southend Airport amongst others) as "utter nonsense" and "disingenuous". Gatwick management stated that the regional airports are urging the government to impose "yet another tax on hardworking families living in London and the South East, who are just as hard hit as those living in the regions", adding that their argument that a differential tax system "falls foul of logic". "The vast majority of international passengers, [both] leisure and business visiting the UK, simply want to visit London," Gatwick claims; beefing up its "airport for London" position in a manner that seems almost calculated to exacerbate an already enormous north-south divide. "To ask them to fly into a remote regional airport and then take a train is simply ludicrous. They may just decide not to come to the UK at all." Gatwick urged the regional airports to "join with us" and take the opportunity to call for a fair tax on flying for all UK passengers.
One interesting development at the end of Jun-2011 is that British Airways, or London Airways as it is known in many parts of the country, has "given up hope of a third runway at its London Heathrow base", according to its CEO, Willie Walsh, who again threatened to shift future growth to Madrid, home base of its International Airlines Group partner Iberia, a mantra that is increasingly reminiscent of Lord King's repeated threats to shift BA 'lock, stock and barrel' to Stansted in the 1980s. While London Mayor Boris Johnson was quick to jump back on the bandwagon (he consistently presses for a new airport to be built to the east of the city) it does pose again the issue of a second runway for Gatwick. By law such no additional runway could be built before 2019 as things stand but GIP has never convinced many analysts that it has written off a legal challenge to the covenant, which was agreed in the 1970s. It is just that now is not the best time to do it with such an anti-aviation government in power. But when will be the best time?
Gatwick also made the news in Jun-2011 when the CAA ruled that it had applied discriminatory charges for check-in facilities, following Ryanair's 2009 complaint into passenger charges there.
Data on London Gatwick airport – from CAPA profiles
Chart: London Gatwick Airport international vs. domestic capacity share (27-Jun-2011 to 03-Jul-2011)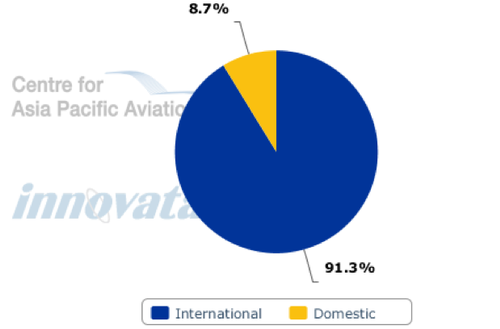 Chart: London Gatwick Airport capacity (seats per week, to/from) by carrier, 27-Jun to 03-Jul, 2011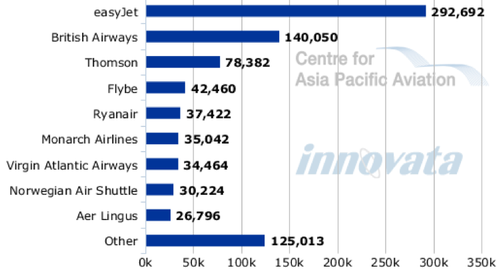 Chart: London Gatwick Airport international capacity by region (27-Jun-2011 to 03-Jul-2011)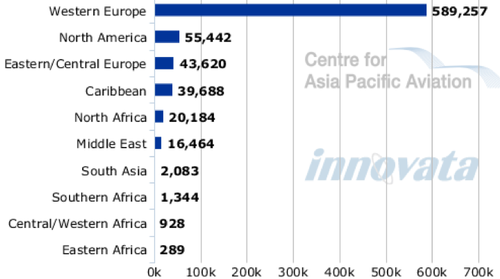 Chart: London Gatwick Airport capacity share by carrier type (27-Jun-2011 to 03-Jul-2011)
Chart: London Gatwick Airport capacity share by alliance (27-Jun-2011 to 03-Jul-2011)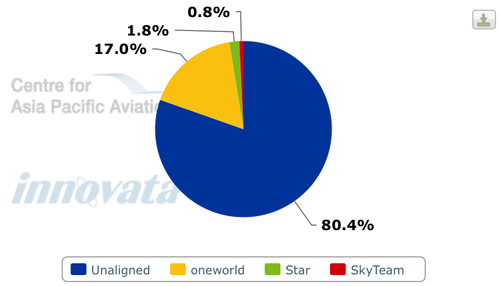 Chart: London Gatwick Airport top ten international routes, 27-Jun to 03-Jul 2011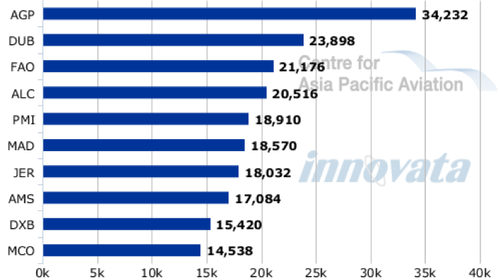 Chart: London Gatwick Airport top ten domestic routes, 27-Jun to 03-Jul 2011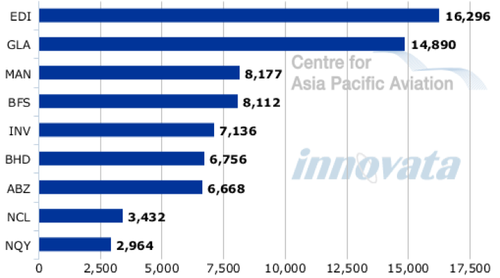 Outside of its two UK airports, Gatwick and London City, GIP is currently bidding for the airport assets of Hochtief AG, which are being sold off prior to a takeover by Spanish group and minority investor ACS. It has teamed up with German financial services group Allianz SE to do so, in what is believed to be Allianz's first venture into airport investment. Those assets comprising (partial equity of Athens, Budapest, Dusseldorf, Hamburg, Tirana and Sydney airports) are valued at EUR1.5 billion which is approximately what GIP paid for Gatwick Airport 18 months ago.
Allianz is also one of the world's largest asset managers, with third-party assets of EUR1,164 billion under management at year end 2010 and is the largest insurance provider in Germany.
Background information:
Gatwick Airport Limited is ultimately owned by a consortium through a number of UK and overseas holding companies and limited liability partnerships.
The consortium that ultimately owns the Company currently comprises the following parties:
Global Infrastructure Partners ("GIP")1 41.95%
The Abu Dhabi Investment Authority ("ADIA")2 15.90%
The California Public Employees' Retirement System ("CalPERS")3 12.78%
Future Fund Board of Guardians ("Future Fund")5 17.23%
1 Global Infrastructure Partners ("GIP") is a USD5.64 billion independent, specialist infrastructure fund that invests worldwide in infrastructure assets and businesses in both OECD and select emerging market countries. GIP was founded in 2006 by former senior executives from Credit Suisse and the General Electric Company. GIP targets investments in the energy, transportation and water / waste industries. GIP has offices in New York and London with an affiliate in Sydney and portfolio operations headquarters in Stamford, Connecticut;
2 The Abu Dhabi Investment Authority ("ADIA"), established in 1976, is a globally diversified investment institution, whose sole mission is to invest funds on behalf of the Government of the Emirate of Abu Dhabi to make available the necessary financial resources to secure and maintain the welfare of the Emirate;
3 The California Public Employees' Retirement System ("CalPERS") manages retirement benefits for more than 1.6 million public employees, retirees, and their families and more than 3,000 employers in the state of California, United States of America. CalPERS also manages health benefits for more than 1.3 million members. The CalPERS fund invests in a range of asset classes, with a current market value of approximately USD235 billion;
4 National Pension Service of Korea ("NPS"), which is a public pension fund for the general public in Korea which has grown to KRW300 trillion (USD270 billion), and is the fourth largest pension fund in the world;
5 Future Fund Board of Guardians ("Future Fund") is a financial asset fund established by the Future Fund Act 2006 to assist future Australian governments meet the cost of public sector superannuation liabilities by delivering investment returns on contributions to the fund. The fund has approximately AUD75 billion assets under management.
London Gatwick is the second busiest airport in the UK. Hosting regional and international scheduled and charter passenger and cargo services, it is a hub for airlines including Aer Lingus, British Airways, easyJet (Its largest base), Flybe, Monarch Airlines, Thomas Cook Airlines, Thomson Airways and Virgin Atlantic. London Gatwick is the busiest single-runway airport in the world.