Frontier to celebrate ULCC transition with an IPO: intensity grows in the US competitive landscape
After toying with the idea of engaging in an initial public offering for more than year, the US ULCC Frontier Airlines now intends to go public as its major shareholder, ULCC specialist Indigo Partners, sets its sights on Argentina. Frontier has arrived at and passed many ULCC milestones, including producing unit costs excluding fuel below the USD6 cent benchmark for the ULCC model, placing it on par with its fellow ULCCs Spirit Airlines and Allegiant.

Frontier markets its product differently from other US ULCCs, giving passengers the options to purchase product in a bundled form or a la carte, but it still maintains ultra low fares. However, Frontier couldn't escape the pricing pressure that permeated the US market in 2016, joining the majority of the country's airlines in posting distinct yield and unit revenue declines.

Obviously, despite the pricing pressure and changing dynamics in the US market, Frontier remains bullish on the opportunities for ULCCs in the market place, concluding that numerous markets exist for it to operate profitably with low fares.
During the past several years Frontier's network focus has been somewhat murky. Now Frontier's network strategy is targeting high fare, underserved routes. And like its rival Spirit, Frontier also singles out medium sized markets that offer some protection from larger competitors.
Frontier attains ULCC unit costs and grows profits over the past three years
After a stint in Chapter 11 and an acquisition by the US regional operator Republic Airways Holdings, the ULCC specialist Indigo Partners purchased Frontier in late 2013. Indigo is a global player in establishing low cost airlines, and was instrumental in Spirit's transformation into the leading US ULCC.

See related report: Indigo's real work in Frontier's ultra low cost aspirations begins in earnest as the deal closes

Under Indigo's direction and the installation of a management team with ULCC experience, Frontier has fully transformed itself from a somewhat hybrid airline into a fully fledged low cost airline, reflected in its adjusted unit costs excluding fuel falling from USD7.89 cents at YE2013 to USD5.43 cents at YE2016. Its rival Spirit recorded unit costs excluding fuel and special items of USD5.45 cents during 2016.

After posting a USD1 million loss for the 11M ending Nov-2013, Frontier was profitable from 2014 to 2016 (some of which was driven by lower fuel costs), while growing annual ASMs at 12%, 24% and 20%, respectively. The airline ended 2016 with USD612 million in cash.
Frontier Airlines select financial results: 2014 to 2016
| | | | |
| --- | --- | --- | --- |
| Financial metric | 2014 | 2015 | 2016 |
| Net income | USD140 million | USD146 million | USD200 million |
| Revenue | USD1.6 billion | USD1.6 billion | USD1.7 billion |
| Adjusted Unit costs excluding fuel | USD6.63 cents | USD5.86 cents | USD5.43 cents |
| Operating income | USD228 million | USD233 million | USD317 million |
Frontier does not escape widespread pricing pressure in the US domestic market
Frontier takes a slightly different approach to its product offering for passengers.
It has opted to create bundled options dubbed "The Works" that include a seat assignment, carry on baggage, ticket changes and refunds, and priority boarding. Its "The Perks" bundle allows passengers to pay for the same amenities as The Works with the exception of refunds and ticket changes through third parties. Frontier's rival Spirit has stuck to an unbundled strategy, offering a bare bones basic fare, and charging for the add ons included in Frontier's bundled options.

It is tough to determine which ULCC has the better formula. During 2015 and 2016 the majority of US airlines faced a scenario of rising domestic capacity that pressured fares.

Spirit's yields and total unit revenues fell 9.6% year-on-year in 2016, while Frontier's yields dropped 31% and total unit revenue decreased 11.4%. Frontier's TRASM of USD9.33 cents posted in 2016 was higher than Spirit's USD9.11 cent TRASM, driven by 50% growth in Frontier's non ticket revenue per available seat mile to USD3.95 cents.
Frontier Airlines, capacity, yield and unit revenue performance: 2014 to 2016
| | | | |
| --- | --- | --- | --- |
| Metric | 2014 | 2015 | 2016 |
| Capacity growth | 13% | 24% | 20% |
| Yields | USD11.91 cents | USD8.97 cents | USD6.17 cents |
| PRASM | USD10.77 cents | USD7.90 cents | USD5.38 cents |
| TRASM | USD12.92 cents | USD7.90 cents | USD9.33 cents |
| Passengers carried | 12 million | 13 million | 15 million |
As of YE2016 Frontier's average non ticket revenue per passenger was USD48.57, up from USD30.45 the year prior, and non ticket revenue in 2016 represented 42% of its total USD1.7 billion in operating revenue.

Spirit's non ticket revenue per passenger in 2016 was USD51.87 – a 4% drop year-on-year. Previously Spirit has cited modest pressure on take up rates for certain ancillary items such as bag and change fees, which were correlated with lower fare prices in its markets. Non ticket revenues represent nearly 50% of Spirit's total revenue.

See related report: Spirit Airlines expresses cautious optimism about pricing improvement in the sagging US market

Frontier's top line total non ticket revenue jumped from USD401 million in 2015 to USD726 million in 2016, driven by changes made to its baggage pricing structure in 2015 and the implementation of a convenience in 2H2015.

Frontier's bundled options could be an effective marketing strategy as American, Delta and United roll out their segmented pricing options. Depending on how Frontier prices its bundled product, The Works could be a lower cost option than Basic Economy on the majors with perks included. If Frontier can sustain its unit cost advantage, its price points for a bundled product could compete effectively with basic economy fares offered by the US majors.
Frontier adds a raft of new routes in 2016 as it puts less focus on Denver
During the past couple of years Frontier has worked to de-emphasise its dependence on Denver, which was a hub for the airline when it operated under a different business model.
The airline's network strategy has been difficult to determine. During 2012 it had a short lived stint with Colorado Springs as a focus city; pulled out and then re-entered the market in 2016 along with adding back service to San Antonio and Columbus. The company has built up a base in Trenton, New Jersey (begun in 2012), and since that time has also added back flights to nearby Philadelphia. Frontier also operated for a short time from Wilmington, Delaware.

See related reports:
With the transition to the ULCC business model Frontier has worked to de-emphasise Denver, recently stating that it had reduced the number of O&D flights from Denver from 90% in Dec-2013 to close to 45% as of Dec-2016. Denver remains Frontier's largest base by destinations served, but not by a wide margin over its second biggest base – Orlando International.
Frontier Airlines global top domestic airports by destinations served: 3-Apr-2017 to 9-Apr-2017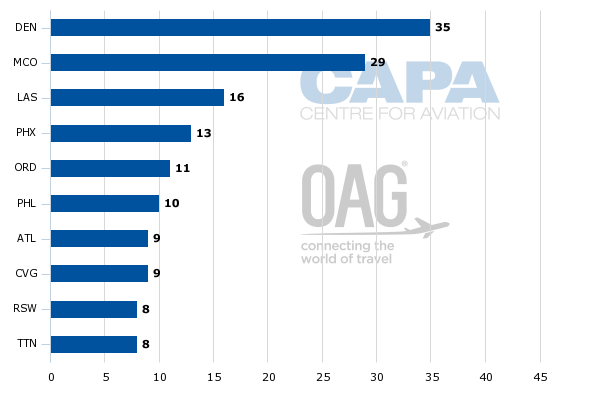 Frontier's network strategy adheres to the ULCC philosophy – targeting high fare or underserved markets with low fares to stimulate traffic. The company has calculated that as of Feb-2017 its passenger composition was 51% leisure, 42% visiting friends and relatives (VFR), and 7% corporate.

As well, the airline has a focus on small to medium sized markets, which have also drawn attention from rival Spirit during the past year. Frontier has stated that as of Dec-2016 it served 28 of the 43 medium sized markets in the US from airports complementing Denver including Orlando, Las Vegas, Philadelphia, Cincinnati, Cleveland, Atlanta, Trenton, Chicago O'Hare and Phoenix. The airline posted rapid network growth in 2016, launching 80 new routes.
Frontier believes the logic for ULCC passenger stimulation remains firmly in place
As it works to access the public markets Frontier is touting the potential for the ULCC model in the US. Citing data from the US DoT, Frontier has noted that more than 500 million domestic passengers travelled in the US for the 12M ending Sep-2016.
Of those 500 million passengers, more than 300 million paid fares at least 30% higher than Frontier's fares adjusted for stage length. The airline's average stage length in 2016 was 1,060 statute miles (1,705km).

Frontier has drawn a similar conclusion to its ULCC rival Spirit – a significant number of markets exist that have the profile to operate profitably with low fares and stimulate passenger growth. Offering an example, Frontier has stated that in markets where the company entered in Mar-2015 and Apr-2015 – industry passenger volumes increased by an average of approximately 41% in the six months ended September 30, 2016, as compared to the same period in 2014.

Although both Frontier and Spirit each logged 20% capacity growth in 2016, their presence in the US market remains small – combined the two airlines represent just 4.6% of US domestic seats on offer for the week of 3-Apr-2017.
United States of America domestic capacity by airline (% of seats): 3-Apr-2017 to 9-Apr-2017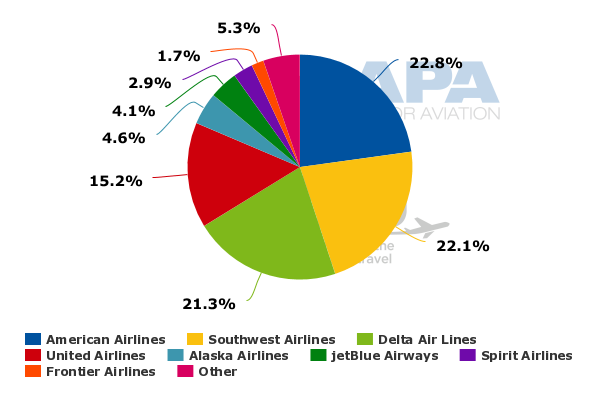 The logic offered by Frontier and Spirit for passenger stimulation opportunities in the US market remains sound. But American, Delta and United are working to compete more effectively with low cost competitors, and the next couple of years should shed light on whether those efforts are affecting the business case for the ultra low cost model in the US domestic market.
Frontier goes public in an intensely competitive US market
Frontier has hinted on and off about a potential IPO for about a year. With current market strength and promises of a more business friendly operating environment from the new administration of President Trump, Indigo may have decided the time is right for Frontier to access public markets. Indigo is also attempting to launch a ULCC in Chile, so it obviously needs resources to support that venture.

Frontier has made significant progress in quickly converting to a formidable ULCC competitor during a short two year transition period. But it aims to become a publicly traded company in a much more competitive US environment. For Frontier, its successful transition is just the beginning of proving its ULCC mettle in the US market.