Spirit Airlines expresses cautious optimism about pricing improvement in the sagging US market
Analysis
Similarly to the largest US global network airlines, the ULCC Spirit is welcoming signs of a modest improvement in the US pricing environment. The company's decline in total unit revenues year-on-year in 3Q2016 slowed to single digits – compared with some of the steepest decreases recorded among US airlines for the past year. If the overall trends in the US market stick Spirit's sequential unit revenue improvements should continue, reflected in projected further improvement in 4Q2016. However, unlike some US airlines, Spirit is not offering a specific timeframe for a return to positive unit revenue.

Spirit also posted sequential improvement from non-ticket revenue declines in 3Q2016. The airline has been battling soft pricing in baggage fees tied to lower ticket prices. It has been in the process of incorporating ways to shore up non-ticket revenue, including adopting more dynamic pricing of its ancillary products.

Throughout 2016 Spirit has retained a number of smaller-gauge Airbus A319s as it adopts a pivot in its network strategy – to smaller markets. Looking forward, the company is not ruling out talks with other manufacturers about its long-term fleet needs, reasoning that with Airbus' strength among low cost airlines other airframers are ultimately going to act aggressively to secure new business.
Spirit benefits from modest improvement in the US pricing environment
Spirit posted a 7% drop in total unit revenue per available seat mile (TRASM) year-on-year in 3Q2016 – which was a sequential improvement from double-digit declines posted in 1Q2016 and 2Q2016. Spirit's 7% TRASM decrease in 3Q2016 was better than the airline's original forecast of a 9% decline year-on-year. The improved revenues were driven by a slowdown in yield declines during the 9M ending Sep-2016.
Yield and TRASM performance of Spirit Airlines: 1Q2016 to 3Q2016
| | | |
| --- | --- | --- |
| Quarter | Yield decline | TRASM decline |
| 1Q2016 | 13.8% | 13.6% |
| 2Q2016 | 14.7% | 14.3% |
| 3Q2016 | 7.9% | 7% |
See related report: Spirit Airlines fees the sting of Southwest's discounting. First signs emerge of changing network mix

Spirit has observed that modest improvement occurred in US industry pricing overall during 3Q2016, and the company has stated that constructive trends are continuing to support yield improvement in 4Q2016.

The largest three US airlines (United, American, Delta) all concluded that price pressure on close-in bookings began to ease late in 3Q2016, providing those airlines with fresh optimism that negative unit revenue trends could turn in the near future.

Spirit's CEO Robert Fornaro recently stated that "AAdvantage" pricing was "largely gone". Earlier in 2016 Mr Fornaro said that American and other US legacy airlines had reinstituted the advantage fares and other similar fare products – which entail offering a lower price on a connecting itinerary versus a nonstop trip. American cited the previous absence of those types of fares as one element driving weaker close-in demand.

See related reports:
Mr Fornaro explained that Spirit was able to push through an across-the-board fare increase of USD5 in Sep-2016, and also added surcharges on Fridays and Sundays. "We actually think there is a lot of opportunity on peak days to improve our own underlying fares, outside whatever else goes in the industry", he stated.

"We've had two years of fairly substantial yield declines and I think we see a real good opportunity of initiatives just unto ourselves that's going to help us going forward", Mr Fornaro concluded.

Previously Spirit has said that currency challenges in Colombia and some Central American countries were creating pressure in early 2016, and persisted into 2Q2016.
Mr Fornaro observed that Spirit's performance in Colombia had been substantially down during the last 12 months, but conditions were beginning to bottom out. Colombia is Spirit's largest international market measured by ASM deployment. Approximately 10% of Spirit's total ASMs for the week of 24-Oct2016 are deployed onto international routes.
Spirit Airlines international capacity (% of ASMs) by country: 24-Oct-2016 to 30-Oct-2016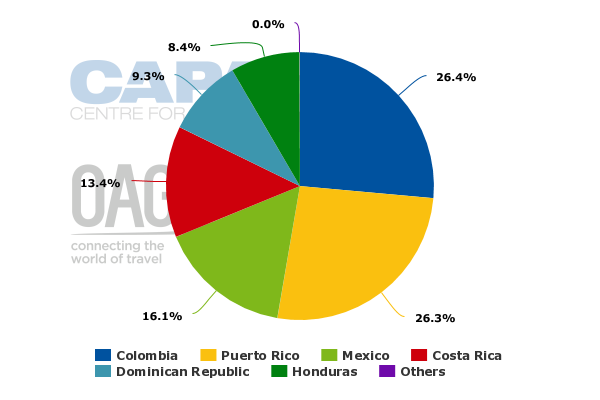 Spirit is forecasting further sequential improvement in its TRASM during 4Q2016. Its projections show a decline of 3% to 4.5% year-on-year.
Spirit starts testing dynamic pricing of ancillaries to stave off declines in non-ticket sales
Declines in Spirit's non-ticket revenues also slowed sequentially in 3Q2016, improving after decreases had peaked at 5.4% year-on-year in 2Q2016.
Decline in Spirit's non-ticket revenue per flight segment: 1Q2016 to 3Q2016
| | |
| --- | --- |
| 1Q2016 | 3.7% |
| 2Q2016 | 5.4% |
| 3Q2016 | 4.2% |
Previously Spirit has cited modest pressure on take-up rates for certain ancillary items such as bag and change fees, which were correlated with lower fare prices in its markets. Non-ticket revenues represent nearly 50% of Spirit's total revenue.

Queried about a timeframe for lapping the pricing pressure on checked bags, Spirit executives have concluded that until US pricing traction changes dramatically, the company does not expect to see a big change in pricing dynamic for checked and carry-on baggage.

The company has often talked about dynamic pricing of ancillaries in 2016, citing it as one tool to drive an additional USD1 to USD2 in additional non-ticket revenue. In Oct-2016 Spirit executives commented that the company had rolled out dynamic pricing capabilities for certain ancillary services, engaging in early stages of testing in a selected set of markets.
The broad logic behind dynamic pricing is managing the revenue in the same way as ticket revenue; pricing products based on demand patterns.
Spirit generates buzz by stating it would look at offerings from other airframers
Under the new leadership of Mr Fornaro since Jan-2016, throughout the year Spirit has often talked about adding more small markets to its network roster as a form of insulation against larger competitors. In late 2016 the airline is adding a new market – Akron-Canton – and is expanding its presence at Orlando International airport.

In order to support growth into smaller markets, in 2016 Spirit plans to purchase some A319s off lease and extend the leases of other smaller-gauge jets.
Spirit Airlines fleet summary as of 27-Oct-2016
See related report: Spirit Airlines fleet changes reflect potential shift to smaller markets, still growing at 15% to 20%
The company's targeted ASM growth rate for the next few years is 15% to 20%, and over the long term Spirit appears to be keeping an open mind about its fleet.
Asked about previous comments he had made about the Bombardier CSeries, Mr Fornaro explained that Spirit's Airbus delivery stream continues through 2021, and around 2019 the airline's growth rate would begin to fall below 10%.
Spirit Airlines projected delivery dates for aircraft purchased from OEMs and leased from lessors as of 27-Oct-2016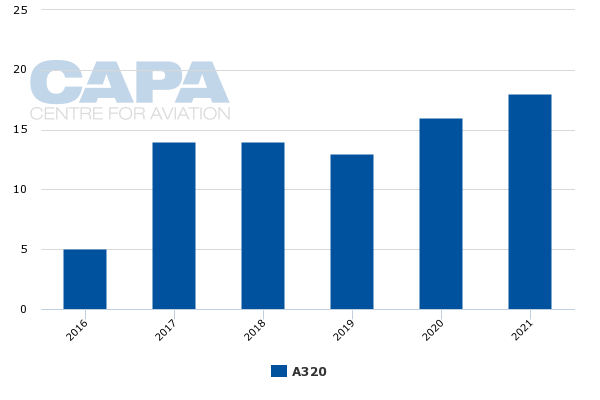 If Spirit wants to maintain a higher growth profile, Mr Fornaro has explained that the airline would need to place a series of one-off orders or consider further orders.

"Right now, the marketplace is very competitive, and if you look at North America, and even South America, the low-cost sector, the true low-cost sector, is largely Airbus. And so the other manufacturers are ultimately going to be pretty aggressive", said Mr Fornaro. "And so you have to weigh the opportunity of a new airplane, whatever incentives you can get, versus the inefficiencies of creating another fleet type."

Spirit's CEO has stressed the importance of never dismissing competition, noting that in the aircraft manufacturing market, "we're a consumer, and we need to explore all the opportunities in the space".

His comments are obviously welcomed by Bombardier, which is attempting to challenge Airbus, Boeing and rival Embraer with its CSeries narrowbody family. However, operating a single fleet type is key to Spirit keeping its unit costs excluding fuel below the ULCC baseline of USD6 cents (for 3Q2016 its unit cost excluding fuel and special items was USD5.48 cents). Bombardier would need to offer deep discounts to ensure that Spirit's ownership costs of potential CSeries aircraft would not inflate its unit costs. Mr Fornaro's discussion also gives Airbus incentive to retain Spirit as a loyal customer.

The reality is that it is highly unlikely Spirit would deviate from its single fleet type, even as the airline has a fiduciary responsibility to study the offerings of other airframers.
Spirit likely to restore positive PRASM during the next year as fuel costs start to rise
Spirit's sequential improvement in unit revenue is a positive development for the airline, which has suffered deep declines during the last year. Its steeper decreases versus the US industry at large have spooked investors, who had adopted a philosophy that the ULCC model was somewhat immune from the revenue challenges facing other airlines.
It is reasonable to assume that with a bottoming-out of weak pricing in the US domestic environment Spirit could return to positive total unit revenues during the next year. For the US industry the inflection point in weak pricing seems to have occurred – a welcome development for Spirit and other airlines as fuel costs begin to climb.