ULCC Frontier Airlines needs to emphasise newfound stability ahead of a potential IPO
Analysis
Frontier Airlines has probably undergone more changes during the last eight to nine years than any other US airline. It emerged from Chapter 11 bankruptcy protection as a subsidiary of Republic Airways Holdings, and tried out numerous network strategies, including small city and secondary markets such as Trenton New Jersey and Wilmington, Delaware.

The airline was purchased by Indigo Partners in late 2014 and embarked on its transition to an ultra-low cost airline, which is now complete. Similarly to its ULCC counterpart Spirit, Frontier has had some management shake-ups during the last year but its executive team seems stable, for now. At the end of 2015 reports surfaced that Frontier's owners were considering an initial public offering (IPO), and more recently the idea of taking the airline public seems to be gaining momentum. It is an interesting move, given the industry sentiment where some airlines believe their stock is trading at a discount, but Frontier has a healthy Airbus order book; one possible motivation for an IPO.
Frontier is also making some interesting network moves in 2Q2016 and 3Q2016, increasing competition with Southwest and re-entering markets it has cut during the last few years.
Its network moves during that time have been sometimes erratic, but perhaps with its ULCC transition now complete Frontier's route structure will retain more stability.
Speculation of a Frontier IPO gains momentum, despite stock weakness
Frontier recently named its president and former Spirit executive Barry Biffle as CEO after the airline's former CEO David Siegel left the company in mid-2015. Frontier's US ULCC counterpart Spirit also named a new CEO in early 2016 after the departure of Ben Baldanza; he and Mr Biffle were instrumental in growing Spirit into the first large ULCC in the US.

At the end of 2015 reports emerged that Indigo was considering an IPO for Frontier. In late Mar-2016 the movement gained some steam after news outlet Bloomberg reported that Indigo had hired underwriters for an IPO. It would be an interesting time to take Frontier public. Most airline stocks suffered in 2015 when falling passenger unit revenue spooked investors.
Frontier likely experienced some of the pricing pressure in the US domestic market, but similarly to most US airlines it enjoyed lower fuel costs and sustained profitability.

See related report: The Big 3 work to bolster their sagging valuations; the investor base is sceptical

Data from the US DoT show that Frontier posted a profit of USD129 million in 2014 and USD114 million in net income for the 9M ending Sep-2015.

Frontier has a solid order book with airframer Airbus. It currently operates 58 Airbus narrowbodies and has 95 on order – 18 A319neos, two A320s, 62 A320neos and 13 A321s.
Frontier Airlines Fleet Summary as of 25-Mar-2016
The airline's delivery stream gains some momentum beginning in 2018, when it is due to take delivery of 11 aircraft. In 2017 and 2018 Frontier is scheduled to take delivery of a combined 15 Airbus narrowbodies.
Frontier Airlines projected delivery dates for aircraft purchased from OEMs and leased from lessors as of 25-Mar-2016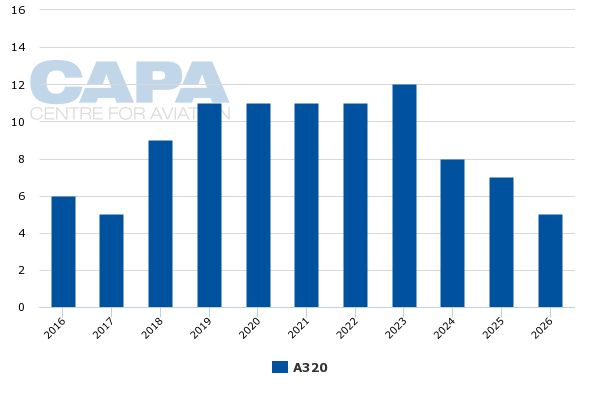 Indigo's motivation for a Frontier IPO is likely twofold – recouping some of its investment in the airline and using public markets as an outlet to finance aircraft.
After shuttering a base at Colorado Springs in 2013, Frontier returns
As speculation grows over a potential IPO for Frontier the airline is making some interesting network moves, beginning in 2Q2016. The company is returning to Colorado Springs, which was a base for the airline for a short period in 2012-2013.

See related report: Frontier Airlines has numerous fits and starts in its network as it remains on the selling block

At one point Frontier operated services from Colorado Springs to Phoenix and Los Angeles, and seasonal service to Portland, Seattle, San Diego and Orlando. Part of the logic for eliminating service was making the non-seasonal routes work on off-peak periods. Frontier noted it was being forced to discount fares in those markets.


Frontier is returning to Colorado Springs in Apr-2016 with flights to Las Vegas followed by the resumption of service to Phoenix in Jun-2016. Perhaps Frontier now has its costs at a point where it can make service from Colorado Springs more viable. Before transition to a ULCC, Frontier's unit costs excluding fuel were USD7.7 cents, and Indigo executives have previously stated that a unit cost of sub-USD6 cents is key to successfully executing the ultra-low cost model. During 2015 Frontier executives stated that the airline had removed one quarter of its costs.

The management of Colorado Springs airport has also worked to make it more economical for airlines to operate there. The news outlet Denver Post reported that Colorado Springs has restructured its debt, lowered operating expenses, and created incentives to boost its commercial aerospace activity.

See related report: Frontier Airlines makes a network push in late 2015 as it flexes its new ULCC muscle
Frontier is also adding service from Pittsburgh starting in Jun-2016. Southwest is the airport's largest airline presence, but niche airline and ultra- low cost airline Allegiant also serves Pittsburgh, a former US Airways hub. New service from Pittsburgh includes Denver, Atlanta, Las Vegas and Orlando. All of those routes are operated by Southwest. Additionally, Denver and Atlanta are hubs for United and Delta, and those airlines operate alongside Southwest from those points to Pittsburgh. Delta has very small presence in Pittsburgh-Orlando, holding a roughly 1% seat share for the week of 21-Mar-2016 to 27-Mar-2016.
Frontier is also returning to Columbus in 2H2016 after previously operating service between Columbus and Trenton, New Jersey. The company is adding service from Columbus to Denver, Las Vegas, Philadelphia and Orlando. Frontier is breaking Southwest's monopoly on flights to Las Vegas and becomes a competitor to American on service to Philadelphia. Southwest also operates between Columbus and Denver alongside United and from Columbus to Orlando. Delta also operates on that route, but has a minor 3% seat share for the week of 21-Mar-2016 to 27-Mar-2016.

Frontier already serves Cincinnati, which is roughly 172km from Columbus. It operates service to Orlando, Denver, Fort Myers and Las Vegas from Cincinnati, and is adding service from Cincinnati to Atlanta, Houston, Los Angeles and San Francisco later in 2016. The proximity of Cincinnati and Columbus is less of an issue for a point-to-point airline such as Frontier that does not rely heavily on connections.

Another market Frontier plans to re-enter in 2016 is San Antonio, an airport it previously served from Kansas City. Frontier's new markets from San Antonio are Atlanta, Denver, Philadelphia and Las Vegas. Again, Southwest serves all of those markets except Philadelphia. Delta also operates flights from San Antonio to Atlanta and Allegiant also serves San Antonio-Las Vegas.

Frontier is also launching flights between Salt Lake City and Las Vegas in May-2016, joining Alaska, Delta and Southwest on the route. The airline plans to re-launch service between Washington Dulles and Denver in Jun-2016, competing with Southwest and United on the route.
Frontier continues to expand competition with Southwest
A pattern emerging from some of the routes that Frontier is adding in May-2016 and Jun-2016 shows increasing competition with Southwest as Frontier adds flights from Pittsburgh and San Antonio, two airports where Southwest is the leader measured by ASMs, holding a share of 39% and 41% respectively for the week of 21-Mar-2016 to 27-Mar-2016. Frontier is also upping competition with Delta and United from spoke airports to their hubs. It will be interesting to watch fare levels in the newly contested markets.
Delta already has a fare class designed to match ULCC pricing and United is in the process of developing more pricing segmentation.

The stage length on many of the new routes is 1,000 miles (1,609km) or less. Spirit's new CEO has recently talked about a potential shift in the airline's network to more medium-sized routes, featuring distances below 1,609km. The logic behind the shift is that as larger airlines continue to upgauge their fleets, more opportunity exists in somewhat smaller markets.
To that end, Spirit appears to be evaluating its fleet mix. It has already purchased two smaller gauge Airbus A19s coming off lease and is evaluating the extension of leases, or the purchase, of an additional seven to nine A319s.
Length of haul and competitors on a range of Frontier's planned new routes, from Apr-2016 to Jun-2016
| | | |
| --- | --- | --- |
| Route | Distance | Competitors |
| Pittsburgh-Denver | 2,076km | Southwest, United |
| Pittsburgh-Atlanta | 847km | Delta, Southwest |
| Pittsburgh-Las Vegas | 3,074km | Southwest |
| Pittsburgh-Orlando | 1,342km | Southwest, Delta |
| Colorado Springs-Las Vegas | 972km | Allegiant |
| Salt Lake City-Las Vegas | 851km | Alaska, Delta, Southwest |
| Washington Dulles-Denver | 2,337km | Southwest, United |
| San Antonio-Atlanta | 1,407km | Delta, Southwest |
| San Antonio-Denver | 1,278km | Southwest, United |
| San Antonio-Las Vegas | 1,720km | Southwest, Allegiant |
| Columbus-Denver | 1,857km | Southwest, United |
| Columbus-Las Vegas | 2,849km | Southwest |
| Columbus-Philadelphia | 654km | American |
| Columbus-Orlando | 1,291km | Southwest, Delta |
Southwest Airlines has also cited opportunities in smaller markets, and is introducing a few routes with an operational length of less than 500km during 1H2016.
Frontier needs to communicate a message of stability to potential investors
The network moves of US ULCCs will be particularly interesting to watch over the coming months. Frontier is adding a raft of new routes in 2016; a key factor for the airline is delivering a level of network stability that has been absent in recent years.
If Frontier engages in an IPO during 2016 investors will demand a certain level of network dependability.

Stability should be the overriding theme for Frontier in 2016. After years of uncertainty, driven by Chapter 11 reorganisation and a couple of different ownership changes, the transition to the ULCC business model should set the stage for a more stable - but disruptive - chapter in Frontier's history.