Emirates Airline and the Middle East's shifting sands
Unprecedented civil resistance has spread from Mauritania in the west to Iran the east – engulfing many nations in the region and threatening to displace its political foundations. As with many instances of regime change, movements have often been accompanied by violence. Unrest has seen oil prices and stock markets seesaw, and most foreign and local governments encourage their nationals to avoid travel to region. Naturally, this has a flow-on affect to the airline business.
Despite its heavy reliance on economic health in foreign, and often distant, markets, Emirates appeared immune to the wider impacts of the GFC, posting strong growth in passenger numbers, revenue and profitability at a time when many long-haul carriers were in their darkest days. The current crisis could however prove more challenging for Emirates, depending on the duration and scale of social unrest in the region and its affects on travel and trade to and via the Middle East.
In Feb-2011, Emirates President Tim Clark stated regional unrest, particularly in Egypt and Tunisia, had sapped demand for travel and will affect the airline's financial results. The airline still expects to post a 'robust' profit for the financial year ended 31-Mar-2011, but cautioned that the result may not be as impressive as previous years. Load factors have fallen to 75% compared with 82% the airline expects this time of year. Clark stated if the current conditions continue, capacity would be moved from the Middle East to "higher-demand areas", presumably in Africa, Asia, Europe and/or North America.
Despite the unfolding crisis, Clark has said yields on Emirates' Middle Eastern network have remained "fairly constant", reflecting the airline's flexibility and low-cost base.
In previous times of crisis, such as the GFC, Emirates sustained demand through targeted fare discounting. The same proportional costs were simply taken out, Clark has previously said. This time, however, the onset of crisis has been much more rapid and nearer to home. Premium class travel has declined markedly across the Middle East, particularly on routes to Egypt, Tunisia and Yemen, the airline says. Chinese business and tourist arrivals into the region have "disappeared". "The effect on the seat factor as a result of the unrest in the Arab world has been measurable the last six weeks. It's a pity because it's been a very strong year for us", Clark said.
Naturally, a crisis of such scale was always going to impact the region's biggest player. While sixth-freedom, long-haul transfer traffic is the bread and butter of the airline, the Middle East continues to be a major focus. In addition to transfer traffic within the region, Dubai is a large O&D and VFR market. It is a major tourism and retail destination, an international finance centre, a commercial hub and has one of the world's most active real estate and construction sectors.
While revenues from services within the Middle East contribute about 12% of the airline's revenues, the region accounts for 53% of capacity (seats per week), according to Innovata.
Emirates revenue by geography 2009/10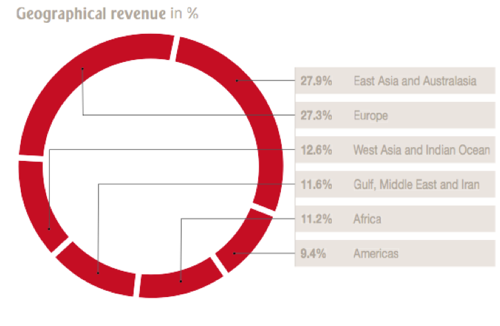 Emirates weekly capacity 17-Feb to 27-Feb
But unlike some smaller Middle Eastern players, Emirates remains in a fortunate position thanks to its diversified network.
Tripoli service put on hold
Emirates stated it has temporarily cancelled all services to Tripoli, due to escalating unrest in Libya. The airline's website indicates that no fares are available until 01-Mar-2011 at the earliest, with return DXB-TIP fares starting at AED3265 (USD890) for the five hour sector.
Emirates operates daily service to Tripoli using three-class 258-seat A340-500 equipment, according to Innovata. Three of these weekly services continue from Tripoli to Tunis, where the recent Tunisian uprisings were concentrated, which resulted in a reduced schedule to Tunis during Jan-2011. With current fares starting at AED3265 and a week of services to the Libyan capital lost, the revenue loss and added costs of dormant aircraft and stranded passengers becomes clear. Three-times weekly service to Tunis continues to operate, according to the carrier's website. Unrest in the Tunisian capital has subsided, but trouble is emerging elsewhere in the Middle East.
Egypt still on reduced schedule
Services to Cairo have been reduced from 13 to seven times weekly as the Egyptian capital recovers from the recent revolution. The airline operates B777-200, B777ER, B777-300, B777W and A330-200 equipment on the route. The airline has not said when full services will resume.
Emirates said all rebooking and administration fees have been waived for those affected by civil unrest in Libya, Egypt, Tunisia and Bahrain.
Emirates' Middle East network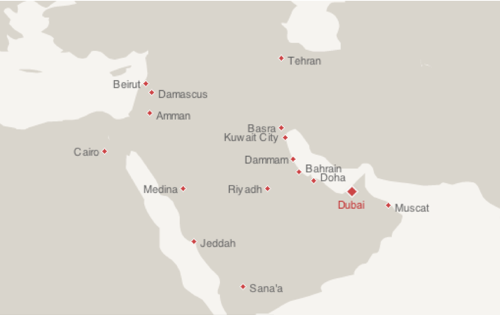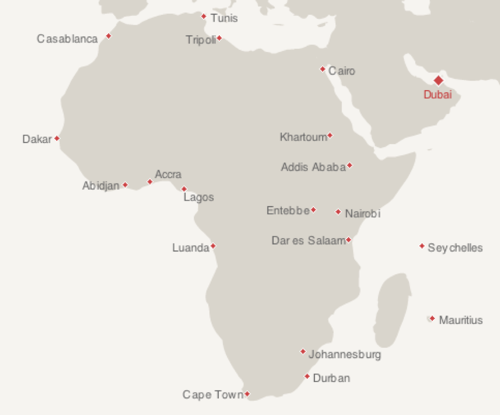 No real end in sight
A key issue is that there appears to be no clear end in sight to the unrest sweeping the Arab world, hurting business confidence and unsettling global markets, most notably oil and tourism markets. If the socio-economic and political credentials of Tunisia, Egypt and Libya were the source of these countries' problems, a wider look at the region provides a long list of potential volatility.
Middle East/North Africa crises 2010/2011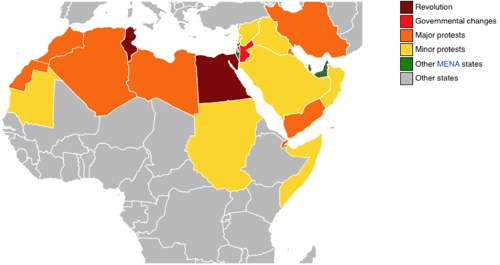 Major uprisings have to date occurred in Iran, Algeria, Yemen, Jordan, Morocco, and most notably in Bahrain, Egypt, Tunisia and Libya. Smaller-scale unrest has been found as far south as Sudan, west in Mauritania and north in Syria. Brent Crude, Europe's main oil benchmark price, has jumped to a two-year above USD105 per barrel in mid-Feb-2011, which will have an obvious cost impact for airlines around the world, including Emirates.
As fuel prices rise through USD100, airlines reach a "strategic change threshold"
The Middle East unrest could last for months, entrenching the problems now being created and potentially leading to long term changes in business and tourism flows. There is no current shortage of oil, despite the Libyan uprising, but a combination of uncertainty and willing speculators appear likely to push prices higher - and hold them there. The double jeopardy too is that uncertainty tends to push the safe haven US dollar higher, implying even larger cost increases in many other currencies.
For the time being, levels are well below the challenging times of 2008, but the price of jet fuel is already forcing strategic changes, over and above mere addition of fuel surcharges. This "strategic change threshold" marks a tipping point for the industry and, unless stabilised, will progressively see more fundamental changes in the way airlines operate. Up to a certain level, incremental fuel price changes can be met by similarly incremental pricing adaptation. But as cost profiles of certain routes start to drop below profitability, so airlines begin to review their operating networks, redirecting or reducing capacity and even terminating some routes.
Service suspensions and reallocation of capacity to other routes is necessarily disturbing business and traffic flows, so that for major intra-Middle East operators like Emirates, there will be unavoidable declines in profitability. And withdrawals from local markets have a flow-on effect, as capacity is added to other routes.
UAE appears not to be directly affected by unrest
Fortunately for the Gulf carriers, the UAE is apparently not affected directly by popular disturbances. Emiratis are generally affluent, unemployment levels are low, the regimes are not repressive and there is no undercurrent of discontent, as existed in the north African countries. But the fact remains that the ring of discontent is spreading. It is a positive sign too that nearby Bahrain appears to be handling the demonstrations and likely transition peacefully although Yemen remains largely dysfunctional.
Nonetheless, the region is undergoing substantial and irreversible change. The Libyan situation appears likely to escalate, if not immediately, then over coming months as its repressive regime counter-attacks. Apart from Middle East O&D, transfer traffic through the UAE and Qatar is reportedly not greatly affected by the unrest at this stage. If that were to become an issue, then substantial change will be unavoidable.