China's role in international aviation – and tourism – in 2025. The CAPA-ACTE Global Summit
Analysis
The CATA-ACTE Global Summit in Amsterdam explored some of the changes that will likely come to Chinese aviation and tourism by 2025. The viability of secondary markets has a mixed prognosis as British Airways exits Chengdu, but Vancouver airport expects sustainability from the secondary cities it is linked to – some of the first secondary routes from Chinese airlines.
Partnerships and joint ventures are expanding and becoming more pressing subjects. oneworld is without a mainland Chinese partner, while China Eastern is exploring partnerships outside its SkyTeam alliance: it has a JV with Qantas and a partnership with BA, but Delta's minority equity investment gives it footing. Partnerships will influence, or be preceded by, liberalisation – including eventual China-US open skies.
Although the Chinese outbound travel market is celebrated for its growth, a downturn can occur just as quickly. While visa liberalisation with Morocco has resulted in the country becoming a new popular market for Chinese visitors, terror attacks in France have reduced visitor growth not only in France but also in neighbouring countries, as visitors shun the region.
Secondary Chinese markets: subsidised, but in the long term – sustainable
Beijing and Shanghai are firmly entrenched as China's leading hubs for the future. Their success has meant that a dozen other cities are adding long haul services – a flagship achievement locally and on the political level.
These services are being added ahead of local demand, but exist largely due to very generous incentives and subsidies. With significant reduction of risk, and often guaranteed profits, airlines are willing to launch a service and hold market share or, in the case of Chinese airlines, fly a route and thereby block competing Chinese airlines since only one Chinese airline is generally able to operate a long haul service.
Mainland Chinese airlines' long haul destinations opened or planned since 2006: as of 10-Jun-2016
See related report: Chinese airlines' long haul growth tilts the balance of power in Asia, as southeast Asia shrinks
Once the door opens, a queue forms.
Thai AirAsia CEO Tassapon Bijleveld has remarked on how, after the airline grew in a few secondary markets, many other airports lined up while others are still waiting for Thai AirAsia to launch service. He said of the 20 Chinese airports now served by AirAsia: about half had approached the group "with a very good incentive package that we can't resist". Mr Tassapon expects more Chinese airports to offer similar packages as airport construction projects are completed. Several Chinese airports are planning new terminals or runways, and will need more services from foreign airlines to fill the additional capacity.
When will the music end on these generous incentives? JG Aviation Consultants' John Grant sounded caution given British Airways' exit from Chengdu. As CAPA noted in a research report, not only was the Chengdu-London market competitive and BA's high-premium positioning was off, but also Chengdu became less necessary as BA's position in mainland China was strengthened through a partnership with China Eastern, and a second daily service to Shanghai – a market far more important than Chengdu.
See related report: Chinese long haul secondary city air routes: BA's Chengdu exit does not reflect the broader market
In a 2025 timeframe, some existing secondary services may disappear – potentially soon, if the subsidy ends or if fuel prices significantly go up. Yet a less remarked view is that, given the growth of the market, an incentive may foster demand that does become sustainable in the long term. But by creating the demand early there is a domino effect of other services coming in (with incentives) and changing consumer mindset to spend on travel.
Vancouver Airport Authority VP Operations and Maintenance Steve Hankinson remarked how the airport's experience is that secondary services are becoming sustainable. Vancouver was the first North American airport, and one of the first globally, to receive a secondary service from a Chinese airline: Sichuan Airlines opened Chengdu-Shenyang-Vancouver services.
Contributing to overall sustainability will be a number of developments: a shift from group travel to FIT (with marketing and ancillary opportunities for airlines); smoothing out demand and reducing the strong seasonality of Chinese travel; and fostering premium cabin travel or adopting the long haul low cost concept.
China could become the world's largest low cost, long haul market. Some airlines may elect to pursue the far larger economy class market, even if, as IATA recently highlighted, premium cabin demand is more consistent and helps give airlines stability.
China's Role in International Aviation – and Tourism – in 2025, CAPA-ACTE Global Aviation Summit in Amsterdam: 28-Oct-2016
Joint ventures are growing in China: many planted, others yet to sprout
Partnerships and joint ventures have increased in recent years, as pointed out by Institute for Aviation Research president Dr Zheng Lei, who noted the recent Delta-China Eastern and KLM-Xiamen Airlines developments. Partnerships are helping Chinese airlines in foreign markets where beyond access is necessary and the local partner can promote the brand and help with sales.
Intercontinental markets are often where Chinese airlines have lost money. The JV between Xiamen Airlines and KLM was critical for Xiamen Airlines' entry to intercontinental routes. Xiamen Airlines' first service was from Xiamen to Amsterdam – the hub of KLM. Xiamen and KLM jointly operate service throughout the week.
Air China has JVs (in service or pending) across multiple regions: Lufthansa, Air New Zealand and Air Canada. Air China's partnerships are anchored around Star Alliance – to be expected given Star's closeness, but it is also important to use the opportunity.
SkyTeam's China Eastern is thinking more broadly, by necessity but also for the opportunity. Besides its codeshare with oneworld's British Airways, China Eastern has a JV with Qantas – also in oneworld.
oneworld's lack of a mainland Chinese member stood out to Mr Grant, who predicted a solution in the short/medium term. It is debatable whether a oneworld-China development would be the most important partnership development in recent times, or whether a leading change would be a joint venture between Delta and China Eastern. Delta, unlike its major US counterparts, does not have a partner in Asia. American and United have relied on their respective partners JAL and ANA – both in Japan.
Delta's 2015 minority investment in China Eastern hopefully paves the way for a JV. First, China Eastern must assess if this is the right development, or if China Eastern's ambition would be constrained by the terms of a JV. Next is the aeropolitical element: the US requires open skies as a prerequisite for JVs. China-US open skies was contentious and faces an unknown prospect with the election of Donald Trump, who has talked of reducing ties with China.
Even before Mr Trump's election US-China open skies by 2020 seemed uncertain. If open skies occurs by 2025, there will be a profound series of changes with other air services and partnerships.
Chinese outbound tourism: with great opportunity comes great risk
China's outbound travel boom needs no introduction. There is still much that markets need to do to support the volume and quality of service they offer. ForwardKeys CMO Laurens van den Oever singled out visa liberalisation, noting that the recent liberalisation in Morocco had resulted in strong growth in Chinese visitors. Yet as quickly as Chinese outbound travellers can latch on to a new market, they can shun it.
ForwardKeys has coined the "Croissant Effect" as an example – where terrorism in France resulted in Chinese visitors turning away, not only from France but also from nearby markets – even from places where there has been no terror attack or warning.
These other countries (Switzerland, Italy) were often visited on a single itinerary. This was similarly observed in Southeast Asia, where the unpopularity of Malaysia and the political instability in Thailand caused Singapore to witness a decrease in Chinese visitors, since Singapore was often visited alongside Malaysia and Thailand.
Chinese outbound travel bookings to Europe by market: mid-November 2015 to mid-October 2016 vs y-o-y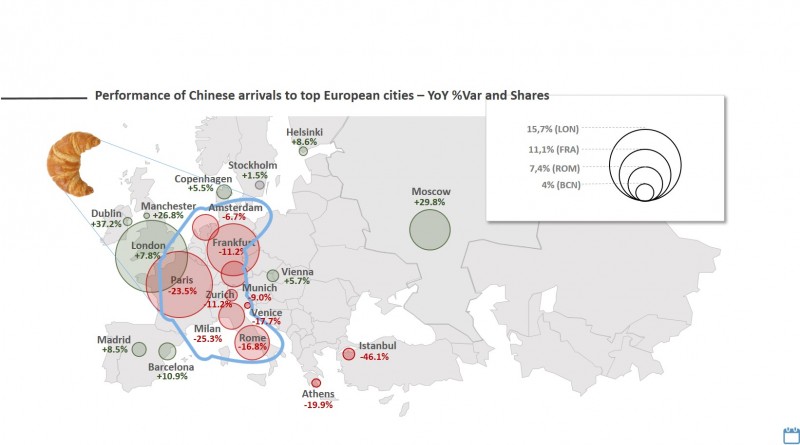 Towards 2025: Chinese airlines make their mark on aviation ecosystem.
Chinese airlines are making their presence felt through route expansion. By 2025 this will shift further to become Chinese airlines, and the entire Chinese aviation industry, impacting the global order.
Partnerships, alliances, liberalisation and the aerospace manufacturing sector will all be impacted. The three state-owned airlines – Air China, China Eastern and China Southern – will exert influence as they shift core business from airline companies to aviation holding groups.
From this evolution they will make acquisitions – not as many as HNA has, but certainly with the potential to have a high impact.
The panel discussion came shortly after HNA's USD6.5 billion acquisition of Hilton. More recently, HNA plans to invest in the in-flight entertainment and connectivity company Global Eagle. HNA is establishing a presence throughout many parts of the aviation value chain and ecosystem. In-flight entertainment is added to HNA's stakes in catering and MRO. Hilton is added to a large tourism portfolio.
HNA's great ambition is reflective of the larger outlook: the pieces are coming together but need tying up to achieve synergies and growth.