Chinese long haul secondary city air routes: BA's Chengdu exit does not reflect the broader market
Analysis
The fastest long haul airline growth is not occurring with Gulf airlines but rather, with services to and from secondary Chinese cities. It is not a secret that local incentives and subsidies, generally common in any market, are especially large in price and duration for secondary Chinese cities. An airline might expect over a third of revenues to be subsidised. This drastically alters the business case in a low-margin industry, hence the proliferation of secondary city services. This extreme dependence on subsidies raises the question of how long governments are willing to issue generous subsidies, and how many routes can be sustainable without them.
British Airways' decision to exit its only secondary Chinese route to Chengdu, in Jan-2017, might suggest the music is ending and the secondary long haul bubble is popping. There is added colour given the recent UK-China air service agreement expansion, and Brexit/British pound depreciation overhangs.
BA's exit does confirm market fundamentals: secondary city yields are low, and some routes are ahead of their time. Yet a number of factors unique to British Airways suggest caution in concluding that BA's Chengdu exit could foreshadow other withdrawals.
Even Brexit and the pound are not primarily at fault. From a BA perspective, the airline – and group – are in a stronger position in China than when Chengdu was launched.
Iberia is growing in China, while BA has expanded in Shanghai and laid down the first steps in a relationship with China Eastern. Chengdu highlights the need for BA – constrained in Heathrow – to develop smart growth with a high reliance on partners.
The airline perspective: secondary Chinese cities low-yielding, but for the long term
Airlines have entered secondary Chinese cities typically for strategic purposes – for the result of profits in the long term, and not in the shorter one or two-year period when they might expect long haul routes to break even. In a fast-pace market like China where the volume of the future opportunity is multiples of the present size, there is an argument to secure market share before a competitor does. This time also allows the growing of relations with various parties that are especially critical in China.
Very large airport and local government subsidies support services that would otherwise be challenged to be launched and sustained. There are airlines that wish they had aded another Beijing and Shanghai flight last decade when they had the opportunity: it may have been unprofitable at the time but now would not be. In the future many Chinese cities will have the travel profile Beijing and Shanghai did last decade.
Some secondary long haul routes can capture overflow traffic: unable to secure more slots in the main cities of Beijing and Shanghai (and perhaps Guangzhou) for additional flights, secondary city services can fly lower-yielding passengers that otherwise would have flown out of Beijing and Shanghai. By moving these passengers to a secondary city flight, an airline can grow its primary Beijing/Shanghai services.
The airport/government perspective: subsidies create flagship routes and accelerate hub growth
For a few reasons Chinese airport subsidies stand out from general subsidies/incentives that are common in most other markets. The subsidies are large, often covering over a third of flight revenue, or even upwards of half if the subsidy is generous and the airline has a low cost base. Typical subsidies elsewhere might only be a full or partial rebate on landing and parking fees, plus marketing support. (There are certainly subsidies that go beyond this, but seldom to the level of a Chinese airport.) The subsidies can be long-lasting, and cover not just the first year or two of service. Some airlines have held long-running subsidies for services in conservative North America, for example, but these are relatively few and far between.
Yet what is perhaps most unusual about the subsidies is that they incentivise outbound travel. The subsidy equation is in theory balanced out (even exceeded) when it is considered that the funds are indirectly received back to the local community through the visitors and business ties a new flight creates.
But Chinese secondary city flights almost exclusively service outbound Chinese visitors going on holiday. So Xi'an, for example, pays for Finnair to bring Chinese from Xi'an to Europe. There are few Finns or Europeans arriving in Xi'an that would make an economic contribution to the city or province. And Xi'an, from a foreigner perspective, is probably one of the more interesting points because it is home to the Terracotta Warriors. Changsha or Wuhan, for example, have few local attractions of interest to intercontinental visitors. There is nothing unusual or wrong with some cities having more attractions than others, of course.
There are a few explanations for why airports and governments would significantly fund routes with seemingly so little in return.
First is a national encouragement to promote outbound tourism: this brings cultural exchange and even presents soft power. Outbound tourism is positively embraced by the Chinese, a factor not to be overlooked at a time of concern about local matters, from corruption to health and the environment.
Second is that intercontinental flights become a flagship for the city and the officials who govern them. As senior officials are evaluated and rotated throughout the country, growing air services and having a new airport become leverage for promotion. The mere existence of air services or infrastructure is seldom measured (under typical accounting) against the investment made.
This is not unique to China: witness the local and senior politicians who use flights and ground infrastructure to promote their tenure or create a legacy. (Or in the case of Heathrow or Sydney, politicians who block development as they put their constituency ahead of the nation.) Yet as with the amount or duration of subsidies, the purpose of subsidies in China is also on a greater level than observed elsewhere.
Third is the long term impact – that subsidies can accelerate or even foster new hubs. It appears that subsidies and the development of all sorts of routes have fundamentally boosted Chongqing, located in China's west nearby to Chengdu. A few years ago the industry considered Chengdu to be significantly ahead of Chongqing in terms of local market and attractiveness. Yet subsidies have now brought Chongqing to parity, some conclude. Even if some of Chongqing's subsidised flights were to end, the local market has been strengthened. Shenzhen airport hopes its first long haul flights will bring attention to its traffic base, which has historically used Hong Kong or sometimes Guangzhou airport. United Airlines launched Hangzhou (with high speed rail linkages) when it could not obtain more slots at Shanghai Pudong, but conversely Ethiopian Airlines exited Hangzhou when it was able to open Shanghai.
British Airways to exit Chengdu: a number of factors were insurmountable
It is in this complex environment that BA's Chengdu service, like those of other intercontinental airlines, was born. As is the case for most secondary long haul flights, they were always going to be unique and require different metrics for evaluation and consideration of benefits that cannot be quantified.
BA launched London Heathrow-Chengdu in Sep-2013, initially three times weekly with the 777-200, but using the 787-8 once available. The flight was upgauged to five weekly in the subsequent summer season but then reverted to three weekly for winter. Chengdu and growth in China were important for BA and IAG, and this sentiment emanated from the top with IAG CEO Willie Walsh.
As Chengdu was different, BA gave it a much longer than normal time frame to be profitable. BA said in a statement of Chengdu: "despite operating this route for three years it is not commercially viable".
BA's challenge on the route was yield, not costs (it was already using the 787-8). Volume was not the strongest but was improving: from CAA and OAG data, BA's Chengdu route is projected to have averaged a 51% load factor in 2014, 61% in 2015 and 64% in 7M2016 compared with 60% in 7M2015.
With the exception of Mar-2016 and Jul-2016, Chengdu's load factor improved every month compared to 2015. Excluding the Mar-2016 low load factor, the route's performance had approximately a 25ppt variation between peak and low months. While some variation is naturally expected, such a wide gap attests to the broader challenges in the Chinese market – and not just secondary cities – of sustaining year-round service and stimulating travel outside China's few travel peaks.
British Airways London Heathrow-Chengdu load factor estimates: 2014-7M2016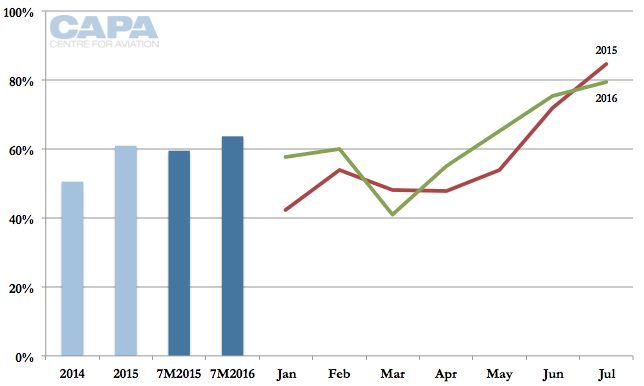 There was a mismatch between Chengdu's characteristics (and indeed those of any secondary Chinese city) and BA's typical business strategy and the way this becomes manifested in aircraft configuration. BA has always had lower-than-average aircraft density because it has more premium seats (BA's new "High-J" 747-400 configuration accommodates only 275 seats). BA's premium focus is the result of London's high O&D demand and constrained Heathrow infrastructure, limiting movement growth.
BA has been the only operator between Chengdu and the UK. Its nearest competitor was a very close one: KLM, which with its home airport Amsterdam Schiphol has capitalised on Heathrow's restrictions and broader deficiencies in UK aviation.
KLM serves more UK points than BA does. On Amsterdam-Chengdu KLM now deploys its 787-9 (four weekly, decreasing to three weekly in northern winter). The -9 is slightly larger than the -8 that BA uses, but this alone does not explain the density discrepancy: BA's -8 seats 214, while KLM's -9 seats 294. Despite BA's -8 being smaller than KLM's -9, BA's -8 has more business seats (35) than KLM's -9 (30).
BA has the 787-9 in its fleet, but this is positioned as a more premium aircraft: it has a first class cabin (its -8 does not) and a larger business cabin. Despite the -9 being bigger, BA has fewer economy seats (127) on the aircraft than on the -8 (154).
16% of capacity on BA's Chengdu aircraft was dependent on business class seats, whereas at KLM it was only 10%. Further, BA in general would have expected a higher yield than KLM. This was a mismatch with Chengdu's leisure orientation and low yields. BA's business class fares on Chengdu became popular because of their discount.
British Airways 787-8/9 and KLM 787-9 configurations: Oct-2016
The UK government has played its usual unfortunate role in dampening demand
As is sadly too often the case – the UK government hampers its airlines and aviation industry.
Besides the usual complaints about hub infrastructure and taxes, BA has been hurt by the UK government requiring Chinese nationals to hold a transit visa, even if in direct transit to another country and not leaving the terminal. Most nationalities can make a visa-free airside transit in the UK when connecting between other countries, as is common at most hubs.
China is on the UK's list for needing a so-called DATV (Direct Airside Transit Visa). China was included along with large nations (India, South Africa, Turkey) and smaller ones (Angola, Eritrea, Sri Lanka). Overall the requirement mostly comprises African nations.
For China (and other countries) there are exceptions, such as if the Chinese passport holder possesses a residency visa or even sometimes a tourist visa for another country – typically a UK ally such as the US, Canada or Australia. This unusual policy suggests that the UK does not fully trust its borders and thus wants an extreme layer of protection. For China, the policy raises the question how welcoming the UK really is if China is not only grouped with certain nationalities in needing a transit visa but there is further segmentation – discrimination – depending on whether the individual has ties (a visa) with one of the UK's allies.
Compared to its presence in mainland China, BA is larger in India and South Africa – two countries on the DATV list. Yet DATV is arguably less of a factor there than in China given the larger O&D traffic for BA to India and South Africa. In the case of India, one of BA's primary connecting markets to/from India is North America, where an Indian passport holder would need a US or Canadian visa and could use that for DATV exemption.
The implication for BA is that DATV restricts BA's ability to sell beyond London/UK to Chinese nationals, who make up the majority of passengers. BA is already limited by London's western geography, meaning that a connection to continental Europe on BA almost always requires backtracking; Helsinki and Amsterdam require less or none. The UK is of lower interest to Chinese nationals since they typically prefer visiting a few European countries on one trip. A Schengen visa enables Chinese to hop around member countries, but the UK does not directly partake in Schengen. DATV does make an exception for Schengen-bound visitors, but only those travelling in groups, which are typically low-yielding and not the FIT market BA wants to pursue.
In the Chengdu-Europe market there has been growth from others, notably Air China, but this has typically been to market segments (online or offline) different from BA's UK focus.
BA's Chengdu service never reached profitability and its review began prior to the UK's affirmative "Brexit" vote and the resulting sharp depreciation in the British pound. As such, Brexit and the pound were not strong factors in deciding to close Chengdu. Post-Brexit economic forecasts have been revised downwards, but the implications for aviation and BA's Chengdu service are unclear. The pound's depreciation could strengthen UK export companies, which might generate further outbound demand for Chengdu while growing inbound demand because tourism has suddenly become cheaper.
Yet the number of factors against BA, and the fundamental low-yielding nature of the Chengdu market, meant that it would have taken more than post-Brexit demand changes and a different aircraft type (if even possible) to turn the Chengdu route around. BA seems convinced enough of steep losses that it is exiting Chengdu on 12-Jan-2017 and does not even want to wait for the end of the popular Chinese New Year holiday.
Low-yielding leisure markets are not suitable to a business-focused airline whose lack of home airport capacity means that there is little room for deviation with "strategic" priorities.
Chengdu exit comes as IAG doubles down on China strategy, for the better
All factors together, it might be asked if BA's Chengdu launch (and other airlines' secondary Chinese services) was a mistake in the first place. Hindsight of course brings clarity but Chengdu's launch, and subsequent cancellation, occur as BA and its parent owner IAG have evolved.
BA's Chengdu service ends in an era very different from when it started. Chengdu started as an extension of BA's presence in China. When Chengdu ends, the story is not about BA but larger IAG: Iberia opened Shanghai service in Jun-2016. When BA started planning Chengdu almost five years ago, Iberia was in a weak state and opening service to Asia would have seemed farfetched.
Besides Iberia's launch in Shanghai, IAG has brought clarity to its China strategy. In doing so, it has doubled down in China. Despite Chengdu's cancellation, IAG is now stronger in China. Before, BA was exploring a mixture of growth in China via expansion in its primary markets of Beijing and Shanghai; playing the secondary city card; and seeking partners. IAG is now focused on primary service across its brands (BA and Iberia), building its presence in Shanghai as its anchor city (a second BA service was launched), and establishing the first part of its relationship with China Eastern via a codeshare.
An optimistic possibility would be to persuade China Eastern to join the oneworld alliance. This would be over the strongest of objections from Cathay Pacific, but BA and Qantas (another China Eastern partner) are the most visible members of oneworld that no longer expect Cathay to deliver on a greater China partnership.
IAG is on stable ground in China and has a platform for growth – profitable growth, not necessarily high capacity growth. Gradual expansion in Shanghai is likely, and it seems BA has discarded expectations Mr Walsh had in 2012 when it was suggested that BA would serve eight to 10 Chinese cities within the next decade. Including Hong Kong with Beijing and Shanghai, BA even reaching five Chinese cities in that time frame now seems ambitious.
It might be argued that BA now does not need secondary cities, and with limited Heathrow infrastructure and BA's own type of aircraft configuration, there is limited opportunity for "strategic" Chinese routes. There is speculation that the Heathrow slot and aircraft for Chengdu will be redeployed to New Orleans as part of the mature trans-Atlantic JV – more comfortable territory.
Mr Walsh's optimism in the 2012 remarks was accompanied by warnings that the UK needed to have the right policies to support growth. What Mr Walsh asked for was not favouritism, but rather for the UK to follow European peers.
There is certainly much in the Chengdu cancellation that BA could use as a "we-told-you-so", but BA is appearing publicly quiet (a yes-no Heathrow decision looms). BA avoided the UK embarrassment, or even negative impacts, by cancelling the service only after China and the UK had agreed to a new air service agreement. BA also waited until after Chengdu hosted its high profile World Routes summit.
British Airways and secondary Chinese routes: an exception, not the rule
For all these reasons is too early to say British Airways' exit from Chengdu will mean that other airlines exit secondary Chinese routes. The most central element for secondary routes – a subsidy – was not a central factor with BA and Chengdu. The industry is still to see a case of what happens to a secondary route after the subsidy ends – if enough years of a subsidy can grow a service that otherwise started ahead of what more typical route economics might dictate. Air France's Wuhan service nearly ended with a change in subsidy. Jetstar ended Wuhan-Gold Coast after tis fixed contract with a tour operator concluded; Jetstar was essentially acting as a charter operator for the service.
There was no major revelation in BA's experience in Chengdu. Low yields were a well appreciated reality. Chengdu's growth trajectory may not have been as fast as hoped for, but elasticity is to be expected for routes that are launched without a short- or even medium-term profit goal. Planning for profitability in the long term exposes a service to too many factors that simply cannot be forecast that far out. The dynamics and fast pace of China, compared to a more predictable mature market, add to the complication. BA's statement that Chengdu was not profitable after three years indicates that profitability was not expected in the next year or two; otherwise BA would surely have persisted.
The most apparent change for BA in Chengdu was BA and IAG itself. With a stronger footprint in Shanghai, and China Eastern as a partner, there was less appetite to sustain a secondary route for strategic purposes. The future, if anything, will result in more Chinese airlines serving the UK.
Lufthansa and AF-KLM have not added secondary Chinese cities in recent times. It is true that they too have partners and growing ties, such as the Lufthansa-Air China JV, that can strengthen their position in existing secondary markets. Unlike BA, they do not face growth constraints on their hub that are as strong, nor inconvenience for connections, or such unfavourable visa policies for local and connecting visitors.
This may give AF-KLM and Lufthansa a more ambitious view of their future Chinese potential that in turns means that they will be willing to endure low performance for longer than BA, which is under strict profit expectations. IAG is Europe's best-performing major airline group by far, although secondary Chinese routes alone do not drag down the margin of AF-KLM and Lufthansa.
There are clear yield challenges in secondary Chinese cities and the still unexplored question of what happens when subsidies end, where sufficient momentum had not been achieved. There will be losers and winners, but the balance is still to be learned.
Short of changes in subsidy strategies, any other secondary city withdrawals seem likely to be motivated not by market fundamentals but what airlines are willing to sustain, and how they calculate value.