Central Europe airlines: Wizz Air leads, LOT Polish growing fastest
Analysis
In late Jun-2018 LOT Polish Airlines took delivery of its third Boeing 787-9 aircraft and its fourth 737MAX-8. As at 26-Jun-2018, LOT had outstanding orders for 18 aircraft: nine 737MAX-8s, five 787-9s and four Embraer E190s. The Polish carrier has enjoyed a strong return to growth since 2016 after emerging from a lengthy period of restructuring.
LOT's CEO Rafał Milczarski told CAPA TV in early Jun-2018 that LOT is aiming to become "Central Europe's favourite airline". Currently, LOT is number three by seat capacity in Central Europe, behind the leader Wizz Air and third placed Ryanair. However, LOT is already the biggest airline on routes within Central Europe and the region's only significant long haul operator.
Seat growth from Central Europe is 10.5% in 2018, according to data from OAG Schedules Analyser, and LOT is the region's fastest growing airline by seat capacity. Wizz Air and Ryanair have a strong presence in a number of countries across the region. This summer, LOT has also established a base outside Poland, launching two new trans Atlantic services from Budapest to New York JFK and Chicago.
Summary
The chart below shows the development of the annual departing seat capacity of the top 10 airlines in Central Europe over the past 10 years. Note that 'Central Europe' refers to the region Eastern/Central Europe excluding the Russian Federation, Turkey and Greece.
According to data from OAG Schedules Analyser, Wizz Air is the leading airline by seats in Central Europe in 2018. It has held this position since 2009, when it took over the top spot from LOT Polish.
See related report: Wizz Air: rapid growth plan will need to reverse margin squeeze
Wizz Air's seat share in 2018 is 16.6%, giving it a lead of more than 5ppts over second placed Ryanair, which has 11.4% of seats.
LCCs have a seat share of 38.5% in 2018, up slightly from 38.0% in 2017 and almost double their 2008 share of 21.5%.
LOT, which returned to growth in 2015 after an extended period of restructuring, is now the region's third largest airline, with a 2018 seat share of 7.5%. Ukraine International is fourth, followed by Lufthansa in fifth and Aeroflot in sixth.
LOT is the region's fastest growing top 10 airline in 2018
LOT is the fastest growing among Central Europe's top 10 airlines in 2018, with annual seat growth of 25.4%.
Next fastest among the top 10 are TAROM (the region's ninth biggest airline), which is growing at 22.1%, and Wizz Air, expanding by 21.0%. Ukraine International (+17.7%), airBaltic (+17.0%) and Turkish Airlines (+11.1%) are also growing seat numbers to Central Europe at double digit rates.
Ryanair's 2018 seat growth is 6.1%, Lufthansa's is 8.3% and Aeroflot's is 3.6%. Number 10 ranked easyJet is growing capacity to Central Europe by 7.0% this year.
Central Europe*: annual departing seat capacity by airline**, 2008 to 2018
Poland is the region's largest country market
Poland is the largest country market in the region, with almost twice as many seats in 2018 as second placed Romania, which itself is neck and neck with number three Ukraine and just ahead of fourth ranked Czech Republic.
Hungary completes the top five, before Bulgaria, Croatia, Serbia, Latvia and Lithuania make up the rest of the top 10 countries in Central Europe by seats in 2018.
The top five countries account for 60% of seats in Central Europe and the top 10 account for 81%.
Central Europe*: departing seat capacity by country and top three airlines by seats in each country, 2018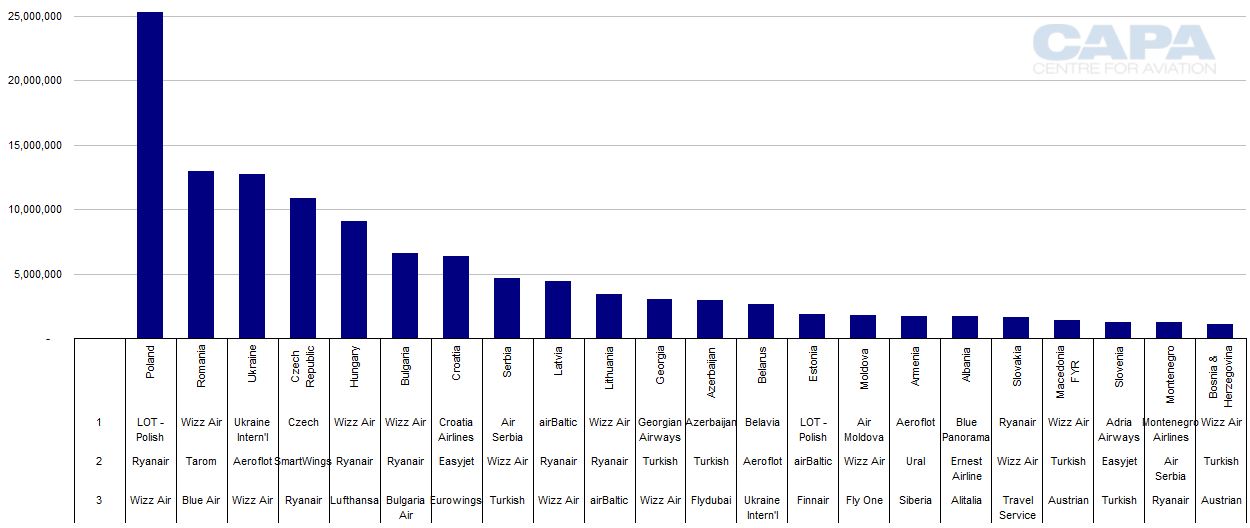 757" height="320" />
Wizz Air leads in six Central European countries
LOT is the biggest airline in Poland, which is the largest market, but only third in Central Europe overall, behind Wizz Air and Ryanair.
Wizz Air is number one in six of the region's 22 countries (Romania, Hungary, Bulgaria, Lithuania, the Former Yugoslav Republic of Macedonia and Bosnia & Herzegovina) and number two in three (Serbia, Moldova and Slovakia).
Ryanair is number one only in Slovakia, but number two in five other countries, all of which are in the top 10 (Poland, Hungary, Bulgaria, Latvia, Lithuania).
Wizz Air ranks third in four countries (Poland, Ukraine, Latvia and Georgia), while Ryanair is third in two (Czech Republic and Slovenia).
Wizz Air's and Ryanair's leadership by seat numbers in Central Europe is based on each airline's routes between Central Europe and Western Europe. Routes between these two regions account for 83% of Wizz Air's Central Europe capacity and 92% of Ryanair's.
Focusing on intra-Central Europe capacity only, LOT Polish is the leading airline on routes within the region (only 27% of its Central Europe capacity is on routes to Western Europe).
By this measure, LOT is almost twice as big as number two Ukraine International Airlines and 2.5 times the size of Wizz Air, which is third by seats within Central Europe.
Central Europe to Central Europe*: top 10 airlines by annual departing seat capacity, 2018
| | | |
| --- | --- | --- |
| Rank | Airline | Number of seats |
| 1 | LOT - Polish Airlines | 5,339,156 |
| 2 | | 2,880,001 |
| 3 | | 2,153,598 |
| 4 | Tarom | 1,432,558 |
| 5 | | 1,258,265 |
| 6 | | 1,127,855 |
| 7 | | 1,036,700 |
| 8 | | 755,136 |
| 9 | | 648,308 |
| 10 | | 514,467 |
Only 10% of seats from Central Europe are operated to regions outside Europe
The vast majority of departing seat capacity from Central Europe is on routes to destinations in Europe, which accounts for 90% of seats (63% to Western Europe and 27% to Eastern/Central Europe).
Only 10% of seats from Central Europe are on intercontinental routes: 6% to the Middle East, just under 2% to Asia and less than 1% to each of North America and Africa.
Central Europe still relies heavily on hubs outside the region for long haul connections. For trans Atlantic destinations Western European hubs are important, whereas Middle Eastern hubs have been of increasing importance for destinations in Asia Pacific and Africa.
Over the past 10 years, capacity from Central Europe to the Middle East has increased by almost six times, led by a combination of LCCs such as flydubai and Wizz Air and Gulf hub carriers – particularly Qatar Airways and Emirates.
Seat capacity from Central Europe* by arrival region, 2018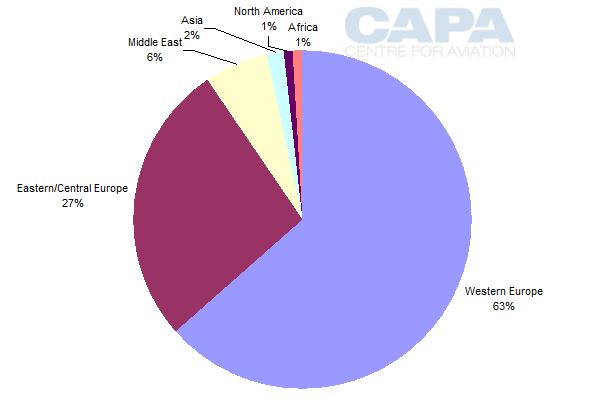 However, the fastest growing destination region from Central Europe in 2018 is North America.
Seat growth between Central Europe and North America will be 44.2% in 2018, according to data from OAG Schedules Analyser (ahead of the 27.1% growth to the Middle East, 21.4% growth to Africa, 16.5% growth to Asia, 10.1% growth to Eastern/Central Europe and 8.7% growth to Western Europe).
LOT Polish is the leading airline from Central Europe to North America by some distance, with more than 3.5 times the capacity of number two Air Canada in 2018.
The only other airlines based in Central Europe that operate to North America are Ukraine International Airlines, Air Serbia, Azerbaijan Airlines and Uzbekistan Airways. However, their capacity to North America is much smaller than LOT's, and with the exception of Air Serbia they are located to the East of LOT's Warsaw hub.
Essentially, LOT is the only significant airline in Central Europe with direct flights to North America and it is using this to its advantage by growing rapidly on trans Atlantic routes (up by 32% in 2018).
LOT operates from Warsaw to New York JFK, Chicago, Toronto, Los Angeles and New York Newark.
See related report: LOT Polish Airlines: new LA service highlights value of long haul; short haul heat from LCCs remains
In addition, this summer it launched new services from Krakow to Chicago and from Rzeszów to New York Newark, and with flights from Budapest to New York JFK and Chicago as its first trans Atlantic services from outside Poland.
See related report: Budapest Airport: Central Europe's #1 LCC airport and growing fast
There are no other airlines operating on LOT's North American routes, with the exception of its Star Alliance and codeshare partner Air Canada on Warsaw-Toronto.
Seat capacity from Central Europe* to North America by airline, 2017 and 2018
| | | | |
| --- | --- | --- | --- |
| Airline | 2017 | 2018 | Growth % |
| LOT - Polish | 395,329 | 520,380 | 32% |
| | 67,116 | 143,542 | 114% |
| Ukraine International | 87,111 | 136,234 | 56% |
| | 0 | 73,986 | n/a |
| | 48,618 | 50,038 | 3% |
| | 39,114 | 39,080 | 0% |
| | 21,300 | 26,485 | 24% |
| | 28,980 | 22,050 | -24% |
| | 15,312 | 1,476 | -90% |
| Total | 702,880 | 101,3271 | 44% |
Central Europe's 2018 seat growth rate of 10.5% compares favourably with Western Europe's growth of 4.6%, according to data from OAG. Airlines operating in Central Europe can benefit from this superior growth, provided that they have an efficient cost structure.
Ultra-LCCs Wizz Air and Ryanair seem unlikely to be challenged as overall capacity leaders in the Central Europe region. However, their focus on short/medium haul point-to-point markets leaves a gap for airlines following a hub strategy that includes long haul destinations.
LOT Polish is demonstrating that it has put its restructuring behind it and is capable of filling that gap.