Avianca, Copa & United: Complex partnership talks
Analysis
The alliance chess game in Latin America continues with Avianca, Copa and United all acknowledging their discussions about forming a three-way alliance to strengthen their respective positions between the US and Latin America.

United and Avianca have been in talks for more than year to establish a potential joint business agreement as oneworld partners LATAM Airlines Group and American work to forge their own joint venture. Azul, meanwhile, has expressed its desire to create a JV with United, and aims to forge a similar tie-up with TAP.

Given United and Copa's deep ties, it is not surprising Copa has joined discussions with Avianca and United. Copa serves 13 US destinations, and brings the heft of its powerful connecting hub in Panama City to a potential joint venture.
CAPA will feature a panel discussion at its upcoming Latin America & LCC Summit 11-12 Sep in Cartagena, Colombia. Details below.
Summary
Azul continues to maintain that a JV with United will materalise
Star Alliance partners Avianca and United have been engaged in talks about establishing a joint business agreement for more than a year. The discussions are against a backdrop of regional powerhouse LATAM Airlines Group working to forge joint ventures with its fellow oneworld partners American Airlines and IAG. The oneworld carriers have not yet received approvals from all countries covered under the JVs, which encompass their respective networks between Latin America and the US and Latin America and Europe.

There are a lot of moving pieces in the JV/alliance puzzle in Latin America. Avianca has expressed an interest in merging with Brazil's third largest airline Avianca Brazil. Synergy Group is the largest shareholder of each company, but they operate separately, with some limited codesharing. Nothing has yet to materialise, but if Avianca Brazil and Avianca do merge, it creates questions over a potential United-Azul joint venture.

During 2015 United invested USD100 million in Azul for a 3.7% stake in Brazil's third largest airline, and the two airlines forged a codeshare, covering some of Azul's domestic flights from São Paulo Guarulhos and United's flights from its hubs in Chicago, Houston, Newark and Washington Dulles. Earlier in 2018, United increased its stake in Azul to 8% after purchasing shares held by Hainan Airlines.

Azul has made no secret of its desire to forge a JV with United. Azul officials recently reiterated that the two companies are "absolutely working towards a US-Brazil joint venture". Executives from the Brazilian airline explained when United made its investment in Azul before Open Skies between the US and Brazil was approved, "we kind of wrote that [a JV] in a contract that we have with them...".
Copa brings its powerful Tocumen hub to JBA talks with Avianca and United
It remains unclear how a United-Azul JV would affect Avianca and United's discussions, especially if Avianca and Avianca Brazil do in fact move ahead with a merger. But in the mean time, Copa has officially joined joint business talks with its fellow Star partners Avianca and United.

Predicting if the three airlines can agree on terms of joint business agreement is difficult. But it is not surprising that Copa has opted to enter into negotiations with its partners. United and Copa have a long history. At one point Continental (which merged with United in 2010), owned a 49% stake in Copa. United and Copa in 2016 opted to renew their alliance for five more years.

Copa brings a certain level of heft to the joint business discussions. It has transformed its hub at Panama City Tocumen into a major transit point between North and South America. Tocumen's passenger numbers more than doubled from 2010 to 2017 from seven million to 15 million. Copa holds a nearly 87% seat share at Tocumen.
Panama City Tocumen passenger numbers from 2009 to 1H2018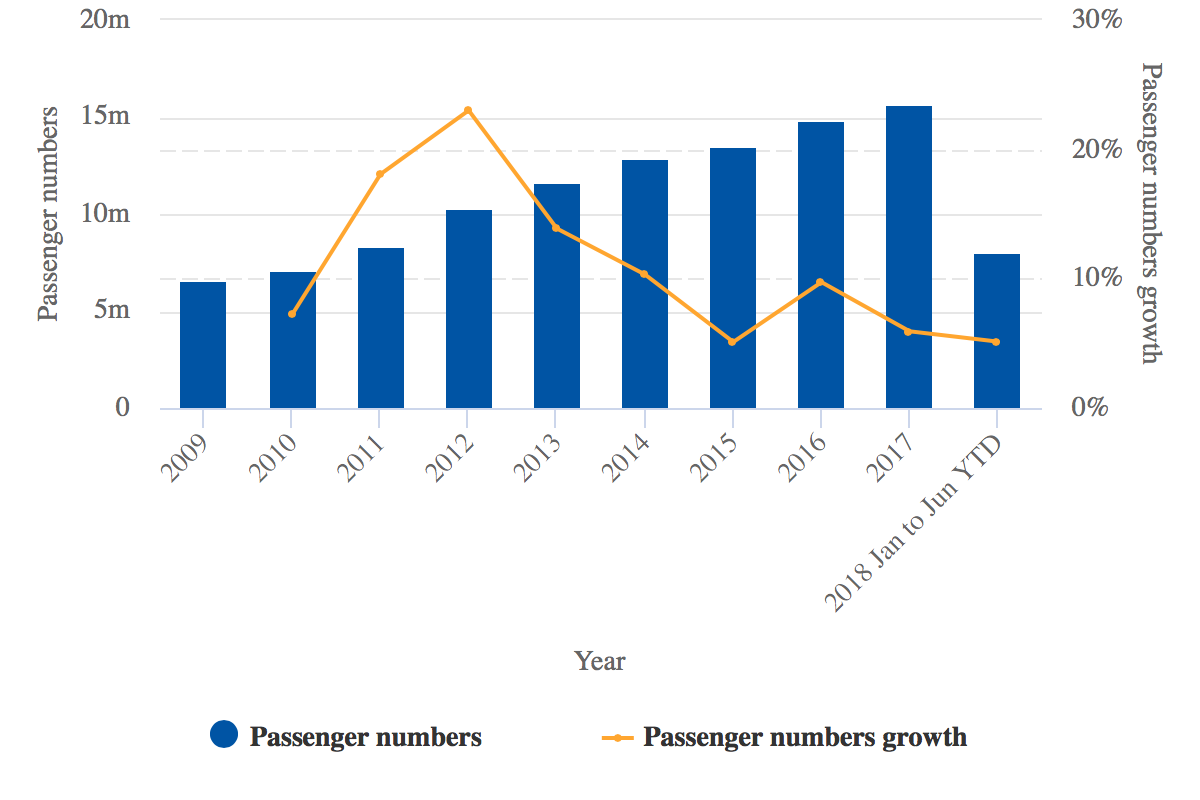 Copa and Avianca offer solid coverage from Central America to South America. Copa holds a 71% seat share between Central America and lower South America. Between Central America and upper South America, Copa holds a 52% seat share and Avianca's share of seats is 23%. (all data supplied by CAPA and OAG as of mid Aug-2018)

The three way joint business discussions among Avianca, Copa and United are covering networks between the US and Latin America. Data from CAPA and OAG show Copa operates to 13 US markets from Tocumen, and Avianca operates to 12 markets from its hub in Bogota. Avianca Peru offers service from Lima to Miami and Avianca El Salvador operates between San Salvador and Miami.

If the joint business discussions prove fruitful, Avianca, Copa and United could leverage powerful hubs in Panama and Bogota, which is home to Latin America's third largest aviation market, Colombia.

But that would leave a network gap in Brazil, the largest air travel market in the region.
Adding Avianca Brazil to the mix would give the three partners some coverage within Brazil, but Azul's 124 aircraft fleet is more than double the size of Avianca Brazil's fleet of 54 aircraft. And although Azul has expanded long haul international service to the US and Europe during the last couple of years, Brazil's domestic market represents nearly 97% of Azul's departing frequencies (as of mid Aug-2018).
Azul international vs domestic weekly departing frequencies as of mid Aug-2018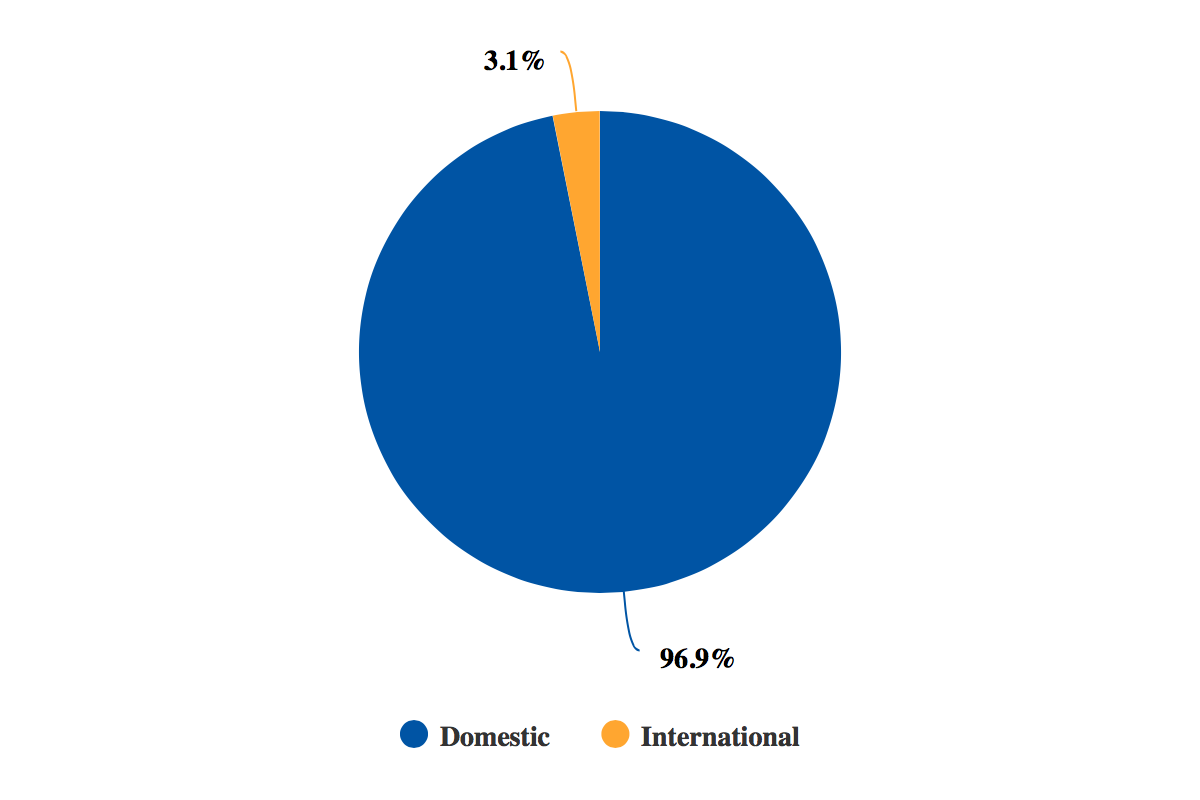 How United navigates its discussions with Avianca and Azul, and the role Avianca Brazil plays in those talks is likely pertinent point in the discourse.
Complexity is inherent in shifting alliance strategies in Latin America
There is much to unfold in the changing joint venture picture in Latin America, and the latest evolution of partnerships was spurred by LATAM Airlines Group's ambitions to create a oneworld fortress to the US and Europe.

Now the Star Alliance partners are working to respond to the changing dynamics in the region. But there are some complexities Avianca, Copa and United need to work out regarding coverage in Brazil in order to craft the right strategy to maximise value in their potential partnership.
CAPA will feature a panel discussion at its upcoming Latin America & LCC Summit 11-12 Sep in Cartagena, Colombia
Panel Session: Airline investment and foreign ownership in Latin America

Latin American flag carriers have often suffered from the dominance of foreign airlines in key markets. US airlines, notably, have secured significant equity holdings and partnerships, in attempting to subdue some of the more difficult elements of competition. This has been possible as several key Latin American countries, such as Mexico, Brazil, Chile and now Argentina have adopted relatively liberal aviation policies. Ownership and control and foreign equity ownership have been significantly relaxed in several cases.
Only a small number of states including those of central America have resisted this trend. As the main Latin American economies emerge from the difficult times they have experienced in this decade, there is the potential for foreign airlines to establish even stronger ties.


How do limits on open skies and infrastructure constraints inhibit growth?
Are Latin American governments likely to pursue liberal market regimes, including market access and foreign ownership?
What's the appetite for foreign investment in Latin American airlines, and what is the reality that some of the more restrictive foreign ownership laws could change?
Are more cross border equity investments likely as partnerships evolve?
Are there opportunities for multilateral liberalisation that would benefit foreign airlines?
Which markets are underserved and have the most potential?
How can the region's airlines better compete and capture their fair share on Latin America's growing air routes?
Will Latin American carriers grow their capacity share on intercontinental routes or will foreign carriers continue to dominate?

Moderator: Deutsche Bank, Managing Director, Michael Linenberg
Panel Members: