American records favourable 1Q2014 results; but admits complex integration tasks lie ahead
Analysis
Similar to its US legacy peer Delta, American Airlines recorded positive 1Q2014 financial results in what American's management described as "the most difficult winter season any of us have ever experienced in this business".

American recorded a profit despite canceling roughly 34,000 flights (which is approximately double the flights cancelled by Delta) and taking a USD115 million revenue hit from the disruptions in its operations. Even as the storms wreaked havoc for most carriers, the US domestic market was one of American's best performing regional entities during 1Q2014.

While the carrier is expressing positive sentiment about the demand environment through its estimated 4% to 6% passenger unit revenue growth in 2Q2014, American's executives admit the company faces the toughest integration challenges in 2015. One major challenge is in migrating to a single reservations systems platform.
Meanwhile, American is moderating its public optimism, preferring to adopt a modest understatement of the outlook - while hoping for a successful outcome.
On a combined basis, American and US Airways post solid growth in 1Q2014 profits
Throughout the rest of 2014 American plans to discuss combined American-US Airways financial results on a non-GAAP basis, concluding that is the simplest way to compare the performance of the combined carriers.

Based on those measurements, American recorded a USD480 million profit in 1Q2014 compared with a combined profit of USD44 million the year prior. Stand-alone American Airways lost USD341 million in 1Q2013 while US Airways posted a USD44 million profit.

The company's 1Q2014 revenues were nearly USD10 billion compared with combined revenues of USD9.5 billion the year prior. On a combined basis, operating expenses were relatively flat year-on-year during 1Q2014, totaling USD9.3 billion. Combined operating income increased from USD173 million to USD730 million year-on-year.
American and US Airways combined financial performance (non-GAAP): 1Q2014 vs 1Q2013

American records a strong performance in the domestic US market in 1Q2014; corporate markets was strong
American recorded nearly 3% passenger unit revenue growth in 1Q2014 as yields increased 3%. Its capacity grew 2% and traffic increased 1.7% year-on-year during the period.
Similar to Delta, American recorded strong results in the US domestic market in 1Q2014, growing yields by 5.6% and passenger unit revenues by 6.3%.
American's consolidated domestic performance: 1Q2014 vs 1Q2012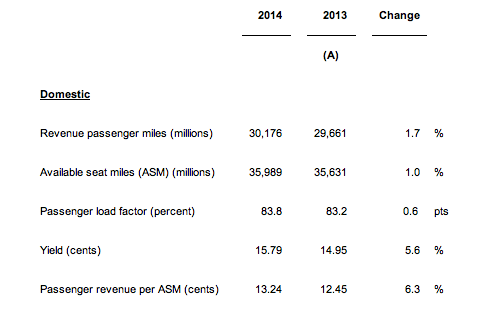 Company president Scott Kirby remarked that the overall demand environment was strong, and that American's corporate revenues increased in the mid-single digits year-on-year during 1Q2014.
He noted some "nice wins" in corporate accounts as the merged carrier leverages its position in the New York transcontinental market and the power of its shuttle-flying along the US east coast.
American's strongest regional entity in 1Q2014 was the Pacific
However, by contrast with Delta, American's strongest performing regional entity was the Pacific, where yields increased 6%, driving unit revenue growth of 8.6% in 1Q2014. Putting that performance into perspective, Mr Kirby concluded that American's results in Asia cannot be directly compared to its US peers, given American's smaller Asian network.
Based on CAPA and OAG data, American's seat share from the US to North Asia for the week of 20-Apr-2014 to 26-Apr-2014 is roughly 5% compared with 18% for United and 14% for Delta.
American's consolidated Pacific performance: 1Q2014 vs 1Q2012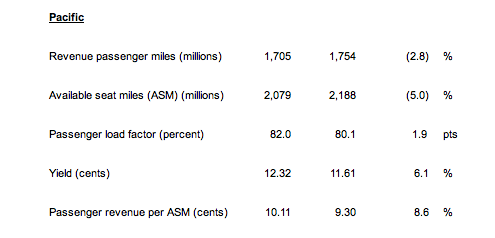 However, Mr Kirby did note that American has taken steps to improve slots times in some of its Asian markets, and saw double digit improvement in premium revenues in Pacific routes, which could be indicative of some share shift to American.
Capacity pressure affects American's Latin American results in 1Q2014
American's results in Latin America were more mixed as yields in Latin grew 2.6% while passenger unit revenues dropped 1.2% year-on-year during 1Q2014.
Mr Kirby cited industry capacity growth as one of the challenges American faced in its Latin American markets as well as the continuing repatriation payments owed to American (and other carriers) by the Venezuelan government. At the end of Mar-2013 roughly USD750 million of American's restricted cash balance was held in VEF.
American's consolidated Latin America performance: 1Q2014 vs 1Q2012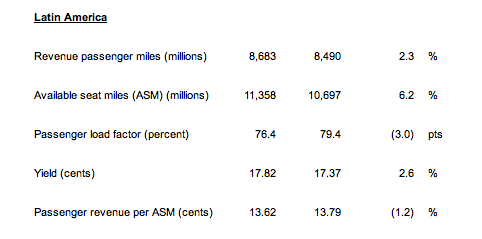 Mr Kirby noted that American has been paid normal repatriation balances from the Venezuelan government for Jan-2014, but was obviously still waiting for payments from 2012 and 2013. He explained the carrier is engaged with the government over historical payments, noting operations to Venezuela represent 1.4% of American's revenues.

Delta Air Lines contributed to some of the overall industry capacity growth to Latin America during 1Q2014 as its capacity in the region increased 18% year-on-year, triggering a 1.3% drop in yields and flat revenue growth. Delta noted it increased supply to better match connections with partners Aeromexico and Gol. United posted a 1.7% decline in its Latin American yields in 1Q2014 and a 2.6% drop in passenger unit revenues on essentially flat capacity growth.

See related report: Delta Air Lines continues to work toward achieving investment-grade results with strong 1Q2014 results
Cutover from Star to oneworld pressures American's trans-Atlantic performance
In its trans-Atlantic markets American increased its yields by 2.8% year-on-year but passenger unit revenues fell 2.4%. Mr Kirby remarked American's performance in those markets was affected by US Airways' transition from the Star Alliance to oneworld during the quarter, which created a period of no alliance bookings on US Airways.
American's consolidated trans-Atlantic performance: 1Q2014 vs 1Q2012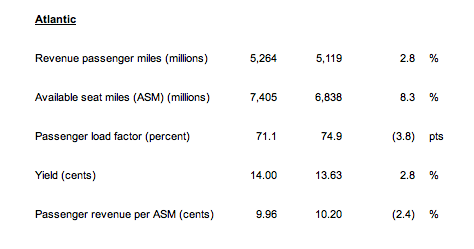 He obviously expects that to be rectified during 2Q2014, evidenced by comments of overall 4% to 6% passenger unit revenue growth in the quarter. Mr Kirby concluded that capacity creep in international markets makes unit revenue comparisons a bit more tricky year-on-year during 2Q2014, but he expects American to post unit revenue gains in all its geographic entities.
Queried specifically about Latin America, he explained that American is planning 7% capacity growth in the region year-on-year during 2Q2014 driven by new routes introduced in 2013. He expects US industry supply growth to Latin American to be slightly higher than American's 7% increase.
American estimates a rise in both unit costs and capacity in 2014
Previously, the airline had declined to give unit cost guidance for 2014, but American now expects mainline unit cost excluding fuel and special items to grow by 1% to 3% for the year. Regional unit costs are expected to grow 2% to 4% year-on-year. Mainline capacity is expected to increase 3% as higher-gauge mainline and regional aircraft are delivered. Most of the capacity increase – 7% – is pegged for international markets while American's mainline domestic supply should increase 1% during 2014.
During 2014 American plans to add 83 mainline jets and retire 82 aircraft. It is adding 25 Bombardier CRJ900s and 24 Embraer E-175s to its regional fleet, while retiring 42 regional aircraft.
American's mainline fleet projections: 2014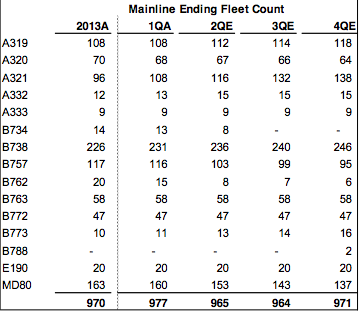 American's regional fleet projections: 2014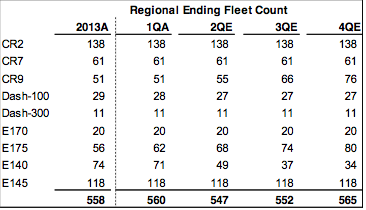 American recognises the toughest aspects of the merger are still ahead
As American's management discussed 1Q2014 results, carrier CEO Doug Parker fielded a question regarding investor trepidation over merger integration challenges the carrier faces in 2015. Mr Parker admitted the hardest integration work lies ahead, but reiterated previous comments of adoption of the larger carrier's [American] technology platforms. He observed that American has had the benefit of watching other mergers and participating in the consolidation of US Airways and America West.

Mr Kirby noted that inevitably some issues will crop up as American works to complete the more difficult aspects of the merger, but also noted the company has already accomplished some major initiatives, namely the codeshare between American and US Airways.
He explained the American-US Airways combination was a clean-sheet implementation, making it more complicated than the codeshares between Delta and Northwest and United and Continental post-merger, since those companies had codesharing agreements in place prior to their respective tie-ups. He concluded American and US Airways forged their codeshare successfully with minimal impact.
American does not need to look any further than United for what not to do
Since completing the merger, American's executives seem to have adopted a strategy that ensures the carrier does not over-promise and under-deliver on the promised benefits of the merger between American and US Airways.
They do hint it is possible to achieve synergies beyond the USD1.4 billion target, but carefully do not make grand promises of anything beyond what has been declared.
Their approach would indicate they've studied other mergers (including their own) particularly carefully, and are taking great care not to make the same mistakes as other airlines. It is a wise strategy given the struggles United continues to face as its investors continue to wait for promised benefits four years after United and Continental merged.
For American, the potential mistakes it could make are all too apparent in United's ongoing weak performance. While it may prefer to emulate Delta's achievements, American is not yet ready to aspire publicly to that goal.

See related report: American Airlines' network tweaks officially begin as early revenue trends look favourable