06-Feb-2013 11:30 AM
All Nippon Airways' 787 grounding mitigated by very low domestic load factors and utilisation
Every cloud has a silver lining, and All Nippon Airways' remedy to the current 787 grounding could make it a more efficient airline in the long-term. Domestic Japanese load factors are typically woefully low – 60.9% in the year to 31-Mar-2013 for ANA, Japan's largest carrier and Asia's largest airline by revenue.
ANA is the world's largest 787 operator, with a third of the global in-service fleet. Much attention has consequently been directed towards it. But the impact from the 787 grounding is disproportionately lower as ample slack in ANA's schedules allows for re-shuffling. That is however not a simple task.
An expected rise in load factors for the duration of the grounding could give ANA a taste for greater efficiency, which it could then use to leverage against JAL's lower cost base.
787s are usually a minority of capacity on routes
ANA's 787 fleet operated on 11 domestic city-pairs in Nov-2012, according to CAPA's OAG scheduling database. ANA has four configurations for its 787-8 fleet: 158 seats (four aircraft), 222 seats (one aircraft), 264 seats (five aircraft) and 335 seats (seven aircraft).
The latter two configurations are used domestically while the 158 seat configuration is used on long-haul routes from Tokyo Haneda to Frankfurt, and Tokyo Narita to Seattle. The 222 seat aircraft is typically used between Tokyo Haneda and Beijing. In Jan-2013 ANA inaugurated a new service from Tokyo Narita to San Jose.
ANA load factor on domestic 787 routes and share of 787 capacity on domestic routes: Nov-2012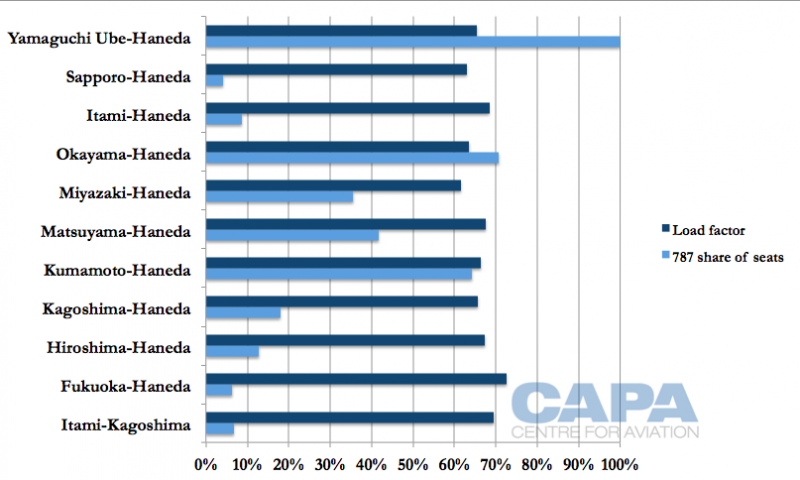 Where 787's are deployed on domestic routes, they typically account for a minority of capacity – on average, approximately 21%. This ranges from 787s being the sole equipment between Haneda and Yamaguchi Ube to accounting for only 4% of capacity between Haneda and Sapporo. Of ANA's 11 domestic city-pairs operated by the 787, six have capacity under 20% from 787s.
The strategy behind dispersal rather than concentration of the 787 on routes could be a combination of scheduling efficiencies, wanting the public to be able to access the 787 on a number of service and wanting to reduce exposure risk if a problem eventuated. However, the large number of airports seeing 787 service put greater pressure on ANA's spare parts chain than if confined to only a few cities.
ANA is rare in disclosing route-by-route load factors, and in Nov-2012 the domestic routes with 787 service typically had a load factor between 60-70%. Load factors on the 787 may have been above average if the aircraft was either scheduled at a peak hour or ANA is still attracting attention with the 787, nearly 18 months after its entry into service. (ANA has sought to spur public interest by featuring a number of special 787 liveries.)
ANA's domestic overall load factor in Nov-2012 was 67.0%, placing the 787 routes squarely within that average. But load factors typically fall during the slower northern winter months, and in Dec-2012 ANA's load factor dipped to 58.8%. The carrier has not released its Jan-2013 operating performance.
787 utilisation typically low at 10.5 hours
Utilisation rates are also typically low for Japanese carriers. Although ANA does not disclose any such information, OAG scheduling data indicates ANA would have had an average 787 utilisation rate across its network of 10.5 hours, although this is weighed down by the carrier not yet having significant scale on its long-haul operations.
Comparisons are difficult, but Jetstar's A330 fleet in 1H2012 had a utilisation rate of 14 hours while Cathay Pacific and its Dragonair A330s had a 2011 utilisation rate of 12.1 hours.
There is also slack elsewhere in ANA's schedule. Its 747-400 domestic fleet that is in service had a Nov-2012 scheduled service utilisation rate of under six hours. ANA has called in this fleet to help alleviate the 787 grounding. The upshot is that, with work, ANA can mitigate the grounding's impact on its domestic network. It is not simply done, but it is possible.
Long-haul routes have been more challenging. Since the groundings ANA has deployed 777s in lieu of 787s to Frankfurt and Seattle while San Jose has been cancelled because ANA says it had (somewhat oddly) only received regulatory approval to use the 787. Under the US-Japan open skies regime, carriers can typically apply to US authorities for multiple aircraft designations, so the reasoning for this restriction is not immediately obvious - except that this was one of the routes perfectly tailored for the 787.
Competitor JAL is not faring as well with its 787 replacement strategies
Japan Airlines, with seven 787s, is not faring as well. Its 787s are deployed in international markets and used to open new thin services, such as from Tokyo to Boston and San Diego. This domestic versus international strategy was well thought-out at ANA and JAL.
As CAPA previously wrote:
ANA is using the 787 as primarily a domestic aircraft, hence the high frequencies out of Tokyo Haneda airport, the city's downtown and more convenient airport for short-haul operations. ANA does, however, have long-haul international services, the first point of which was Frankfurt and most recently (mere days before the 787's grounding) San Jose in California.

JAL uses its 787 aircraft internationally, most notably to open a service to Boston.

This difference in network strategy is reflected in technical characteristics: ANA has selected the Rolls-Royce Trent 1000 powerplant for its 787s while JAL has selected the GEnx. ANA reckons the Trent 1000 is a better fit for mainly short-haul services.
See related article: Tokyo Airports most affected city by 787 grounding, losing 264 weekly flights
Whereas ANA said the grounding through Jan-2013 reduced revenue by USD15.4 million, JAL in early-Feb-2013 said the 787 grounding would so far reduce profit by USD7.6 million. Whereas carriers initially wanted to show support with Boeing and not discuss inevitable compensation matters, JAL now openly says it will seek this compensation from Boeing, although there are many ways of seeking compromise arrangements in these cases.
Experience with higher load factors could benefit ANA
There may very well be one positive upside for ANA from this grounding. By forcing it to experiment with higher load factors, the value in greater efficiencies could be more effectively recognised and even become the norm - just as the entry of new LCCs in many of its markets make the discrepancies in utilisation and load factor efficiencies make them more conspicuous.
As CAPA previously wrote:
An average 60-65% domestic load factor is not stellar. Nor, in passing, is it environmentally effective.

The Japanese market can be skewed, with peak hour flights full while off-peak flights are half-full at best – and that is when larger aircraft are not parked in the middle of the day. Capacity discipline may see peak-hour revenues decrease, but losses would be stemmed, increasing profit and margin.
See related article: ANA – and Japan's transport system – appears oblivious to coming LCC impacts, which will be vast
Low legacy load factors (these are not confined to ANA) will be exploited by the new LCCs, who will gain a cost advantage by having higher load factors, as they have so far typically managed (with the exception of AirAsia Japan - resulting in changes at that airline).
Select Japanese carriers' domestic load factors: Jul-2012 to Nov-2012
The third new LCC in Japan, Peach, achieved a 79% load factor through Sep-2012, well above the average of legacy peers.
See related article: Peach holds strong, AirAsia Japan drops CEO & Jetstar Japan reduces Kansai; Nagoya new battleground
But it is not simply in competing with these new arrivals that ANA could benefit. Higher load factors will also work to its advantage against its closest competitor, JAL.
JAL has already had some efficiency impositions placed on it. The carrier's 2010/2011 bankruptcy reorganisation forced it to cut its bloated – even by Japanese standards – cost base and come in below ANA's level.
"We understand that we will not be able to compete over the next two years directly on costs with a competitor coming out of reorganisation procedures," ANA says. While the carrier intends to achieve JPY100 billion in cost savings to restore its cost leadership, JAL will be watchful of wanting to maintain its cost position.
787 grounding presents medium-term challenges, too for Japan's airlines
As the immediate urgency to address networks slightly diminishes, airlines are looking now to the medium-term. None is taking the brash step (yet) of canceling orders – a move too short-sighted until a cause is established and rectified. The aircraft is simply too valuable to discard out of hand.
But there are other impacts. ANA will delay the issuing of its latest two-year management plan; 787s are an integral part to its growth, at home and abroad as it seeks to open new long-haul routes to remain competitive.
JAL has had to postpone its forthcoming Tokyo Narita-Helsinki service and has not given a new launch date in absence of a determination when the 787 will be able to fly again in revenue service. JAL is reportedly unsure whether to proceed with a winglet modification programme, as that will take aircraft temporarily out of service. Nor is it sure about renewing 767 leases in the event it needs extra capacity. Since the bankruptcy re-structuring JAL has less slack in its aircraft fleet. On 05-Feb-2013 it asked US authorities for permission to resume test flights.
787 grounding has geopolitical implications beyond airlines
A grounding of any aircraft type is never convenient for airlines, but some are able better to mitigate the impact, where they had excess slack to begin with, a rare occurrence in today's industry that proves advantageous when this occurs.
For ANA, a dance with higher domestic load factors – and thus profitability – should hopefully prove too irresistible to ignore once all is back to normal. Cost-cutting measures can be difficult and onerous on the business. In contrast, a 10 point improvement in load factors and an hour or two of added utilisation on an already handsomely profitable domestic network can mostly go straight to the bottom line.
There is of course more to the US-Japan 787 relationship than the affected airlines. Boeing is aware of other delicate implications beyond the impact on its airline customers. Various geopolitical factors tend to blur in political and trade circles as the US seeks a calm approach from Japanese regulators. There are significant trade links directly tied to the manufacturing of the 787, including the battery at the centre of the grounding; then there is the matter of a contentious US military base in Okinawa and the US pact to defend Japan from China in the event of a strike, something which is being discussed more following a dispute between China and Japan over disputed islands. As the 787 grounding wears on, airlines may become the most public feature of the incident - but only one piece to the larger air transport story and US-Japan relations.