Alaska Air Group: capacity uptick in 2017 and fleet changes as Virgin America integration starts
Analysis
Now that Alaska Air Group has completed its acquisition of Virgin America, the combined company is offering capacity guidance for 2017 that is higher than the industry average. But Alaska is stressing that the projected growth is 2ppt below the combined increase of the two airlines in 2016. Much of the growth is driven by Alaska's delivery of 18 Embraer 175s used on routes to enhance network offerings from the hubs of both Alaska and Virgin America.

Adding Virgin America's network to its operations appears to be creating a competitive shield for Alaska. The company has refined competitive capacity growth estimates downward for 1Q2017 as the broader scale created by absorbing Virgin America gives Alaska the strategic network diversification that it lacked prior to the merger.

The merger integration between Alaska and Virgin America remains in its infancy, and many questions about fleet composition and branding remain unanswered. But in the short term Alaska aims to slow delivery streams for the Airbus A321neos in Virgin America's order book until it can properly determine fleet needs for the combined airline over the long term.
The Virgin America merger pushes Alaska's 2017 capacity higher
Near the end of 2016, Alaska was somewhat hamstrung in offering definitive capacity guidance for 2017 as the US Department of Justice took longer than anticipated to approve Alaska's acquisition of, and merger with, Virgin America. At that point, Alaska estimated 7% capacity growth on a stand alone basis.

See related report: Alaska Air Group: locked in limbo until the government renders a decision on Virgin America

Now Alaska is forecasting combined growth of 8.5% for the two airlines in 2017, which was broadly the same level as Alaska recorded on a stand alone basis in 2016, but not as high as Alaska's stand alone 10.6% capacity increase in 2015.
Alaska Air Group annual ASMs: 2011 to 2016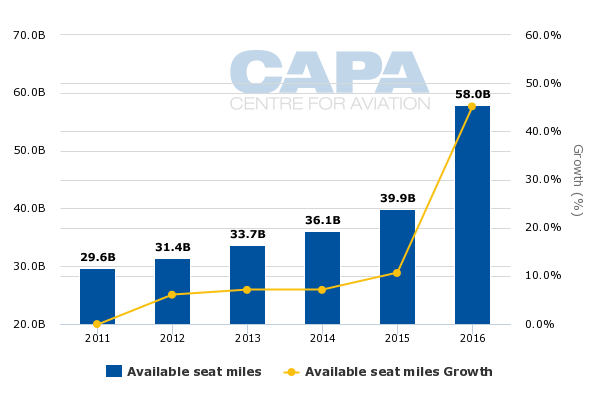 Alaska executives took great care in explaining that the growth in 2017 is 2ppt below the combined ASM expansion of Alaska and Virgin America in 2016. Markets are looking for a certain level of capacity discipline from airlines as industry unit costs excluding fuel are rising faster than unit revenues during 2017.
jetBlue recently refined its capacity growth for the year to 5.5% to 7.5%, from 6.5% to 8.5%, after the company projected weak unit revenue results for Jan-2016. Investors seemed concerned that jetBlue did not immediately refine its guidance after it offered an obscure unit revenue outlook.

See related report: jetBlue Airways reluctant to cut capacity despite uncertain revenue performance outlook

Approximately 18% of the combined Alaska/Virgin America capacity growth for 2017 is driven by the addition of 18 three class, 76-seat, Embraer 175s pegged for routes that are too thin for narrowbodies, but outside the operational parameters of the Bombardier Q400 turboprops operated by the Alaska subsidiary Horizon.
Alaska Air Group Inc. projected delivery dates of all aircraft families as of 19-Feb-2017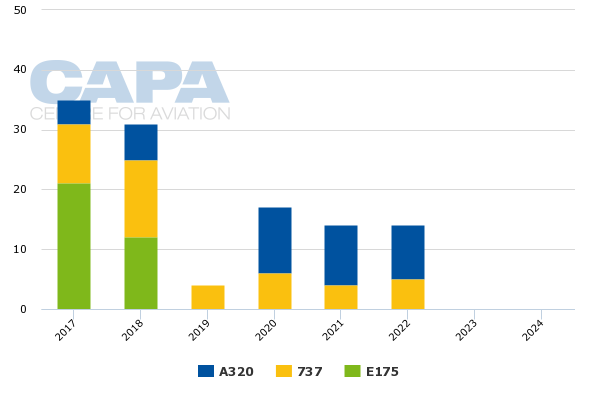 Alaska began operating the Embraer 175s in 2015 through a contract with the US regional company SkyWest Airlines, and in 2016 the company ordered 33 of the jets for operation by Horizon. Some of the new jets will replace 15 of Horizon's 52 Q400s scheduled to come off lease in 2018.

Previously, Alaska has estimated the operation of seven Embraer 175s by SkyWest would generate USD130 million in annual revenue, and declared that the initial 175 routes from its Seattle hub were profitable within the first six months of operation. As of early Feb-2017, Alaska was operating Embraer 175s in 30 markets.

See related report: Alaska Airlines braces for more ULCC competition as it makes subtle shifts in its business strategy

In 2017 Alaska is launching service from Virgin America's San Francisco hub to Minneapolis and Orange County. Those two routes illustrate Alaska's desire to use the jets on mid continent routes, as well as to bolster its competitive position on intra west coast routes. Alaska/Virgin America is competing with Southwest and United on flights to Orange County, and with Delta, Sun Country and United on services to Minneapolis.

According to schedules from CAPA and OAG, United operates a mix of Bombardier CRJ700s and Embraer 175s on services from San Francisco to Orange County, and Southwest uses 737s on the route. Delta primarily uses MD-90s on flights between Minneapolis and San Francisco, and United operates Embraer 175s on the pairing. The Minneapolis based Sun Country uses 737s on its service to San Francisco.

The new Embraer routes from San Francisco offer a hint of how Alaska plans to leverage the San Francisco hub in its network, expanding the base of Virgin America's reach to markets that are not quite large enough for narrowbody operations, but which still generate a revenue premium. Alaska operates its Embraer 175s with first class, preferred class and regular economy sections, and company executives have stated that the aircraft generates premium revenues not available in its current regional fleet.

Network diversity gives Alaska some protection from competitive capacity growth
Despite its push into transcontinental and mid continent routes during the past few years, Alaska's network concentration on a stand alone basis remains centred on the US west coast. With Delta's build up in Seattle during the past few years, and other airlines entering Alaska's second largest hub in Portland, competitive capacity additions have created pressure for Alaska.

But with the network diversification that Virgin America's larger range of transcontinental flights offers Alaska, competitive capacity additions are less intense in early 2017.
Previously, Alaska has estimated that on a stand alone basis competitive capacity in its markets would grow 9% year-on-year in 1Q2017. Based on published schedules that forecast has now dropped to 5%, and including Virgin America's network, competitive capacity in the combined network is scheduled to grow just 4% year-on-year in 1Q2017. Schedules in CAPA and OAG for the week of 6-Feb-2017 show that Virgin America represents 24% of Alaska Air Group's system wide ASMs.
Alaska Air Group Inc. capacity by airline: 6-Feb-2017 to 12-Feb-2017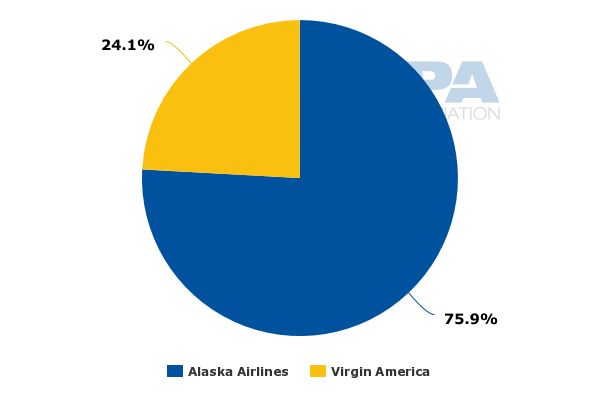 Alaska, integrated with Virgin America, begins the complex task of determining its fleet needs
Alaska is just embarking on the Virgin America integration, and many aspects of the joint operation remain unclear – including future branding and fleet composition.

But in the short term Alaska aims to adjust the delivery schedules of 10 of Virgin America's Airbus A321neos over the next two years. The logic behind slowing deliveries is allowing Alaska to complete up to a nine month process during 2017 to evaluate whether it will operate both Airbus and Boeing narrowbodies. Alaska officials have noted that Virgin America's orders for 30 A320neos can be cancelled.
Alaska Air Group fleet summary as of 11-Feb-2017
Alaska is also likely attempting to keep its capex in check during the next couple of years. Fitch Ratings recently highlighted that Alaska had utilised the bulk of its previously unencumbered fleet as collateral for debt related to the Virgin America acquisition. The agency had calculated that Alaska's number of unencumbered aircraft fell from 101 as of 30-Jun2016 to 50 post transaction.

Alaska has also stated it is a big proponent of buying, versus leasing, aircraft, which could also be a driver in its decision to slow Virgin America's A321neo deliveries from lessors. Approximately 88% of Alaska Airlines' mainline fleet is owned.
Alaska Airlines owned vs leased for aircraft as of 11-Feb-2017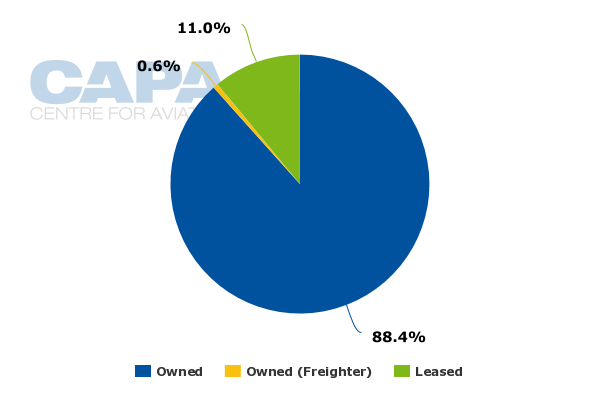 There has been much for Alaska to digest since the Dec-2016 close of its merger with Virgin America, and it is just beginning to contemplate how the combined networks can reach maximum profitability, and also whether there is enough potential scale in the future to operate multiple fleet types (accounting for the Q400 and Embraer 175). Airbus jets now represent 23% of Alaska Air Group's consolidated fleet.
Alaska Air Group fleet breakdown of in service aircraft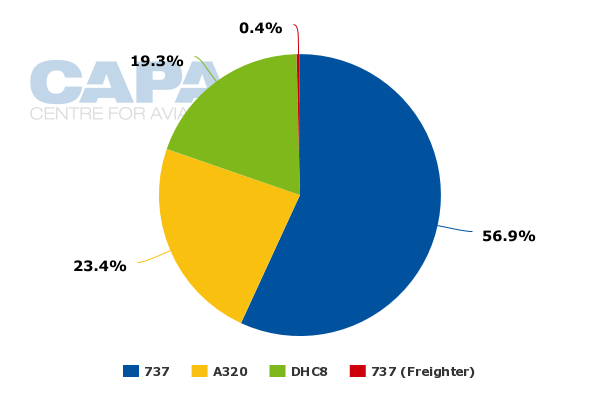 Alaska is ensuring it can create as seamless a merger integration as possible
Alaska's planned capacity growth for 2017 is among the highest of any US airline (now that jetBlue has refined its capacity targets in the wake of weak unit revenue results for Jan-2016), but the company's growth has in fact not spooked the markets – given that it is digesting the merger with Virgin America.

Although Alaska will likely face some margin pressure in 2017 due to the incorporation of Virgin America, their combination will create a formidable competitor over the long term if the merger is executed properly.
The merger is a significant undertaking for Alaska, but for now there is little reason to doubt the company's competence to succeed in a fairly smooth merger integration. Together the combination looks set to equal more than the sum of its parts.