Alaska Airlines braces for more ULCC competition as it makes subtle shifts in its business strategy
Analysis
Alaska Air Group is making subtle changes to its business in 2016, which include the introduction of a premium economy product and a decision to enlarge its fleet of larger regional jets, as the airline positions itself to compete more effectively with its rivals.

There are also nuanced changes in Alaska's competitive landscape in 2016. Although Delta Air Lines remains a fierce competitor in Alaska's Seattle hub, most of the competitive capacity additions that Alaska faces in early 2016 stem from other airlines, including expanded competition with ULCCs. For now, Alaska does not foresee a need to segment fares to compete more effectively with ULCCs, but concludes that it would be an easy change to its business model, if necessary.

The company is sticking to its previous projections of 8% capacity growth in 2016 even as unit revenue pressure continues through the first half of the year. As a result, Alaska's stock value compressed in early 2016, but regained some traction in late-Jan-2016. The fluctuations have not deterred Alaska's inherent belief that it can post solid revenue growth with an annual expansion of ASMs between 4% and 8%.
The extra leg room trend takes hold at Alaska. Premium economy could affect first class pricing
In late 2015 Alaska outlined its plans to create a premium economy section on its aircraft, joining the three large global US airlines (American, Delta and United) and Virgin America in offering an extended leg room product. JetBlue also offers customers more leg room through its 'Even More' package.

The airline plans to add a premium economy product both on its Boeing 737s and the Embraer 175 regional aircraft operated by its partner SkyWest. Alaska's Boeing 737-800s will feature 30 extra leg room seats and its -900ERs will offer 24 seats with added pitch. Currently (Jan-28-2016) Alaska operates 61 737-800s, 12 -900s and 34 -900ERs.
Alaska Airlines Fleet Summary as of 28-Jan-2016
Alaska has previously stated that the addition of premium economy should add more than USD85 million in annual profit by 2018, when the aircraft reconfigurations will be complete.

See related report: Alaska Air shows the formidable power of the "The Eskimo" even as its capacity outpaces the industry

Alaska's decision to introduce a premium economy product was driven in part by customer demand for extra leg room. The company also offers a first class product on its Boeing 737s. Once the configurations with a new premium economy are complete, the first class section on the -800s will decrease by four seats, but the pitch on those seats will increase. The number of first class seats on Alaska's -900ERs will remain unchanged.

It is not clear whether Alaska's pricing structure for first class will change when the premium economy product debuts. In 2014 Alaska introduced a new booking structure for its first class product, offering a fare booking class for the premium section at fares that were lower than for regular full first class fares, to stimulate demand for the first class cabin. In some ways, perhaps, that allowed Alaska to gain insight into pricing structures for a premium economy offering as it evaluated the revenue benefits from developing an extra leg room product. Obviously, Alaska needs to ensure that it does not cannibalise its first class offering with its new premium economy product.

See related report: Alaska Air Group vs Delta in Seattle: Alaska defends a capacity challenge in 1Q2015
Alaska aims to upgauge its regional fleet after initial success with Embraer 175s
During 2015 Alaska introduced seven 76 seat Embraer 175s to its fleet, operated by partner SkyWest Airlines. Its strategy with the aircraft is to operate the jets on routes that are too thin for Boeing 737s and too long for Bombardier Q400s turboprops, which are operated by Alaska's subsidiary Horizon.

Alaska has estimated that a steady-state operation of seven Embraer 175s should generate USD130 million in annual revenue. The routes where the aircraft were placed turned profits within six months of their launch, said Alaska. Most of the jets are operated from Alaska's Seattle hub.

The company is planning to upgauge its regional fleet further, aiming to replace 15 of Horizon's Q400s that are scheduled for lease returns in 2018. CAPA's fleet database shows (as of 28-Jan-2016) that Horizon operates 52 of the turboprop aircraft.
Horizon Air Fleet Summary as of 28-Jan-2016
Alaska has stated its intent to place an order for 30 large regional jets during 1Q2016, for delivery starting in 2017, if it can reach an acceptable agreement for the aircraft. Horizon will operate the jets if the airline's pilots and flight attendants agree on changes to collective bargaining agreements, planned to make Horizon more competitive with other capacity purchase providers.

The Embraer 175 is the obvious choice for Alaska since the company is now familiar with the aircraft's operating profile and seems pleased with the jet's economics.

Alaska is following the years-long trend of other large US airlines by upgauging their regional fleets to larger aircraft that allow for two class service, lifting revenue. There is also a passenger preference for larger aircraft.
Alaska has no immediate plans to adopt the fare family trend
2015 was a year of increased attention on competition between large US network airlines and ULCCs. American singled out the competition from low cost and ULCCs and said that it would match the fares offered by those airlines, concluding that the passenger segment that those airlines target was too large for American to turn its back on.

Alaska does not have as much competitive overlap with ULCCs as some of the larger US network airlines, but its exposure to ultra low cost discounters is increasing. Alaska has estimated that competitive capacity in its network should rise 13% in 1Q2016 and 12% in 2Q2016. ULCC growth in Alaska's markets represents around 2.5ppt of the 1Q2016 increase.

Spirit is upping competition with Alaska on some routes from Los Angeles in early 2016. Los Angeles is a highly fragmented market, but is a strategic base for Alaska onto routes in the Pacific Northwest, and some transcontinental markets. Los Angeles is Alaska's fourth largest base measured by seats.
Alaska Airline Global top 10 hubs/bases/stations by seats: 25-Jan-2016 to 31-Jan-2016
In Mar-2016 Spirit is launching flights from Los Angeles to Seattle and Portland, Alaska's largest and second largest hubs. Beginning in Apr-2016, Frontier is upping competition with Alaska on flights from Chicago O'Hare, and from Phoenix, to Seattle and Portland.

Frontier's new routes from Chicago and Phoenix already have ample service. American and United operate along with Alaska on flights from O'Hare to Seattle and Phoenix. American, Alaska and Southwest offer flights from Phoenix to Portland, and American, Alaska, Delta and Southwest operate between Phoenix and Seattle.

Similarly to routes where JetBlue competes with ULCCs, Alaska usually has a lower price point than the larger airlines and a better product offering than the ultra-low cost discounters.

Delta was the first major airline to create fare classes targeted to the passenger segment that ULCCs attempt to attract. Its Basic Economy offering is essentially a base fare with no amenities, such as checked bag or seat selection. Both American and United have stated their intent to create similar fare classes to better compete with ultra-discounters.

Alaska executives recently stated that the company had been able to observe how the US legacy airlines have created different fare products. At this point, Alaska believes that there is no need to develop similar fare offerings. The logic is that its fares are already low, and customers appreciate Alaska's product. However, the company's management did stress that if its mindset changes Alaska could develop a fare category offering and get it to the market pretty quickly.
Alaska's stock weakens at the start of 2016. Investors possibly spooked by its growth
Alaska's projected system-wide capacity growth of 8% in 2016 (down from 10.7% in 2015) seems to have generated concern among some investors, even as the company has posted annual ASM growth over 6% since 2012 and driven significant profit growth. Its net income in 2015 jumped 47% year-on-year to USD842 million.

But the competitive onslaught by Delta in Seattle, and the ensuing capacity that Delta added in the market, put pressure on Alaska's passenger unit revenues, before the industry slide in 2015 stemming from soft pricing - driven by lower oil prices.

Alaska's passenger unit revenue pressure continued in 2015, with full year PRASM dropping 5.4%. The company has stated that its PRASM will remain under pressure at least through 1H2016. Alaska's planned capacity growth, coupled with negative unit revenue trends, have pressured the airline's stock in early 2016. The stock fell to USD67 in mid-Jan-2016, from a high of USD86 in early Dec-2015.
Alaska Airlines share price: late Jan-2015 to late Jan-2016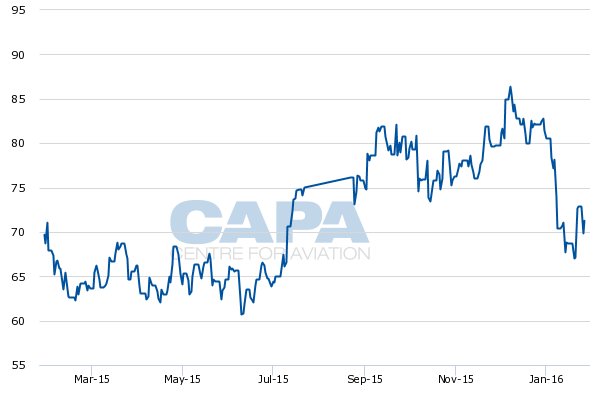 Even when oil was markedly higher, Alaska posted profit growth of nearly 61% year-on-year in 2013 on annual capacity growth of 8%. By late Jan-2016 Alaska's stock price had climbed back up to USD77. Perhaps Alaska's continuing message, that annual growth rates of 4% to 8% should allow it to grow annual revenues by 3% to 8%, is starting to gain traction with the markets.
Alaska makes some strategy changes, but takes a measured approach to the ULCC threat
Alaska is adopting new strategies in 2016 to align its offerings with its traditional competitors, which include the large US global network airlines and Southwest. The risk/reward formula for its premium economy appears to be favourable, and its regional jet strategy signals its intent to enter more small markets suited for 76 seat aircraft.

But ULCCs are expanding into more of Alaska's markets in 2016, providing Alaska with some concrete data about how the entry of ultra- discounters affects a given route. For now, Alaska believes that its existing product and pricing structure should be a viable force against the ULCC threat. But it also seems to be leaving the door open to adapt its strategy as ULCCs continue to raise their profile in the US market place.