Alaska Air Group: locked in limbo until the government renders a decision on Virgin America merger
Analysis
Alaska Air Group remains in limbo as it waits for the US Department of Justice (DoJ) to complete a review of the proposed Alaska-Virgin America merger. Alaska had originally hoped to gain government approval and close the deal in early 4Q2016, but the regulatory review unsurprisingly is taking longer than expected. However, Alaska remains confident of finalising the arrangement before the end of 2016, and is taking the proper financial steps to finance its acquisition of Virgin America.

In the short term Alaska is experiencing slightly improving trends in the US marketplace, and its unit revenue improved on a sequential basis from 2Q2016 to 3Q2016. Another positive development for Alaska is a slowing of competitive capacity growth in its markets in 4Q2016 and in early 2017. The tempering of growth is reflective of most US airlines planning to lower capacity expansion in 2017 as higher oil prices heighten the importance of returning to positive unit revenue.

Alaska also plans slower capacity growth of 7% in 2017, versus 8.5% in 2016. Approximately 3ppt of the increase is driven by longer stage lengths and the annualisation of nearly 10 new routes launched in 2016 – a mix of smaller and larger markets with varying levels of competition.
Alaska welcomes lower competitive capacity growth in its markets during late 2016
Alaska posted marked sequential improvement in its yield, passenger unit revenue and total unit revenue performance from 2Q2016 to 3Q2016. Similarly to jetBlue's, Alaska's worst quarterly performance was in 2Q206, when yields and unit revenues fell nearly 8% and total unit revenue dropped 6.4% year-on-year.
Alaska Air Group decreases in yield, PRASM and RASM: 1Q2016 to 3Q2016
| | | | |
| --- | --- | --- | --- |
| Quarter | Yield decrease | PRASM decrease | RASM decrease |
| 1Q2016 | 6.1% | 7.7% | 6.1% |
| 2Q2016 | 7.7% | 7.7% | 6.4% |
| 3Q2016 | 5.8% | 5.8% | 4.4% |
In 1Q2016 Alaska calculated that its unit revenue decline was within 50 basis points of the industry, and in 2Q2016 its PRASM decrease was within 150 basis points of the US industry. By 3Q2016 Alaska calculated that its PRASM had improved 200 basis points from the prior quarter, and outperformed the industry by approximately 40 basis points despite double-digit capacity growth in its markets.

Competitors increased capacity in Alaska's markets by 13% year-on-year in 3Q2016, after growing a similar amount in 2Q2016. Alaska's capacity increased 11% year-on-year in 2Q2016 and slowed to 8% in 3Q2016.

Originally Alaska had forecast competitive capacity growth of 14% year-on-year in 2Q2016 and 3Q2016, and a 12% increase in 4Q2016. But the growth by competitors has slowed to 10% for the remainder of 2016, and falls to 9% in 1Q2017.
For 2Q2017 current projections show an increase in competitive capacity of just 1%. Although that number will likely grow, Alaska should see some year-on-year relief in competitive capacity additions in 2017; most US airlines are planning for lower capacity growth as oil prices rise and investors grow increasingly anxious about a return to positive unit revenues.

Alaska has estimated that its fuel costs declined by USD18 million in 3Q2016. The decreases in 1Q2016 and 2Q2016 were more than three times that amount.

jetBlue and Southwest are both forecasting lower capacity growth in 2017, but their growth rates are still higher than at some of the larger US global network airlines. Southwest is slowing its 2017 capacity growth to 3.5% from a 5% to 6% increase in 2016.
jetBlue's preliminary guidance shows its capacity will fall a couple of percentage points below 2016's growth of 8% to 9.5%. Delta's and American's preliminary ASM forecasts for 2016 show growth of 1%.

See related reports:
Just over half of Alaska's 2017 capacity growth is from stage length and new 2016 routes
Alaska projects its capacity growth will fall to 7% in 2017 compared with expansion of 8.5% in 2016 and the 10.6% expansion in 2015.
Alaska Air Group available annual seat miles: 2011 to early 2016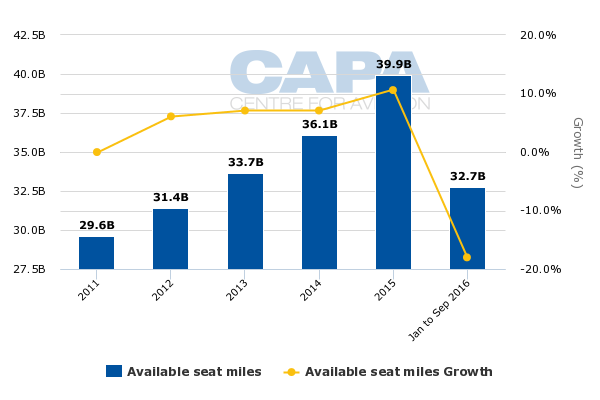 Approximately 2ppt of Alaska's planned capacity growth in 2017 is driven by longer stage length as the company continues its expansion into mid-continental and transcontinental markets.
One point is attributable to the maturation of routes launched in 2016. Alaska will have launched nine new routes by YE2016 – a mix of short and longer haul routes. In four of those markets Alaska is the only operator. It is competing with Southwest in various new US west coast markets and United on new routes to Newark.
Competitors and seat share on Alaska Air Group routes launched in 2016
See related report: Alaska Air: the airline's network diversification continues ahead of closing Virgin America merger
Alaska is cautiously optimistic about emerging trends in the challenging US market
Earlier in 2016 Alaska joined the US industry chorus in citing challenges in close-in bookings, and like its industry counterparts the company noted some positive trends emerging in the US market at the end of 3Q2016.

Alaska's unit revenues fell an average of 6.5% in Jul-2016 and Aug-2016, and grew 0.5% in Sep-2016.
Improved close-in yields and lower growth helped to lift Alaska's performance in September; however the company is striking a cautious tone about the current operating environment. Alaska executives have commented, concluding that while sales remain low, "they appear to be stable, and we're not seeing anything to suggest that this will not continue in the fourth quarter".

Nearly all US airlines have outlined a challenge in 4Q2016 due to the timing of the Christmas holiday, citing some revenue headwinds from the calendar placement. Alaska estimates that the compressed holiday travel period will negatively affect its 4Q2016 PRASM by 0.5ppt.
jetBlue has recently commented that industry revenue data for Dec-2016 is looking soft due to the compressed holiday period.

See related report: jetBlue Airways keeps long-term cost performance in sight as Us pricing trends start to stabilise
Alaska trapped in limbo as it awaits the government approval of the Virgin America merger
A big overhang for Alaska at this stage is the continuing review of its acquisition of, and merger with, Virgin America.
Alaska agreed to pay USD2 billion for its smaller rival in Apr-2016, and more than USD1.5 billion of Alaska's cash USD3.2 billion in cash at the end of 3Q2016 is designated for funding the acquisition. The company is using a mix of fixed and floating rate for the debt, which has an average interest rate of 2.37%. Previously, Alaska has stated that interest rates on the debt would fall below 3%.

See related report: Logic dictates approval of Alaska-Virgin America merger; anti-trust hawks loom large

Originally Alaska and Virgin America had aimed to close the deal in Sep-2016 after gaining approval from US anti-trust regulators. Subsequently, the date was pushed back to mid-Oct-2016 to allow the DoJ more time to review the deal.

Alaska recently acknowledged that it had aimed to close the deal earlier, and reassured interested parties that the scope of issues remaining with DoJ are manageable. "Our hope is that we'll have answers for our clearance soon", Alaska CEO Brad Tilden stated.

Mr Tilden has also stressed that Alaska remains confident that the merger will gain approval in a way that "benefits all of our stakeholders, most importantly, our customers". As previously reported by CAPA, rightly or wrongly the government is likely to require some concessions in order to approve the deal, and perhaps the nature of those concessions is one of the manageable issues cited by Alaska's CEO.

Until the government makes a definitive decision regarding the merger, Alaska is publicly hamstrung in discussing its outlook beyond a stand-alone basis, making it difficult to model the company's future size or growth. Alaska is also constrained in outlining a "Plan B" if the government acts overly hawkishly and decides to block the merger.
Alaska's stand-alone outlook is positive, as its fate remains in the hands of US regulators
Alaska's outlook on a stand-alone basis is positive as overall US domestic trends start to improve slowly and competitive capacity pressure in its markets continues to ease.

The company has necessary financing in place to support its acquisition of Virgin America, and has laid as much groundwork for integration as possible until the government renders a decision on the deal. Alaska is patiently waiting for a decision, and continues its push to close the deal by YE2016.
But predicting when the government will act on the proposed tie-up is anyone's guess.