Logic dictates approval of Alaska-Virgin America merger; anti-trust hawks loom large
Analysis
A pushback in the closing date of the merger of Alaska Air Group and Virgin America – to allow the US government more time for its review of the transaction – created some jitters among investors about the eventual approval of the tie-up, evidenced by a drop in Virgin America's stock price, which had soared after the deal was tabled in Apr-2016.

Despite the extra time regulators are taking to review the merger, a full-blown rejection of the deal is unlikely given the drastically smaller scope created by Alaska and Virgin America. Indeed, the combined airline creates a more viable entity to compete with the mega-carriers created by previous mergers; not a threat to consumer choice.

Close scrutiny by US regulators was always expected, as are some form of concessions in order for the agreement to ultimately gain the government's approval. The form those concessions could take has spurred significant speculation from slot divestitures to the relinquishment of gates. Perhaps the key for Alaska is ensuring that the composition of those concessions does not compromise the economics of the transaction.
Alaska pays a premium for Virgin America, upping its leverage to fund the transaction
Alaska Air Group emerged as the winning bidder for Virgin America in Apr-2016, agreeing to acquire the eight-year-old airline for a hefty USD2.6 billion, or USD57 per share. As the bidding escalated jetBlue decided to walk away from the contest to acquire Virgin America, opting to pursue its own organic growth. jetBlue is planning a significant expansion of its Mint premium product, and appears to be seriously considering entering the low cost, long haul market, joining WestJet, Norwegian and WOW Air.

See related reports:
Alaska seems to believe that the access it gains on the US east and west coasts through its Virgin America acquisition warrants the high purchase price, and the company is even willing to increase its leverage to support the deal.

The company has issued USD2 billion in new debt to fund the Virgin America acquisition, and has previously stated that interest rates on the debt would fall below 3%. Alaska's debt-to-capitalisation is growing from 25% at the end of 2Q2016 to 58% post-merger. It anticipates a drop to 45% by 2020, and has stressed that half of the companies listed in the S&P Industrials group have leverage levels between 40% and 60%.

Based on data collected by Alaska, debt-to-capitalisation levels for the other two investment-grade US airlines at YE2015 – Southwest and Delta – were 40% and 48%, respectively. Alaska gained its investment-grade status in 2014, followed by Delta in 2016. Southwest has long held an investment-grade rating from all three ratings agencies – Fitch, Moody's and S&P.

See related report: Alaska, jetBlue and Southwest: popular airlines show commendable balance sheet results
Pushback of the merger's closing date is against a backdrop of higher government scrutiny
After it emerged as the winning suitor for Virgin America Alaska stated that it expected the transaction to close by YE2016, once it had gained necessary government approvals for the merger.

Originally the two parties had aimed to close the agreement by late Sep-2016, but pushed the closing date back to mid-Oct-2016 to allow DoJ (Department of Justice) more time to review the deal. The delay spurred speculation over the merger's future as the anti-trust division of the DoJ has upped its scrutiny of the airline industry during the past couple of years. In 2013 the department sued to block the American-US Airways merger; but the parties ultimately reached a settlement that included the divestiture of 52 slot pairs at Washington National, 17 at New York LaGuardia and other gate divestitures in the combined airline's network.

DoJ has also launched an investigation of the largest US airlines – Southwest, American, United and Delta – over collusion on capacity levels, and has blocked United from acquiring slots from Delta at United's Newark hub through a lawsuit. Operating restrictions have now loosened at Newark, allowing airlines (including Allegiant and Alaska) to launch service from the airport.

The delay in closing created anxiety for investors, evidenced by Virgin America's share price falling from USD55.98 in early Sep-2016 to USD52.08 in mid-Oct-2016. In early Apr-2016, prior to the merger announcement, Virgin America's stock price was trading at nearly USD39.
Virgin America Inc. share price: mid-Oct-2015 to mid-Oct-2016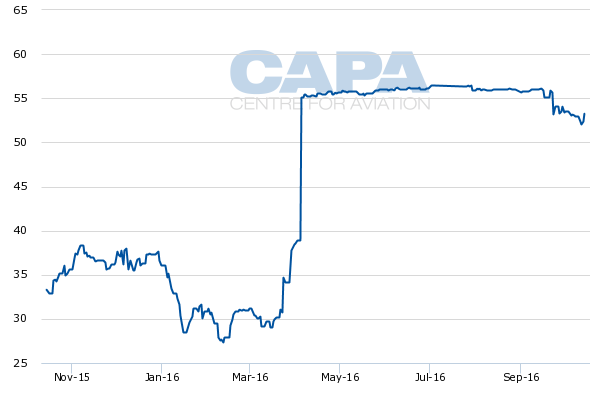 Concessions are likely for the DoJ to approve the merger, though arguably unnecessary
Given the DoJ's appetite to ensure that consumer choice and protections prevail in the US airline industry, it has been widely assumed that Alaska and Virgin America would need to acquiesce to various concessions in order to gain government approval for the merger to move forward, even though the combined airline holds a mere 5.4% share of US domestic seats for the week of 10-Oct-2016 (compared with a combined share of 82.3% for America, Delta, Southwest and United).
United States of America domestic capacity by airline (% of seats): 10-Oct-2016 to 16-Oct-2016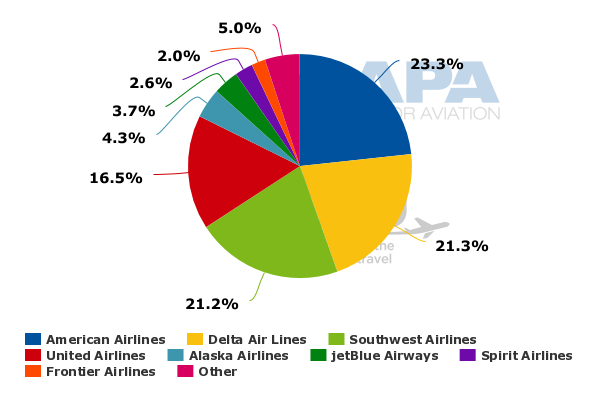 Alaska has calculated that its combination with Virgin America will result in the two airlines taking a commanding 22% seat share of the US west coast. However Southwest, which still markets itself as a low fare airline, has a 21% seat share in those markets. Two low cost, low fare airlines would control 43% of the US west coast seat share, which is a challenge to the dominance of American, Delta and United.
Alaska-Virgin America projected US west coast seat share post-merger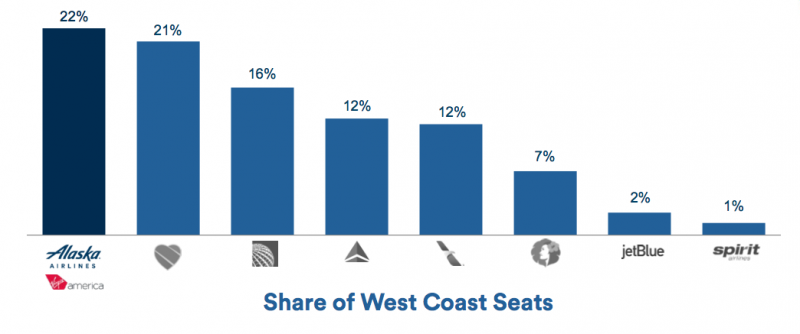 Still, the DoJ is likely to require carve-outs or concessions simply on principle – despite the rationale that Alaska and Virgin America's merger fortifies those airlines to compete more effectively in concentrated US markets where the four largest airlines control more than 80% of the country's domestic seats.
Logical forms of givebacks are not readily apparent
Speculation is growing over the types of concessions the DoJ will require in order to approve the Alaska-Virgin America merger. Combined, the airlines will hold 23 landing slots at New York JFK, 12 at LaGuardia, 15 at Newark and 10 at Washington National. The combined airline would operate from eight gates at San Francisco, six at Los Angeles, and two at Dallas Love Field.

The largest seat concentration the combined airline would hold at any of those airports is San Francisco, where an Alaska-Virgin America domestic seat share would reach 16% (based on data from CAPA and OAG for the week of 10-Oct-2016). The second largest seat concentration is Los Angeles, where the merged airline would hold an 11% seat share. However, even after the merger the largest four US airlines would hold commanding domestic seat shares at those airports by a wide margin.
Alaska-Virgin America position at key airports, combined domestic seat share and seat share leader: 10-Oct-2016 to 16-Oct-2016
| | | |
| --- | --- | --- |
| Airport | Combine domestic seat share | Domestic seat share leader |
| New York JFK, 23 landing slots | 4.5% | Delta, 38% |
| New York LaGuardia, 12 landing slots | 1% | Delta, 40% |
| Newark Liberty, 15 landing slots | 2.6% | United, 73% |
| Washington National 10 landing slots | 2.7% | American, 51% |
| Dallas Love Field, 2 gates | 6.2% | Southwest, 92% |
| San Francisco, 8 gates | 16% | United, 47% |
| Los Angeles, 8 gates | 11.3% | American, 24% |
It is not clear whether the DoJ would require slot divestitures from Alaska and Virgin America at slot-controlled airports. Technically Alaska and Virgin America are low cost airlines, and previously when the department has required divestitures at those facilities it has been to ensure that low cost airlines have access to those markets. Requiring divestitures from existing low cost airlines runs counter to DoJ's mission of ensuring low cost airline access to constrained airports.

The DoJ could require Alaska and Virgin America to relinquish gates in San Francisco or Los Angeles to other low cost airlines, with jetBlue, Spirit and Frontier becoming potential beneficiaries. But the benefit to consumers of those types of concessions remains unclear.

An easy giveback for Alaska is Virgin America's gates at Love Field. Virgin America offers service from Love Field to New York LaGuardia, Washington National, Las Vegas, Los Angeles and San Francisco. Alaska serves the Dallas area from Dallas/Fort Worth International airport, operating flights to its hubs in Seattle and Portland. Pricing in the Dallas market has been weak during the past year and a half, and as a result Virgin America has struggled with revenue performance in its Dallas markets.

See related report: Virgin America maintains a positive outlook despite competitive capacity pressure

Gate space at Alaska's largest hub in Seattle (Alaska holds a 53% domestic seat share at the airport) is tight, and DoJ might ask for some relinquishment of gates by the airlines at that airport, which again should benefit other low cost airlines if they are interested in expanding in Seattle. The airport has become a key feature in Delta's network, serving as trans-Pacific gateway for the airline, which has resulted in a huge domestic push by Delta at the airport. Delta is the second largest airline presence in Seattle, holding 18% of the airport's domestic seats.
Predicting if logic will prevail in DoJ's merger evaluation is tough
It would be surprising if the US government attempted to block the Alaska Air Group-Virgin America merger, but the DoJ has cast a close eye on the US airline industry during the past couple of years; perhaps it has felt remorseful about allowing previous tie-ups to create the current industry concentration.

But the reality is that a combination of Alaska and Virgin America creates a stronger airline to compete with those aviation titans, without any detrimental effects for consumers. It is unclear if the DoJ will adopt that same view, but a rejection of the merger would be ill-advised if the agency aims to create a more level playing field within the US industry.