United, Delta, American Airlines: Cost creep, rising oil prices put pressure on the Big 3 to deliver
Analysis
For the large three global US network airlines – American, Delta and United – the final quarter of 2016 offers some hope of negative unit revenue trends starting to stabilise, a welcome sign after two years of declines. But those positive developments are occurring against a backdrop of rising fuel costs and overall cost creep for those airlines, as labour expenses rise in the face of new collective bargaining agreements they have achieved.

Although each airline has offered a nuanced interpretation of domestic trends, the general consensus is that dynamics began to improve in Aug-2016 as close-in yields started to strengthen. After enduring tough conditions in Latin America driven by Brazil's recession, American and Delta posted positive passenger unit revenues (PRASM) in their Latin entities in 3Q2016, and expect further improvement. Higher industry capacity is creating challenges for those airlines in the Atlantic and Pacific, but generally it seems that the path of unit revenue declines in those regions should moderate progressively.
Delta is aiming to post positive PRASM early in 2017, and American believes it can reach a positive result in total unit revenues in 1H2017. For now United is not offering a specific time period for a reversal of negative PRASM, but feels confident it is heading in the right direction, given the changing dynamics in certain areas of its network.
The trans-Atlantic is the most challenging region for the US Big 3 in 3Q2016
With the exception of Delta, the large three global US network airlines either bested or fell within their unit revenue guidance for 3Q2016. American is now guiding and focusing on total unit revenue, TRASM, and Delta and United are still offering specific PRASM guidance.
American, Delta and United 3Q2016 unit revenue performance and performance projections
| | | |
| --- | --- | --- |
| Airline | 3Q2016 unit revenue performance | 3Q2016 forecast |
| American | 2.2% TRASM decline | 3.3% to 5.5% TRASM decline (3.3% PRASM decline) |
| Delta | 6.8% PRASM decline | 4% to 6% PRASM decline |
| United | 5.8% PRASM decline | 5.5% to 7.5% PRASM decline |
Approximately 1ppt of Delta's unit revenue miss was driven by a power outage the airline experienced in Aug-2016 that forced the cancellation of hundreds of flights, and numerous delays. The company has also stated that another 1ppt of its PRASM decline resulted from lapping hedge gains from the JPY that it enjoyed in the same period a year ago.

Delta also cited challenges in the trans-Atlantic during 3Q2016 that included low cost airline growth, multiple terrorist events and the UK's Brexit vote. For all three global US airlines the trans-Atlantic was the worst performing region for passenger unit revenue in 3Q2016.
American, Delta and United PRASM performance by region: 3Q2015
| | | | | |
| --- | --- | --- | --- | --- |
| Airline | Domestic PRASM | Latin PRASM | Pacific PRASM | Atlantic PRASM |
| American | 1.8% decrease | 1.8% increase | 10.5% decrease | 11.2% decrease |
| Delta | 7.2% decrease | 1.4% increase | 7.4% decrease | 9.7% decrease |
| United | 5.3% decrease | 1.5% decrease | 41.% decrease | 10.7% decease |
The company concluded that trans-Atlantic overcapacity stemmed from low cost airlines and Middle Eastern Airlines, and Brexit and terrorism concerns pressured demand. United also attributed its 10.7% PRASM decline in the trans-Atlantic to growing capacity, Brexit related weakness and terrorism jitters.

United stated that the trans-Atlantic would continue to be a struggle, noting overcapacity and uncertainty over Brexit. Attaining a positive unit revenue performance in that region, said company president Scott Kirby, is a question of what happens with capacity.
Data from CAPA and OAG for the week of 17-Oct-2016 show seats between the US and Western Europe are up nearly 10%, the LCC Norwegian Air Shuttle's seats are up nearly 40%, and WOW Air's have grown 137%. However, the combined seat share of those airlines is just 3.28% – 2.61% for Norwegian and 0.67% for WOW Air.
United States of America to Eastern Europe (seats per week, one way): 21-Oct-2013 to 13-Mar-2017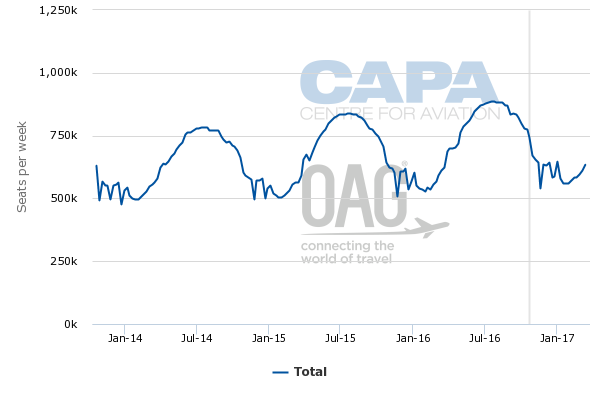 Delta cites capacity pressure in the Pacific, United takes a slightly more optimistic view
The Pacific was the second worst performing geographical region for American and Delta in 3Q2016 (see chart above).
Excess capacity to China was the main driver for the performance, and Delta concluded that the supply-demand imbalance would remain acute during 4Q2016, with industry capacity rising 11%. American's pressure on Pacific PRASM stemmed from its continued growth into Asia. During the past year it has launched service from Los Angeles to Auckland, Sydney, Hong Kong and Tokyo Haneda.

United has a slightly more optimistic view of the Pacific, noting that the service thresholds in the China-US bilateral are close to being met, which will slow down capacity growth in 2017 and beyond. The opposite is occurring in Japan, United has said, where capacity is falling.

Delta has undertaken another restructure of its Tokyo Narita hub, resulting in a 30% reduction in capacity to and from Japan in the US winter period. The airline is reducing its overall capacity to the Pacific during the winter period by 9% to 10%, year-on-year.
Counter intuitively, Latin America emerged as a bright spot for American and Delta in 3Q2016 – each airline posted positive PRASM for the region. Prior to reporting 3Q2016 PRASM results those companies cited improving trends in the region, which will suffer from a second consecutive year of economic contraction in 2016.

See related report: American Airlines and Delta: the worst is over for Latin America's weak revenue performance

American has struggled with Latin American PRASM during the past year due to its position as the largest airline operating between the US and Brazil. For the week of 17-Oct-2016 the airline held a 36% seat share between the two countries. During 3Q2016 American's Brazilian PRASM improved 25% year-on-year driven by capacity rationalisation and the strengthening of the BRL against the USD.
Data from CAPA and OAG show that for the week of 24-Oct-2016 seats between the US and Brazil are down 29%. Azul is the only airline to post an increase – of nearly 1%.
United States of America to Brazil (seats per week, one way): 19-Oct-2015 and 17-Oct-2016

Delta's PRASM on routes to Brazil improved 30% year-on-year, and its Latin entity posted its first positive PRASM result for the first time in 2.5 years. The company has concluded that the strengthening BRL is driving some point of sale demand in Brazil, and it believes that trend should continue heading into the peak season for the Southern Hemisphere.

United, which posted a negative 1.5% decrease in Latin American PRASM year-on-year in 2Q2016, predicted the region would become its first geographical entity to return to positive year-on-year PRASM, driven by strong results in Brazil. For 4Q2016 United forecasts year-on-year PRAM growth in its Latin American markets of 2% to 5%.
United 3Q2016 PRASM performance and 4Q2016 projections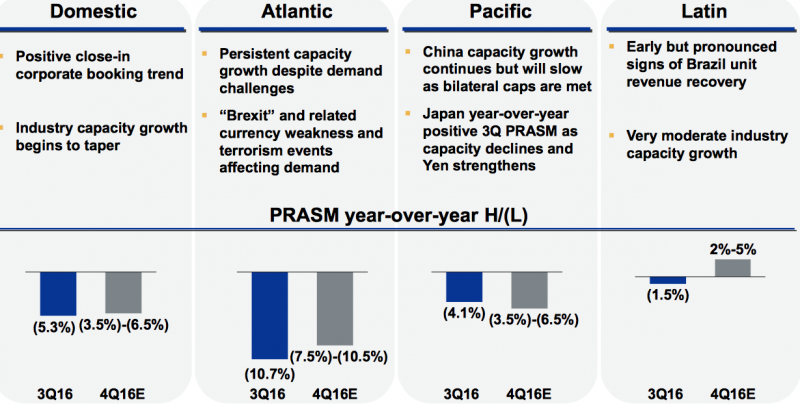 757" height="383" />
The US Big 3 are cautiously optimistic about improving domestic trends
The major trend in the US domestic market for American, Delta and United throughout 2016 has been weakness in close-in bookings, and the beginning of 3Q2016 was no different. But a shift occurred in Aug-2016 that has triggered a positive outlook among those airlines that weak pricing on domestic routes has turned a corner. American has stated that its yield on domestic routes began to improve in Aug-2016.

Delta cited unit revenue improvement in one third of its domestic network year-on-year in Sep-2016, compared with 15% in 1Q2016. The company aims to attain positive PRASM in its domestic entity "in the December-January timeframe, if not shortly thereafter", said Delta president Glen Hauenstein. Delta has stated that its domestic capacity growth in 4Q2016 of 2.5% is less than half the rate of growth in the first three quarters of 2016.

United's domestic PRASM forecast for 4Q2016 is a decline of 3.5% to 6.5% year-on-year. But similarly to Delta, the company has stated that the domestic pricing environment is beginning to feel more rational, and it highlighted positive close-in corporate booking trends.

Approximately 43% of United's domestic markets had positive PRASM trends year-on-year in 3Q2016, said company president Mr Kirby. "But what I think is more important is the momentum that has for the domestic environment", he added. "This can turn out to be wrong, but there are lots of little things that are going on pricing and with a lot of airlines going through and cleaning up pricing in the domestic environment that make us feel pretty constructive about that entity in particular."
American, Delta and United face challenges from cost creep and rising oil prices
In order to achieve their respective timeframes for a return to flat to positive PRASM – or in American's case, positive TRASM – the three large global US airlines appear to be reining in capacity.
Delta is capping capacity growth at 1% for 4Q2016, and has stated that level of growth would carry over into 2017. American is not offering firm capacity guidance yet, but expects its 2017 system supply to increase just 1%. United plans to update its 2017 capacity guidance in Nov-2016, but it is reasonable to assume that its growth should fall in line with its large global network peers.

American, Delta and United are all facing cost creep just as oil prices are projected to grow in 4Q2016, which perhaps in the eyes of investors creates even more pressure for a return to positive unit revenues. "As we look forward, for the first time since mid-2014, year-on-year fuel prices are expected to be higher for the remainder of the year", said American CFO Derek Kerr in mid-Oct-2016.

American's full-year mainline unit costs excluding fuel and special items are projected to grow 5% to 7%, driven by the effects of new labour contracts with customer service and reservation agents and dispatchers. The company's regional unit costs excluding fuel and special items are projected to grow 3% to 5% year-on-year in 2016.

United's unit cost projection for 2016 excluding fuel, profit sharing, special items and third party expenses is forecast to rise 2.75% to 3.25%, of which 2.3ppt is driven by new labour contracts ratified in 2016. The company expects the effect of those agreements to mitigate to 1.5ppt and 2ppt of its unit cost performance.

For 4Q2016 Delta expects a 1% to 2% increase in unit costs excluding fuel, and that forecast excludes the effects of a new tentative pilot deal the company forged in 3Q2016.
New dynamics increase the urgency of an improved industry unit revenue performance
Even as American, Delta and United have posted record profits during the past couple of years, investors have been shaken by their negative unit revenue performance, looking for an inflection point.
The latest trends are obviously promising, but those companies are now attempting to achieve a positive PRASM trajectory as fuel costs are rising, and new, but necessary, labour deals are resulting in cost inflation.

In some ways the latest dynamics are likely increasing the urgency for American, Delta and United as well as other US airlines to truly turn a corner in their unit revenue performance. Meeting their latest deadlines could be more important than ever.