Alaska Air: the airline's network diversification continues ahead of closing Virgin America merger
During the next couple of years Alaska Air Group faces one of the most important milestones of its 84-year history with the presumed approval and closing of its merger with Virgin America, followed by the complex integration of the two companies.

Alaska has not offered capacity guidance for 2017, but its mainline fleet is projected to grow by just a single aircraft as it completes the phase-out of its Boeing 737-400 Classics. Its regional subsidiary Horizon begins deliveries of Embraer 175s in 2017, which could drive most of the group's capacity growth for the year. But it is likely that Alaska is aiming to grow total ASMs below 2016's increase of 8.5%.

As it prepares to close on its acquisition of Virgin America Alaska is continuing its stand-alone network evolution that includes capitalising on loosened operating restrictions at Newark airport, which helps the company bolster its position on the US east coast. Alaska is also targeting more midwestern markets in 2017, one feature of its efforts to diversify its offerings during the last few years.
Alaska sets up an integration team as it waits for DoJ approval of the Virgin America merger
Alaska believes that in 4Q2016 it will receive approval from the US Department of Justice (DoJ) for its merger with Virgin America. In Apr-2016 Alaska outlined plans to acquire its rival for USD2.6 billion. It is issuing USD2 billion in new debt to finance the acquisition and believes that it will achieve an interest rate below 3% for the financing.

Once the companies receive approval for the merger from the US government the complex process of integration begins, including a decision on retaining Virgin America's brand and operating the airline as a separate entity. It appears that Alaska plans to make a decision in 2017 on how to leverage the Virgin America brand.

Although there is little route overlap between Alaska and Virgin America, the US DoJ is likely to require some divestitures by the airlines in order for the merger to receive its endorsement.

Little can be accomplished in the integration until the DoJ gives the merger its blessing; nevertheless Alaska and Virgin America have created an integration office, and Alaska executives recently cited progress on positive discussions with labour leaders from each airline – to ensure a smooth integration. Alaska executives have estimated that it would take a minimum of 12 months to achieve common labour agreements and an integrated seniority list among some work groups.
Alaska's capacity growth reaches 8.5% in 2016; mainline fleet growth is negligible in 2017
Until Alaska can truly start to examine how best to combine its operations with Virgin America, the company is focusing on its own growth and network expansion until integration begins.

Alaska plans capacity growth of 8.5% in 2016 despite strong evidence that there is too much capacity in the US domestic space. That projection is higher than a previous forecast of 8%.
The slight revision upwards is driven by Alaska's planned new service from Los Angeles to Cuba and a new service the airline is adding from Newark Liberty International airport. The company's growth for 2016 is a drop from a 10.6% increase in ASMs that Alaska recorded in 2015, but higher than the 7% rise it posted in 2013 and 2014.
Alaska Air Group annual ASM growth: 2011 to Jul-2016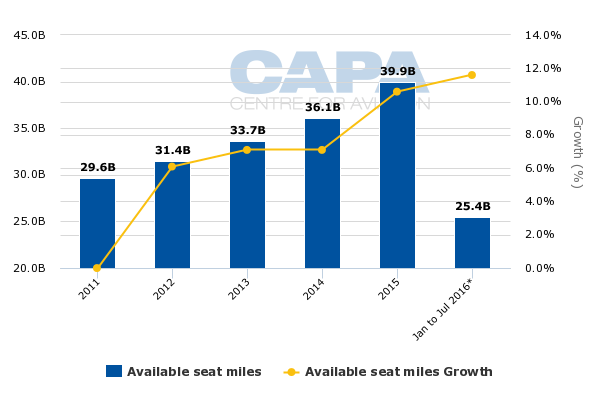 During 2H2016 Alaska expects its ASM growth to slow markedly from an increase of 12% in 1H2016. The company is growing capacity 8% in 3Q2016 and 3% in 4Q2016.

Competitive capacity in Alaska's markets is growing 13% in 3Q2016 and 12% in 4Q2016. The company's executives recently stated that those are similar levels to growth that Alaska has faced for the last year and a half.
But the competitive mix seems to have changed. During 2013 and 2014 Delta made a huge competitive incursion into Alaska's largest hub in Seattle, fraying its codesharing partnership with Alaska. Alaska weathered the incursion, and although seats on offer from Seattle remain higher in 2016 than 2015, Alaska executives have stated that the competitive capacity additions in 2016 are more fragmented than in the past.
Seattle-Tacoma International Airport seats per week: 2014 through early 2017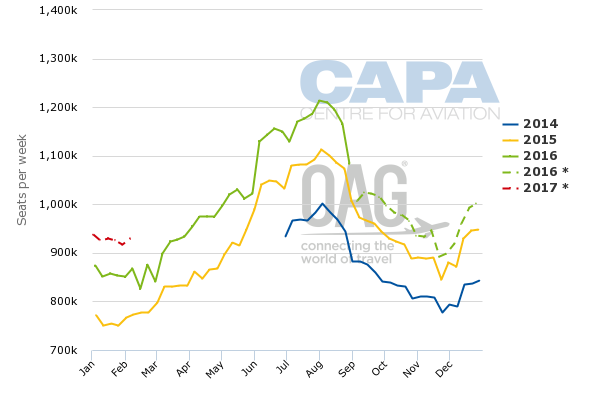 See related report: Alaska and Delta's relationship unravels. Deciding when a partnership is over is a big call

Some of the competitive capacity increases are driven by the large network airlines growing from hubs in the Pacific Northwest, and to a lesser extent growth by ULCCs, the airline's executives recently explained.
Alaska Airlines has had to deal with ULCC incursion in its markets during 2016. Previously Alaska estimated that its competitive capacity had increased 12% year-on-year, and ULCC growth represented approximately 2.5ppt of that rise. ULCC Spirit has upped competition with Alaska on routes from Los Angeles and Frontier has added routes from Chicago O'Hare and Phoenix served by Alaska.

See related report: Alaska Airlines braces for more ULCC competition as it makes subtle shifts in its business strategy

Few airlines have disclosed their planned capacity increases for 2017, but Alaska at the mainline is likely to post a lower growth than in 2016. Although Alaska is taking delivery of 14 new 737-900s in 2017, it is also completing the retirement of its 737-400s by the end of the year.
The result is the addition of a single narrowbody to the mainline fleet. There will be some growth in aircraft gauge, but Alaska's capacity increases in 2017 won't be driven by a major increase in the number of mainline aircraft.
CAPA's fleet database shows that Alaska is taking delivery of new Embraer 175s during 2017 and 2018, to be operated by Alaska's subsidiary Horizon, and those aircraft will drive some growth for Alaska Air Group as a whole.
Alaska Air Group Inc. projected delivery dates of all aircraft families as of 30-Aug-2016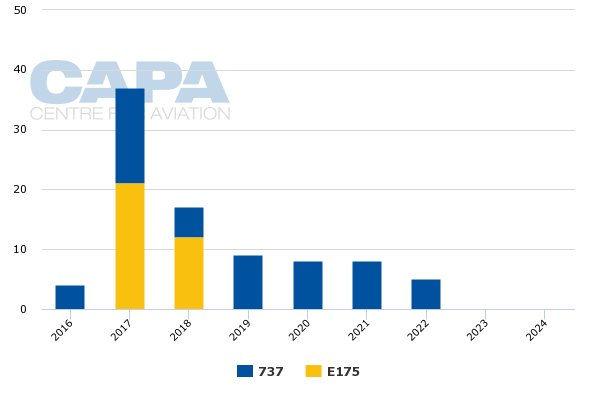 Alaska takes advantage of opportunities in Newark ahead of its merger with Virgin America
During the last few years Alaska has undertaken efforts to diversify its network, particularly in mid-continental and transcontinental routes. Since 2010 the company has added 26 new cities and 90 new markets. A solid portion of that growth has been on transcontinental and mid-continental markets in the US, which is part of Alaska's strategy to broaden its reach beyond the US west coast.
In 2015 mid-continental and transcontinental flights represented 22% of Alaska's capacity, versus 14% in 2005.

Starting in 2016 and continuing into 2017 Alaska is joining other airlines in adding new services to Newark, now that US regulators have loosened operating restrictions at the airport. In addition to bolstering existing flights to Seattle from Newark, Alaska is also launching new services to its Portland hub, to San Diego and to San Jose, California. It will compete with United on flights to Portland and San Diego, (two of Alaska's top bases), and faces no competition on flights to San Jose.
Alaska Air Group top 10 hubs/bases/stations by seats: 29-Aug-2016 to 4-Aug-2016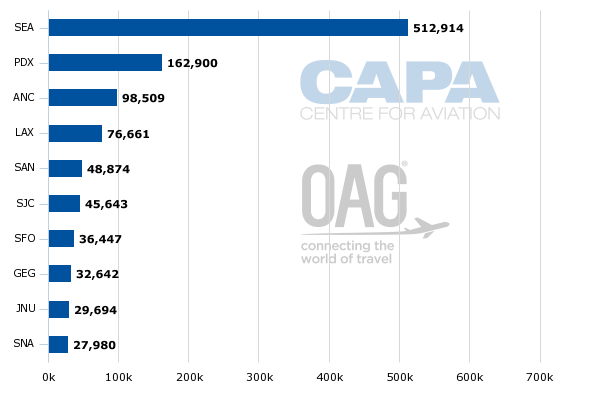 The ability to expand at Newark is key for Alaska and all airlines, irrespective of the particular business model they adapt. The ULCCs Spirit and Allegiant are adding flights from Newark, and the low cost, medium frills airline Virgin America is bolstering its frequencies from Newark to Los Angeles and San Francisco.

See related report: Allegiant Air attacks United in New York. testing niche ULCC model in large competitive metro market

Alaska currently serves the New York market with daily flights to JFK from its Seattle hub, as well as services to Newark. It plans to add a third daily flight to Newark from Seattle in May-2017. With the addition of flights from Portland, San Diego and San Jose, Alaska can bolster its offerings in New York – a key market where expansion is difficult due to the region's slot controlled airports.
Virgin America's allocation of slots at New York JFK, LaGuardia, Newark and Washington National airport were among the many reasons that Alaska pursued Virgin America given the value those slots posses.
Once the merger closes Alaska will gain 60 slots at those airports combined. Although the USD2.6 billion acquisition price for Virgin America may seem steep, Alaska would never have gained that level of penetration on the US east coast without the merger.
Key US east coast airport slots gained by Alaska through the Virgin America acquisition, as of 1H2016
In 2017 Alaska is also adding two mid-continental flights from Seattle to Indianapolis and Wichita – two markets that presently do not have services to Seattle. The additions reflect Alaska's push into the smaller markets that it can operate with is fleet of Embraer 175s. Alaska introduced seven of the smaller-gauge regional jets operated by its partner SkyWest Airlines in 2015, and estimated that the aircraft would generate USD130 million in annual revenue.
In the case of a market such as Wichita, the smaller jets allow Alaska to continue adding mid-continental markets with an aircraft that generates favourable revenue.
Alaska continues to make stand-alone network decisions until its merger is complete
Alaska Airlines' consistently solid operational and financial performance has not received the attention it deserves from Wall Street and investors. It faces a formidable challenge by its merger integration with Virgin America, but Alaska seems poised to face the complexity head-on, and its ability to execute a solid performance in the merger integration should not be doubted, at this point.

Until the integration begins, Alaska is continuing to concentrate its effort on fortifying and diversifying its own network with the expansion to Newark from its key US west coast markets. Once the integration with Virgin America begins in full force, Alaska's network decisions will take on a new dimension.